This year's Tribeca Festival features no less than 127 filmmakers from across 36 countries. Running until June 18th, the festival celebrates its 21st birthday, after having become a staple on the film festival circuit. For South African filmmaker Tebogo Malope, seeing his documentary, Rise: The Siya Kolisi Story, play at the fest is a long-time wish come to life. "It's like a co-sign from other filmmakers that are global," he tells OkayAfrica ahead of its premiere. "The film has a lot of subtitles, it's got a lot of nuances that are very much South Africa, but for it to still resonate with a global audience of filmmaking geniuses, for me, that is an exciting thing."
The Roc Nation-produced doc traces Siya Kolisi's rise from a young man born into poverty in the township of Zwide, in South Africa's Gqeberha province, to becoming the first Black captain of the Springboks national team and winning the 2019 Rugby World Cup. It's a story that's well-known to South Africans, following the release of Kolisi's 2021 memoir of the same name. But Malope gives the sports star's story the visual treatment he's become known for in his music videos, films and TV shows, from For Love And Broken Bones and Queen Sono. Accompanied by lots of amaGwijo (the Xhosa practice of collective singing), which Kolisi loves.
Malope spoke to OkayAfrica about what Siya's story represents, why taking South African stories to global audiences is so important, and what he's working on next.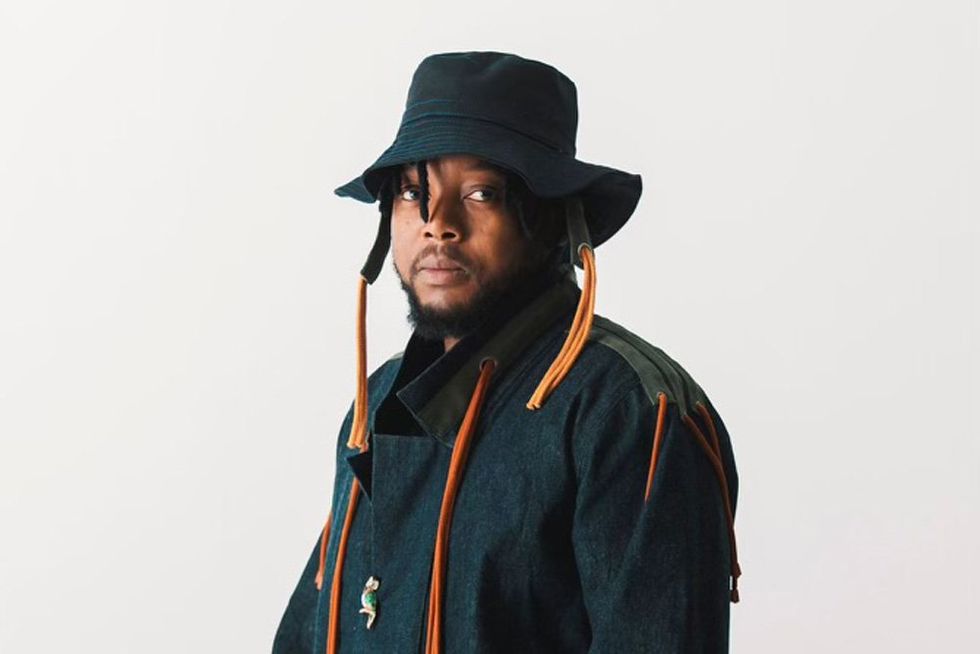 Known for directing film and TV dramas, Tebogo Malope took on his first sports documentary in making 'Rise: The Siya Kolisi Story.'Photo courtesy of Mlungisi Mlungwana.
The interview below has been edited for length and clarity.
Your debut film, For Love And Broken Bones, was this gritty crime drama-come-love story, and you directed three episodes of the TV series Queen Sono; what made you want to make a documentary?
It was almost a dare. There's a couple of prominent South African documentary directors, Vincent Moloi and Norman Maake, and one time we were hanging [out], and Vincent says you're never really a filmmaker until you make a documentary feature. Making a documentary feature film was never part of my ultimate plan. Until that point. The seed was planted, and this happened to be the first story, and first character that was on my table to try and tackle. What better way to start than with the captain of the Springboks? With a story that just keeps on giving, with such a great soul that is Siya Kolisi, and Rachel [his wife]. I'd say I was really blessed and lucky that this kind of happened the way it happened. It's almost like it was destiny for me.
You bring elements from your previous work into this doc – the framing that you use, the aerial shots, the dramatizations…
If you think of Siya Kolisi's story, everybody knows the story. So it's, like, what am I gonna say or show that people haven't seen or heard? Trying to be a little bit more experimental and a little bit more playful with the medium was the way to go for me. I haven't figured out what my style is; I just go with my instinct and what I like, which is to try and give an audience an immersive experience. Just sort of put them in there.
So for me, it was not what story to tell, but it was more about how to tell it. And how to tell it in a way that is surprising. But also in a way that sort of resonated with me because, from the first day I sat down with Siya, I realized everything that he was saying resonated with me. My first instinct was how to design the story for an audience, but then it was, how do I make it resonate with me even at a deeper level? Because if it does that to me, who is a kid that grew up like Siya grew up – who grew up poor in a South African township – if it hits me as deeply as it did when I sat down with him, I think it'll hit the audience as well.
Rise: The Siya Kolisi Story Traileryoutu.be
Can you talk more about how you approached the rugby scenes themselves – there's this one fantastic tracking shot that speaks volumes to the way the sport can cut across social and class divisions.

Thank you so much for mentioning that. The thinking behind filming has always been story first. That specific scene you're talking about, the initial design of it was for it to be the opening scene. For a global audience, especially, to sort of show the disparities of South Africa, to show the inequality, to show that you've got townships right next to wealth. And then there's this character called Siya Kolisi who comes from the township and ends up winning the Rugby World Cup and re-unites a country that's still very much broken.
But we had already started shooting and I asked him about his name, Siyamthanda. Usually in South Africa, when you hear Siya, it's Siyabonga. He told me, 'This lady, who was my mom's friend, she named me and then she fell blind a month or two later, and now she's passed on.' I was, like, 'Whoa, that's so crazy. So why did she call you Siyamthanda?' He said, 'Well, I don't know the story, but unfortunately, we can never find out.' And then I was, like, 'Are you sure? Were you at the funeral? Are you sure she passed on?' And he says, 'No, I wasn't at the funeral.' So, we do our research and we discover that she's still alive. So the opening scene is actually this blind lady that named him and she's telling us how she named him. The camera flying from the township to the suburbs kind of fell down the pecking order because the story of how he was named felt more powerful.
The idea has always been about story; how do I tell the story? If you look at the rugby matches, you get archived footage from, say, SuperSport, but there's a certain point of view of a rugby match that an audience doesn't get to see, which is sort of that forced perspective from the players within the scrum, inside the tackle. I wanted to portray the physicality, the sort of gladiator aspect of the game. So it's a reenactment of the actual rugby match, and I literally put the camera inside, so you see some of the hits inside the tackles. It was always about, how do I try and tell the story in a way that the audience doesn't expect? But then also in the most efficient and most impactful way?
What surprised you about Siya?
What surprises me is how surprised he is about what has happened in his life. There's a sense of humility about him and that comes from realizing that there's something else at play, there's a higher power at play. He's, like, how did my life turn out like this? For me, the sense of awe, that it's almost like watching a person watch themself. The more time I spent with him, the more I realized he's got some kind of a calling on him, I don't know what it is. There's a mission that a character like him is put on Earth for and yes, when you look at it in the context of South Africa it is, like, yeah, he was there to help us reunite; he was there to help us reconnect, find reconciliation, again, remind us of that sort of ultimate mission and goal of the rainbow nation that we have so forgotten. But then you realize, oh, no, no, no, there's something much bigger at play.
For me, it's that sort of call back to divinity, to our divine sort of essence. When you're next to him, you realize his is a story of hope. His is a story of being kind again. When you see somebody hungry next door, give him a slice of bread; when you see a lady open the door for her. He is almost like a call back to our humanity that we know we have but we've forgotten about. That's the one thing that really surprised me about him was the idea that his whole being, his essence, his humility, his resilience, his fight, his thoughtfulness. is calling us back as a people, calling us to that essence of divinity that we all know that we have. And the more I watch this film, the more I feel that callback.
You're staying with sports for your next project — the NBA Africa League series?

Yes, it's about the NBA launching the first basketball league outside of the US. I was commissioned to put together basically the Genesis story of how it all came together. What excited me about it is it's 12 teams from the continent, so I got a chance to travel to nine of those countries, and find these players and meet their families and see them for the first time feeling like, 'I can put bread on the table with the sport.'
When you watch the show, it's not only just about how the NBA put it together — guys like [NBA Commissioner] Adam Silver and [strategic partner President Barack] Obama are in it. It's not just about those prominent figures, but it's also about the kid who grew up in Dakar and basketball was so far from there, but now suddenly, they're playing against J. Cole. I'm really excited about it. We're almost done with it. As you can imagine, it's thousands of hours of footage to be cut down into five episodes. But I can't wait to show the world what that's about. Hopefully in the fall.
Was there any disappointment that Queen Sono didn't have a second season?
There was big disappointment, and also because it was renewed and then because of some weird internal politics, it didn't happen. The biggest disappointment was, I wish it hadn't been a hit, so we don't want to do it. It was, like, we wanted to do it but then certain individuals stifled it.
But I just finished a new show on Amazon Freevee for the American market that's a step up from what we did with Queen Sono. It's kind of a similar teen drama-meets-spy thriller type of thing. So it's kind of more or less in that same world that we did Queen Sono.
And you have another exciting project on the horizon?
When Showmax got bought by Peacock and Sky and Showtime, they commissioned me to do a show that's going to be pretty much the show that launches that partnership. The US and the rest of the world have much broader distribution and marketing in place. They've got systems. We know [in South Africa] we've got stories. Coming to Tribeca and traveling with our stories keeps this wheel going. So that show, it's a Western set in Lesotho and KwaZulu Natal. So perhaps we can keep that global movement thing going with telling our stories and being unapologetic about them.