For our latest installment of Africa In Your Earbuds, Nigerian-American writer Teju Cole curates the soundtrack to a night out in Lagos. Teju's mixtape, which we're co-presenting with The Paris Review, is accompanied by 'One Night In Lasgidi,' an original piece from the author that beautifully frames his Nigerian pop selections which feature the likes of D'banj, Wizkid, Davido, Nneka, Burna Boy, Wale and many others. Stream AIYE #64, mixed by Chief Boima, and read Teju's text below.
---
—————————————————————————————————————————————
One Night In Lasgidi
It doesn't really get good until about 1 am, but you do want to be there by then, because you'd like to get in at least two solid hours of dancing by the time the clubs shut down. Afterward you run the gauntlet of cops on Falomo Bridge. "Oga, anything for us?" "Ehn, don't worry, on my way back." And on the way back, you lie. "Officer, I already saw you before na. You no remember?" Naturally, you're not trying to drive to the Mainland at that hour. You've made arrangements to sleep in some Island neighborhood, assuming you're not rich enough to already live there: Ikoyi, V.I., Lekki 1, Lekki 2, Lekki 3, Ajah. At this hour, you're taking the uncannily clear roads at speed, stopping not even for traffic lights. The breeze is blowing, the great lagoon sleeps. Twenty-one million people are in whatever form of shelter they call home, these human energies at rest, numerous as the stars above the endless city. The past two hours begin to come back to you, a blur of moves and bodies, and the two or three things you saw and were reluctant to believe, good things, bad things, badt guys, as Lagosians say, and bad gyals dem.
Day is for thought, and night for clubs. Night I've spent in clubs in at least a couple dozen cities by now, in as many countries. American hip hop generally rules the scene, chart toppers mostly. A surprising number of DJs, from Stockholm to Cape Town, know their old school selections. But in the past few years, contemporary Nigerian dance music, "Naija jams," have been taken in by enthusiastic audiences at out of the way clubs in the US, huge crowds in East African stadiums, and on mainstream radio play in the UK. For the duration of the set, you are transported to Lagos Island on a Friday night. Saturdays are dry because there's church on Sunday. Sundays are non-existent because there's work on Monday. Wherever you are, it's Friday. You are transported to Lagos, Lasgidi, Eko City, the Gidiopolis, as stars like D'Banj, Wizkid, or Davido ignite the floor. You enter a specific space inside the urban Black Atlantic, and only later do you remember that you are, in fact, physically elsewhere: in Brazzaville, in Berlin, in Brooklyn.
AIYE #64: 'One Night In Lasgidi' Mixed by Chief Boima.
Like any big and active cultural practice, there's a basic core of forms that sustains the rapidly changing specifics. Last year's Lagos playlist isn't this year's. This year's will share elements with next year's, but no one knows yet what next year's big hit will be, what minor inflection will introduce a whole new feeling to the music. Such is the rate of change that a song from three years ago already sounds old-fashioned. In that sense, there's no "typical" Lagos playlist. It must be specific to the date. Tiwa Savage's Eminado was 2014, Naeto C's 5 & 6 was 2011, 9ice's Gongo Aso was 2008.
So, this playlist is a fiction. I mix time periods freely, the same way the music itself (finely mixed for me here by the great Chief Boima) mixes influences: propulsive rhythms, soukous-inflected guitars, coupé decalé beats, Ghanaian flow, Afrobeat interludes, razor-sharp modern production, house, jazz, pop, rap, dancehall. This is a Lasgidi of the mind, representing a meld of many club nights in Lagos and alternate Lagoses through the past decade. It is a cauldron of that vertigionous self-confidence that anyone who knows any Nigerians knows well. It contains a nod towards a genealogy of the form, including some of the early hits of the genre. I've also included, for they ought to be included, some key recent moments from the Nigerian diaspora: folks like Wale and Nneka speak to this world as well. This is music that has come a long and joyous way in a very short time. Dance to it—note its persistent tone of joy—then come back and listen to it.
The time is 3.30 am. You find your car—no, the guy who's going to collect money for nominating himself as your valet shows up and shows you your car. You pay him. One of your gang is the designated driver or, depending on how you roll, you have a driver who has spent the night waiting. (You're a bad leftist as, from time to time, all leftists in Lagos are.) You leave the club in a great mood, and this time you feel like spreading the love. The police officer flags you down at Falomo Bridge. You roll down your window and, without saying a word, smile, and hand him N500, before you disappear into the night.
Teju Cole is the author of 'Open City' and 'Every Day Is For The Thief.' His first book of essays 'Known and Strange Things' will be published in 2016.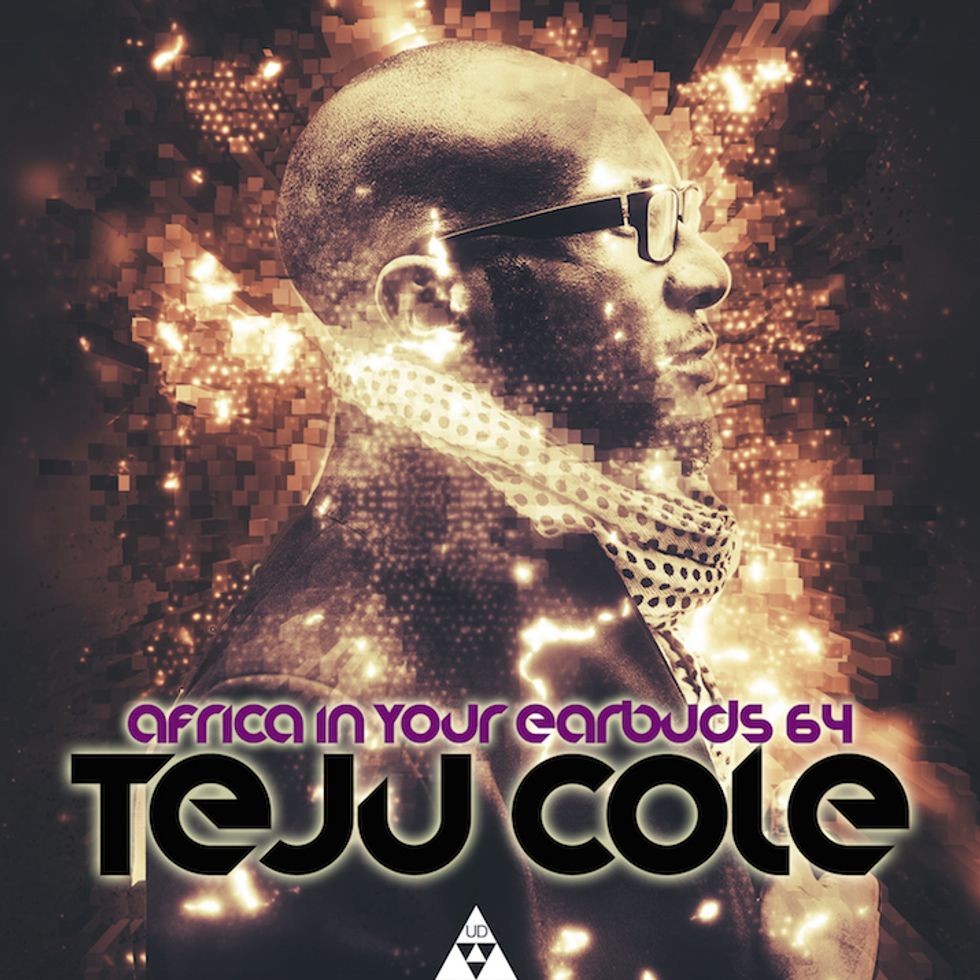 Cover Artwork by Underdog. Mixed by Chief Boima.
'One Night In Lasgidi' Mixed By Chief Boima Tracklist
1) Good Morning (Kid Konnect Remix) - Brymo
2) Pon de ting - Sarkodie ft Banky W
3) Omo pastor - Aje Butter
4) Adonai (Remix) - Sarkodie feat. Castro
5) Yahooze - Olu Maintain
6) Gongo Aso - 9ice
7) Parcel (a BIG Nwa) - Phyno
8) Kini Big Deal - Wale
9) Oyoyo - J. Martins
10) Aye - Davido
11) Eminado - Tiwa Savage
12) 5 and 6 - Naeto C
13) Gobe - Davido
14) Jaiye Jaiye - Wizkid
15) Oliver Twist - D'Banj
16) First of All - Olamide
17) On top your matter - Wizkid
18) Durobucci - The Mavins
19) Thank God - Da Grin ft. Omawunmi
20) Like to Party - Burna Boy
21) Pete Pete - 9ice
22) Walking - Nneka
23) Iba - Asa
Get more African mixtapes from Africa In Your Earbuds:
NICKODEMUS — MARAMZA — DOOKOOM — MIKAEL SEIFU — GARTH TRINIDAD — DJ SPOKO — CAPTAIN PLANET — THE HAPPY SHOW — CLAP! CLAP! — DJ GIOUMANNE —ALEXIS TAYLOR OF HOT CHIP— CARLOS MENA — ZACH COWIE — ELIJAH WOOD — KOOL A.D. — SOL POWER ALL-STARS — DJ NUNAS — NIC OFFER OF !!! — LARRY ACHIAMPONG — KYLA-ROSE SMITH OF FRESHLYGROUND— THE GTW — RADIO TANZANIA — JON THEODORE — DESMOND & THE TUTUS — MATHIEU SCHREYER II — YOUNG FATHERS — BBRAVE OF AKWAABA — OLD MONEY — DJ NEPTUNE — SAHEL SOUNDS — BEATENBERG — M1 [DEAD PREZ] — BODDHI SATVA — L'AFRIQUE SOM SYSTEME — NOMADIC WAX —  THE BROTHER MOVES ON — LV — BEN ASSITER [JAMES BLAKE'S DRUMMER] — JAKOBSNAKE — CHRISTIAN TIGER SCHOOL — SAUL WILLIAMS — TUNE-YARDS — MATHIEU SCHREYER — BLK JKS — ALEC LOMAMI — DJ MOMA — AWESOME TAPES FROM AFRICA — PETITE NOIR — OLUGBENGA — RICH MEDINA — VOICES OF BLACK — LAMIN FOFANA — CHICO MANN — DJ UNDERDOG — DJ OBAH — SABINE — BROTHA ONACI — DJ AQBT — JUST A BAND — STIMULUS — QOOL DJ MARV — SINKANE — CHIEF BOIMA