There's a sneaker frenzy in South Africa. Although this isn't a new reality, the rise of locally produced brands like Bathu and Drip Footwear, resale culture and sneaker hubs as significant points in the industry are clearer than ever before.
Public conversation about sneakers in South Africa has often been connected to music genres, the musical artists and sometimes even street culture. The early 2010s saw an uptake in a bolder sneaker consumer. The present moment in the country's culture of sneakers, though, takes a significant turn.
The Kwaito and hip-hop connection
It's important to note the touchpoints that sneakers have had in South Africa's popular imagination. The emergence of Kwaito music in the early 1990s also saw the popularity of the classic Converse All-Star sneaker. Often referred to as amaTekkie or tekkies (sneakers), Converse and subsequent brands began to find roots in South African pop culture
Leading Kwaito groups like TKZee, Boom Shaka and Trompies are just a few of the groups that sported the All-Star as a marker of their group identity. It is the boom of hip-hop in South Africa that led to a greater public appreciation and consideration of sneaker culture as a whole.
The early 2000s saw the popularity of the hip-hop group, Skwatta Kamp. The group has won multiple awards including key nominations at the South African Music Awards for Best Rap Album and Best Duo/Group in 2004. The group also walked away with the Best Music Video at the Metro FM Music Awards in 2020 for their song "Hey! (Fair And Skwear)" featuring Clu.
The six-member group brought about a uniquely South African twist to hip-hop in the country, which extended to their appearance. They often donned matching outfits fitted out with sneakers from brands like Adidas, Puma and Nike. The hip-hop and sneaker connection in the South African context is quite similar to that of the genre's use of sneaker culture in the United States.
An early example is Skwatta Kamp's music video for the song "Umoya." In the opening scene, you can see hip-hop elements such as breakdancing, and a long shot of the group walking, donning sneakers from labels like Adidas and Nike. They're also seen wearing baggy jeans and chains as they mime the song words in a typical hip-hop cypher formation.
Skwatta Kamp is a key and early example of the connection of sneakers to hip-hop culture, but furthermore, how that connection was shared with the general public in a way that has undoubtedly influenced the present-day relationship between consumers and sneakers.
The early 2010s was when South Africa's sneaker scene, still intertwined with hip-hop motifs, experienced an even larger boom. Significant musical acts like Cassper Nyovest, Kwesta, DA Les and the late Ricky Rick and AKA all formed part of a critical wave at the height of the 2010s.
The genre's resurgence in South Africa had artists staking out their own unique take on the definition of hip-hop in South Africa, but also how they could monetize their images with lucrative brand deals.
The extension of their personal brands directly to the country's sneaker culture would see collaborations like AKA's Reebok South Africa deal in 2019, Cassper Nyovest and DRIP Footwear in 2021 titled "Root of Fame" which then went on to expand into a clothing line under the footwear brand.
With the recent and tragic death of rapper Ricky Rick, Bathu has also since released a tribute sneaker in remembrance of the music giant 2022. The custom sneaker features the rapper's face and popular phrasing the musician would often use at each live performance: "We don't die, we multiply." Hip-hop culture and its rappers have left an indelible mark on the sneaker scene, not only a celebrity perspective, but fashion perspective too.
The rise of local brands
In 2023, it's a very different picture. "Local' and "resell" are the buzzwords that continue to pop up on the public radar. The rise of brand power from locally produced sneakers has taken centre stage in the last five years. Footwear label owners like Theo Baloyi (Bathu) and Lekau Sehoana (Drip Footwear) have been at the forefront of the local is lekker vibe as far as sneaker culture goes.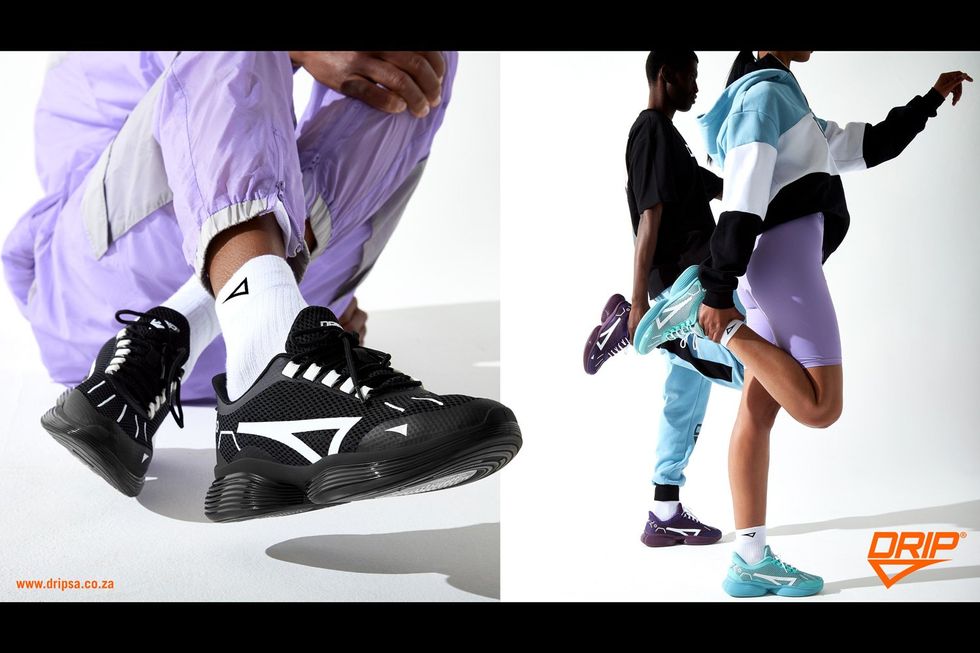 Photo courtesy Drip Sneakers.
Although international brands still have an undeniable stake in the industry, the two local players mentioned above are putting up a mean fight. Baloyi's "Bathu" brand boasts more than twenty outlets across South Africa, with the owner also having been recognised as Black Business Quarterly's Businessman of the Year in 2020.
Bathu's Brand Manager Thabo Manenje tells OkayAfrica that, "There's an overall appreciation for the hard work that goes on in the background (technology, research and innovation) and there's a growing uptake of our product."
Drip Footwear also occupies a unique place as another notable industry player with outlets in all nine of South Africa's provinces. The "Drip" ethos speaks to the importance of collaboration with other key players: "We are accessible and we collaborate with others to amplify our impact."
Local footwear brands continue to see growing support for products and new releases, but it's weighing into the authenticity of the story that Manenje says makes the difference. "What we produce (in terms of our products) is a genuine representation of how we want to dress and speak our story to the world through footwear designs," says Manenje. "Our latest product offering, "Khalanga," is testament to Bathu celebrating authenticity and being true to who we really are. We could have named it something else but we decided to bring it back home and make it more relatable to our people."
A key player in the world of sneakers in South Africa is the voice of the customer, "plug," or influencer. Zaid Osman's "Sneaker Exchange" is a prime example of the people taking ownership and pride in the product. Osman's event was at its prime around 2016 with fanatics descending on one event where they could exchange information, trade and even sell sneakers to each other, a true expression of culture.
Although not the only event of its kind, "Sneaker Exchange" formed part of an early shift into what is now a reputable sub-part of sneaker culture as a whole. The part where the consumer becomes fluent in exchanging information and insight into where to get the best quality sneakers, the limited editions and releases that are near impossible to come by in South Africa.
Osman remains a huge part of the Sneaker Exchange culture, but has also ventured into the clothing industry with his brand Grade Africa, with key outlets in Johannesburg's Mall of Africa and Cape Town's V&A Waterfront.
The resale economy
Another moving part in South Africa's sneaker scene is the resale culture, which is closer to the reality of the everyday consumer.
Joshua Dunn is a South African sneaker fanatic and the proud owner of approximately 350 sneakers. Through his platform, "Hey, Solemate," he connects sneaker lovers from across the country with not only the latest releases but classics from notable brands such as Nike and Adidas.
Dunn remarks that in the last couple of years, "the price point has definitely changed. In South Africa, we go through phases of supply. When we did get those global shoes, it wasn't that popular. Now it's more popular."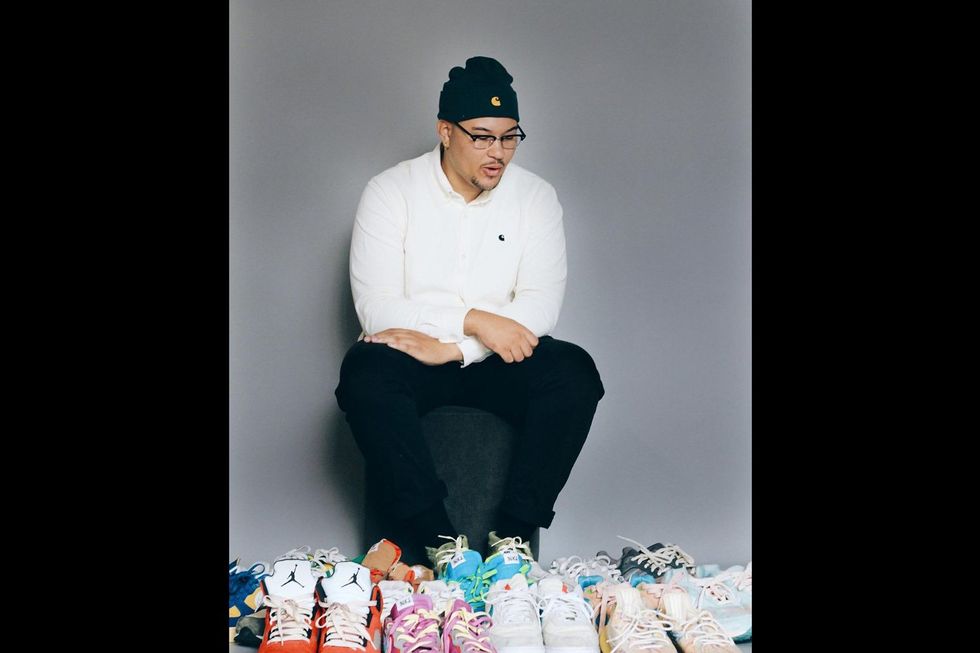 Joshua Dunn with his sneakers.Photo courtesy of Joshua Dunn.
Dunn has created a bespoke space that aims to foster relationships between people who have a real love for sneakers, but also want reasonable access to the latest drops. "You don't see local and global collaborations," Dunn says. "I'd love to see local brands collaborate with other global sneaker brands to introduce the markets to one another."

In the next five years, Dunn anticipates that South Africa will become a key region in global sneaker culture. "At this rate, we're becoming a hub for sneaker culture. I can see us having regionally focused brands and releases."
"Sneakers are a marker of self-expression and passion," says The Back Door owner, Tharious Demetriou. The Back Door now stands at ten physical resale stores with a strong relationship with their customer base. Demetriou reflects on the downside of resale culture creating "a lot more fake items and unfortunately many more scamming due to people seeing the value of the shoes and trying to capitalize on that."
Despite aspects of reselling existing as a concept in the early 2010s, it is slowly becoming a reputable business model for many legitimate sneaker connoisseurs and fanatics. Resale culture seems to maintain its attractiveness by its ability to cut out the trepidations of "access" that local branches of global brands seem to have.
Instead of going straight to a Nike or Adidas and struggling to find the newest release of your favourite sneaker, you could go to a HeySoleMate or The Back Door. Demetriou also describes sneakers, particularly preserved ones, as long-term assets. "The culture will expand not only to people who wear them but also people who just keep them and see the value in sneakers," says Demetriou.
Sneaker fanatic Kabelo Moremi, host of the Soberingpodcast, focuses on hip-hop culture with an angle on relevant rap conversations. "Sneakers, personally for me, mark personal changes in my taste palette as well as highlight where my mind was at that particular time," he says.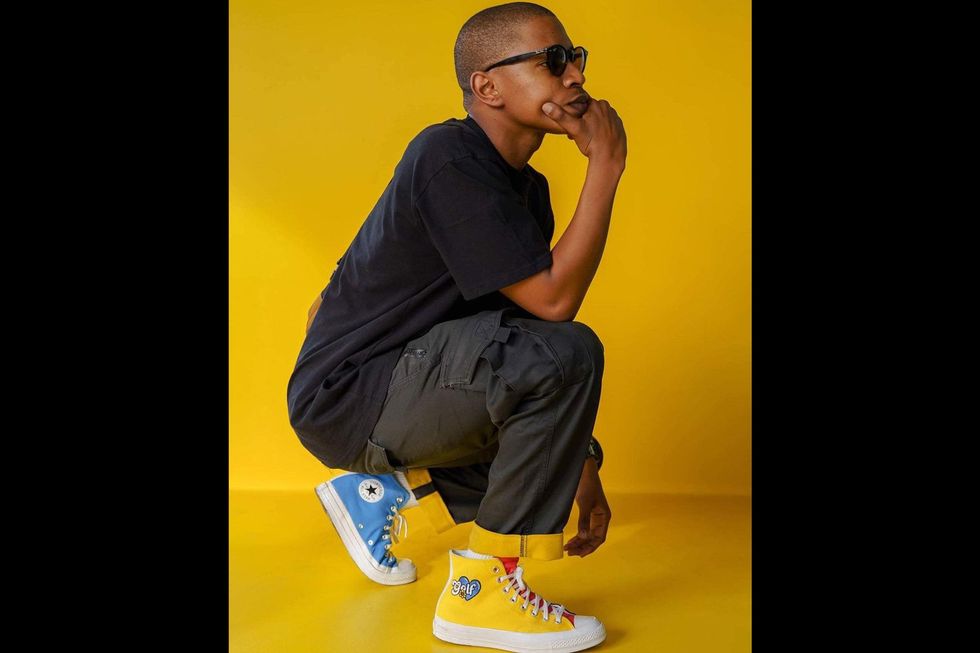 Photo courtesy Kabelo Moremi.
As a cultural commentator and relevant voice in the world of not only hip-hop but sneaker culture as well, Moremi sees the future as "more collaborations with juggernaut brands and our local ones. More global recognition for our style culture as well. South Aah (South Africa) is a vibe right now."

When asked about the possibility of local or international brand collaborations in the future, BATHU's Manenje says that "we have been quite lucky to experience some really awesome cross brand collaborations and it is quite refreshing to see the creativity that has gone into some of that incredible work. Every partnership is valuable. We do not want to rule anything out as only time will tell."
The future of sneaker culture in South Africa transcends genre. It's clear that thriving local brands, historic global brands and resale culture connect in a way that points to a moment of inflexion. The future of sneaker culture in South Africa points to consumers taking a bigger and more authentic stake in what they want from brands in every way that matters.