Zambians are worried. On social media, on our public transport and in the markets, the tension is palpable. Intolerance is on the rise and hate speech is getting out of control. This is happening in a country long regarded as one of the most peaceful in Africa, if not the world.
---
Last Thursday Zambia held a general election. All eyes were on the two men vying to become the fifth leader in less than a decade. As the votes trickled in, the incumbent Edgar Lungu emerged as the winner over the leading opposition contender Hakainde Hichilema of the United Party for National Development (UPND).
Lungu won by a tiny margin—13,022 out of 3,695,710 votes—giving him a 50.35 percent majority. Hichilema has refused to recognise Lungu's mandate, alleging fraud and promising to petition the results in the constitutional court.
The win extends Lungu's mandate to a full five year term.
This comes amidst mounting hardship in the country which come from a rising cost of living, mounting foreign debt—an IMF bailout may arrive, with punitive conditions—high energy costs and shortages. But the biggest challenge Lungu faces maybe something else entirely. The nation finds itself highly polarised on ethnic lines with some of the worst divisions in living memory.
To win an election in Zambia, one must gain enough votes in the cosmopolitan and densely populated Lusaka, Central and Copperbelt Provinces. The rest must come from the north-east or south-west regions which are divided along tribal lines.
Bembas and Chewas the dominant groups in the North and East are seen as political allies. Five out the 6 Zambian presidents, including Lungu, are from these regions. Levy Mwanawasa was the only one from the Copperbelt region. Southerners have traditionally been in opposition and are thought of as ethnic allies to those from Western and North Western provinces.
Many politicians on both sides of the divide traded insults and tribal hate speech without restraint prior to the elections. While both presidential candidates adopted running mates from regions perceived to be ethnically opposite to their own in apparent attempts to bridge the tribal divisions, many analysts saw that as a ploy to win the election rather than to have partners who could help them best deliver on their promises.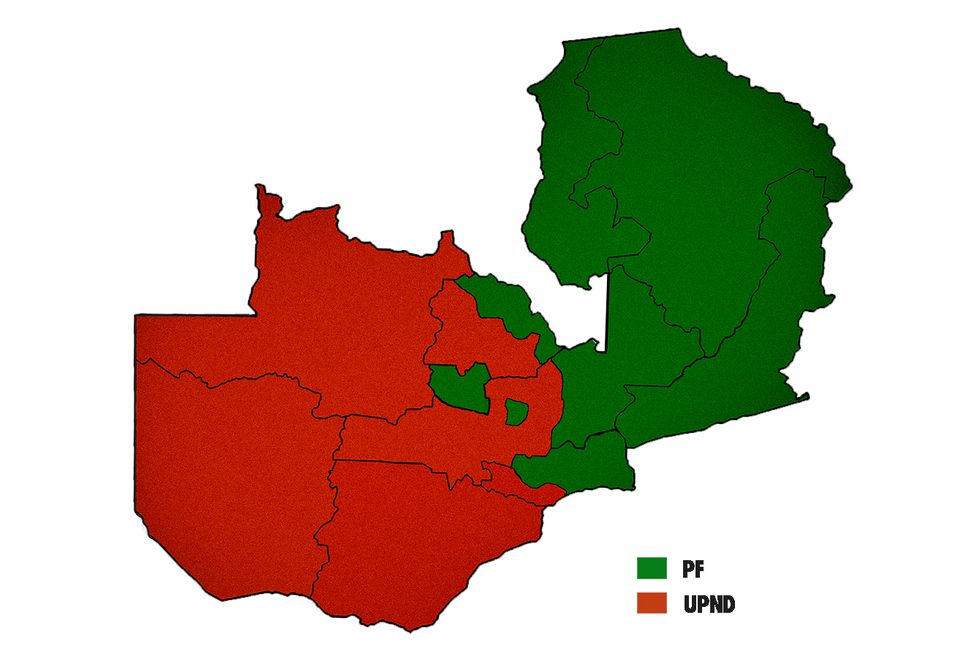 Zambia's electoral divide. Illustration by Aaron Leaf
Immediately following the announcement of the elections results, riots broke out in areas where Lungu's support base is in the minority. Ruling party cadres responded by burning property belonging to opposition supporters in Lusaka.
The very fact that 'tribe' is back on active duty in Zambia is cause for worry. In the process of trying to appear ethnically balanced, political parties have had to trade actual qualifications in many party appointments and adoptions. While it is true that every region has a fair number of competent people who can fill up any position in politics or government, the same is not necessarily true of party membership.
In a country where the majority of the highly educated people are apolitical, or prefer other careers, it is a tall order to find a competent cadre which also meets the ethnic balancing act when choosing leaders. The challenge will even be bigger for Lungu in view of the fact that appointing opposition party MP's to is cabinet could be harder than ever before owing to the amended constitution. All those he had appointed before lost their parliamentary seats.
While the high cost of living, poor service delivery and financial market chaos among many other challenges were relegated to the bottom, if not removed off the election agenda altogether, the president elect no longer has that luxury. He will need to urgently address these matters on top of improving public service wage payments and university student allowances among other issues.
This election campaign was the most violent in Zambia's history and the president elect will now be expected to clamp down on the violence if he wants to be seen as a unifier rather than the divisive figure he is often portrayed to be.
Like others before it, this election outcome was mostly influenced by three factors: voter turnout, gain or loss of popularity by a party and finally the total number of registered voters in a party's stronghold. Unfortunately, those strongholds have now been classified by ethnicity and not political appeal of a particular party in a given region.
If the president elect manages to mend ethnic fissures which this election has reopened and worsened, he might even find himself forgiven of any failures he might encounter on the economic management front.
However he chooses to govern, consult and apply himself, Lungu finds himself as lead actor in reuniting a divided nation. While the cracks are visible, the beams on which Zambia is built are still standing. As far as the history of keeping the nation together is concerned, Lungu's five year term may be the most crucial in Zambia's recent history.
Jimmy Maliseni is a veteran Zambian journalist. Currently, he works for the Alliance for Community Action in Lusaka where he works to enhance citizen voices demanding accountability. You can follow him on Twitter @TheKingsMan77.