Lagos, the vibrant culinary hub of Nigeria, is a city teeming with an array of gastronomic delights. From street food stalls serving mouthwatering local delicacies to upscale restaurants offering global flavors, there's an exciting dining scene for food enthusiasts who live or visit the city.
In search of an expert perspective, we turned to a group of seasoned chefs, esteemed food critics, influential food bloggers, and frequent restaurant-goers to curate a list of some of the best places to eat in the city. Here's a guide to having a unique, exceptional dining experience in Lagos.
Thonia Okonji
Thonia is a fashion, food and lifestyle content creator who shares exciting finds on Instagram.
La Taverna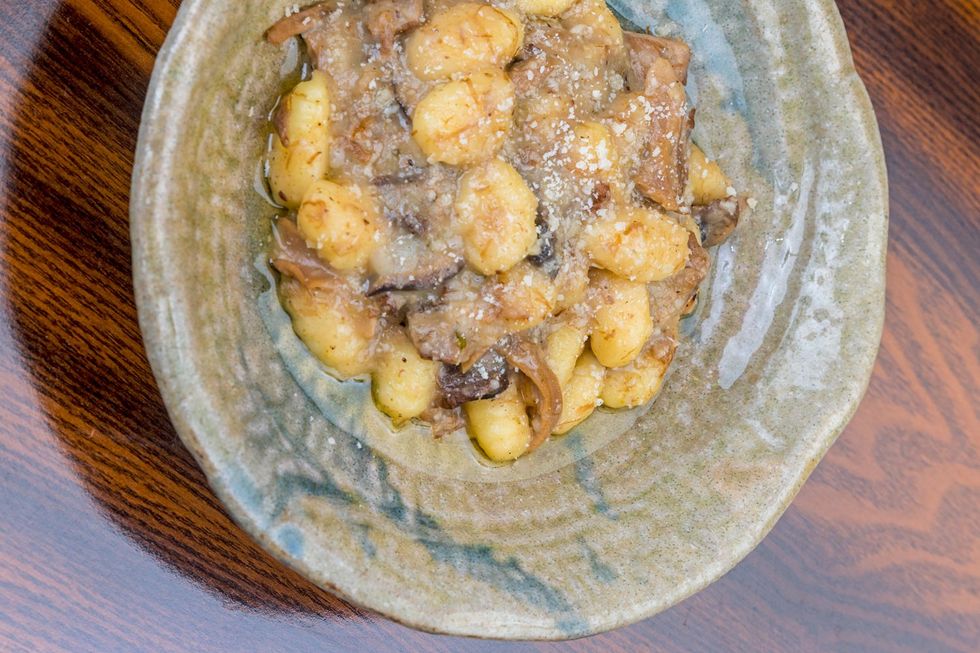 A dish from La Taverna. Photo by Adeleke Farayola/ @MrFoodPhoto.
Thonia Okonji: I love visiting restaurants that serve good food and give me that experience like I'm in another country, and this pretty Italian space (La Taverna) ticks both boxes for me. I'm obsessed with going to eat pasta, drinking wine and taking cute pictures. Fun fact: There's pasta Thursday every Thursday, and you get a plate of pasta and a glass of wine for cheaper.
Soul Food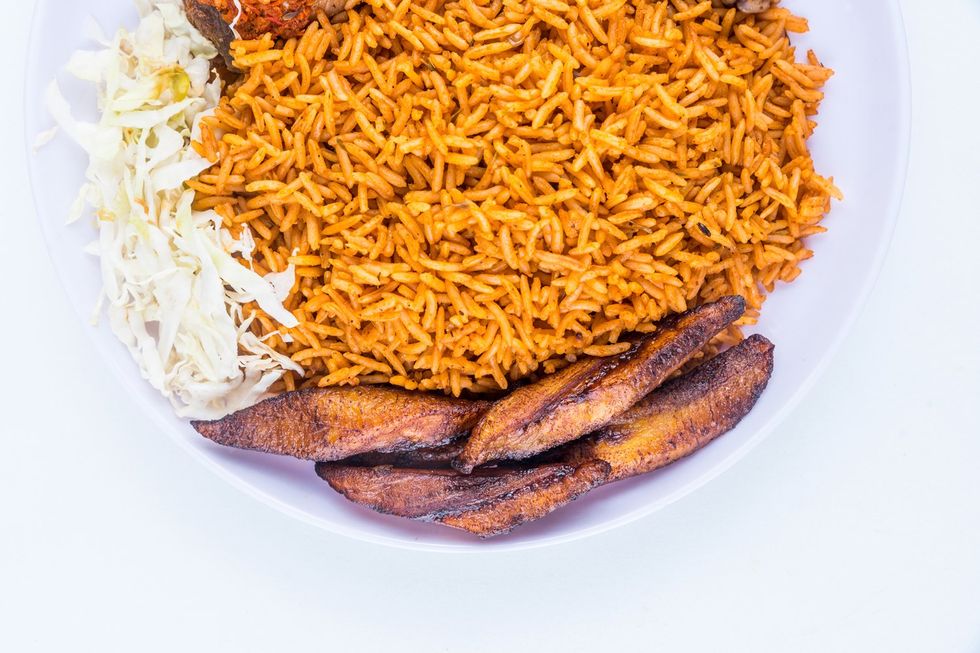 A dish from Soul Food.Photo by Adeleke Farayola/ @MrFoodPhoto.
Okonji: I live on the Mainland, and Soul Food is one of the best restaurants. It's the perfect place to eat food that's affordable but still tastes good. My favorite is the Jollof Iya Daisy and its proper Naija party jollof rice. This dish will show you if you want to know the fuss about Nigerian jollof supremacy. The staff is welcoming, the ambience is beautiful, and you'll get great value for your money.
Kunmi Odueke
Kunmi is the Content Editor at EatDrinkLagos, and always on the hunt for the next delicious thing.
HSE Gourmet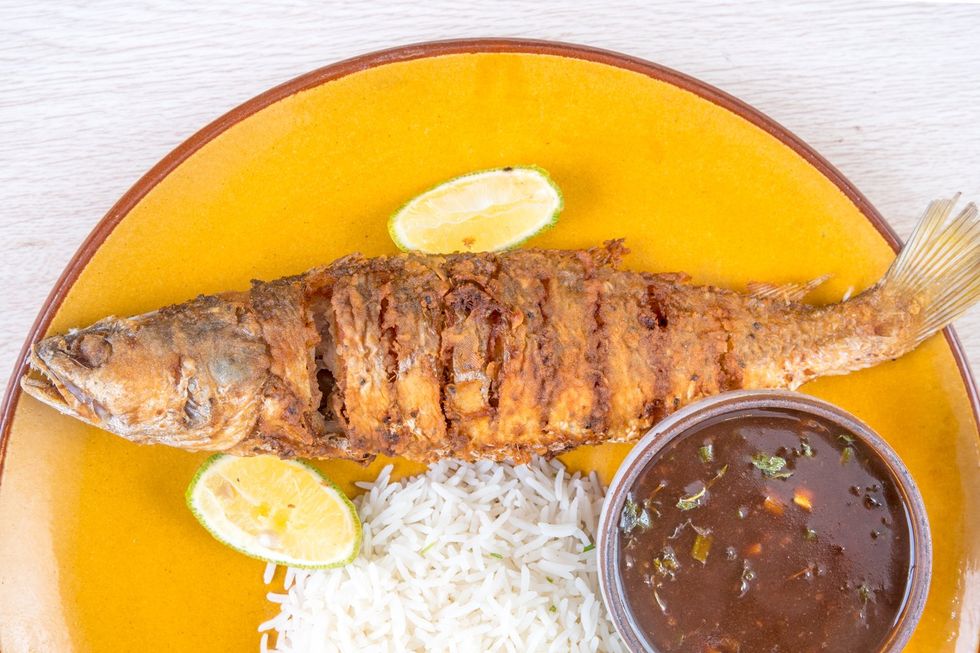 A dish from HSE Gourmet. Photo by Adeleke Farayola/ @MrFoodPhoto.
Kunmi Odueke:HSE Gourmet is one of our all-time favorites in Lagos. We first reviewed it on the Eat Drink Lagos blog in 2016, where we described it as amazing by Lekki standards, after having a couple of meals, and 7 years later, they're still serving up good grub.
Itan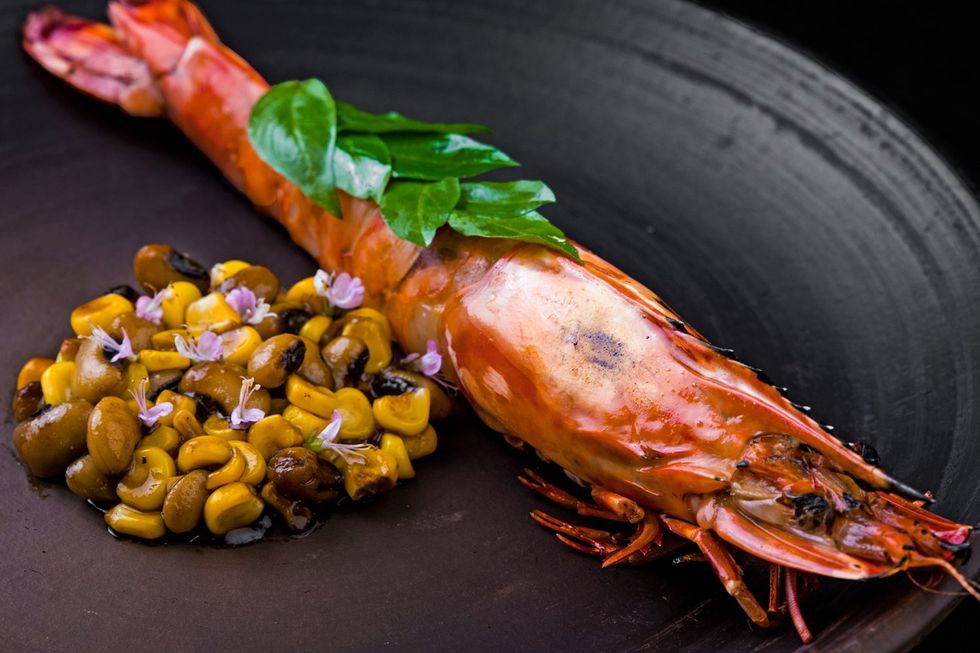 A dish from Itan. Photo by Adeleke Farayola/ @MrFoodPhoto.
Odueke: The food at Itan is a breath of fresh air. We love how serious they are about reimagining traditional Nigerian cuisine through local ingredients and cooking traditions.
Opeyemi Famakin
Opeyemi Famakin refers to himself as Nigeria's biggest food and wine critic, and reviews food nationwide on his Instagram.

Ofada Boy
A dish from Ofada Boy.Photo by Adeleke Farayola/ @MrFoodPhoto.
Opeyemi Famakin: [Ofada Boy is] another spot that gives you the real Nigerian experience, as it leans towards the Egba culture. From the modern but local Yoruba and Nigerian restaurant design to serving their dishes in leaves and clay pots like our ancestors ate, Ofada Boy takes you back in time with a modern twist.
Nok by Alara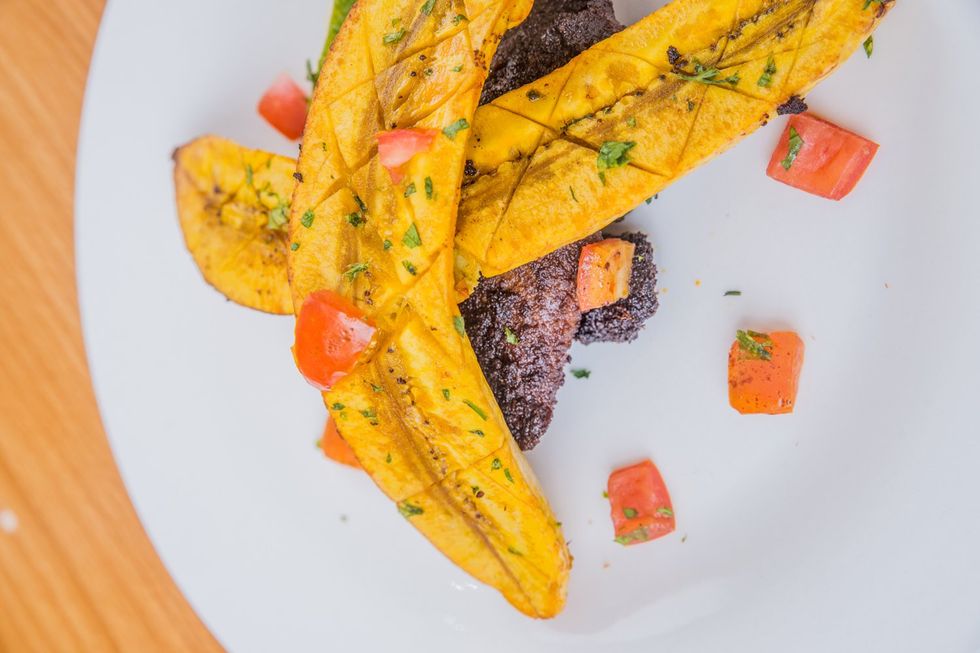 A dish from Nok by Alara. Photo by Adeleke Farayola/ @MrFoodPhoto.
Famakin: If upscale and trenches were to have an affair and birth a lovechild, Nok by Alara would be the product. It's an upscale West African restaurant with some of your favorite Nigerian dishes, but with little twists here and there. It is the spot you take your foreign friends to try out Nigerian cuisine.
Tai
Tai is the founder of Foodie in Lagos, a hyper-local food and restaurant blog providing unbiased reviews of food and drinks in Lagos via her blog and on Tiktok.
South East Asia Music Restaurant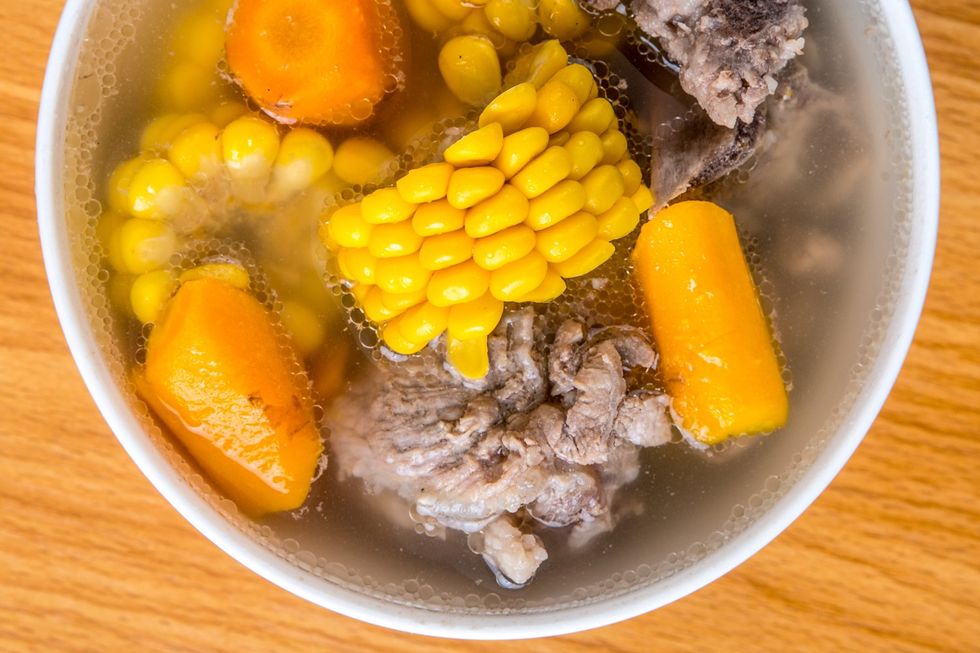 A dish from South East Asia Music Restaurant.Photo by Adeleke Farayola/ @MrFoodPhoto.
Tai: The food at [South East Asia Music Restaurant] is fantastic. There's this peanut snack thing they serve to visitors that I think they should bottle and sell because it's so good. This is one of the most authentic restaurants in Ikeja, serving quality Chinese meals.

RSVP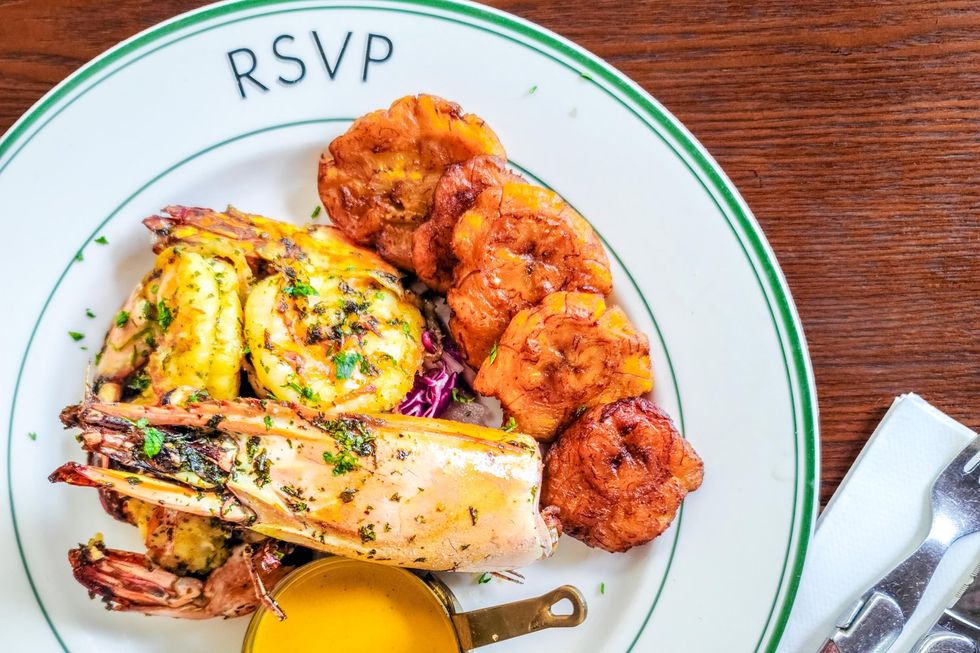 A dish from RSVP. Photo by Adeleke Farayola/ @MrFoodPhoto.
Tai: I've never had a bad meal at RSVP, which makes the experience great. The meals and drinks are great, and the poolside area is vibrant on weekends, with great music and lovely energy.
Matse Uwatse
Matse Uwatse is a multiple award-winning Nigerian media personality and celebrity chef.
Ghana High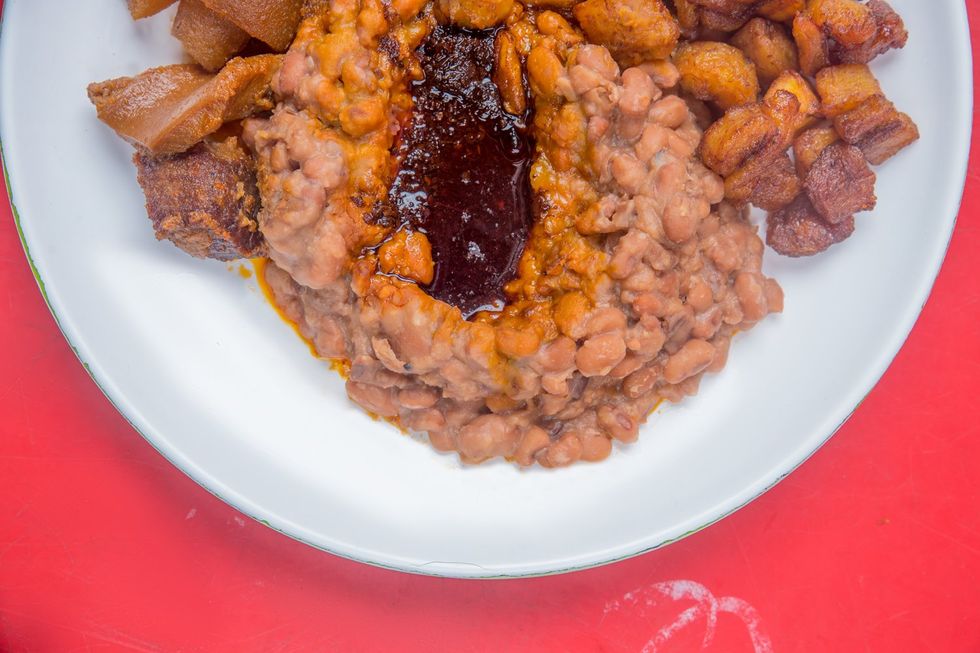 A dish from Ghana High.Photo by Adeleke Farayola/ @MrFoodPhoto.
Matse Uwatse: Ghana High holds fun memories. It was where I got my daily lunch when I just started working in Lagos. They have a distinctive tasting jollof rice, so different from others, and the way they fried their meats [is] exceptional. Anyone who has tasted meals from Ghana High can easily tell it apart from others, even when blindfolded.
Amala Shitta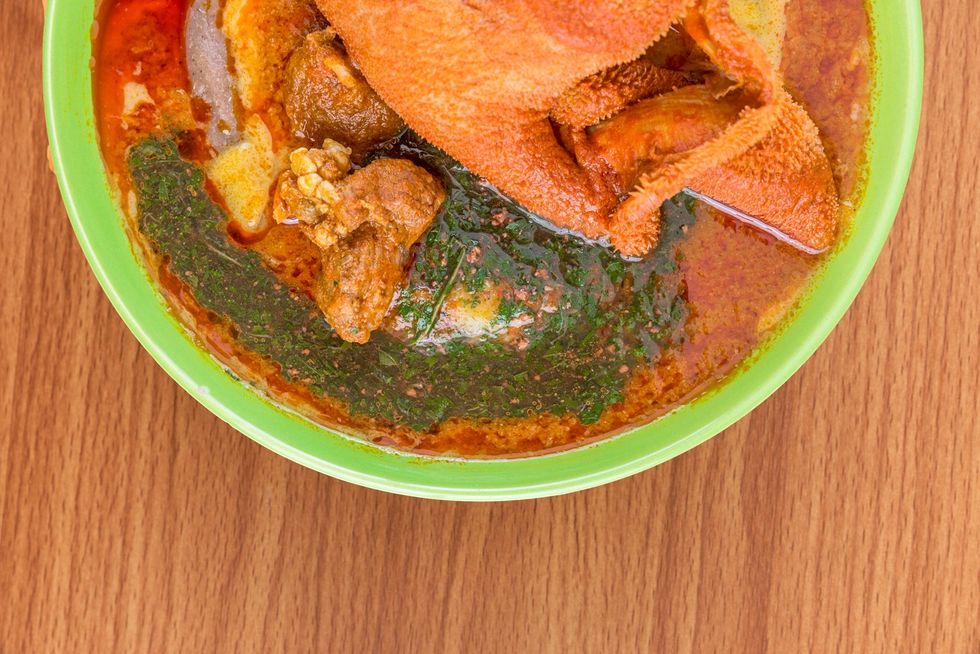 A dish from Amala Shitta.Photo by Adeleke Farayola/ @MrFoodPhoto.
Uwatse: Amala Shitta is like no other. They take pride in their silky amalas and soft meats. Meats that literally melted in your mouth as you chewed. It is a very down-to-earth place in Surulere, a place where you will find the rich and the poor as eager patrons [alike]. Food, they say, can unify.
Rotimi Alabi
Rotimi Alabi (aka Chez Ro) is a self-taught chef who constantly innovates through meals and shares love through food with multiple households in Lagos.
Thai Thai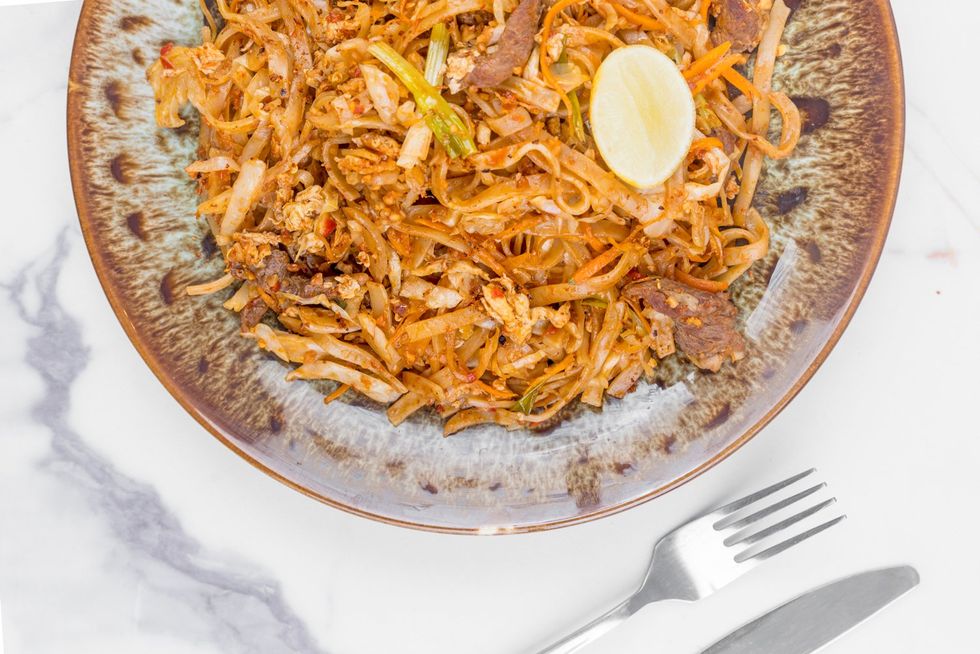 A dish from SLoW.Photo by Adeleke Farayola/ @MrFoodPhoto.
Rotimi Alabi:Thai Thai is incredibly unassuming. It transports you into a world of quirkiness. The menu, artwork, and decor are very verdant, and the food is appealing. It's one of the few places you visit, and the food is consistently good. It's nice, cosy, and feels like a lovely tucked away 'if you know, you know' place. The ogi-goji is my favourite mocktail (ask for it).

SLoW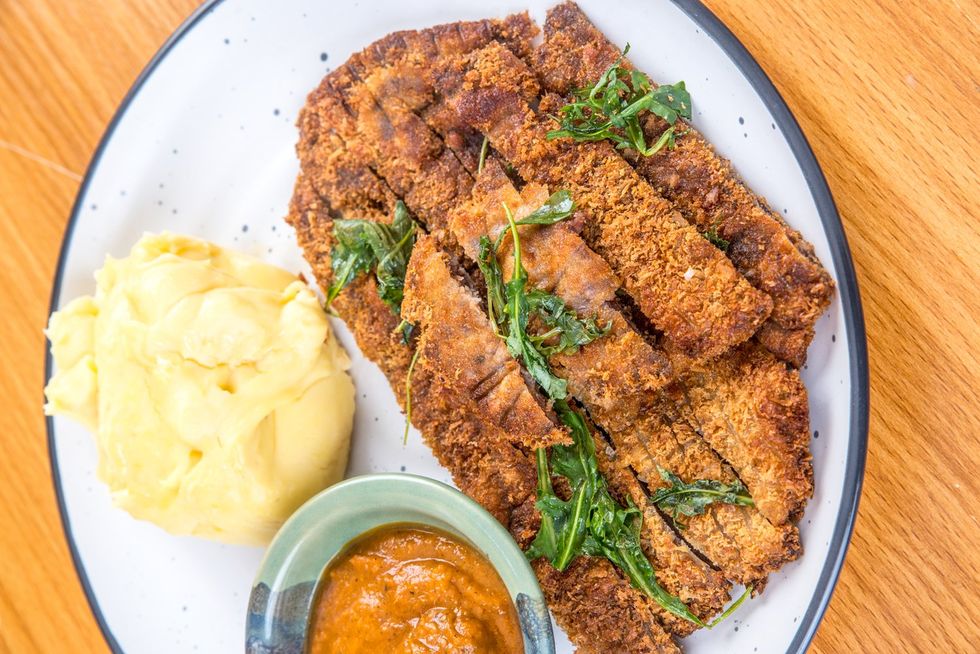 A dish from SLoW.Photo by Adeleke Farayola/ @MrFoodPhoto.
Alabi:SLoW is the place you want to go to for pretty, tasty, but expensive drinks. The drinks are fantastic, gorgeous, but delicious. If you go on a Sunday, you may catch the jazz band. The food is good. It may lack the right things that make it cater to a Nigerian palette, but once you add some pepper sauce on the side, you're right on track! The decor is good, and you can tell that they paid so much attention to detail. You can tell that the architectural and culinary inspiration is drawn from South American influences.
Edwin Okolo
Aside from co-running a knitwear label, Edwin doesn't take for granted a well-made meal in a restaurant.
Alice Garden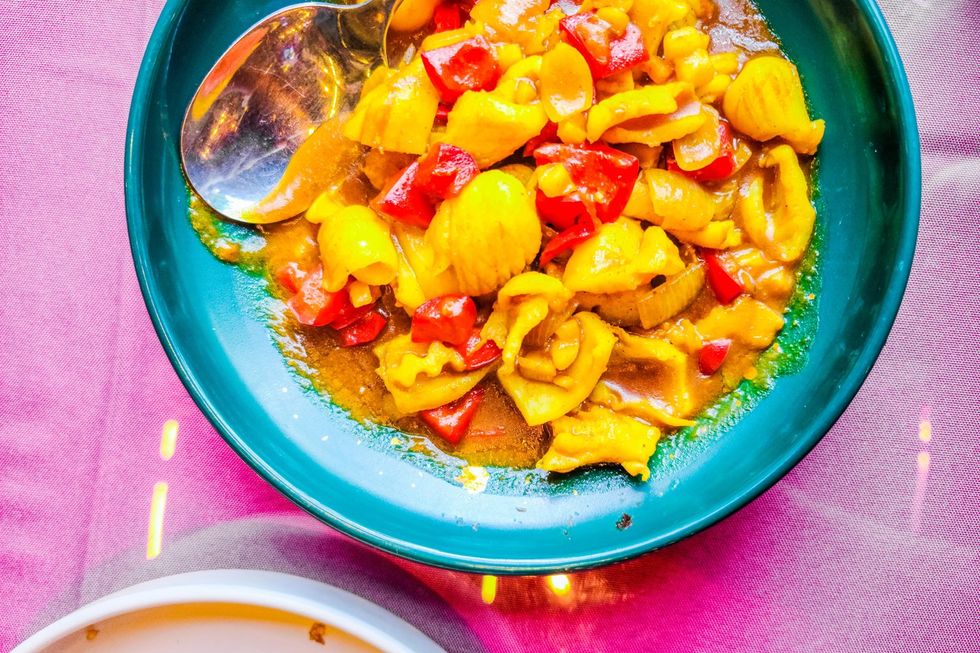 A dish from Alice Garden.Photo by Adeleke Farayola/ @MrFoodPhoto.
Edwin Okolo: The first thing that really catches your attention at Alice Garden is the architecture. The restaurant's facade is a literal garden wall, green and vibrant, surrounding a cat sculpture like a beard.
This kind of unapologetic maximalist approach is what really sets the restaurant apart. Two life-size sculptures greet you at the entrance, the Victorian-style chairs have cats and other animals printed on them, and the ceiling is brimming with pastel ferns.
The menu and the portions are just as audacious. Alice Garden offers over 100 options of rice-based dishes, noodle-based dishes, seafood and meat-based sauces and a Nigerian menu, all on request, a rare feat for a Nigerian dine-in restaurant.
Alice Garden also has a pretty impressive Japanese beverage menu, with Boba teas, milkshakes, smoothies and fruit-based juices. It is a true maximalist feast for the belly and the senses.
Safron Rooftop Bar/Restaurant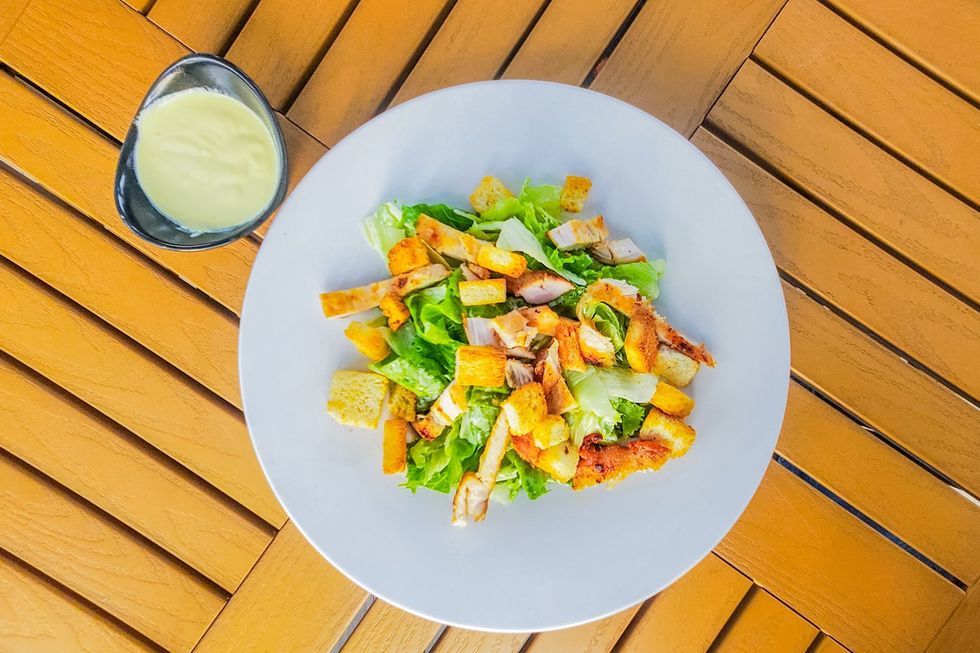 A dish from Safron Rooftop Bar/Restaurant.Photo by Adeleke Farayola/ @MrFoodPhoto.
Okolo: One thing that Mainland Lagos has over Lagos Island is rooftop bars and lounges. With views of the Lagos mainland, air open spaces for the claustrophobic and none of the stuffiness of traditional restaurants.
The Safron Hotel's rooftop bar and lounge really struck a chord with me. As did their crunch Caesar Salad, one of the more intriguing offerings on the menu.
Safron offers a decent variety of options, a pasta segment for the Lagos baddie, a robust desert menu and a packed breakfast menu. The food is a little pricey, and the service generally has a 40 minute turnaround time, but the food is pretty good, and it is refreshing to find a restaurant where the waitstaff largely leave you to your devices while you eat and only engage when you directly request their help. The Safron would be great for casual first dates.
Wakame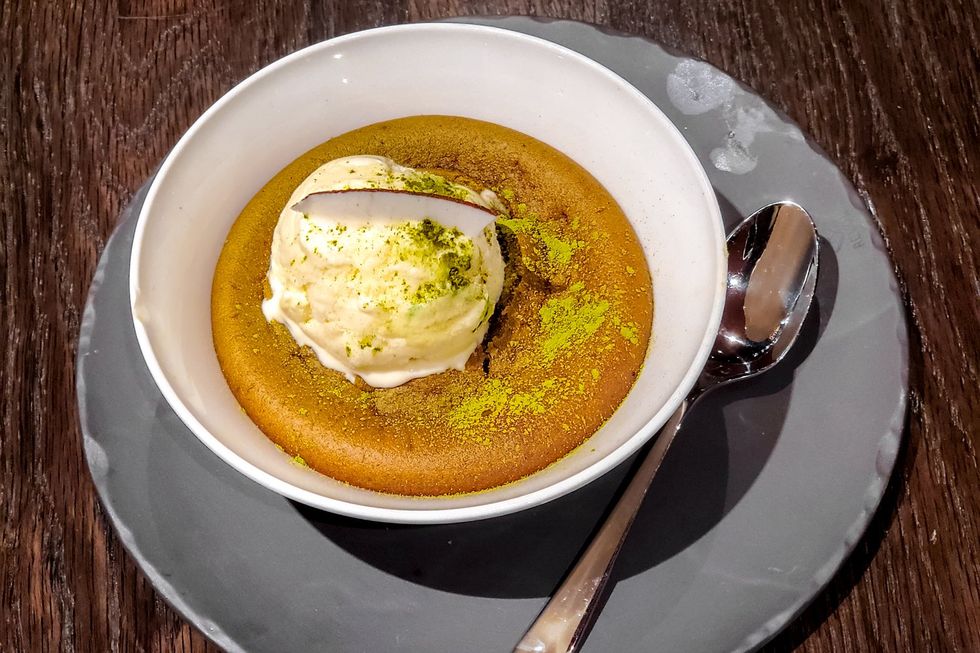 A dish from Wakame.Photo by Adeleke Farayola/ @MrFoodPhoto.
Okolo:Wakame, the rooftop restaurant at the Marriott Hotel, has views that overlook the Ikeja skyline on one end and the rooftop patio and pool on the other. But you won't be too tempted by the view because the team at the Marriott has done a fantastic job of designing Kakame, reminding you of the glamourous restaurants popular in '90s Asian cinema.
The view is complemented by an open kitchen where the guests can see as their food is made, not something we see very often in Nigeria.
Wakame's prices are surprisingly affordable considering its affluent decor. It also takes its Asian influence very seriously; the menu covers only cuisine from South East Asia, with Cantonese, Japenese and Indian dishes available to order. Anime fans will love how their ramen is plated and the pizzazz with which certain offerings on the menu are served. The restaurant also has a fantastic matcha dessert that should only be experienced, not described. If you want to make a great first impression without burning a hole in your pocket, Kakame is your ace in the hole.