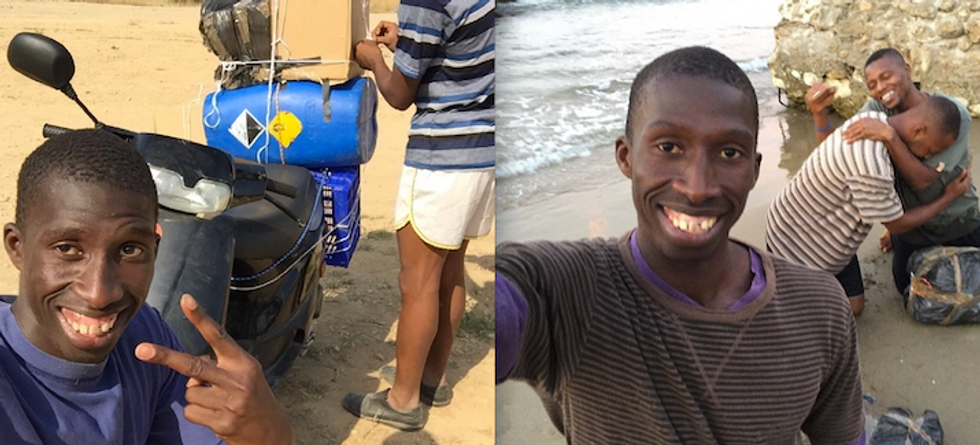 ---
Photos via @abdoudiouf1993
Yesterday, in an article titled "Migrant' Instagrams His Perilous Journey By Truck And Rowing Boat To Reach Spain From North Africa," The Huffington Post UK reported on the recent appearance of an Instagram account purportedly from a Senegalese man in his early 20s documenting his migration from Dakar to Spain through a series of selfies. The account, which launched a week ago, was attributed to the user "Abdou Diouf" (@abdoudiouf1993), and features a series of fifteen selfies and accompanying short captions describing each leg of the alleged "journey" paired with promotional hashtags like #travelgram, #bestdayever, #nopainnogain, and #foodporn.
Today, it was revealed that the account is in fact a hoax. The man in the pictures is Hagi Toure, a Barcelona-based beach handball player who was hired to act as part of the upcoming Getxophoto photography exhibition in Getxo, Spain.
According to TIME, the campaign was produced by Spanish creative agency and production company Volga, and directed by the Barcelona studio Manson, who the festival hired to produce and direct a series of videos and images that would promote the event and also raise questions about the use of photography in today's society.
Volga's Oriol Caba told TIME that the project intended to raise "questions" about the use of self-image. "In developed countries, there's a use of the self-image that is not common to other parts of the globe," Caba said in the TIME interview. "[We wanted] to show how the banality of the treatment of the self-image could be used to produce an image of the self but in a very different context, like the dangerous and traumatic trips people embark on to get a better life. We thought it was strong and powerful enough to make a statement and to raise questions."
HuffPo UK reports that the photos were shot by one of the project's directors, Tomás Peña, in and around Barcelona with his iPhone in a single day (You can see the stills appear in this video posted by Manson).
Peña told BBC Trending that he didn't think everyone would be fooled by the account. "We thought it was ironic to see him using hashtags like #RichKidsofInstagram," he said to the BBC.
See the full series of Instagram posts below.