Arts + Culture
The Pengest Munch: Behind the Extraordinary Rise of the Chicken Connoisseur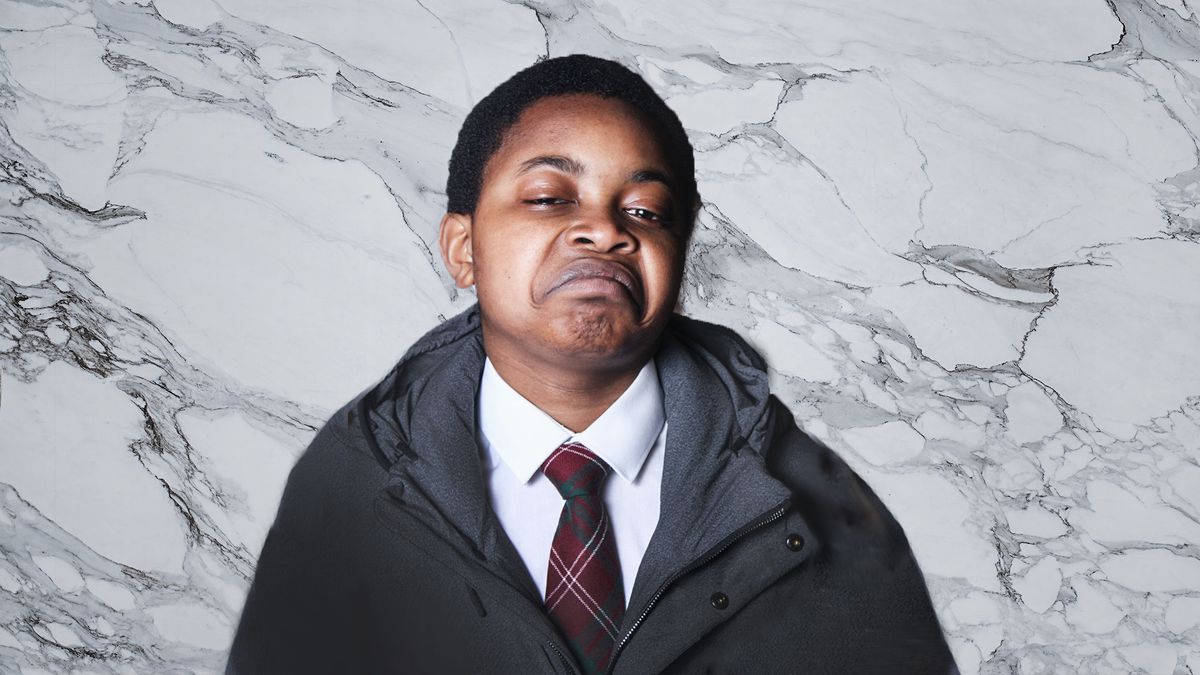 The man behind the viral web series "The Pengest Munch" just minted a book deal and must now navigate life as a star.
In episode 15 of his web series, "The Pengest Munch," Elijah Quashie AKA the Chicken Connoisseur is being driven around New York City in a luxury SUV alongside ASAP Bari of ASAP Mob who shows-off handfuls of cash as they cruise for chicken.
---
Quashie shows off Bari's new custom sneakers—black and orange Nikes with lettering that says "every living creature dies alone"—the motto of his streetwear-line "Vlone." This video has one and a half million views on Youtube alone.
Quashie is an odd choice for a social media star, a boyish figure from North London—he's older than he looks—he launched to fame last year after his video reviews of London chicken shops went viral. Each of his videos has been viewed over a million times and one, episode 6, is nearing four million.
If that wasn't enough, it was announced today that Quashie has got himself a deal to write a book—"The Pengest Munch: In Search of the Nation's 50 Favourite Chicken Establishments" comes out in October. You can nominate your favorite here.
Elijah Quashie is a food critic. Why? Because he critiques food. It should be that simple, but it isn't. Professional criticism has long been the domain of those who have received institutionalised training or awards.
But his fame has more to do with his charisma, his humour and his way with language. Quashie is a real sneaker head and episodes of The Pengest Munch features a quick "crepe-check," when he stunts with a different pair of sneakers describing it in some detail using words like "meshington" and phrases like "bare comfy." What we don't get to see on video, however, is the kind of behind the scenes hustle that's involved in getting to this level.
Fried chicken may have no obvious relation to sneakers, so the connecting tissue must be the wearer(s) and the lifestyle and culture he comes from. You get the impression he could easily start a parallel and successful web series called The Pengest Crepes. Turns out he plans to start a new series called "The Crep Chronicles."
Back in London
While arranging the interview, an associate informs me that Quashie can't speak on a particular day as he is attending a special screening of Moonlight held by the MOBO academy. The perks of fame only get perkier surely.
Quashie tells me, "some places you go to, you get turned down for a job because you don't have this and that from here and there, but you can do the job. That's just the way the system works really. I think it's the same in people's minds, though it doesn't have to be that way."
The criteria might be discriminatory, but the pursuants and purveyors would appear to have come from a particular stratum of British society defined (and confined) by race and class—two superficial yet enduring factors that still delineate the country's populace centuries on.
Quashie surely had more serious situations in mind, and more importantly, he's dismantled such normalised backward-thinking from the beginning with his simple decision to go into a chicken shop and review it.
What Quashie may also be doing is creating a Michelin Guide for London's fried chicken shops, whose only accreditation has been from word of mouth, corny signboards and health & safety standards.
The sheer force of his popularity and recommendations could, and probably does, influence a fan's decision whether or not to eat in a shop that has featured in the The Pengest Munch.
Just as the Michelin Guide was originally for motorist before later awarding stars to restaurants, The Quashie Guide to fried chicken shops is now budding into a sneaker appraisal.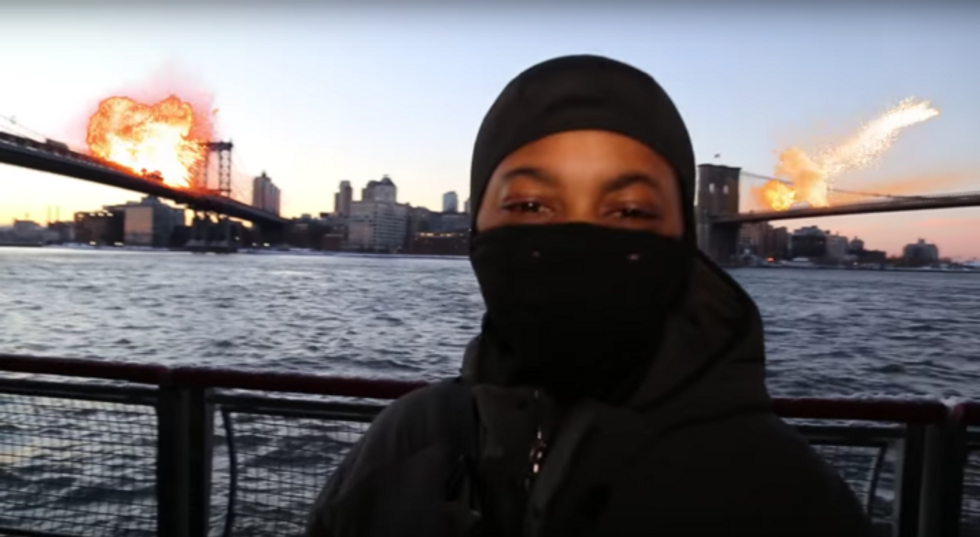 Elijah Quashie in New York. Screenshot from "The Pengest Munch" Episode 15.
Ski Masks and Neckties
Quashie wears a suit, tie and white shirt when presenting The Pengest Munch—hopelessly professional it would seem, but he also often wears ski-gloves and briefly, for this New York episode, a ski-mask.
Ski-gear denotes a privilege and/or wealth separate from that which is associated with the generally well off. But it is also a choice outfit for robberies and all sorts of clandestine activities. Ninjas don't quite count here.
Is Quashie promoting a certain "street" lifestyle by sometimes wearing accoutrements that are associated with violence (I never asked about his ski-game), or is it a clever deployment of imagery and its connotations that will continue to certify him in the constituency that he is from and the broader one he represents?
A stated aim on his YouTube channel is that "the chicken connoisseur is a food critic for the mandem who care to know what the finest restaurants in London are and where to find them."
If the ski-gear puts him in close proximity to violence, his eloquence and specialism/specialty in critiquing food must put him miles away from it—but then he's one person.
More chicken shops proliferate in low income areas—mostly of blacks and asians but also some whites—than they do in high-brow ones. No hard statistic is needed when a simple round trip can confirm this.
In full confidence that there is a stigma attached to these communities and its consumption of fried chicken, I ask Quashie if this was ever a concern to which he simply says, "It's quite normal to eat chicken."
At the risk of fetishing it, I'd say that Quashie's vocabulary when on screen incorporates as much "standard English" as slanguage making for a rich listening experience.
I tell him I learnt the word "gloppy" from him and ask if, as his fame grows, he plans to alter his manner of speaking so as to appeal to even more listeners from diverse backgrounds, but ever forward type he says, "I'm probably not going to change anything. I'd like to keep it as original, normal and simple as possible. The less I change the better it is I guess."
Sabo Kpade is an Associate Writer with Spread The Word. His short story Chibok was shortlisted for the London Short Story Prize 2015. His first play, Have Mercy on Liverpool Street was longlisted for the Alfred Fagon Award. He lives in London. You can reach him at sabo.kpade@gmail.com.