Film critics and festival-goers have been talking about Khadar Ayderus Ahmed's The Gravedigger's Wife, for over a year now – ever since it debuted at the Cannes Film Festival in May 2021. But the Mogadishu-born filmmaker has been talking about it for over a decade, when he first had the idea to write and make a film about a desperate gravedigger's quest to pay for his wife's life-saving surgery.
Over the past year or so, as the film has made its way to festivals and screenings around the globe, Ahmed has seen the power of African stories to travel, and resonate beyond the borders in which they're made. "Last year was just a warm up," he tells OkayAfrica via Zoom from Paris, where he currently lives. "It's really crazy to follow the success of the film and to see that it has taken off so well. The reception around the world has been so warm."
It's hard not to fall for Ahmed's film – his first ever feature, made after years of writing screenplays that other Finnish directors would helm, and, he says, destroy in the process by not telling the stories in the way he'd envisioned them to be told. Ahmed used his own personal loss, a death in the family, to inspireThe Gravedigger's Wife. While it's a tragic tale, the film is full of wit and humorous insight, made with tender compassion for its lead characters and their love story.
For that, The Gravedigger's Wife has scooped a bevy of awards -- from the Amplify Voices Award at the Toronto International Film Festival to Africa's most prestigious film prize, the Golden Stallion, at the Pan-African Film and Television Festival of Ouagadougou (FESPACO). It also became the first entry from Somalia submitted for Best International Film Feature at the Academy Awards. But more on that later.
Khadar Ayderus Ahmed first wrote screenplays before deciding to become a director with 'The Gravedigger's Wife.'
Photo: Lasse Lecklin, Bufo
Born in Mogadishu, Ahmed fled the civil war with his family and went to Ethiopia before landing in Finland at 16. "I pretty much had my identity, my culture, my religion, everything in my backpack when I arrived in Finland," he says. He grew up devouring Bollywood films and a desire to create his own stories on screen informed the trajectory of his life. Having made annual trips back to the continent, he decided to shoot his debut film on African soil, in Djibouti.
"It was my first time working on the continent, so I knew what I was getting into," he chuckles, recalling the challenging 21-day shoot. "There's nothing in Djibouti, there's no film industry; there was absolutely nothing, so we had to shift everything, the entire crew and equipment, from Finland [to] there." Scouting the location before production began, Ahmed was prepared for what lay ahead, but he still had to overcome obstacles like searing hot temperatures and an outbreak of diarrhea amongst the cast.
Ahmed also enlisted non-actors for the film, Omar Abdi and Yasmin Warsame, who play the playful but devoted couple, Guled and Nasra, who live on the outskirts of Djibouti City with their teenage son.
In spite of the hardships of shooting in Djibouti, Ahmed intends to continue making films on the continent – "abso-F***ING-lutely!" For him, there's no turning back. "I believe that the future of cinema is in Africa. There are so many stories that can only be set in Africa, but cannot be set in Western countries. For example, this film is about the healthcare system in African countries. In Western countries, if you get sick you have a system that takes care of its own citizens, but people [back home] have to pay from their own pockets. So it would have been impossible to set this film, for example, in Finland or in Germany, but it was only possible to set it in a small country like in Djibouti. So I'm really interested in telling African stories or stories that are set in Africa."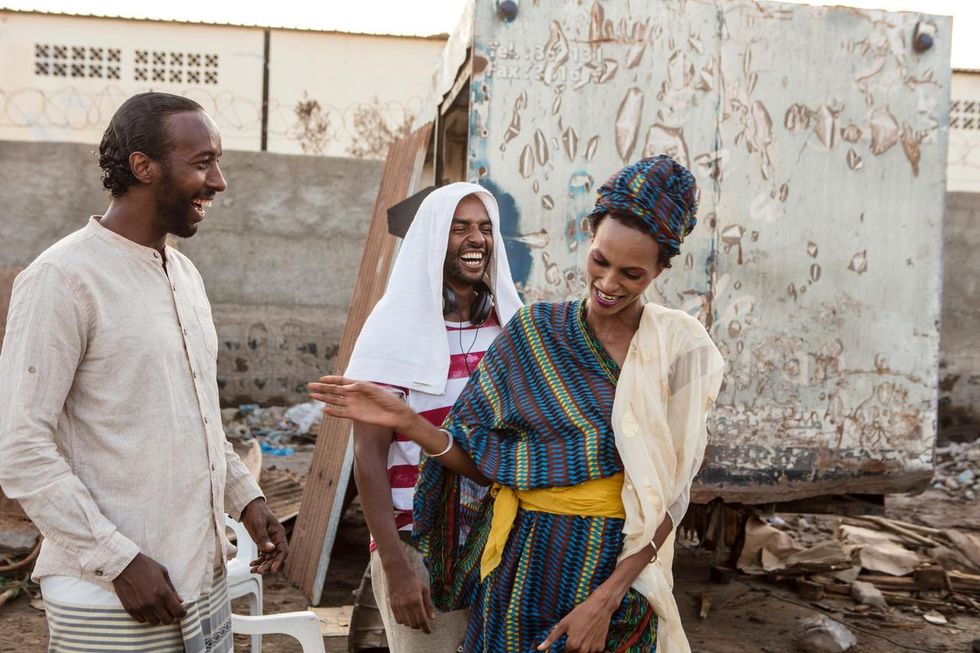 Khadar Ayderus Ahmed with Yasmin Warsame and Omar Abdi on set of 'The Gravedigger's Wife' in Djibouti.
Photo: Lasse Lecklin, Bufo
The Gravedigger's Wife was made with the help of Finnish backing, along with German and French co-producers, and Ahmed believes this is the way forward, a mutually-beneficial relationship for all involved. "This was the first film that was funded by Finland that was entirely shot in Africa. Everybody was a little bit skeptical, at first, and that's why it took us a long time to get the funding in place," he says. Its success is important not just for him personally, but for African cinema as a whole. "Once the film had been made and [the producers] witnessed the success of it around the globe, they were like, 'Okay, we can make some more films there.'"
Ahmed, who's been outspoken about Finnish cinema being too white, believes the success of The Gravedigger's Wife has opened up other possibilities. "This is one way of having [people] leave their comfort zone and see that Finnish stories can be set in Africa, or that Finnish filmmakers can have their films be made elsewhere, not just in Finland." This, he maintains, is a tangible way to bridge divides between people and to engage in different cultures.
"I hope this is just the beginning of so many more African films by Africans set in Africa with the help of Western fundings, because they benefit from it as well," he says. "In so many ways, I think they get more than they put in; it's a win-win."
As his film is released in other countries, like the UK, Ahmed still can't believe that his is the only African film to have received a theatrical run in his adopted home. "There have been so many incredibly well-made African films by Africans such as Abderrahmane Sissako and Mahamat-Saleh Haroun. None of these films have ever been released theatrically in Finland because the thought was that there was no audience for such films, which is not true." Indeed, while the film saw Somalis in each of the cities where it screened come out in full force, its appeal has been universal.
Despite the applause The Gravedigger's Wife has earned, the film didn't make it onto the shortlist for the Best International Picture category at this year's Oscars, even though many critics believed it should have. Ahmed maintains there is little desire to celebrate African film by the Academy of Motion Picture Arts and Sciences whose members vote for the awards so he wasn't surprised. "I was told that none of the voters were really interested in film from Africa, especially one from from Somalia [that was being submitted] for the first time. [The Oscars are] not inclusive; it's just white cinema tapping each other's backs and celebrating, so I wasn't really that much interested in it."
He continues: "For me, the biggest dream was [the] FESPACO [award], and I even still sometimes have to pinch myself to really believe if that if that happened or not. The Oscars are very political and it's a game, it's a show; it's not really about the quality of films. It's about who has the most money or who campaigns the most, who throws the biggest parties. It's not really about the quality of the film."

Ahmed keeps his head down and his focus on what comes next. He's done with making people cry. For now. He has a few different projects in development -- no surprises, they're all set in Africa -- one of which is a comedy. "I'm really interested in telling different types of films. I don't want to put myself in one box where I keep telling the same stories. I want to do drama, horror, thriller, sci fi -- you name it, Western. Because it's all about challenging myself. If it doesn't challenge me, then it doesn't do anything for me."
From Your Site Articles
Related Articles Around the Web