There is perhaps nothing more tragic than death as much as it is the one constant of life itself. Funerals are sombre events meant to mourn the passing of a loved one and understandably so. In spite of this, I have ironically experienced tremendous humour at black South African funerals especially and I know many black Africans will be able to relate. For those of you who are curious to know what happens exactly at these funerals, keep reading.

Can I also get some of that beef stew?
Illustration by Nathi Ngubane
Black South Africans go to funerals for pretty much the same reason they go to weddings: for the food. If there is a long queue at a funeral (reminiscent to the one you'll find on election day), you can best believe it's for food. You will often hear: "That's not enough chicken, dear" and "I'm taking a plate for Albertina as well" (they're really not). Oh, and did I mention that people always make sure to bring their own lunch boxes to take away food when they go?
That Merc over there? Yeah, I just got it yesterday.
Illustration by Nathi Ngubane
Black South Africans are particularly fond of ensuring that everyone at the funeral sees or at least hears about their latest material acquisitions, be it a new car, the R5000 wristwatch they're wearing or the house they just bought. It's terribly funny to hear how people will go from "You know he was such a great guy, what a loss" to "You know I remember how he helped me pick out my new Merc. It's parked over there." I suppose what better way to show off how well you're doing than at a funeral right?
The professional mourners and the art of being extra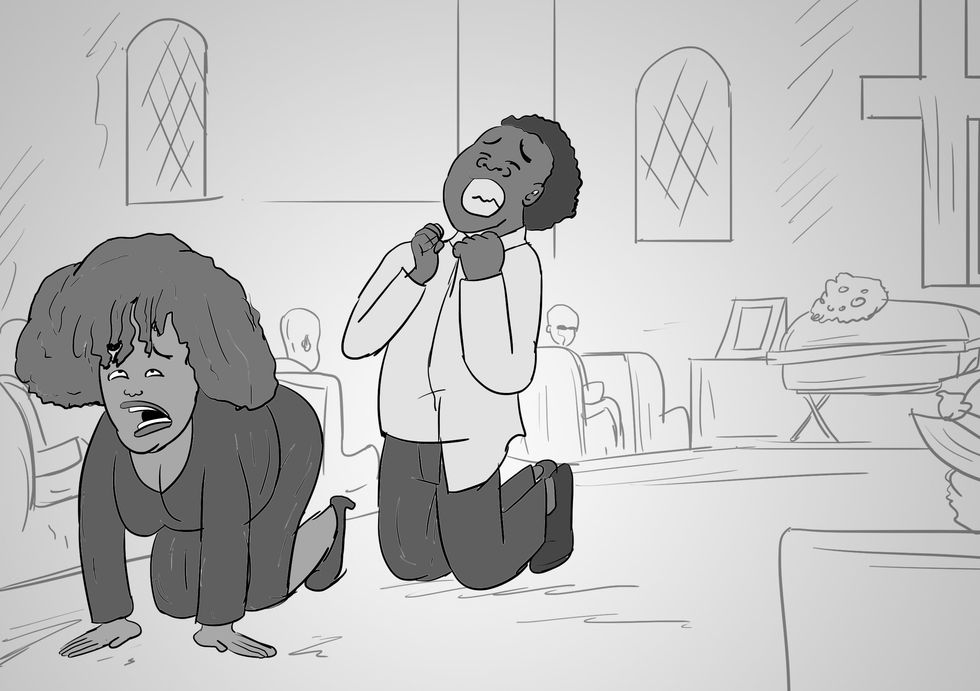 Illustration by Nathi Ngubane
At funerals, there are always those whose mourning fast becomes somewhat of a theatrical performance. 'Can you see me?' they seem to be asking as they roll wildly on the floor, tear at their clothes and fall over the feet of others. Ironically, it's almost always those who are the least related to the deceased. When this happens (and it almost always does), you're never quite sure whether to continue grieving the deceased or to attend to them instead.
I didn't see you at the last funeral though
Illustration by Nathi Ngubane
Black South Africans go to many funerals. Be it a close relative or the friend of the mother of a cousin twice removed—black people are there. And so if you're met with a cold shoulder from relatives you haven't seen in a while, they're probably angry at you for not attending one of those funerals. What's worse, unless you yourself were close to death, no excuse is deemed valid. This is when you smile and politely excuse yourself to go and grab some food.
This is the sister to that other aunt from your father's side
Illustration by Nathi Ngubane
Funerals are large events and so because you can't possibly know everyone, from those coming from the suburbs to those coming from the village, it's always safest to assume that everyone is a relative of some sort. You will meet an aunt you last saw when you were in diapers and be expected to not only remember who she is but where exactly she fits into the family tree. Again, this would be a great time to go and grab some more food.

Black people don't leave wills, they leave bills
Illustration by Nathi Ngubane
Chris Rock was right on the money when he said the above. It is commonplace to see those whom the deceased owed money unashamedly attend the funeral. In fact, they are often the ones who demand to be served the most food (see how it's always about the food?) and pretty much anything else for that matter. I'm sure many would even repossess the deceased's casket if they could.

We had a great time at the funeral
Illustration by Nathi Ngubane
"How did the funeral go?" South Africans will ask this question and unfailingly so. Amusingly, they will ask it in the way they would ask how a trip to the mall or a holiday to another country went. They want specific details. I'm never quite sure what to say. Do I comment on the style of the casket, whether the food was cooked well or if there was any drama? I mean we just buried a person so on a scale of one to ten, I'd say it wasn't too great hey – but that's just me.
Anytime is drinking time
Illustration by Nathi Ngubane
So what do South Africans do after the funeral is over and done with? They open up the bottles of alcohol of course. We've even come up with a legitimate term for it , the 'after tears'. After the last tear has fallen, the first sips of alcohol begin. And so when you see the once dignified uncle stumbling about, it's really not the grief overwhelming him; it's probably just the whiskey.
If you've taken part in any of these, uh, activities tells us about it on socials—@okayafrica.