Partner content from Nike
The new Nigeria football kits are not even out yet, but they're already causing pandemonium with Nigerian press reporting that there have been already 3 million worldwide orders. And it's easy to see why—the designs are daring with a bold nod to Nigerian culture that is very in vogue right now. In addition, UK Grime MCs with Nigerian roots, Skepta and Tinie Tempah have already been photographed in the new jerseys causing a surge of social media chatter about the new look.
But while rock star endorsements and an edgy new design will certainly bring attention, there's no doubt that the real bulk of the demand is due to what is ramping up to be a significant moment in the history of Nigerian football—the 2018 World Cup.
If you don't already know, Nigeria is entering this year's World Cup in Russia with some of the most exciting young players we've seen in years. With youthful talent like Wilfred Ndidi, Alex Iwobi and Kelechi Iheanacho—all 21—and veteran Olympic captain Jon Obi Mikel ready to take the field in Moscow all eyes are on Nigeria to advance out of Group D and challenge the world for a chance at the cup.
The plan here is to outdo the teams previous international achievement, the 1996 Olympic Gold Medal in men's football which is commemorated on the home kit with a badge recolored in the colors of the '96 gold medal-winning "Dream Team."
The home kit also pays subtle homage to Nigeria's '94 shirt— the first Nigerian team to qualify for the tournament—with its eagle wing-inspired black-and-white sleeve and green torso. But if the allusion to the pasty is subtle, the new supercharged patterns are anything but.
The look of the kit feels particularly in touch with what's going on in youth fashion both in Nigeria and the world and that's no accident. Much of the collection comes in bold print, both floral and Ankara-inspired chevrons, ideas that we've seen entering street wear collections and on the runway in recent years. That's because African and Nigerian style has become a big deal internationally of late. And not just in style, the country's huge cultural industries from Nollywood to Afrobeats have announced themselves on the world stage. This cultural ascendance is reflected in the design.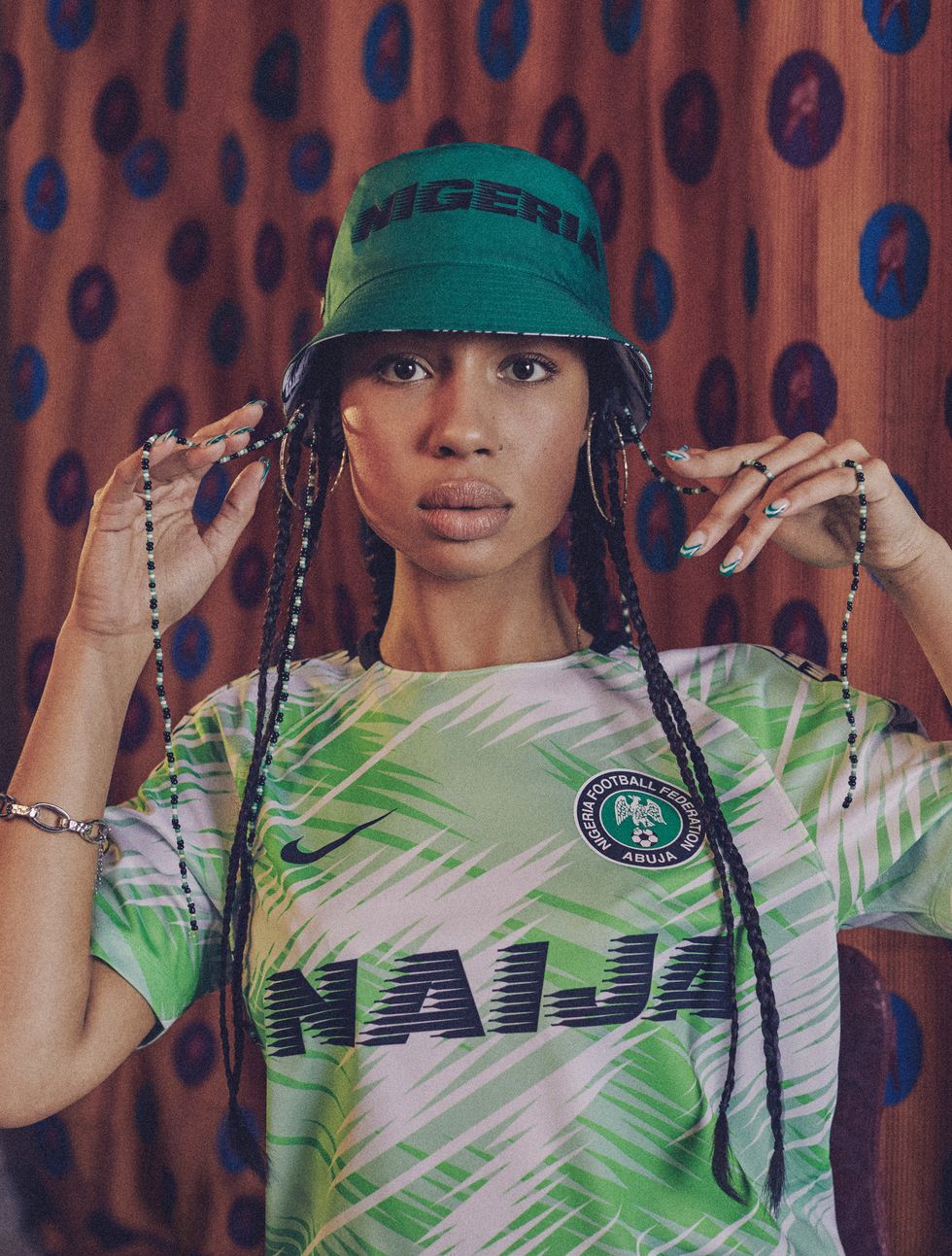 Courtesy of Nike
"With Nigeria, we wanted to tap into the attitude of the nation," notes Dan Farron, Nike Football Design Director. "We built this kit and collection based on the players' full identities." Along with other members of the Nike Football design group, Farron dug into learning more about Nigeria's players, "We started to see trends in attitude and energy connecting the athletes to music, fashion and more. They are part of a resoundingly cool culture."

In fact OkayAfrica has covered the team's love for music before—even dedicating an edition of the African in Your Earbuds mixtape to John Obi Mikel, Alex Iwobi & Kelechi Iheanacho's favorite songs to get hyped up before a game. When we asked the charismatic trio, they gave us list that included many of the huge Nigerian artists that we love, like Tekno, Wizkid, Yemi Alade and Nigerian-American rapper Wale and also, perhaps surprisingly, perhaps not, Celine Dion.
Nigerian culture has gone global partly through its infectious energy but also because of its vibrant diaspora populations that bring it with them wherever they land. Lagos-born Alex Iwobi whose goal in the 73rd minute to qualified Nigeria for this summer's tournament spent most of his life in London but still reps Naija to the fullest.
"I grew up in England, but Nigeria is my homeland," he says. "When I scored that goal, the players were dancing, the fans were playing trumpets and bringing drums…there was just so much passion and energy. It is always an honor to wear the white and green. To compete this summer is not just our dream, it is also the dream of our fans. Together, we all represent Naija."
This similar energy can be felt in Nigerian communities from Brooklyn to Peckham and even in China. Naija culture is truly global and no doubt the fans will embody the Naija spirit wherever they will be watching the games this summer.
If you're wondering, Nike isn't simply hopping on the Nigeria bandwagon. The apparel company has been sponsoring the Nigerian football since 2015, supplying kits to all nine of the Nigeria Football Federation teams at every level, including the men's and women's senior teams, men's and women's under-20 teams, men's and women's under-17 teams, men's and women's Olympic teams, and the men's beach football team.
So while the kit is available for purchase worldwide June 1, just know that you'll be competing with millions to get your own official shirts for the World Cup. If you are in New York, find the kit for sale exclusively at Nike's 21 Mercer store.
And please join OkayAfrica and Nike on June 2nd for Naija Worldwide as we celebrate Team Nigeria's journey to Russia in style.