Social media, according to researchers, came into fruition too, "facilitate the creation and sharing of information, ideas, interests, and other forms of expression through virtual communities and networks." As humans do, we took it and ran. Instagram, Twitter, TikTok, and the rest of the App store's children have bred community engagement out of the wazoo, invigorating a newly formed global community where everyone is involved in everyone else's business.
---
The Shade Room, and its more than 27 Million "roomies" is one such platform that has perfected its recipe. The IG account turned global media powerhouse has built itself what seems like an irreplaceable spot within the hearts and minds of the internet's most avid scrollers. According to the site, they are run for and by their audience, or "Roomies" as they affectionately refer to one another. The "Roomies" according to the platform's site are referred to as such, "because they 'live' in The Shade Room, many of them visit our website/pages every day! Also, our style of delivering the story is similar to the way a friend or roommate would deliver the story to you."
Since its inception in 2014, The Shade Room has shared over 200,000+ opinions, accusations, and more across its multiple platforms. For some, the site's history of controversy, including the likes of American Rapper and personality Cardi B's complaints about the nature of the content being posted about her as well as being referred to as "a vile corner of the internet", is enough to shun the shady space altogether. But, for others, it's a legitimate community space.
Zimbabwean media personality Thembi Mawema joined the well-oiled gossip machine in 2016 as an editor and quickly became a household favorite amongst the Roomies for the quick-witted, personality-filled coverage and perspective she offered. Mawema met Nigerian-American screenplay writer and founder of The Shade Room Angelica "Angie" Nwandu at an event hosted by then up-and-coming actress and entrepreneur Issa Rae – and seven years later, The Shade Room has garnered an insurmountable global following that dances on the perimeters of being cult-ish.
Growing up in Southern Africa, Mawema knew that a career in media and entertainment was on the books for her, though she did not possess the language to articulate it. Now, the 29-year-old acts as an on-air host and the Director of Social Media, directing the conversation and attention to the brightest and loudest in the entertainment world.
Despite the polarizing emotions it tends to conjure, The Shade Room has created a media landscape of its own. To have amassed a following twice the size of her home country Zimbabwe's population, and be regarded as a reputable (entertainment) news source on red carpets, and in referencing is a feat that not many can relate to. Human beings have gossiped for centuries, it's normal. Society functions better when transparency and community engagement sits at the center of it, and this manifestation is one that millions of people seem to relate to. The African women behind the name and the brand continue to break the barriers of what Black women can do, and at what scale. Keeping the secret recipe for success under tight wraps, Mawema chats to us about curating Black culture and staying connected to yourself in the fast lane.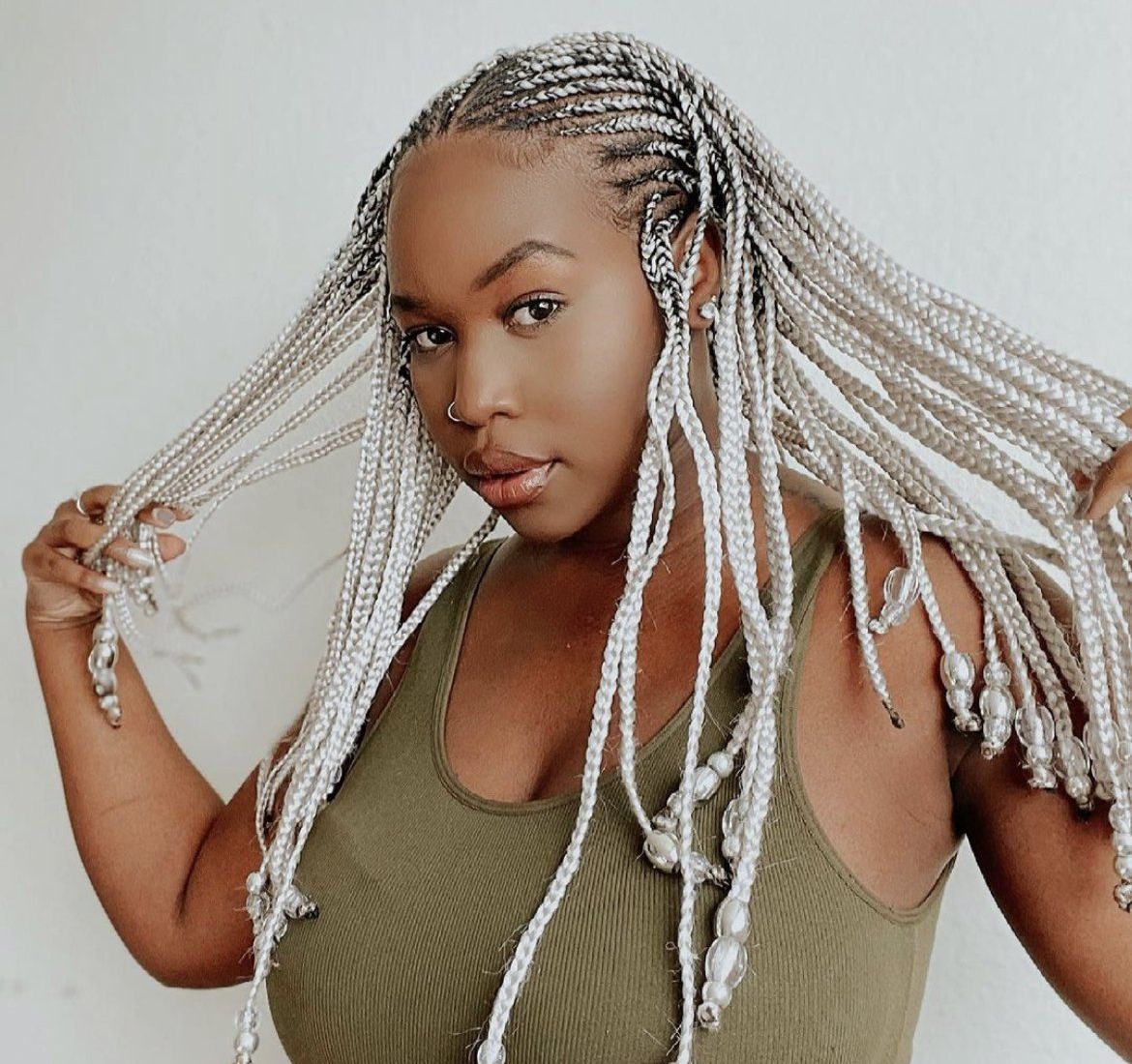 Pictured: Zimbabwean media personality Thembi Mawema acts as Director of Social Media at The Shade Room Image courtesy of Mawema
Growing up in Zimbabwe, was a career in media always the dream?
Not media necessarily, but entertainment. Entertainment was always a dream. Growing up, if you asked me what I wanted to do, the answer was Beyoncé – that's what I wanted to do. I wanted to be Beyoncé. I always knew I wanted to be in entertainment, even though I wasn't quite sure what exactly. That was the one thing I was always very sure of. So, it wasn't always media until I learned more about that world, and I was like, "Wait a minute, this makes sense. It can't be Beyonce, so this I can do."
Were you always interested in pop culture?
Hit or miss – I was interested in celeb culture to a certain extent. I would tune into DSTV and Channel O, all those things were always fun. The latest music and stuff like that were more so what I was drawn to as far as celebrity culture goes. And then, obviously, magazines because back in the day there wasn't social media stuff, so we'd get People Magazine and whatever other magazines were trending at the time. I haven't always been that into celeb culture.
Even now, with what I do for a living, I'm not that invested outside of my career.
How would you compare African celeb pop culture to American celeb pop culture?
I think it depends on what side of the world the Africans are in. As far as American celeb culture, I believe they're popular across the globe. And then with Africa, we're getting to that point now more and more, but a lot of the time it's within the home state, within maybe other African countries or certain parts of the UK, but it hasn't always been on a global scale. I feel like we're finally getting to that global bag, you know? I'd say the difference is in access to worldwide opportunities, but I think we're kind of breaking those barriers a little bit, for sure.
The Shade Room is becoming one of the most notable 'news sources' for a lot of people. What has that transition been like from being an Instagram account to now being considered a media house?
Honestly, it's been great to just watch, even from the sidelines. Angelica, our CEO, has created something so amazing. And she'll say herself, she didn't know what she was doing at the time, but to see where it started and where it is now, having people like former President Barack Obama stepping in and being a really important force in getting the youth and our community to vote in one of the most important elections, just seeing that progression has just been really amazing to just witness and be a part of.
Can you give me some insight into the process that goes into getting a scoop and then going through all the channels and sharing it with the world?
I mean, I can't give you the info like that.
*Gasp* I thought we were sharing?
I can't give you that info like that. I always try to stay away from sharing anything super specific about The Shade Room because, one, I feel like it's not my place. Yes, I'm part of it. Yes, I'm a familiar face, but I just feel like I really enjoy the aspect of it being for the people, by the people. So, I like to keep it that way. What people want to see is what is shown. And I think the main thing is really just understanding the responsibility and just ensuring we are accurate, factual, and fair. I think that's something that people may not think that we do in their own minds, but that is the main force of why we are still here today, so honestly, because of being objective, being accurate, being factual, and being a fair news site.
What do you think your team does well to maintain and create a safe space on the platform? And what areas do you think you guys could improve on?
What we do well is being objective - that's the most important thing as far as journalism goes. Being objective, factual, and fair. We stand by and practice that every day. And in the back of your mind, if you hear Shade Room, you may not link the two together, but if you really just observe and look at the content in front of you, it is factual, it is accurate, it is fair and it is balanced. So, I would say that would be the main thing we do well, especially in a world of opinions.
We're in a very opinionated space right now, – so many podcasts, so many this and that where everybody's got something to say about everything. And that's something that we don't take lightly. And as far as things we can improve on is just being better every day, just continuing to highlight the culture, continuing to highlight global culture, continuing to just show the different Black experiences.
As we discussed, African artists are starting to spread and take over the globe in a lot of ways. Have you as an African yourself noticed a shift in your community?
For sure! Honestly, I think Africans are just taking over in the sense of people always share stories about, "Oh, when I was in school, they called me an African booty scratcher," and things like that. But, now, everyone's got the Afrobeats on deck, everyone wants to see "Igbo and Shayo", everyone is out here wanting to date a Nigerian, and everyone is very much immersed in African culture especially. It's so fun to see American celebrities going in that direction as well with their music and with their content.
There's a big African community that always shows up and shows out in the content and the comments. It's just great to see all of the different parts of Black culture, Black experiences from Africans to Jamaicans to Americans. You have a little bit of everything and it's definitely fun to just watch.
A lot of people see The Shade Room as a hotbed for negativity and a space for online abuse and all of that. As someone on the inside, what do you make of these judgments?
It is what it is. Honestly, I think we're in a space where regardless of who you are, whether you are Beyoncé, who's one of the most talented people in the world, people will tell you she's not talented. You know what I'm saying? Which is crazy. So, you kind of just have to let people, people, to be honest. Do the work and let it speak for itself.
And as an African woman, what advice do you have for other African women, other Black women wanting to enter this space, wanting to flourish?
I would say the most important thing is to trust your own vision and don't listen to the aunties. Don't listen to your African aunties telling you that that's not a real job. Don't listen to family or friends trying to misunderstand and interplay you, "You should be a lawyer. You should be a doctor. What are you doing?" I think people don't always see or understand the vision. Any type of creative job for African women and men, just go with what your passion is. And if you see it for yourself and you're truly passionate and feel like you can be successful in that space – whether it is entertainment, writing, dancing, whatever it may be-- if you see success for yourself in that, go for it, and don't pay attention to the background noise. You really have to just believe in yourself and have a plan. Figure it out, keep going, have a plan, and work that plan.