The 'Side eye' is the facial response given to people, events, or actions that are silly and ridiculous. Side Eye Stories will summarize instances that we can't be bothered to write a long-form response to, but wanna express our skepticism towards. Without further ado, here are this week's picks:
---
This week The Independent reported that a US Embassy Cable unearthed by Wikileaks detailed Richard Branson's plan to bankroll the ousting of Robert Mugabe. The Cable was written in 2007, a week before Branson announced his financial support for 'The Elders' - a group of prominent figures including Nelson Mandela, Jimmy Carter, and Kofi Annan. The cable says that Branson would sponsor a meeting of The Elders in which they would discuss how to approach Mugabe and respectfully ask him to step down from office. That's so badass. Unfortunately, it was all talk and no action - the meeting never took place.
And a ton more, after the jump.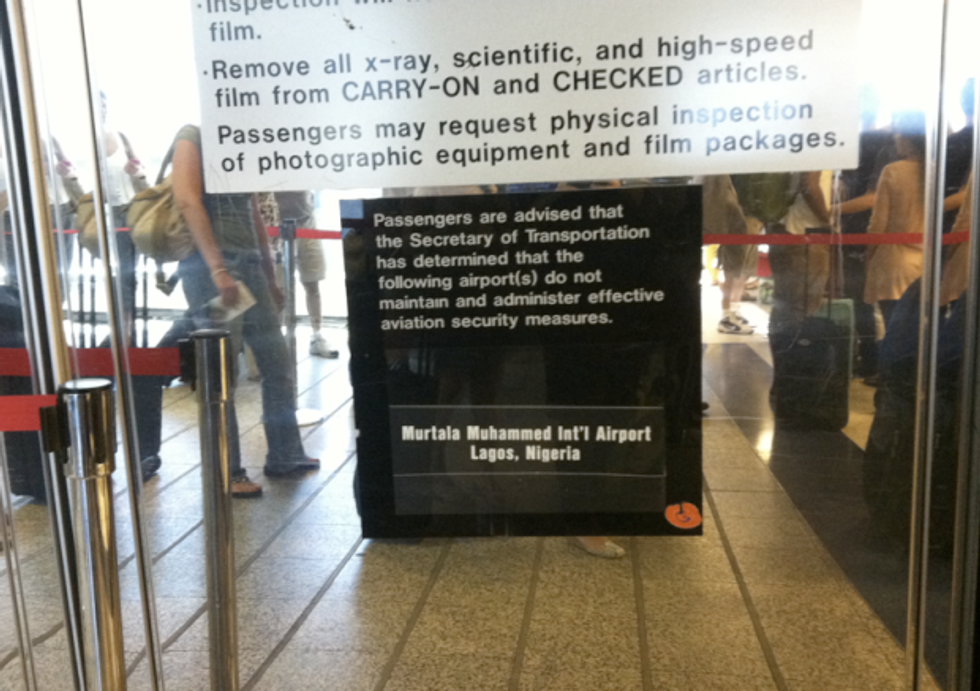 Murtala Muhammed International Airport in Lagos, Nigeria got a pretty bad wrap in the 90s. Signs warning passengers of weak security there were posted by the FAA in terminals all over the United States. When Obasanjo became president in '99, the airport's infrastructure and security improved greatly. The side eye came out when we spotted this senseless gem creating fear at the DOMESTIC terminal at New York City's LaGuardia Airport. It might as well read: Lagos, Nigeria is dangerous as shit. Enjoy your flight to Kansas City, Missouri.
Thanks to Common's recent book, we now know what Angelina Jolie thinks about Fela Kuti's music. Apparently Common writes in his book that he made Angelina a CD of "Fela and some other stuff." Her response to the CD was: "that's some real dark warrior music." Fela Kuti? Dark warrior music? Yo Common, we don't think Angelina actually listened to that mixtape you made her. Btw, we're not the only ones that Angelina irritates, check out Paul Zeleza's comments on her ridiculous Africa talk. Big thanks to G.D. at PostBourgie for spotting this fantastic side eye moment.
[embed width="560"][/embed]
Do you ever wish you were an antelope so you could get away with things like this under the assumption that it's an act of nature?