The traffic surrounding New York City's Citi Field Arena was not an unusual site, but the occupants and sounds ringing through the air were a novelty. The home of the city's New York Mets baseball team was a far cry from their regularly scheduled programming over the weekend, as glittery melanated bodies walked through the congestion to not miss a second of the forthcoming historical event. Just two months after a momentous occasion headlining Afro Nation Miami's first night at their own LoanDepot arena, here he is, Africa's Giant Burna Boy headlining his own concert at the 41,800-capacity arena.
A slight giggle escapes me as I acknowledge that baseball is not even really recognised as a sport in Africa, but the "Sittin' on Top of The World" hitmaker knows how to draw a crowd.
As we enter through the player's bullpen entrance, feeling very special, the size and volume of the room struck me as I remember we're all here for one man. Crowds of beautiful and glamorous Africans flood into their stadium and floor seats as the sun sets and the drinks start to flow. The first whisper of amapiano escapes the speakers around 7:20 p.m. and the chorus of "aaaayyyys" let us know that it's time to party. Even the security guards couldn't help but fall victim to the intoxicating African percussion, still maintaining a watchful eye on the swelling crowd.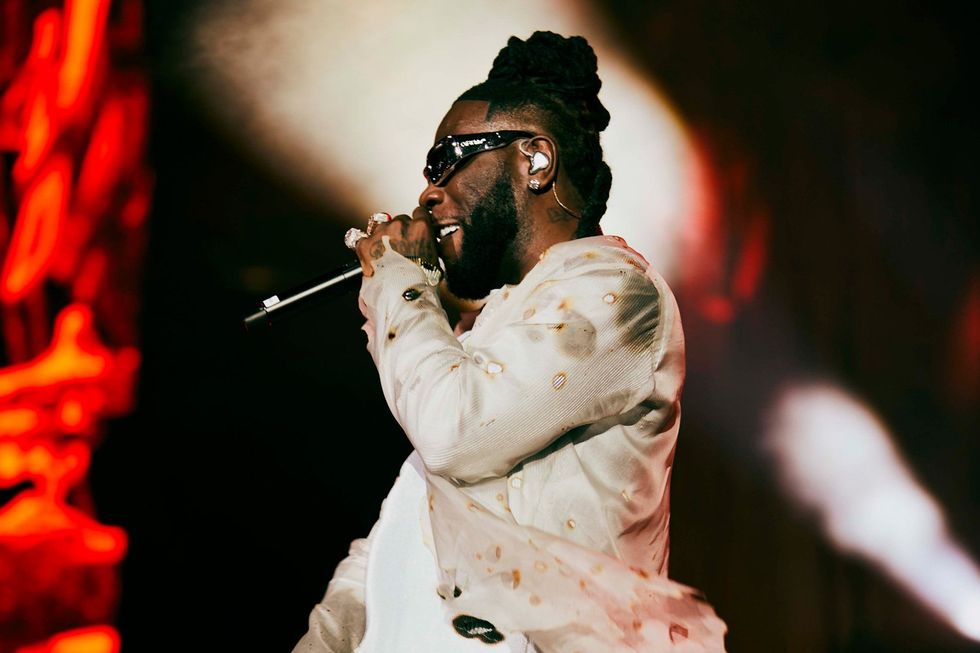 Nigerian singer Burna Boy makes history as the first African artist to headline a sold-out U.S stadium at New York's Citi Field on July 8, 2023.Photo by Money Mick for OkayAfrica.
DJ Lambo, Spaceship Billy, and Nissi get the party started
Our first opener, Nigerian DJ Lambo, is the first to quench our thirst with Oxlade's "Ku Lo Sa" as an array of billboard ads for upcoming performances by Adekunle Gold, Rema, and Wizkid flash before our eyes. It's another staggering sign of the reach African music has made over the last few years alone. A delectable assortment of throwback hits from across the Motherland boom all the way to our toes, the echo of us all singing Nigerian highlife King Flavour's anthem "Sawa Sawa Alé" arousing goosebumps. Lambo makes space for the next DJ with a heartwarming acknowledgment that we were, in fact, "making history," and instructs us to sing "One Love" by Bob Marley to solidify the pride and excitement emanating from the large crowd. British DJ Spaceship Billy came "all the way from space" to give us good music. He focused his attention on the Brooklynites amongst us, as his assortment from DMX to Pop Smoke, and Lola Brooks was a welcomed reminder that we were still in the U.S.
Nissi, a burgeoning talent and Burna's younger sister put on an endearing performance to the crowd that was keen to return the energy. Her maturation is in full force as she continues to shed the role of little sister and steps into her star potential. Nissi's dance moves were a welcomed sight to those with floor seats, the best in the house. Only being given easy access to a row of portable toilets for the night, however, felt rather equitable. One fan screamed for Burna Boy's music director (because the ladies are informed). The DJ from space returned to stir trouble by getting the women in the audience to sing SZA as he handled the stadium's sound issues like a pro. We responded that we were excited to see Burna Boy when asked, and our prayers were answered on the fifth or sixth "Yeah!" from the crowd.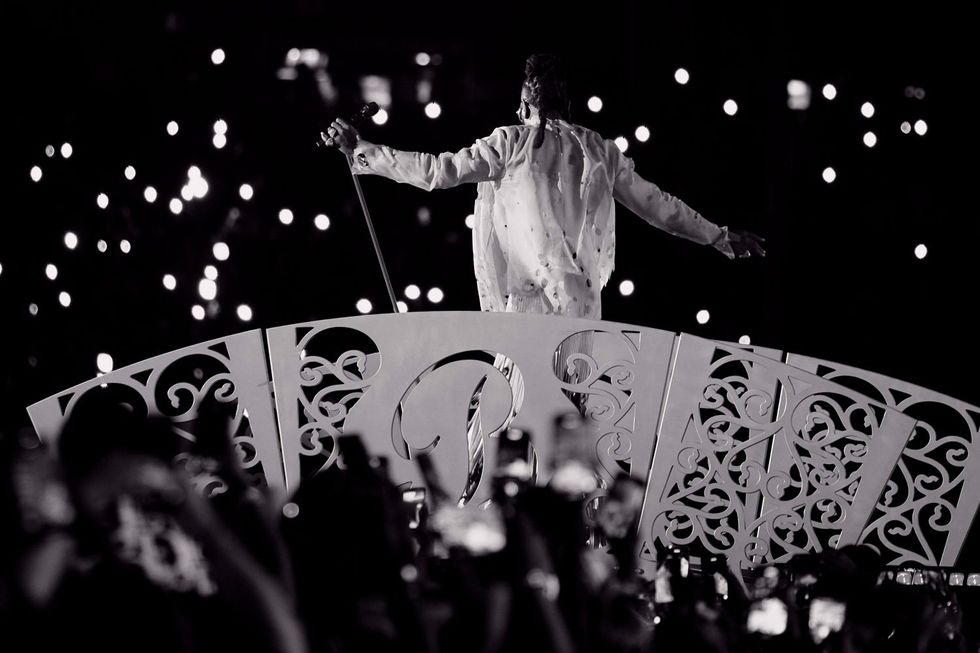 Nigerian singer Burna Boy makes history as the first African artist to headline a sold-out U.S stadium at New York's Citi Field on July 8, 2023.Photo by Money Mick for OkayAfrica.
The African Giant arrives
This man has brought his Love, Damini Tour around the world, and the excitement never dwindles. A colourful Nigerian accented voice tells the crowd that the "Love, Damini fairground is officially opened," but the choir of anticipatory screams made that obvious. And there he is.
The sensual opening chords to "Gbona" are unleashed into the crowd as the silver surfer emerged before his dotting audience. Burna's set included a full-size, working carousel because the first African to headline a U.S. stadium is definitely going to make an entrance. Ever the fashion icon, Burna's singed get-up looked like his rehearsal — while the pyrotechnics got a little dicey, firing the flames of the already heated crowd. He arrived in pants, an overlaying skirt, a long-sleeved shirt, and a sheer cardigan because not even New York City's humidity is going to get in the way of a fit.
Burna addressed the crowd with his naughty schoolboy charm, and we ate it up. "New York, you've always been by my side," he declares. "From the Playstation Theatre (now called Palladium Times Square) to Gramercy Theatre, to here." And honestly, his impressive resume speaks for itself, prompting the crowd to acknowledge how big of a deal this all is. He shouts out his day one's as he launches himself into his career-spanning setlist, taking us on a visual voyage of how his decade-long career by projecting the accompanying music videos on the large screens. It's wild to conceptualize how far he and his locs have come over the years. The first bra makes its way to the stage during "Dirty Secret," almost too perfect, and he said thank you for every single one. The sex appeal was only bested by the pole dancers he graciously put before us.
Burna's 2022 collab with British singer-songwriter Ed Sheeran, "For My Hand," had him betrothing himself to all concertgoers who came alone. He also used us as guinea pigs for an upcoming single, because, apparently, "New York is the best place to test new music." That landed well with the crowd. And so did the singer admitting that he gets "star-struck by you mother fuckers," how sweet.
Part of the appeal is his excitement to perform his own music. It's infectious. The crowd stayed hyped as he made his second outfit change, emerging in a gorgeously bedazzled flame-looking jacket. The heavy, beaded jacket did not last long though, as one song later he was shirtless. At this point, I'm pretty sure he wears all the layers so he can unwrap himself in front of hungry eyes - we're on to you, Damini. And not complaining, either.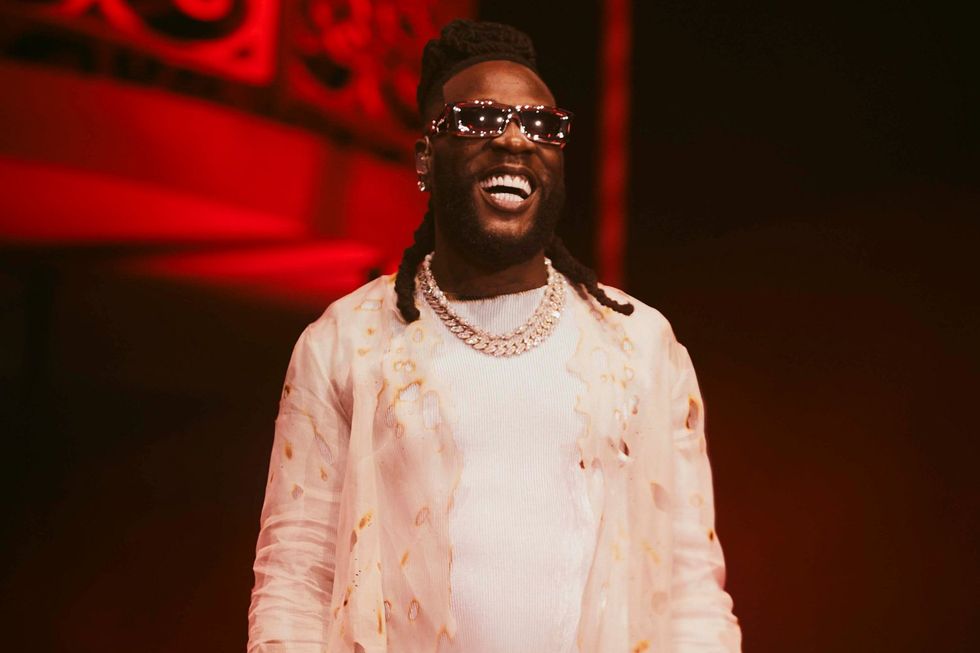 Nigerian singer Burna Boy makes history as the first African artist to headline a sold-out U.S stadium at New York's Citi Field on July 8, 2023.Photo by Money Mick for OkayAfrica.
The second half of the show felt like more of a party, as hit after hit had the crowd up and eager to bask in his tangible excitement. The singer's fan favourite "Jerusalema" remix rang through the crowd as a South African flag blew proudly in the wind, the Zulu prayer seemingly filling Queen's Flushing Meadows neighbourhood. Fans got impatient as sporadic echoes of "Last Last" began to emit from the crowd, but he broke into a raunchy acapella rendition of "Enjoy Yourself" to keep us in check. A cake descends from the sky and we're given the opportunity to serenade the man of the hour to his hit, "It's Plenty" as he's lifted up in the air – Citi Field gifting him a bird's eye view of the crowd that gathered to help him celebrate his creative mastery. The stage theatrics continue with enthusiasm and an assortment of fireworks go off to keep us all excited and in the moment.
A global success and an amazing way to end the show, "Last Last" makes its appearance and the spectacular finale and light show are a satisfying way to conclude a momentous occasion celebrating African and Black excellence.