---
French-Congolese Tina Lobondi is truly a unique fashion designer with the skill and style to present the African quintessence in fashion today. Lobondi combines African prints and modern shapes, creating a unique aesthetic and signature. But rather than create a dizzying array of African print pieces, the London-based designer is offering a luxury women's ready-to-wear collection. Lobondi has shaped her style for the sophisticated woman who knows how to attract attention. In her new collection called "Uptown Africa", upholding what African print means now to London and beyond, she clearly defines a bold and passionate woman. The finish is of extreme quality and allows you to appreciate the work detail. This new collection showcases classic lines, daring necklines, draping, controlled and contoured tailoring. But also, Lobondi hand makes "made-to-order service" where you are able to choose your fabric and design to create your individual crafted one-off Piece.
On the heels of her great success during the Mercedes Benz Fashion Week Africa, she will be soon presenting "Uptown Africa", a timeless collection that reveals her heritage with subtlety in Abidjan, Ivory Coast this week on 24th November at the ONG YEHE Annual event. We chopped it up with her before she took off for the continent once again. Read the full interview below.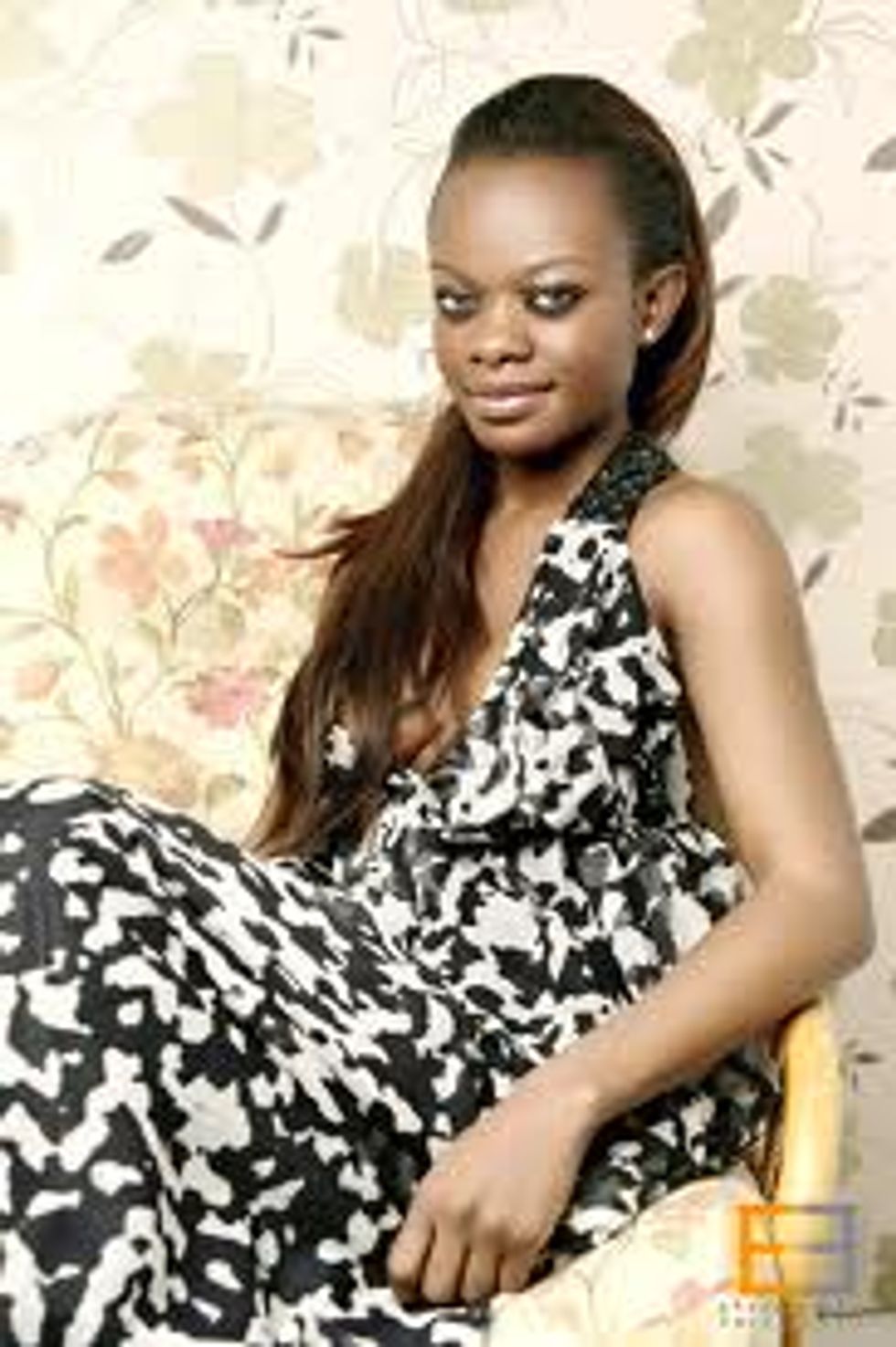 *Designer Tina Lobondi
Who is Tina Lobondi?
Tina Lobondi is a French-Congolese designer living in London, where all the collections are produced.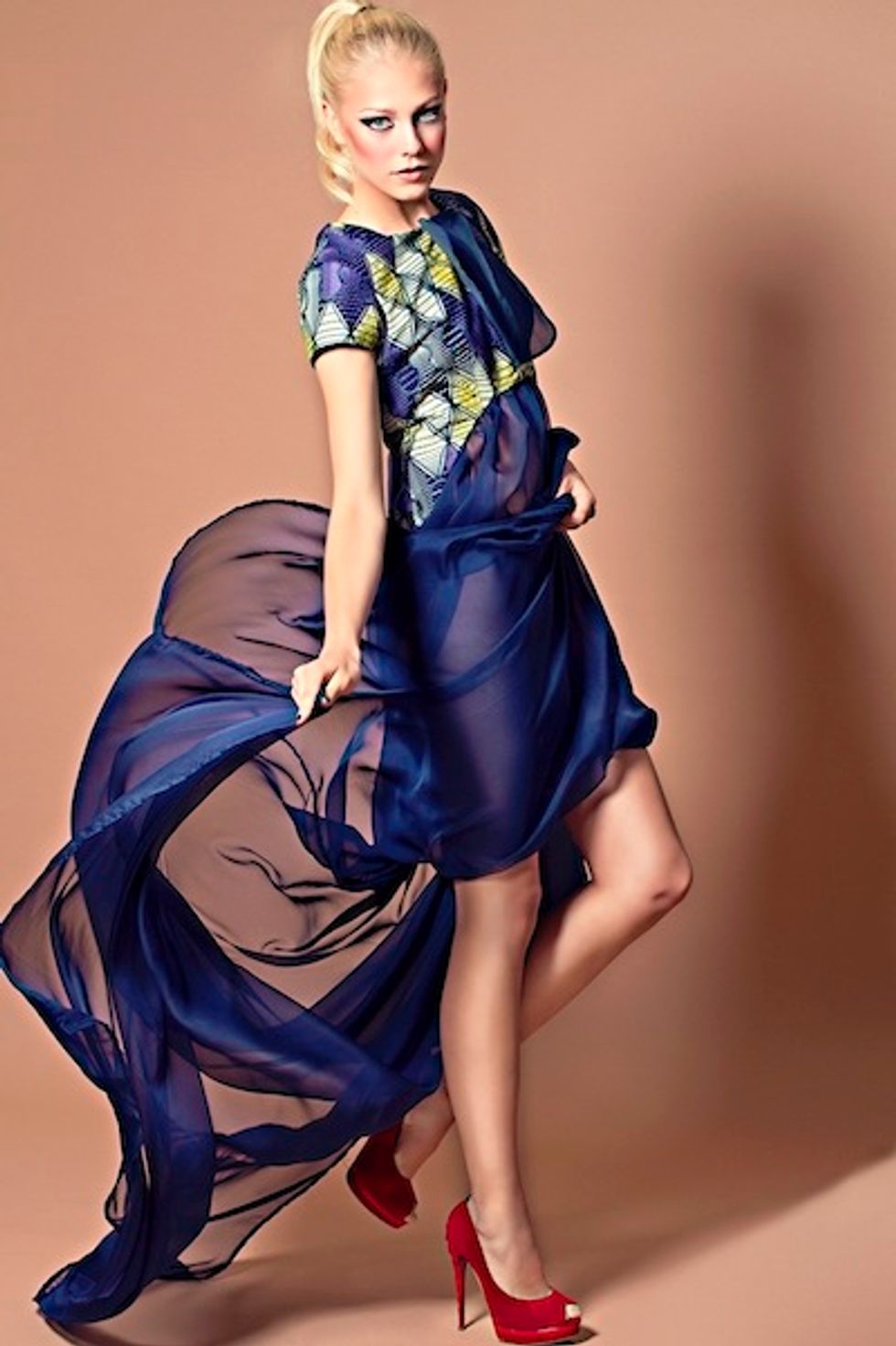 *Photography by Mariah Do Vale / Hair and Make-up by Zannie Vong
How did you start creating? When did you start considering fashion?
I started creating/customizing when I was 13. So fashion was the obvious route for me.
Did you study fashion? If yes, where?
I study fashion in France at a Private school in Freming-Merlebach and at London College of Fashion.
*Photography by Mariah Do Vale / Hair and Make-up by Zannie Vong
What are your inspirations and your influences?
My inspiration and influences comes from my life, friends, experiences, strangers in the streets, movies, music etc...
What materials are you using? Where do you get these materials?
I use different materials from Duchess Satin to Silk, to African Ankara, or Organza. They all come from around the globe, Africa, Us, Asia.
When was the label launched?
The Label was launched in London in 2010.
*Photography by Mariah Do Vale / Hair and Make-up by Zannie Vong
How would you describe Tina Lobondi signature in one line?
Tina Lobondi signature is glamorous, elegant and classic.
Are you considering yourself an "African designer"?
I am a designer from African origins, born in Kinshasa.
Today, as a fashion designer who has media coverage, are you using fashion as a way of talking? Or maybe inspiring the youth?
It is always nice to be given the opportunity of expressing your views. If I am inspiring other people and the youth to do good with their life, I can only be thrilled about it. We all need to give back.
*Photography by Mariah Do Vale / Hair and Make-up by Zannie Vong
Today, we have the emergence of many African Fashion Weeks in many countries. This evolution is proof of the existence of African fashion, shall it be also more present in "regular" fashion weeks?  Is there any discrimination?
I think using the word "regular" fashion weeks would be a discrimination. African fashion has always been present, I think we just didn't understand the value of it ourselves, but now we do. Emergence of all these fashion weeks in Africa, only has one question, why did we wait so long. Africa has plenty of brilliant minds, we just needed the platforms to show that to the rest of the world. The fashion industry has its rules like anything else, and it is time for us to follow the league, India did it and they have their Vogue Magazine, we will get ours too.
I think that you are a great example of the African-inspired revolution, mixing cultures with the wax prints and these modern shapes, do you think that you are bringing something new?
I don't know if I am bringing something new but I surely hope so. I am just trying to bring my culture into my designs, and to be honest when I started I never thought about all these labels. I just wanted to make clothes and some wax prints are just unbelievable and good quality. I saw it as a material just like the others.
*Photography by Mariah Do Vale / Hair and Make-up by Zannie Vong
I know that you were part of the Next South Africa Mercedes Fashion Week, how did it feel? What does it represent for you? What could be the impact for your label?
Doing Mercedes Benz fashion week has been the highlight of my work. I finally felt like the hard work paid off. It was incredible and I met really nice people I want to work with again. AFI (African Fashion International) has a very professional team that knows the industry.
South Africa is the best example and the rest of Africa should follow the quality they are aiming at. I think Nigeria is also a great example of improvements.
The previous collection looks great. Could you describe this new collection? What is the evolution from the previous one? What is your favorite piece and why?
My new collection "Uptown Africa" is for women who wants more from their wardrobe. They want to feel unique but also that the clothes they are wearing are like an investment for the future. I think it is more fun and "girly" than the Autumn-winter Collection. My favorite piece is the long Satin/Wax print evening dress, the combination of the 2 materials worked perfectly for me.
*Photography by Mariah Do Vale / Hair and Make-up by Zannie Vong
What's next? Do you have any other events planned?
I am flying to Ivory Coast on 20th November for the ONG YEHE. The event is for the week and I look forward to going back to Africa.
What are your hopes for African fashion?
I hope it gets more international platforms to show what it can do.
Describe Tina Lobondi in one word.
Classy