As one of the continent's headline fashion events, South African Fashion Week was the second stop in this year's African season calendar. For its 26th year, a sustainable fashion future was at the forefront of the edition, which took place at the Mall of Africa in Johannesburg.
Presenting the spring/summer 2023 collections, the show was a reminder of SAFW's role in launching homegrown talents into broader markets. The search for new and young talents, the platform's in-house design competition, came energized once more. The likes of Sifiso Kunene (E_Mania), Mmathoo Silika (Silika), and Kuhle Phumzile Zondo (Messrsbasswood) made their debut on the SAFW runway.
But it was Cyla Gonsolves who emerged the winner, for her elegant and whimsical collection. Last year's winner Thando Ntuli, founder of Munkus, returned to the runway, as well as showcases from Sipho Mbuto, Ntando Ngwenya (Ntando XV), Gugu Peteni (Gugu by Gugu), and Fikile Sokhulu.
Elsewhere, the Council for International African Fashion Education (CIAFE) recently offered an opportunity to learn about African fashion. Titled the History of African and Diaspora Fashion, the virtual, 10-week module gave introductory lessons on fashion's rich and diverse footprint in Africa.
It's a decolonial approach to telling African fashion narratives on its own terms, severed from the western gaze. While moments like these may not grab headlines, they are nonetheless remarkable. Additionally, the CIAFE has partnered with Google Arts and Culture to create the first African digital fashion museum.
Archiving African fashion is a subject that has gone under-studied for too long. Amidst the global attention that African designers are bringing to their works, accessible curatorial infrastructure is still lacking.
The CIAFE's effort to preserve African fashion is what we have our eyes on. And for sure, we'll bring more updates if there are developments. We round up the high points of the year so far.
Adeju Thompson wins 2023 International Woolmark Prize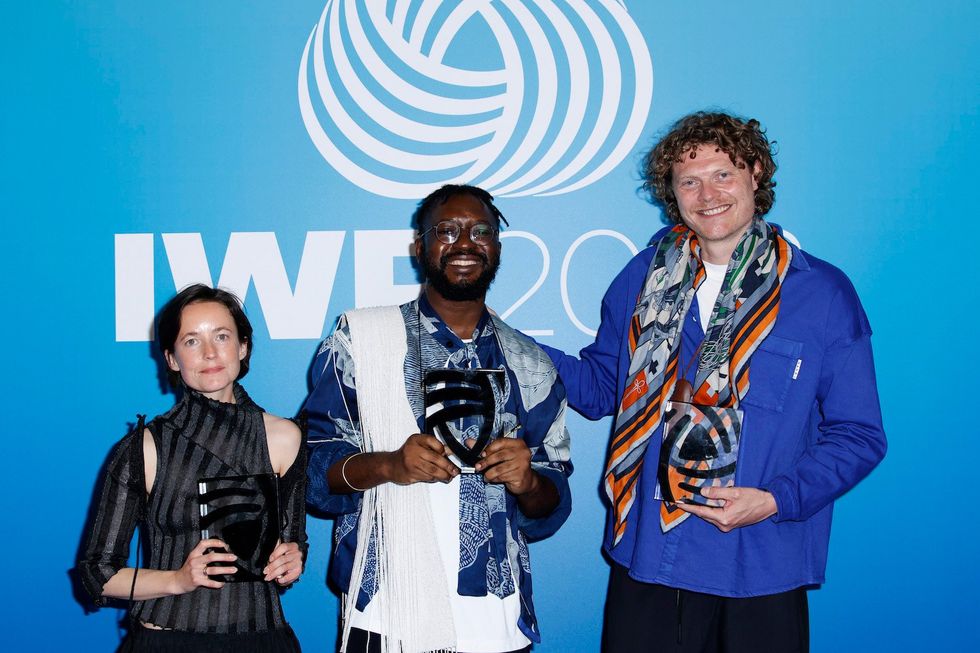 Amalie Roege Hove wins the Karl Lagerfeld Award for Innovation, Adeju Thompson wins the International Woolmark Prize and Borre Akkersdijk wins the Supply Chain Award at the International Woolmark Prize 2023 at Le Petit Palais.
Photo by Julien M. Hekimian/Getty Images for The Woolmark Company.
In May, Adeju Thompson of Lagos Space Programme emerged as the winner of the 2023 International Woolmark Prize. Held at the Petit Palais in Paris, the 31-year-old beat eight global finalists to clinch the cash prize of $200,000 AUD (0r $134,000 USD).
The other finalists came from a competitive pool that included Rhude (U.S.), Maxxxj (South Korea), Bluemarble (France), Robyn Lynch (Ireland), Marco Rambaldi (Italy), and Paolina Russo (U.K.). Thompson winning this prestigious prize is a huge milestone. They are the first Nigerian recipient for this industry honor, after Kenneth Ize came close in 2021.
Thompson founded Lagos Space Programme in 2018, a genderless brand that finds a sweet spot between Yoruba sensibilities and queerness.
Africa Fashion Exhibition at the Brooklyn Museum
Arguably a high point in 2023 so far, the Brooklyn Museum in New York opened its doors for the Africa Fashion Exhibition last month. It's the latest incarnation that places ample focus on the evolution of African fashion, after the Victoria & Albert Museum made a splash with their debut exhibition run last year in London.
It also saw Alára, the Lagos-based concept store, partner with the Brooklyn Museum to curate a shop that features products from more than 100 brands (across Africa and the diaspora).
The cross-pollination of retail and exhibition drives a more intimate look at the craftsmanship and stellar work emanating from the African fashion scene. It's worthy mentioning that OkayAfrica is a media partner, helping to amplify the critical input that has made this showcase possible. The exhibition is ongoing, wrapping up in October 2023.
20th anniversary of Arise Fashion Week
Arise Fashion Week returned for the grand occasion of its 20th year in February, kicking off the 2023 African fashion season. Having been held in Dubai for its 19th edition, Lagos was the location of choice, welcoming a contingent of African designers and those in the diaspora. This year's theme was titled Future Forward.
Not without its routine musical interludes, the event intentionally doubled as a jazz festival, tapping Herbie Hancock and FKJ (French Kiwi Juice) who brought their signature sounds to the stage. The audience was also treated to a lively performance from Afrobeats superstar, Wizkid.
Elsewhere, Naomi Campbell and Alpha Dia lit up the runway with a designer lineup that includes Ajabeng, Awa Meité, and Biance Saunders. More than just the glitz, the 20th anniversary was a celebration of how the ARISE platform keeps championing local design talents from the continent and beyond.
Yvette Tetteh's awareness on Ghana's textile waste crisis
This may, Ghanaian athlete and activist Yvette Tetteh made a daunting decision to swim across Ghana's Volta River. Her reason? To combat the country's textile waste crisis. Dyes and microfibres have leached from landfills into water bodies, endangering biohabitats and posing a health risk to communities that live along shorelines.
OkayAfrica recently published an interview with Tetteh about her swimming expedition, which entailed working with the Or Foundation, and the greater objective of environmental justice. While this entry, on the surface, isn't about a fashion show or continental success, the motivations are still inextricably linked to fashion.
Much has been documented about the scourge of Ghana's secondhand clothing, discarded garments made by fast fashion companies. They are given a new lease on life when they are ferried into the country, but the manifold implications have had deleterious effects on the environment and local garment sector.
Though Tetteh is challenging the waste colonialism from the West, it also appeals for a sustainability mindset towards Africa's fashion ecosystem.