Nigerian-American Tobechukwu "Tobe" Nwigwe is a rising star coming out of Houston, Texas.

Tobe, his wife, Fat, and producer LaNell Grant—who work together in a creative partnership—have crafted a sound and visual aesthetic so unique that they're turning heads all over.
The collective is consistently pushing creative boundaries and has caught the eye of Dave Chappelle, Erykah Badu, Chance the Rapper and Michael B. Jordan, to name a few. Tobe's been heard on radio and news stations in Texas and recently featured in a cypher from the BET Hip-Hop Awards.
It's tough to pinpoint exactly where his strength lies; it could be the undeniable bond he has with the two women on either side of him, his southern twang, the unwavering faith in God that often finds itself in his verses, or his fervor in educating the youth in a way he wasn't.
---
Tobe Nwigwe | I'M DOPE. (The Originals) #getTWISTEDsundayswww.youtube.com
Tobe is undoubtedly up next. He's one of the best things smokin' from the south. His lyrical content is poignant. His start came from freestyling in late 2016's So Gone Challenge. From then, it's been a steady climb to today's critical acclaim.

Tobe began releasing weekly freestyle projects he dubbed, #getTWISTEDsundays, in the summer of 2017. The project garnered massive attention on social media, reaching critical mass within the year and prompting Tobe and long-time friend and maverick female producer, Nell, to add original production to his verses. These new tracks became known as "The Originals."
While Tobe and Nell maintained their self-imposed goal of weekly releases, "The Originals" project went viral with combined views now in the millions. Earlier this year, Tobe released the first 12 original singles as a curated and beautifully packaged album simply titled, The Originals..
Coming off the incredible success of this LP, Tobe Nwigwe and LaNell Grant followed up with a second curated playlist from their ongoing weekly video project as a standalone 12-track album, More Originals, on October 14.
Tobe Nwigwe | DAY ONES. (The Originals) #getTWISTEDsundayswww.youtube.com
Tobe also announced a 4-city tour for fans that have been supporting his career from the start. We sat down with him to discuss his music, his culture, relationships with Nell and Fat and more.
OkayAfrica: I've never heard anyone like you. Your sound is so unique and raw. How would you describe your musical style?
I'll be honest. I just try to say something when I say something.
To hone such a craft can't be something that comes solely from you. Who are your musical influences?
Oh, for sure. Biggie Smalls, Andre 3000, Lauryn Hill, Big Hawk—you gotta be from Houston to know who that is—Fat Pat, Lil' Keke, Chamillionaire, Lil' Flip before he got into the beef with T.I., Warren G, and Mase.
I would imagine being a first generation Nigerian-American has provided you with a unique experience.
It is a gift and a curse, to say the least. Growing up in a Nigerian household, there's nothing that the world can say to you that can break you, that you haven't heard 10 times over, in your own house. Nigerians have mastered the art of over dramatic negative encouragement. I feel like it's all foreign parents, to be honest.
I had the same expectations as everyone else. You gotta be a doctor. The only thing that equals success is a doctor, lawyer, engineer. My mom was random, though. She threw a curve ball at me, after I graduated from college. She asked me on a random Tuesday, 'Tobe, why did you never become a pilot'. After a whole 22 years of never talking about aviation, never expressing any type of value to it, when we were on an airplane, that would lead me to being a pilot. She just really felt like you should be a pilot. It was the weirdest thing in the world.
Tobe Nwigwe | EWU. (The Originals) #getTWISTEDsundayswww.youtube.com
You were a D-1 linebacker at the University of North Texas before a foot injury cut what would've been a spot in the NFL short. Did you ever imagine this is where you would be instead? Did you rap back then?

Never in a million years. Never did I ever think I would be doing music. I think every football player, that has even a little bit of sauce, before or even after football games, would freestyle with their teammates on the bus and in the locker room. I was definitely the leader on my team with the freestyles in the locker room. It was maybe 2 or 3 of us that were like elite; there was one dude that was extremely passionate about what he was saying, screaming real loud. As far as top 3 on the squad, I was definitely top 3.
In 2010, you started the non-profit organization TeamGINI alongside some friends, to help youth who are unsure about their purpose.
It's purpose is to make purpose popular, through edutainment. We utilize different forms of artistic expression like poetry dance singing painting etc with an underlying message of purpose to draw them in. Then, we have a curriculum designed to discover, develop and dwell in their purpose. We're doing some behind the scenes stuff right now, before we relaunch.
It's been said, your involvement in this organization led to your pursuit of music. Is this true?
For sure. It's literally the only reason why I got involved with music. I was only willing to explore any of my edutaining talents because of the cause. If it had not been for the cause of helping people discover what their purpose is, then I probably wouldn't of gotten involved in any form of the arts.
You aren't just a musician. You consider yourself are an edutainer—an artist who uses entertainment to educate. What subject matters do you enjoy educating audiences most on?
I just try to give them real life experiences. I feel like that's what I didn't have growing up. I didn't have somebody giving me real life experiences and game that was tight. Most of the time when someone is trying to give you game, it sounds hella corny. I try to create music that I would've wanted to hear when I was coming up and now.
Tobe Nwigwe - WHAT IT'S FORwww.youtube.com
You release music videos weekly.

No doubt.
Can you talk to me about exactly what #getTWISTEDsundays are?
This started with the #SoGoneChallenge. My girl and now wife thought it would be tight if I got into the trend of the time and talked about our relationship. I thought this was her way of making me talk about our relationship early. We had just gotten back together, at the time, and we weren't a for sure for sure thing. She convinced me. I did it to see what type of response it got. Long story short, it got the biggest response that I had ever gotten on social media. My guy, CJ, suggested I do it every week, put out something rapping every single week. I listened and I did what he asked me to do and I literally starting gaining traction with every song. It was a real grassroots movement and it just started evolving. It went from me rapping on my couch to me making videos and changing the whole dynamic of it to rapping on Sway to rapping on BET. It's been a journey.
How do you conjure up the visuals behind each project?
To be honest, it's lowkey God-given. I don't have a lot of time to really do everything that I want to do so as I am writing a rap or writing a song, I'm also thinking about a location that will fit the song, attire, I design all the outfits, as well-so those need to complement the location and bring the song to life do I think about all of these things simultaneously.
Tobe Nwigwe + Propaganda Ft. Liz Vice | FALLEN. #getTWISTEDsundayswww.youtube.com
Presently, a lot of fans recognize the start of your movement as an image of your wife, Fat, braiding your hair as you freestyle. She's played a major role in the trajectory of your budding career. Can you talk to me about your relationship with her?

It's everything. Fat, my ride or die. How do I explain? It's really simple. Fat loved me when I was poor. She was into me then way more and I had absolutely nothing. She loved me way before I did music. She was literally just into me and loved me for me 100%. I really feel like that's what everyone in the world wants, someone to love them for who they are and not what they do. If I did music, if I didn't do music, Fat wouldn't care. She is literally only here for me and my well being. Fat puts God first and then me, after her momma, I don't want to discount her momma. That's a task within itself because I am a very complex, I don't like to say difficult, I'm a very complex person. It's mind-boggling for me what I think about her.
Tobe Nwigwe | I CHOOSE YOU. "The Originals" #getTWISTEDsundayswww.youtube.com
You've got some incredible women on either side or you. Where Lanell Grant's futuristic productions fit so perfectly with your voice, Fat's choreography takes you all to a space that sort of transcends the realm we are in. What is it like having these two women with you on this journey?

I don't want to limit what Fat does to just choreography. She helps me with everything. Here's what's so tight about Fat… Before me, Fat grew up 'scary church' and didn't fool with no music outside of gospel music, for the longest. Then, she got the 'lil 'church hurt,' ran off and started living a free life (laughs) but she really had no interactions with rap outside of mainstream rap and didn't really fool with the genre at all. She was into R&B and gospel. Her only measure of what good rap is is the stuff that she's heard me do that she thought was good. I literally bounce every single rap that I do off of Fat. If Fat could get it, I feel like the world could get it. Sometimes, I'll say stuff and she's like 'That's too much' or 'I don't understand, it's too deep, take some of that out.' She isn't a ghost writer or anything but I bounce all my ideas off of Fat. She's a super sound board. She does the same for the outfits I design. I'll design something and she'll be like, 'Nah, I don't feel like wearing pants.' She helps me with my designs and corrects them.
Nell and Fat are both powerful women. Nell, specifically, I feel like once people tap into her beyond production, her voice is going to change the world. Nell is a very strong woman-strong in her beliefs-strong in her integrity and character. She's very passionate. She's just good and a solid solid woman. When she speaks to other women and other people, in general, she moves them.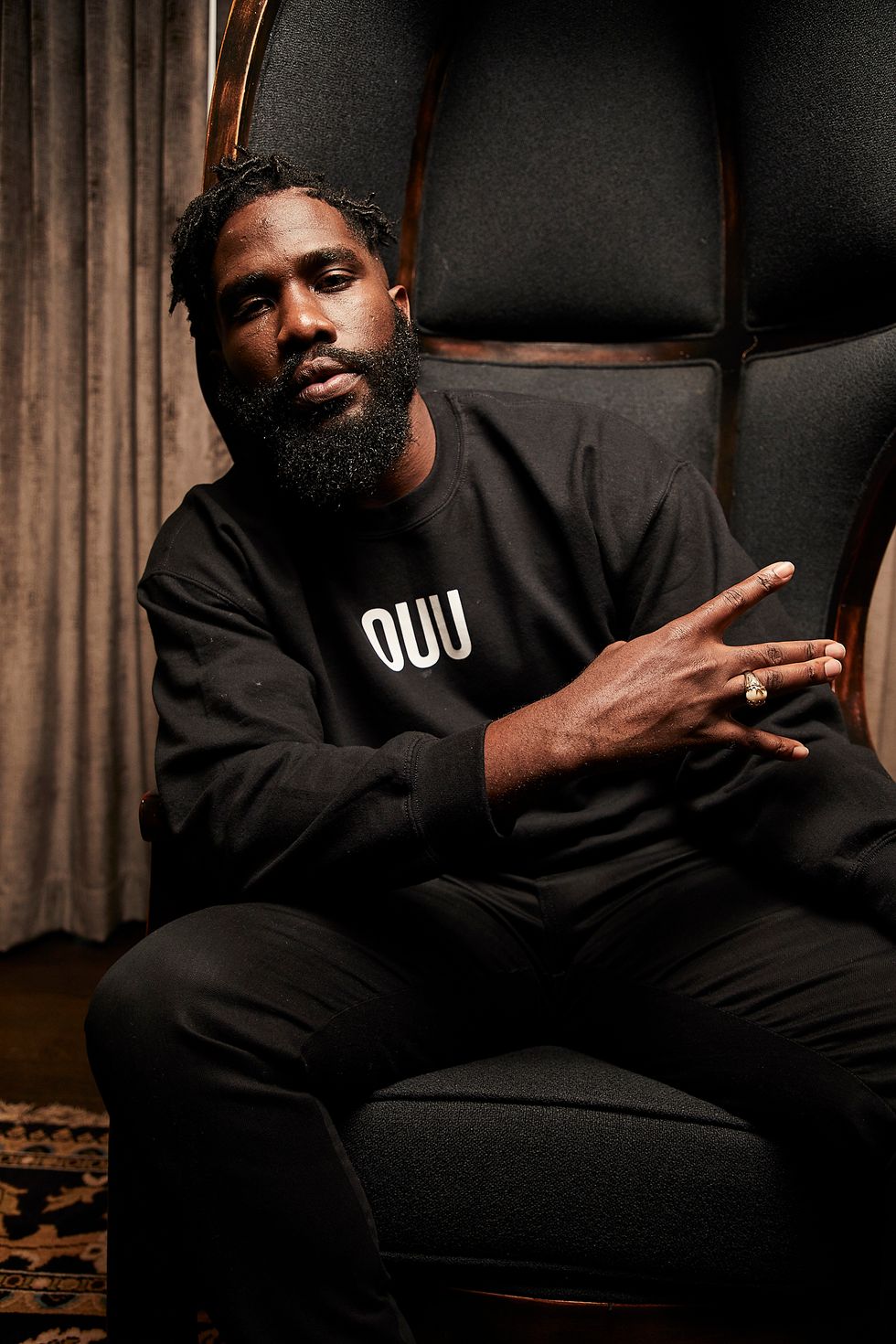 Tobe Nwigwe. Photo courtesy of the artist.
One peruse of Youtube, and by peruse I mean dissection of every video you've ever posted, and it becomes evident your faith has played a huge role in your path here. Can you talk to me about your faith as it pertains to your music?

It is the foundation of not just my music but my life. My relationship with God is what determines how I move in every area of my life. I just try to have integrity and character. I just always felt like, growing up in the hood, real to me means you are who you say you are. If you are not who you say you are, to me that's fake. I always felt like if I say I'm with God then I'm going to be who I am and move as such, throughout my life. I just try to be as real possible.
What can we expect from the project More Originals?
Heat. More Heat. It's a collection of what we've been doing over the last 12-13 weeks compiled as a project with a couple extra bonus tracks. I might throw in some dialogue. I just want to do something different to give people a more in depth look at the behind the scenes, the process and where we are right now. Nell is about to have a baby. The journey is the most beautiful thing. More heat and more access to the journey.
I know you have a tour coming up, besides that what's next for you?
We are going to do a different tour, next year. This tour is to get our feet wet and to give to the people who have been supporting in different areas of the nation that we haven't been able to touch yet. Next year, we are really going to hit the ground running and of course, more #gettwistedsundays. Just keeping the machine going. Just being consistent. We have mastered the art of consistency.