We got a chance to catch up with the versatile afrobeats singer-songwriter well known as Tomëover a Zoom call to discuss her craft and the release of her album BT4W (Bigger Than Four Walls). Tomë is a French-Canadian and Nigerian artist born in Montreal and currently based in the city of Ontario, where she was raised and has lived in her whole life.
---
The singer started writing music as early as 8 years old with the direction of rhythms she made up in her head. At the age of 10, her parents gifted her with her first guitar which encouraged her passion for music and led her to releasing her first project on Soundcloud in 2015, a self-recorded body of work.
Tomë acquired her bachelor's degree in Acting for camera and voice from Seneca College at York to follow her childhood desire of being an actress. It remains something that she'll likely explore in the future.
Last year, Tomë was graced with the opportunity to tour with three of the biggest acts out of the African continent: Burna Boy, Mr Eazi and Wizkid. This, for any growing artist, is noteworthy and something that she counts as one of her biggest accomplishment yet according to Tomë
She also tells me during our little introduction that she is fond of artists in the R&B and hip-hop speheres such as Wande Coal, Erykah Badu, Rihanna, Beyoncé. These artists are a big motivational force for Tomë both in business and in sound.
Her latest album was released in May 22 and includes features from Zlatan, Runtown and King Promise across its 10 tracks. We spoke to the artist below.
TÖME - Vie de estabelle [Visualizer]youtu.be
How would you describe your music?

I don't even want to say afro-fusion. I best categorize it as fusion just because there are some songs that have no afrobeat in it like at all, it's just like my own vibe. But fusion is the best way, afro-fusion if i have to because i just want to showcase all of who i am into my music. I grew up with a lot of different cultures around me and it brought huge influence to my sound now.
Let's talk about you being in Canada. Is that challenging in any way considering your sound and music mostly speaks to Nigerians?
Right now a lot of my fan base is overseas, in other parts of the world so I guess I don't feel as much of the results of my music as i would if I was back home, In Nigeria but regardless i know that my sound is still transcending here and I'm starting to get a lot more exposure within my own city now. So I wouldn't say it is as difficult, if anything it's working in my favor because I'm achieving what I wanted to which was bringing afrobeats to this market in a way that they can understand. In a way they're messing with it, so I mean it's a bittersweet feeling but I don't think it's that difficult, with the fan base being elsewhere. I think if anything it's helping me.
Do you prefer performing to recording? And why?
It's very hard to answer that just because they give me two different feelings. The fun that I have creating music, it's just so much fun, you're in the studio creating, getting excited. But then the adrenaline I get from a performance is indescribable and I must say I'm missing that more than ever so right now I would probably say performance over recording.
TÖME - Free (Official Video)www.youtube.com
What's your creative process like? From writing music to recording, how do you get inspiration?

For me, the best way to write is to hear the beat. The beat is truly what inspires my writing and sometimes I even base it off the title of the beat. If they give me a good title, like my song "Magical Fruits" off my project, the beat was called "Magical Fruits" so I wrote off that. So yeah usually it's just truly based on the vibe and that's just how I write and I love to write in the studio itself, that's where I have the most fun, where I feel the most free when we're right there and then.
What's the story behind your album title, BT4W?
BT4W Bigger Than Four Walls. It's a sequel to the first one which was called Tomë's Room, so just to kind of break that down from Tomë's room so now we're moving beyond that, so bigger than four walls. This project is really based off my range, it's based on my versatility and I really wanted to show this to the world so people understand that they're not getting one sort of sound or genre from me. One of my goals in this industry in general is to change, because I'm not trying to come in doing the same thing everyone else is doing, I want to change things from my music to my message to my purpose so for me this is something to let the industry know that as an artist I don't need to be boxed in to one genre or one sound or one category, it's bigger than that, it's bigger than me, it's bigger than four walls.
It's funny that you said that because my next question is on your versatility. On the album you have features from Wavythecreator, Runtown, and Zlatan who have three different sounds. Do you think it'll be difficult for your audience to resonate with you and do you think it's important that they categorize you in one genre?
I mean starting out yes, of course they have to categorize me as something so that it's better understood that way, just for marketing purposes and everything which is why we're going with afro-fusion. However, in terms of me as an artist I don't want there to really be a category. From what I've noticed with my fans, they say afro-fusion because that's what I'm pushing but it's not really like what it is I think they are aware of that too, so it's something that's not necessarily said but understood.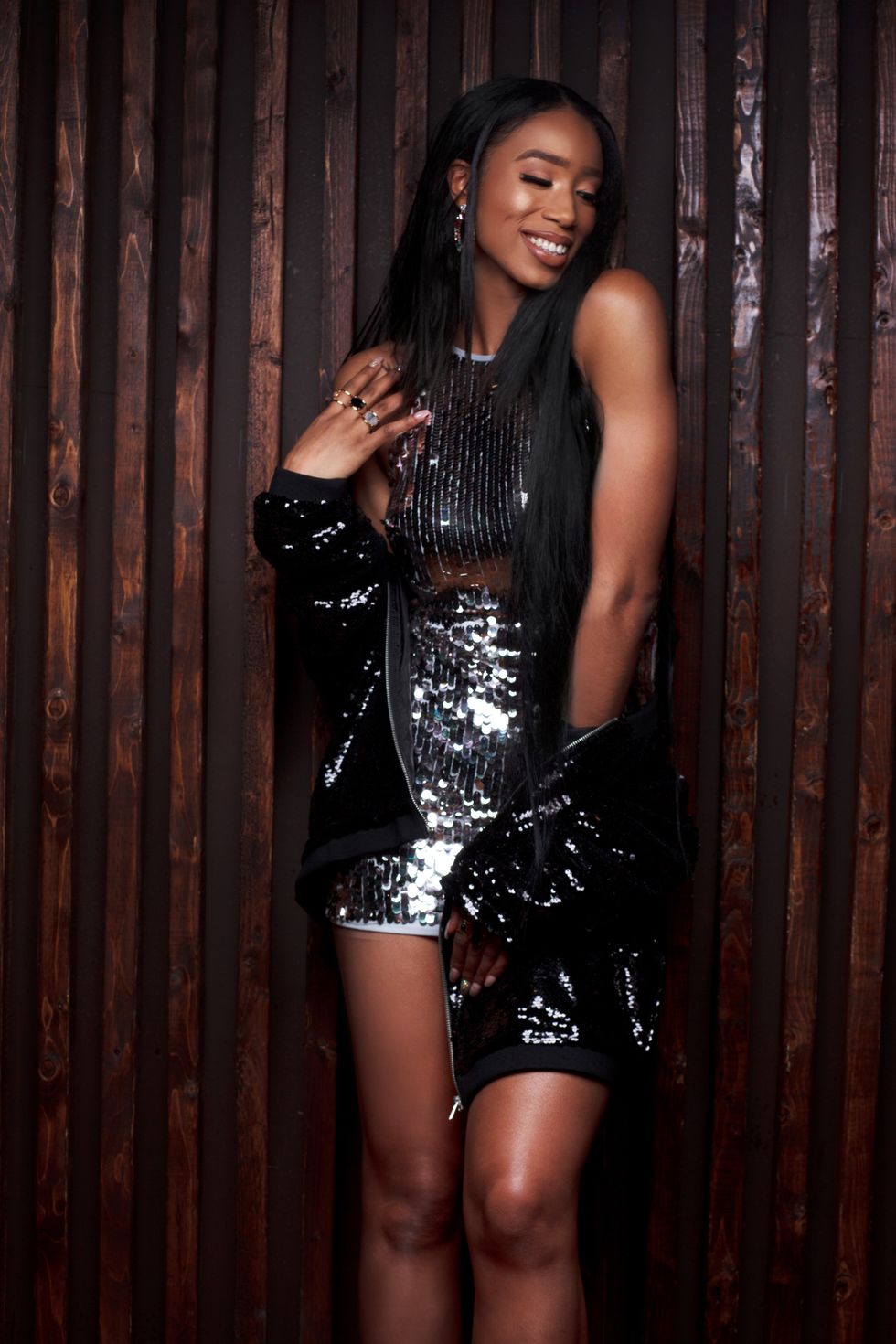 Image courtesy of the artist.
What's your favorite song off BT4W?

I feel like every song has a different mood like not one song sounds the same so its like every song is based on a different feeling and gives me a different mood but if i had to choose, I might have to say "No Love," there's just something about it.
What is it like working so closely with your dad and do you think it gives you an advantage?
Well my dad has been in the entertainment business for 30 years, so it wasn't a completely unfamiliar atmosphere he was going into, it worked out. It was definitely something new to work with him so closely and my dad is a businessman but he's also a musician so he understands the music aspect which I love as well, when he's in the studio with me he adds to the music too. What i love about it the most is the fact that i can trust him, he has my best intentions at heart as my father and I honestly can't see anybody else doing what he's been able to do for me right now.
What advice would you give to upcoming artist?

You need to understand the business side of it, because that's what really runs this industry and what will run your music. If you're not fully aware of, aside the music, what it takes to kind of be heard and be seen and everything like that, it'll be a lot more challenging for you so I highly highly suggest that you do your research, learn and you gain a lot of knowledge from the industry, from A&Rs, from different executives in general that have workshops out there, and a bunch of different interviews and videos online for you to really gain more knowledge, because it's not an easy business and it's not just about putting music out there, you have to do a lot more than that.
If you were to describe yourself to a new audience, what would you want them to know?
I would say Tomë and my brand in general is about empowerment and about relating to as many people as I possibly can, especially for women. I want women to feel shamelessly confident about who they are, aside from that I'm all about empowerment in general, my brand is definitely revolving around that because my messages, my songs, the feel of them is to let you know that you can do and be whatever you want to be.