Sixteen years ago, Ishaya Bako was in a near-fatal car accident. Surviving it, he vowed to spend the rest of his life doing what he loves. That's "telling stories, writing and making films," he shares with OkayAfrica. Chance may have tried to take his life in a different direction, but after that life-shattering moment, the Kaduna-born director says he became deliberate in how he'd spend the rest of his days. The next year, in 2008, he went to film school in London and set forth on his road to becoming a filmmaker. It hasn't been easy, though. "It's a lonely journey," he says. "You start to doubt yourself with every setback you get, but then opportunities like going to TIFF for a second time come, and you realize this is where you're meant to be."
Bako's fourth film, I Do Not Come To You By Chance, is based on Adaobi Tricia Nwaubani's 2009 award-winning novel of the same name. Making its debut at TIFF this week sees Bako back at the fest six years after his 2017 film The Royal Hibiscus Hotel premiered there. His work has earned African Movie Academy Award nominations, and he was a writer on Lionheart, Nigeria's first submission to the Oscar's best international film category that was unfortunately disqualified.
I Do Not Come To You By Chance is a dramatic comedy that tells the story of fresh-faced Kingsley, the first-born of his family, who has all the benefits and responsibilities that come with being the "opara," including the need to graduate and find a job so that he can take care of the family's finances. While the film doesn't break any conventions or offer up a distinctive take on the subject matter, it does tap into the very poignant issue of how the threat of poverty can send even the most reverent of men down a gloomy path. Newcomer Nnadiekwe Paul is the very portrait of a virtuous young upstart who, unable to find work, is seduced by the life his uncle, Boniface, aka "Cash Daddy," leads, and the things it affords him. Together, they provide the ultimate foils for each other, as the morality tale unfolds.
Bako spoke to OkayAfrica about collaborating with Genevieve Nnaji, his love of literature, and the little things that can make a big impact on a film.
I Do Not Come To You By Chance.\u263a\ufe0f\ud83d\udda4 #TIFF2023

— Genevieve Nnaji MFR (@Genevieve Nnaji MFR) 1694368380
The interview below has been edited and condensed for length and clarity.

You were at TIFF in 2017 with The Royal Hibiscus Hotel, how is it being back and how would you say you've changed as a filmmaker in the time since?
The Royal Hibiscus Hotel was my second feature and this is my fourth. I think at that time, it was still a bit green and excited to be at a festival like TIFF. Now, at the core of it, I still feel grateful, and very excited because it's been six years since. I've grown as a filmmaker. I've grown as a person; I'm a lot more appreciative of my art form and of my skill set in that artform, as well. I'm a lot more confident in the type of stories I want to tell and the kind of stories that inspire me. And yeah, just establishing myself in my career as a filmmaker, as an African filmmaker with a voice in international cinema. It's still good to see that the work is being recognized. More than anything else, it's like an encouragement to do more.
Why did you want to make this novel into a film?
I'm a book lover, so I love literature. It's one of the things that also inspired me, especially in my negotiations with family, when I told them I wanted to pursue a career in filmmaking. I could see, a decade and a half ago, how there was this, almost like a renaissance in African literature, particularly in Nigerian literature. Just great authors, from Helon Habila to Sefi Atta and Lola Shoneyin and of course Chimamanda Ngozi Adichie, and Adaobi Tricia Nwaubani, who wrote this book.
It was reading those stories and seeing how they told fresh narratives that were kind of representative but then they could also stand alone, and they were not necessarily niche; they could be read or be translated into different forms. I read it in about 2010/ 2011 and shared it with the exec producers after we made our first feature Road to Yesterday. It went through a development process, and I felt like it was just time.
The film was produced by Chioma Onyenwe, Chinny Carter, and Genevieve Nnaji – who you also worked with on Lionheart. How did you come together, and what's it been like working with a powerhouse like Genevieve behind the scenes?
She's obviously an icon in Nollywood, and in African cinema in and of itself, and I think it's interesting that I'm the person that she has chosen to collaborate with. We were introduced to each other by Uzodinma Iweala, who wrote Beasts of No Nation, which was also adapted into a film. We just have a mutual admiration, and even though she was obviously way more established in film than I was, there was [from the start] a mutual respect, in terms of the talent and in terms of the kind of stories we wanted to tell, and how we wanted to tell those stories.
It can be a taxing journey when you start conceptualizing or developing a film idea to when it finally releases, so you want to be collaborating with people that share a similar vision, similar mindset, and that you trust, as well. It has been eight years working together now, and we definitely have that mutual trust.
You start to develop a shorthand in terms of communication, and you share a vision for the film, or the project, that is more important than any individual ego. [The film] is the thing that is going to outlive us all.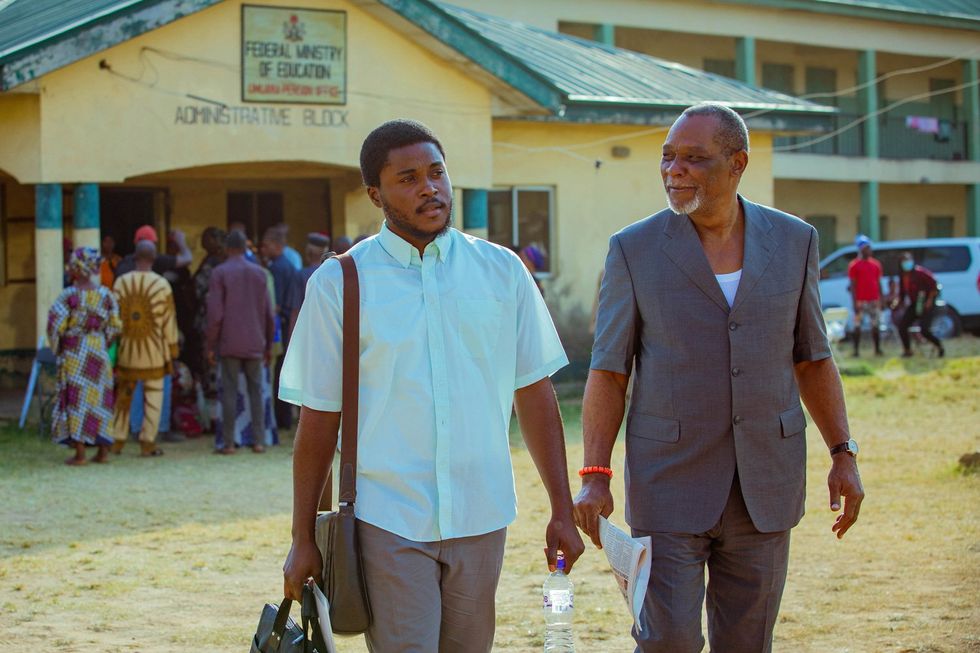 A still image from 'I Do Not Come To You By Chance.' Photo courtesy of TIFF.
I imagine that trust becomes especially important when you have all these players with their own interest in Africa, like Netflix and Amazon…

Absolutely. And I think it's also good because we're still young, in many ways. We're still trying to move away from the very niche nature of the home video markets and the Nollywood industry as perceived, to say we can be, and we are, able to play on the world stage. To be able to consistently deliver on an international stage and tell these universal stories that also have local appeal. It's definitely important to stay grounded and have that trust in each other and support each other as we grow.
Blossom Chukwujekwu is fantastic as the uncle aka "Cash Daddy" – how did you come to cast him in the role?
Everybody had to audition for their roles, and I hadn't worked with him before, but I hadn't seen him in a while. And he had bulked up a lot more since I last saw him. The nature of Cash Daddy, even from the book, he is a big man, and I remember when he came for the read, and I saw him, I was, like, 'Yeah, this is definitely him.'
It was a bit tricky at first because he had schedule conflicts, and although Kingsley is the lead character, we knew that we were going to cast a relatively unknown, a fresh face [Nnadiekwe Paul] for that role, and so we needed someone more established, particularly in the Nigerian film industry, to carry that role. [With Blossom] It was 'once you know, you know.' And he has great instincts.
In what sense?
It's in the very small things that, as the director, you just love for your actor to bring to you. So there were small things that he tried out in rehearsals that I was just, like, 'Yeah, absolutely. Let's do it.' He would push his stomach out to be bigger and it would change how he walked and how he moved, and just created a characterization. The second thing was how he drank the whiskey – how he would swirl it around like mouthwash. Even just hearing how the audience reacted to that, and it's just a small thing, it just gives a lot of color to the character. And in terms of temperament, how he could switch from being charming and cheerful to something darker so easily.