In OkayAfrica's latest Travel Diary, our contributor Audrey Lang shares her musings while exploring Côte d'Ivoire for the first time.
During a visit to Dakar, Senegal for the Biennale last summer, I met an advertiser and DJ named Lio. He excitedly described his impending move to Abidjan, Côte d'Ivoire and implored I make it my next stop on the African continent. Lio spoke of an invigorating creative scene in which he would thrive and I yearned to interact with the creatives telling its story so I could do the same. With little convincing, I obliged.
My desire to travel around the African continent is aimed at being able to refute a common media narrative that is often detrimental to its creatives and locals. Luckily, we are living in times where Africans far and wide are at the helm of a change in tide. Our stories are being told the right way—raw and unapologetically. They are as diverse as they are expansive. What is manifesting is nothing short of extraordinary.
Furthermore, because I am a second generation Cameroonian-American, travel is also aimed at connecting to a home I've never had the chance to live in, yet feels very much like it is mine. I am a product of an environment in which I was consistently reminded that despite the fact I live here, I am not from here. With time, I have learned that trips such as these are critical to forging a path in a world that so often attempts to dictate how you should identify and how this identity should make you feel. More often than not, my connection with heritage drives me.
Côte d'Ivoire is a West African country with idyllic beaches, a French-colonial legacy and a people who are friendly and warm. This country is honestly a gem that's heavily slept on.
From the moment I hop off the plane, I am moved by an ease. There is an air of not taking things too seriously. The doctors who administer my yellow fever shot jokingly offer to take me to get attiéké, alloco and garba (notable local dishes). The immigration agent who stamps my passport happily speaks on her phone about what appears to be a matter of no importance to her work.
Abidjan is a refreshing mix of post-colonial France and traditional culture. It's a sprawling metropolis with people very much on the go. I caught myself smiling at the locals' take on urban attire that reminds me of America.
The images I took engaging with the local landscape of Abidjan and some neighboring cities and towns do the best job of conveying just how lively the country is—check them out below.
---
Photo by Audrey Lang.
Dozo doubles as a concept store for a variety of African brands—namely Ivorian ones including Kente Gentlemen, Loza Maléombho, Olooh Concept, Missouwa, and Vintage Nation—and as a creative hub where tastemakers gather to brainstorm, unwind and plan events. The space, centered around travel and discovery, allows for a unique shopping experience as founder Aziz has made it his duty to empower local creators.
Photo by Audrey Lang.
Bathed in former glory, Grand-Bassam is coastal Côte d'Ivoire's centerpiece and a Unesco World Heritage Site. It's greeting is in the form of verdant palm trees stretching along the Atlantic coast.
Photo by Audrey Lang.
The colonial-era stone buildings constructed between 1894 and 1920 are characterized by wide verandas, balconies, shuttered windows and colonnaded porticoes. Though dilapidated, walking through them was the most irresistible part of my trip.
Photo by Audrey Lang.
This town center is void of the tourists it merits because of civil wars that remain fresh in the mind of the world, but its couple thousand inhabitants make it come alive.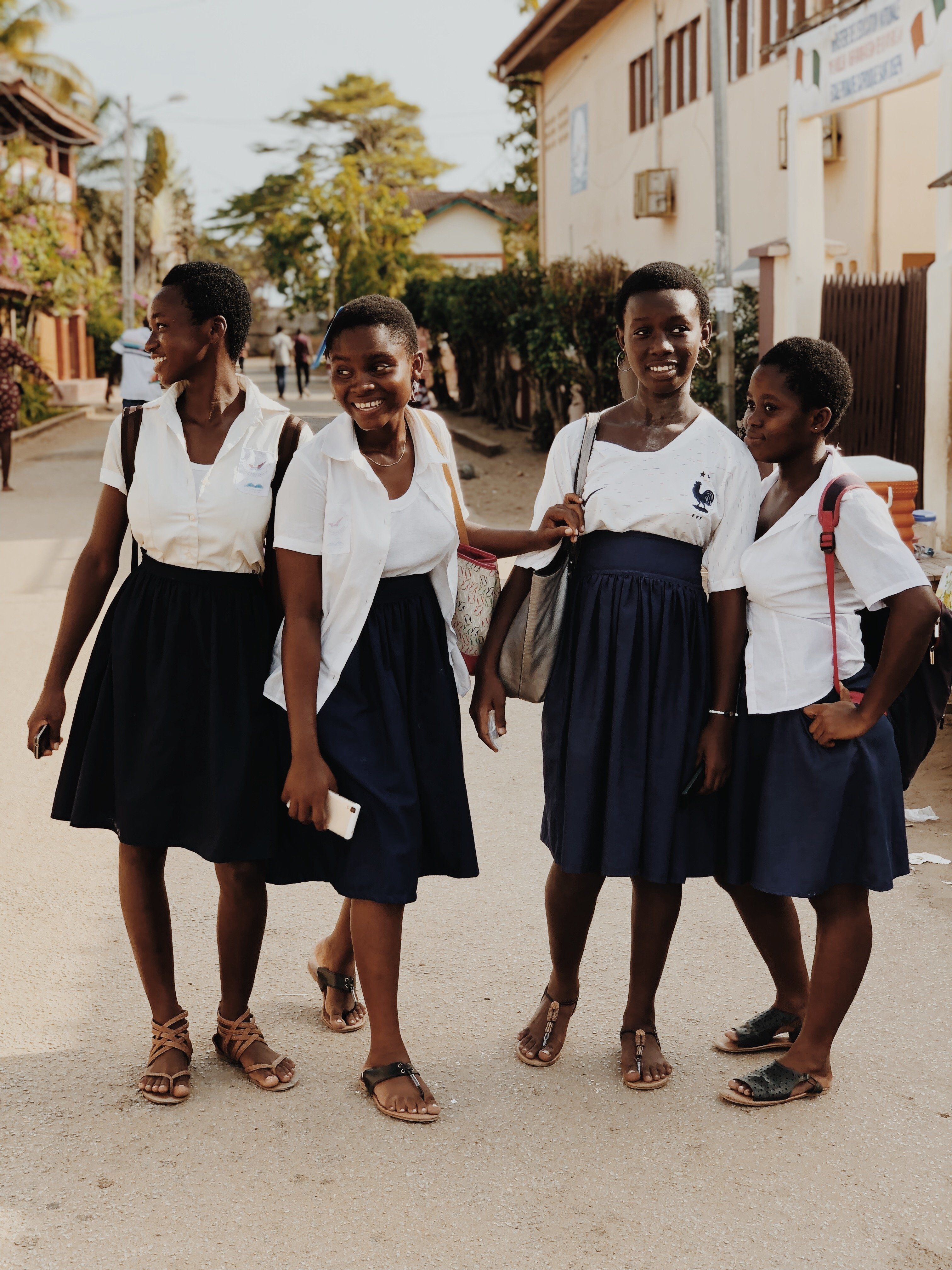 Photo by Audrey Lang.
It was elating to watch hoards of children make their way out of school. They came from all directions, varying in age but not in joy. Their chatter and laughter resounded as they rode bikes, played games and ran towards what looked like everywhere but home. Where some scurried by saying, "Tu es jolie, tata" (You are pretty, aunty), others blushed and said, "Merci, tata" (Thank you, aunty) in response to the compliments we paid them for their tapered hair cuts.
These four girls affirmed they were happy with the pictures we took of them.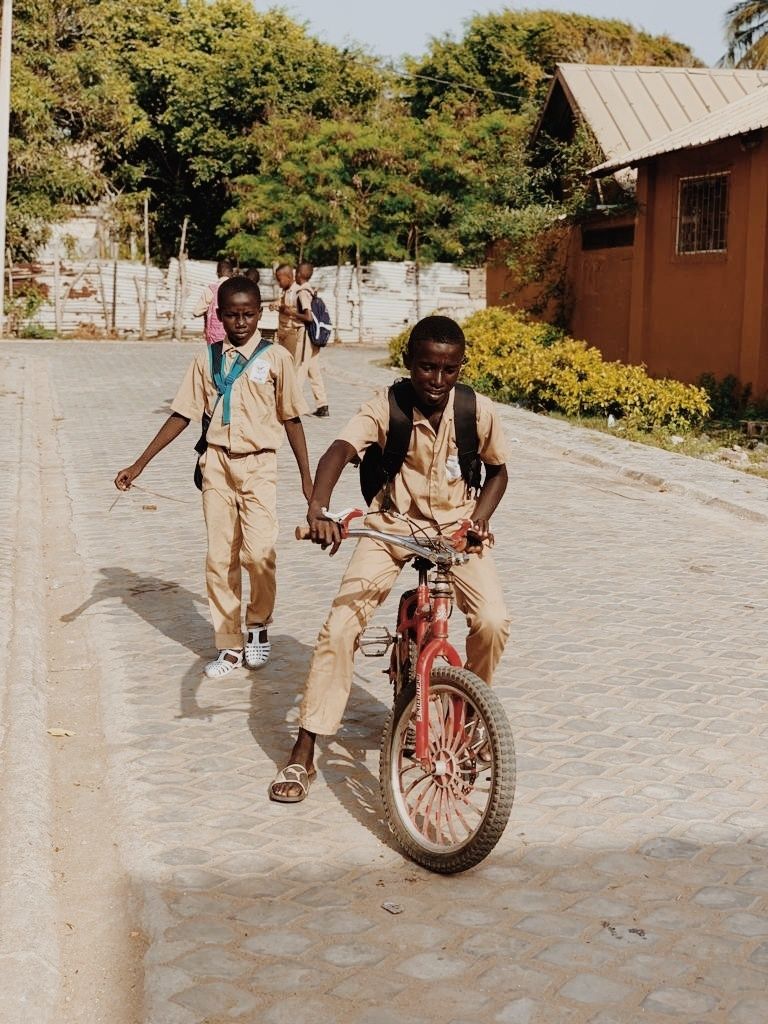 Photo by Audrey Lang.
Photo by Audrey Lang.
Yamoussoukro, the administrative capital of Côte d'Ivoire, is home to an edifice that towers over the city like a mirage. The Basilica of Our Lady of Peace is the largest church in the world, surpassing St. Peter's Basilica in Vatican City. Despite being able to hold 18,000 people, this oeuvre commissioned by the first president, Félix Houphouët-Boigny, typically holds mass for only 700 to 1,000 worshippers.
Photo by Audrey Lang.
There is no denying this meticulously constructed church consecrated in 1990 is a grandiose form of propaganda.
Photo by Audrey Lang.
Philip has been giving guided tours at the Basilica for 3 years. I am amazed by his wide breadth of knowledge about the structure—every aspect of it has an intent. We walk up what feels like 20 flights of stairs to view the church from a different angle but he doesn't join us, for his knee is paining him.
Photo by Audrey Lang.
Street vendors are the epitome of hustlers. When they aren't weaving in and out of ongoing traffic, they are posted on the side of highways beckoning you to grab a piece of bread, fruit, sim cards and more.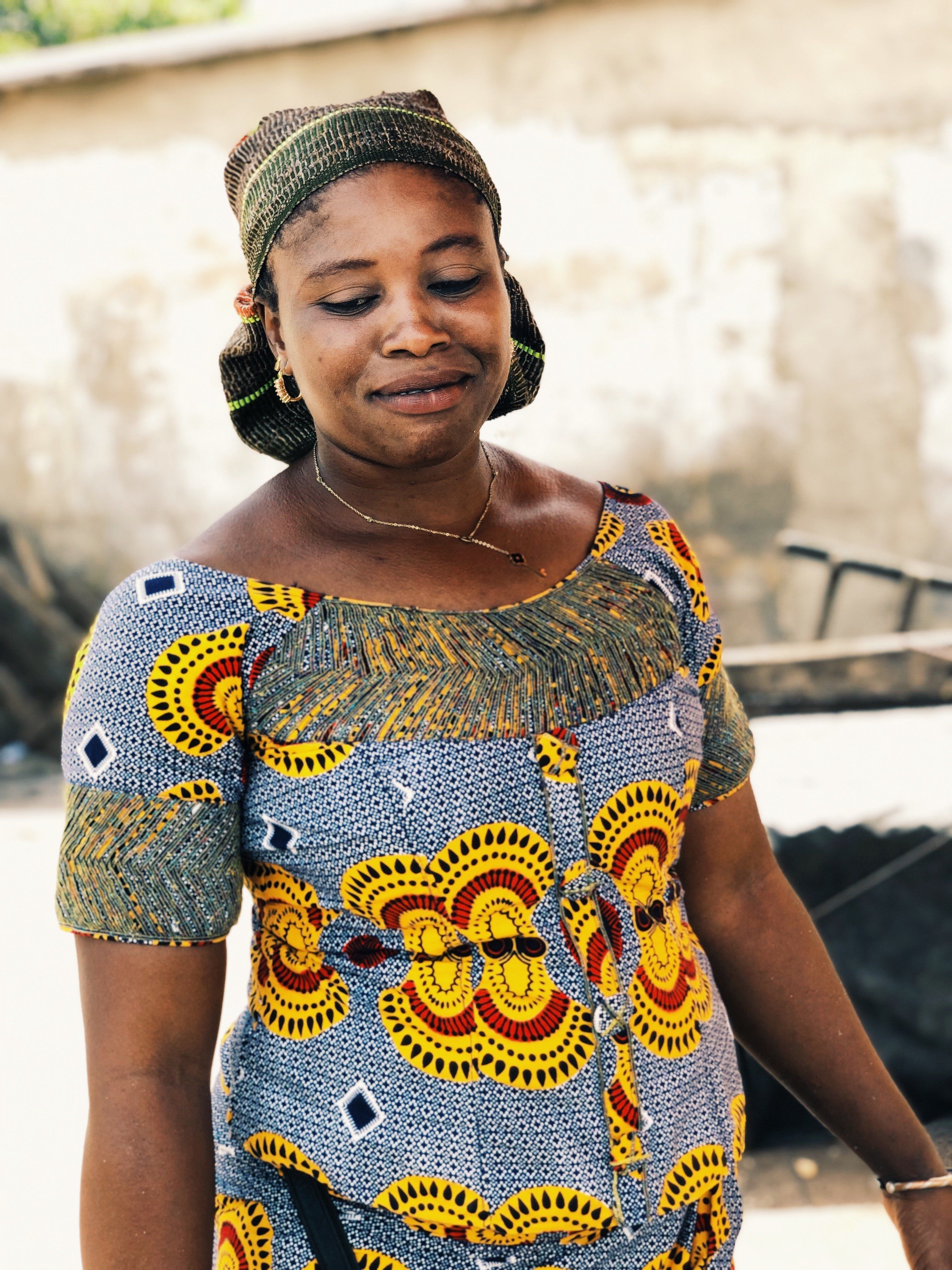 Photo by Audrey Lang.
This beauty sold coconuts near a gas station. What I admired most was how she could do so under an incessant, scorching sun coupled with high humidity. When I asked for a portrait, though bewildered, she gave in.
*
Audrey Lang is a Boson-based writer and merchandiser. Keep up with her on Instagram.