In OkayAfrica's latest Travel Diary, our Accra-based contributor Hakeem Adam recently ventured to Mozambique for the first time and shares his experiences through stunning images.
Peaceful, calm, clean, positive energy are the words I've been using to describe my time in Maputo, Mozambique to basically anyone that would listen to me. The Portuguese-speaking Southern-African country was the first I have had the pleasure of visiting in that region and the visual, spiritual and mental experience has provided me with a much-needed contrast to my ideas of an African capital city in many ways.
The enchanting city moves at its own pace, a gentle and graceful saunter that calms and relaxes anyone who has become numb to the non-stop barrage of stress that is symptomatic of most capital cities. In Maputo, the air is clean and refreshing and the weather is mostly warm without it being sticky with humidity. Rather, the strong breeze from the Pacific Ocean keeps everything gentle as you get swaddled in Mozambican hospitality.
ColabNowNow, a 10-day artist residency organized by the British Council, #SouthernAfricaArts and Maputo Fast Forward ( a month-long festival centering the arts in Mozambique), was the reason for my being in Mozambique. The program brought together nine artists from West, East, Southern Africa and the UK to work collaboratively towards producing work with a digital focus. This offered me the opportunity to meet and interact with Mozambican artists as well as explore their studios and hubs.
Very quickly, you learn that art is one things that grounds the city of Maputo as the expression of their creativity is woven into the engineering of their daily lives—from the rich and colorful alchemy of European and tropical architecture lending the city an iconic look, to the amorous and ingénue community of artists, activists, curators and researchers who are actively engineering unique ways and spaces for their expression. Indeed, most of the artists we visited had all designed their homes as active exhibition spaces where their work and pieces from other artists in the same community embellish their living and working spaces.
As a visiting artist, Maputo was a much needed breath of the fresh air that is art from a hectic year. The architectural and design landscape of the city, as well as the mind-blowing work that is going on in the arts scene there were the two things that will forever stay with me.
However, my best description of my time there are highlighted by the images I took.
---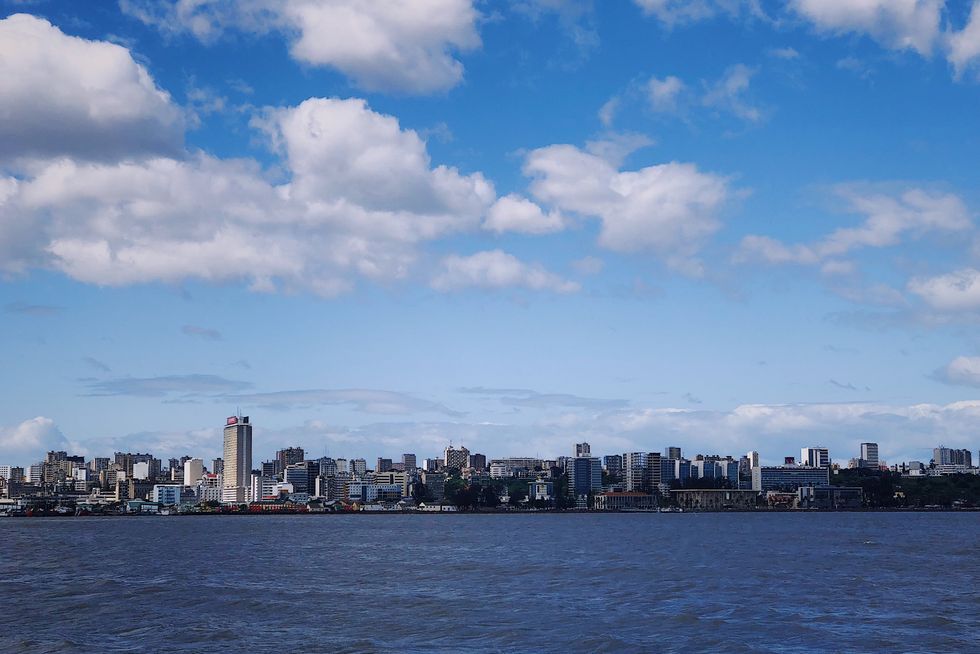 Photo by Hakeem Adam.
Most Mozambicans will tell you that the best place to see Maputo is across the bay in
Katembe
, a town close to the capital. This beautiful vista does show off the impressive skyline but minimizes the intricate architectural details that make Maputo unique.
Photo by Hakeem Adam.
The green, grand Maputo Railway Station is one of the first things you discover when researching Mozambique from outside the country or the Portuguese-speaking world. The neoclassical beaux-arts style edifice is indeed one of the most beautiful train stations in the world with its hypnotic archways and imposing scale.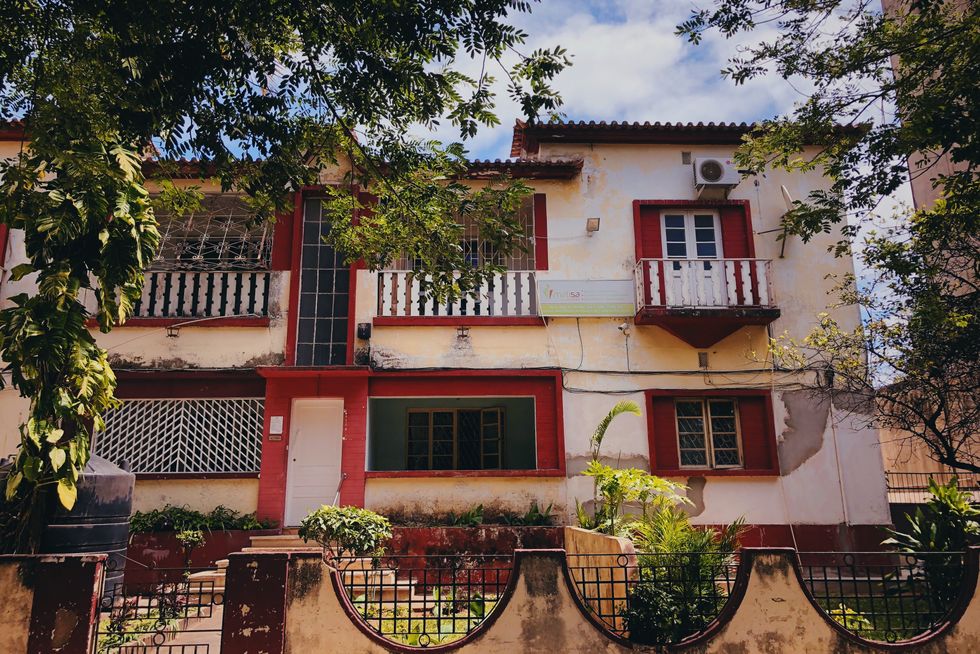 Photo by Hakeem Adam.
Most buildings in Maputo are a blissful product of an alchemy between Portuguese architecture and tropical architecture, accented by radiant color, decorated breeze block and ornamental security features.
The Santo António Da Polana Church is another architectural marvel of Maputo, with its design mimicking an inverted flower frozen in fall.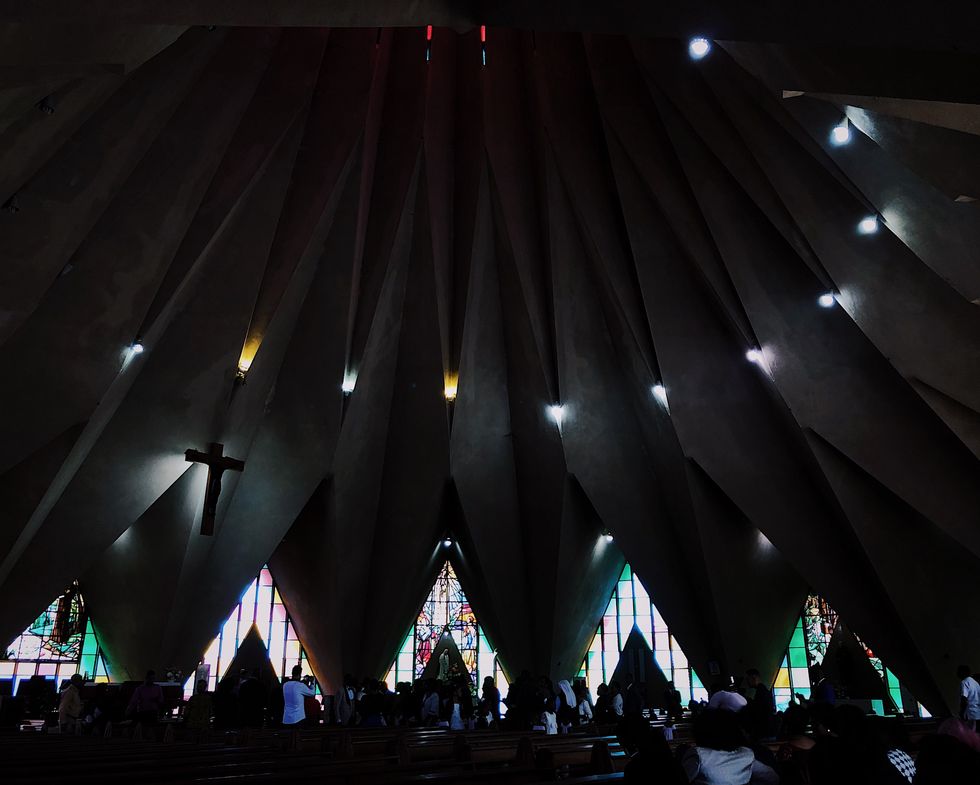 Photo by Hakeem Adam.
From within, the church blooms with emotion that suits a sacred space with stained glass windows illuminating the shade of the falling inverted flower.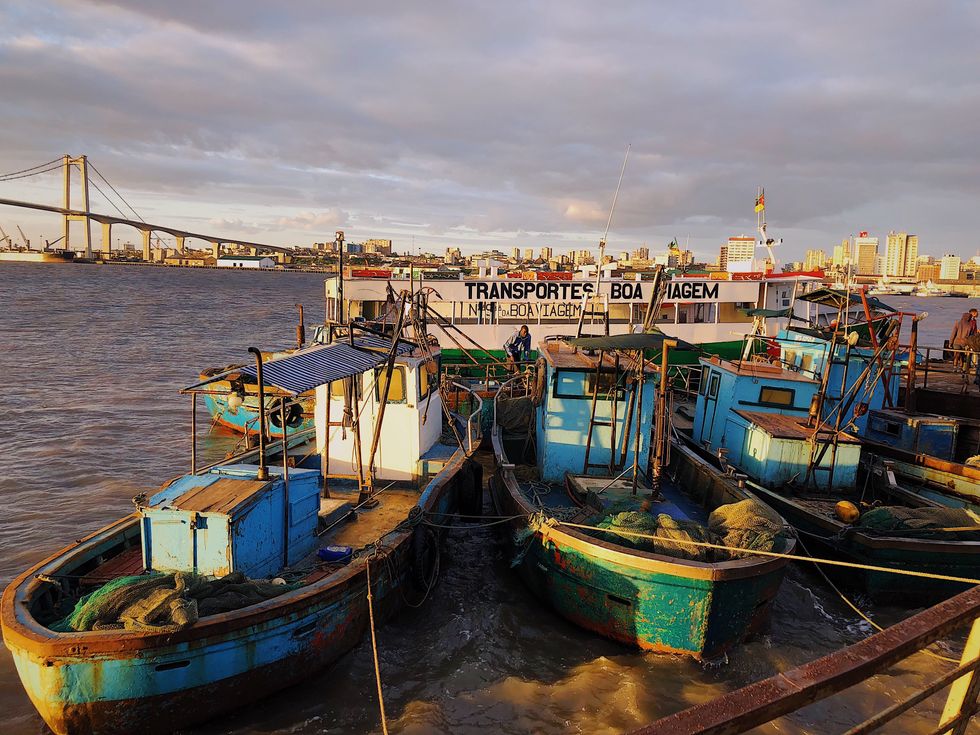 Photo by Hakeem Adam.
Katembe is another town close to the capital, but is separated by the ocean by way of the bay of Maputo. This limits movement of the many who journey from Katembe to Maputo for work each day to travel via ferry.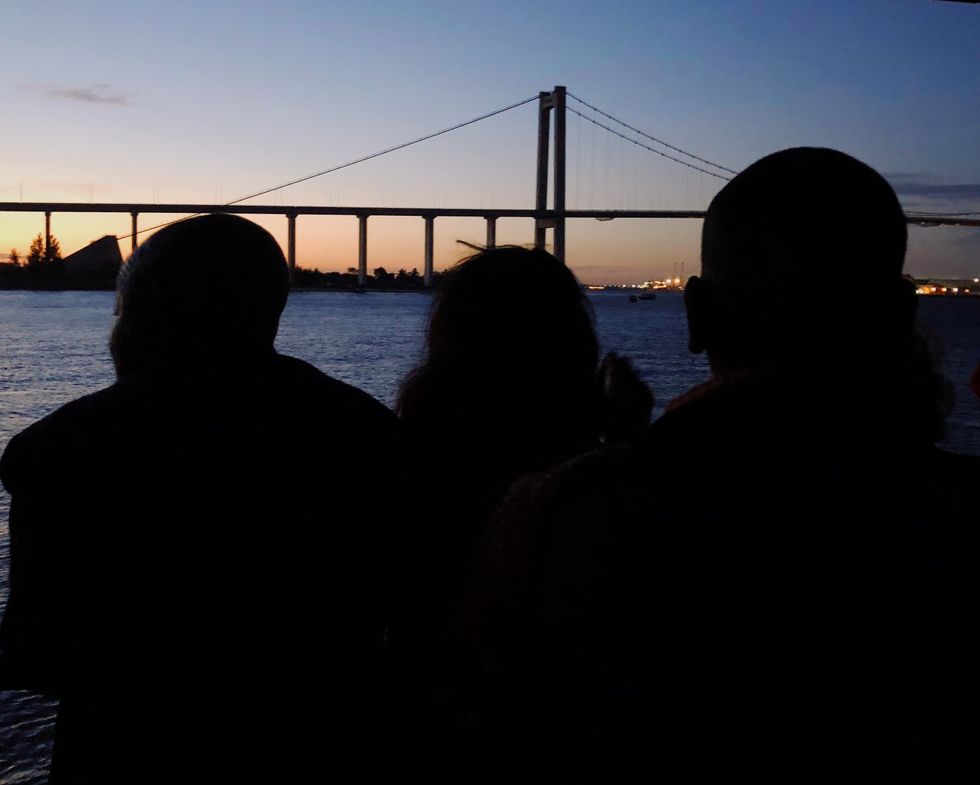 Photo by Hakeem Adam.
There is ongoing work on an imposing suspension bridge, now the longest in Africa, which is supposed to decrease the burden of the journey and become a new addition to Maputo's breathtaking skyline.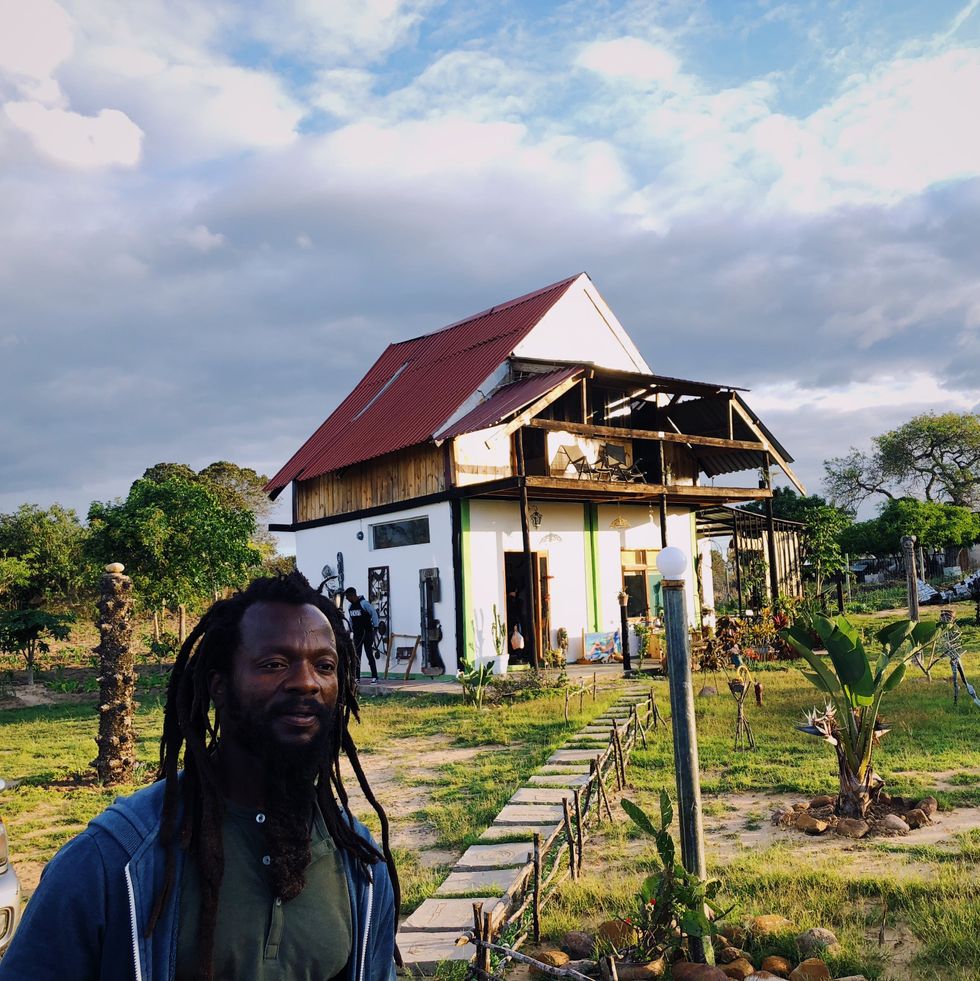 Photo by Hakeem Adam.
Butcheca is one of Mozambique's best known visual artists with a very arresting sense of scale and perspectives in his mixed media work. He lives in Katembe in a bespoke house, perfectly sculpted to match his creativity.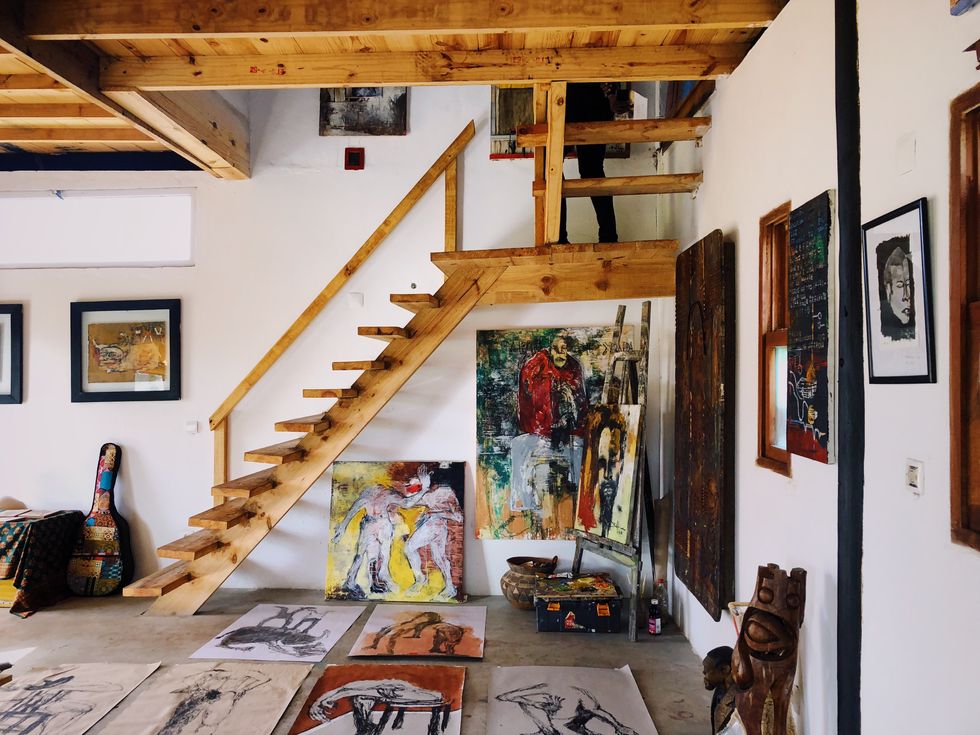 Photo by Hakeem Adam.
Butcheca's house is one of the most awe-inspiring places I visited Mozambique as the entire structure exists to display and service his creativity.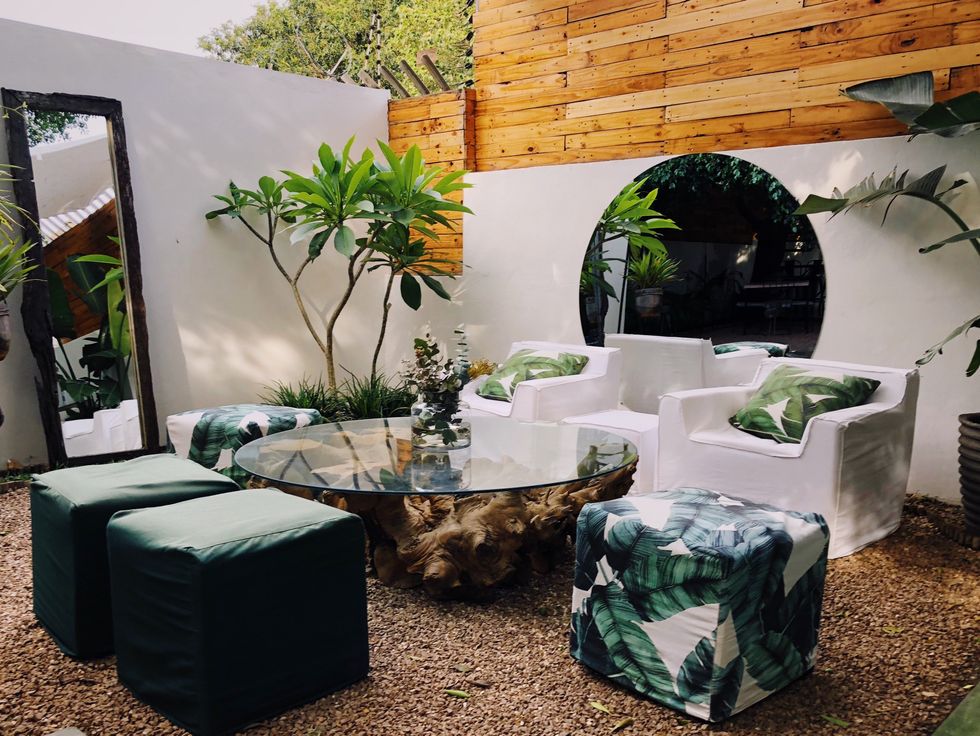 Photo by Hakeem Adam.
Botanica is a serene garden restaurant in Maputo. The space hosted the exhibition for the Colab Now Now residency. It one of the many beautiful spaces that show off the work of Mozambican artists.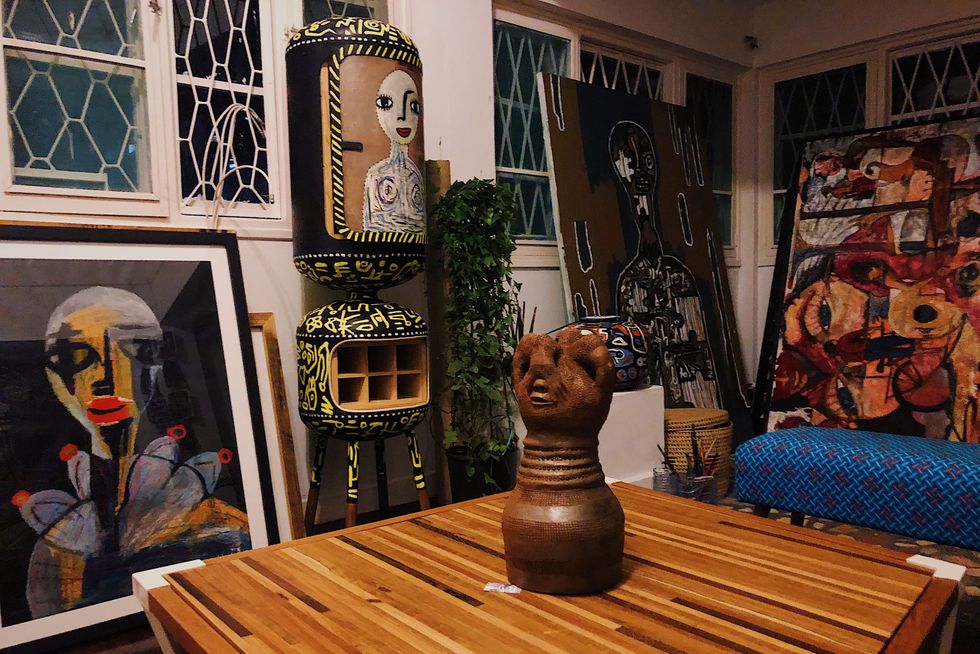 Photo by Hakeem Adam.
DEAL Espaço Criativo (Design, Entertainment, Art and Literature) is a studio and creative hub run by twin sister's Nelly and Nelsa Guambe and Ab Oosterwaal. Like Butcheca's and other Mozambican creative spaces, everything in DEAL is thoughtfully curated to be aesthetically pleasing whilst providing space for artists to create as well.
Photo by Hakeem Adam.
It is very easy to fall in love with the pace of life in Maputo and the many other treasures that make the city sparkle.
*
Hakeem Adam is an instinct creative in love with beautiful sentences and the angst of communicating complex ideas in poetry. He frequently expresses this angst in simple sentences on his blog. He also loves to talk about African film and music classics on his platform, Dandano. Keep up with Hakeem on Twitter at @mansah_hakeem.