June is "No Borders" month at OkayAfrica. That can mean a lot of things and we'll get to that, but one thing we wouldn't want to miss out on is the sheer joy of travel. So, to honor the carefree black traveler we'll be posting new photo diaries from a wide range of African and diaspora super-travelers of their favorite places and why.
---
Lee Litumbe's mission is simple: she is in "spirited pursuit" of travel, adventure, and new cultural experiences. As a self-taught photographer and storyteller, Lee uses photography to shape poignant narratives on cultural immersion; bringing fresh perspectives to travel experiences off-the-beaten track. After spending 19 years living in the US, she decided to move back to Africa and travel long term to create and produce dynamic content surrounding tourism opportunities within the continent.
Why? Because she believes Africa needs more Africans to tell the world its story. A Cameroonian by birth, an American by upbringing, and a nomad at heart, Lee has a deep rooted appreciation for a well-traveled and adventurous life. This is why we felt compelled to ask her to share some of her favorite travel destinations on the African continent.
OkayAfrica:As a globetrotter where are some of the places you've travel to in Africa? What did you feel while visiting? Any special places you would like to put our readers onto?
Lee Litumbe: My parents traveled with me quite frequently when I was younger, so I have vague memories from my childhood for visiting places like Mombasa, Kenya. Since then, I've been pretty intentional about traveling in Africa within the past few years. I have been able to create amazing memories in several countries across the continent.
After deciding to trade my corporate life back in the States for a more creative one in Africa in mid-2016, I decided to base myself in Senegal and traveled extensively throughout the country. It has become one of my many happy places and is the country I would recommend first to any first-time visitor to both West Africa and Africa in general.
For more pictures, follow Lee Litumbe on Instagram: @spiritedpursuit. Below check out some of her favorite travel memories around the continent:
Lompoul Desert, Senegal
Photo courtesy of Lee Litumbe
"En route between Saint Louis and Dakar in Senegal, I stumbled across some Tuareg nomads that were crossing with their herd. I decided to jump out of my car and take the opportunity to meet them and mount one of their 200-300 camels."
Photo courtesy of Lee Litumbe
"Taken on a visit to Lompoul Desert in Senegal while staying at an ecolodge that offers Mauritanian style tents for rooms."
Gorée Island, Senegal
Photo courtesy of Lee Litumbe
"Most don't realize there is much more to the island than just the house of slaves and door of no return."
Lac Rose, Senegal
Photo courtesy of Lee Litumbe
"A boat ride on Lac Rose right before I decided to get in and float."
Langue de Barbarie, Senegal
Photo courtesy of Lee Litumbe
"Taking a pirogue out to Langue de Barbarie in Senegal where a plethora of birds migrate."
Dakar,Senegal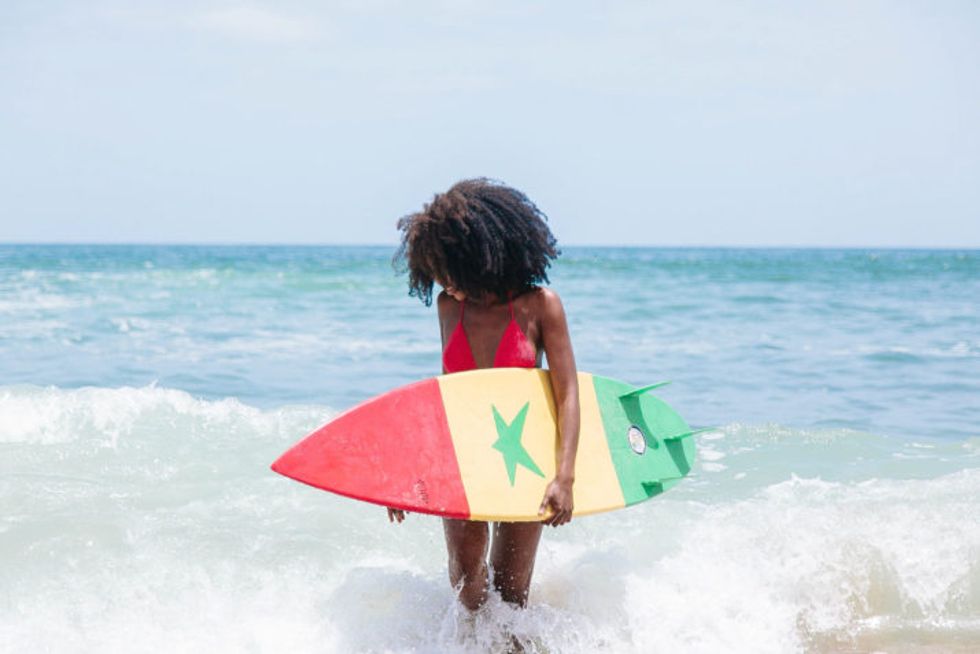 Photo courtesy of Lee Litumbe
"After a surf lesson in Dakar."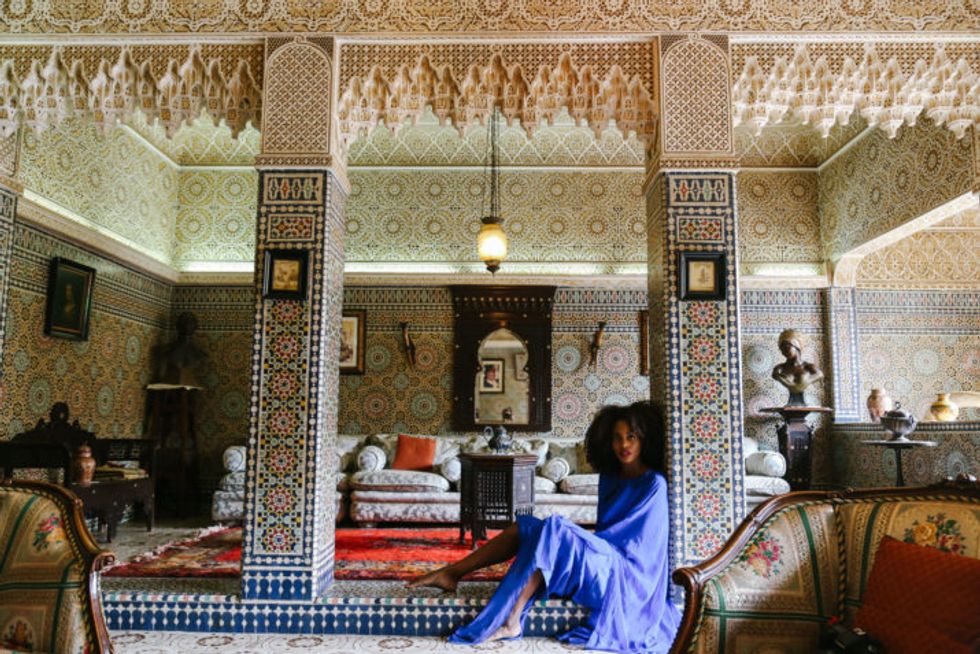 Photo courtesy of Lee Litumbe
"In a friends Moroccan inspired home in Dakar."
Conakry, Guinea
Photo courtesy of Lee Litumbe
"Discovering how beautiful Guinea is in 2016—even after the Ebola crisis. If it's your first time in Africa, nothing can really prepare you for Guinea Conakry, but it will surely charm you. Especially if you also want to learn a significant amount about major West African tribes: Fulani/Peul, Susu, Mandinka, etc."
Les Cascades de la Soumba, Guinea
Photo courtesy of Lee Litumbe
"After a day trip to Bondabon where I hiked Mount Le Chien qui Fume, we decided to visit Les Cascades de la Soumba and have a swim."
Deadvlei, Namibia
Photo courtesy of Lee Litumbe
"Road Tripping throughout Namibia in 2014 and having the opportunity to visit some of the most stunning places I have ever seen like Sossusvlei, Deadvlei and Swakopmund. Like most other African countries, there is an incredibly rich and nuanced history and culture within the country that doesn't seem to be broadcasted as much as it should."
Windhoek, Namibia
Photo courtesy of Lee Litumbe
"Taken in Windhoek, Namibia at an ecolodge just before road tripping throughout the country."
Chefchaouen, Morroco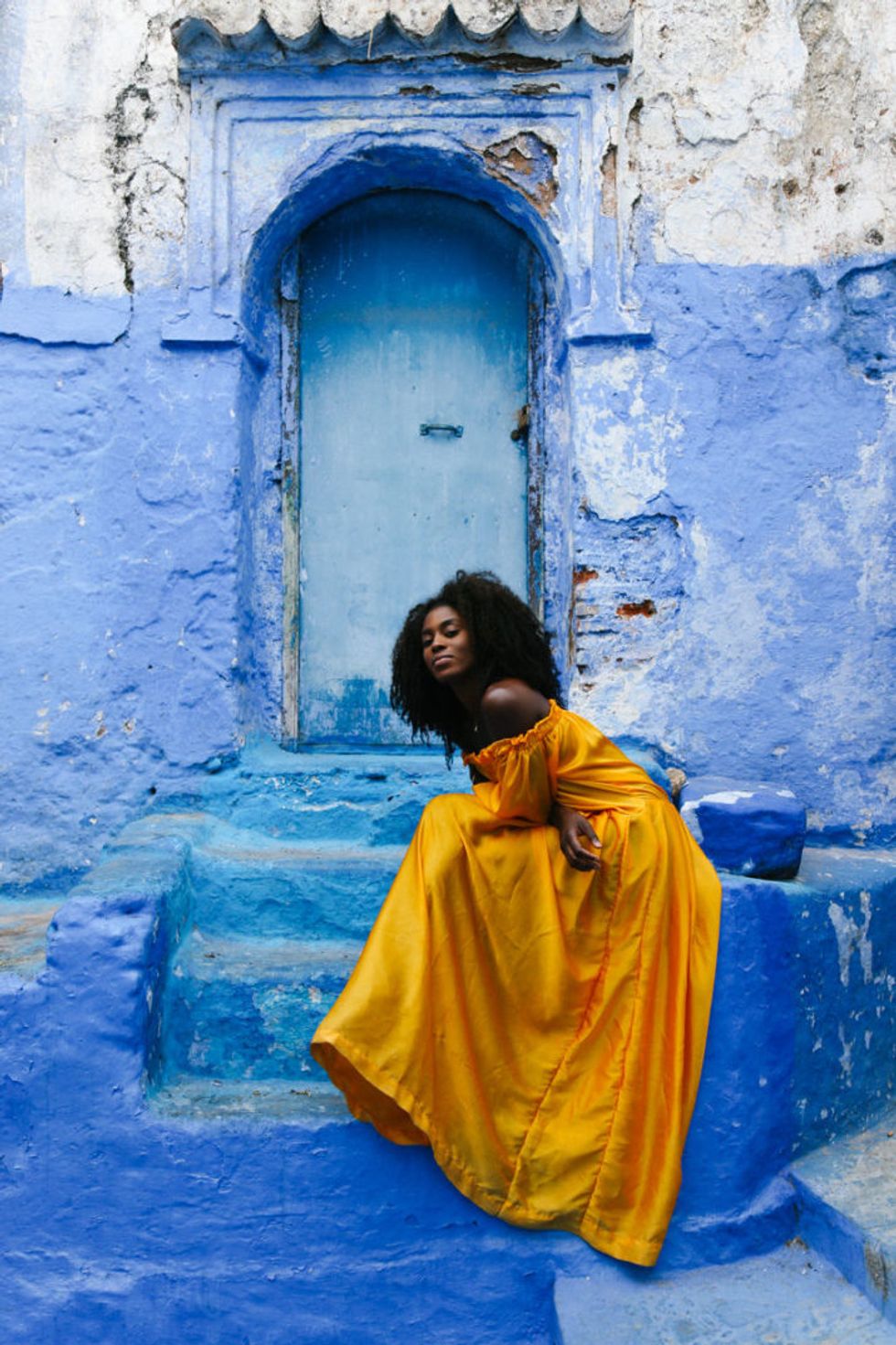 Photo courtesy of Lee Litumbe
"Taking another road trip through Morocco and visiting everywhere from Ouarzazate to Chefchaouen was glorious in 2016, though it came with a few harsh realizations about how complex the local culture is."
Marrakech, Morocco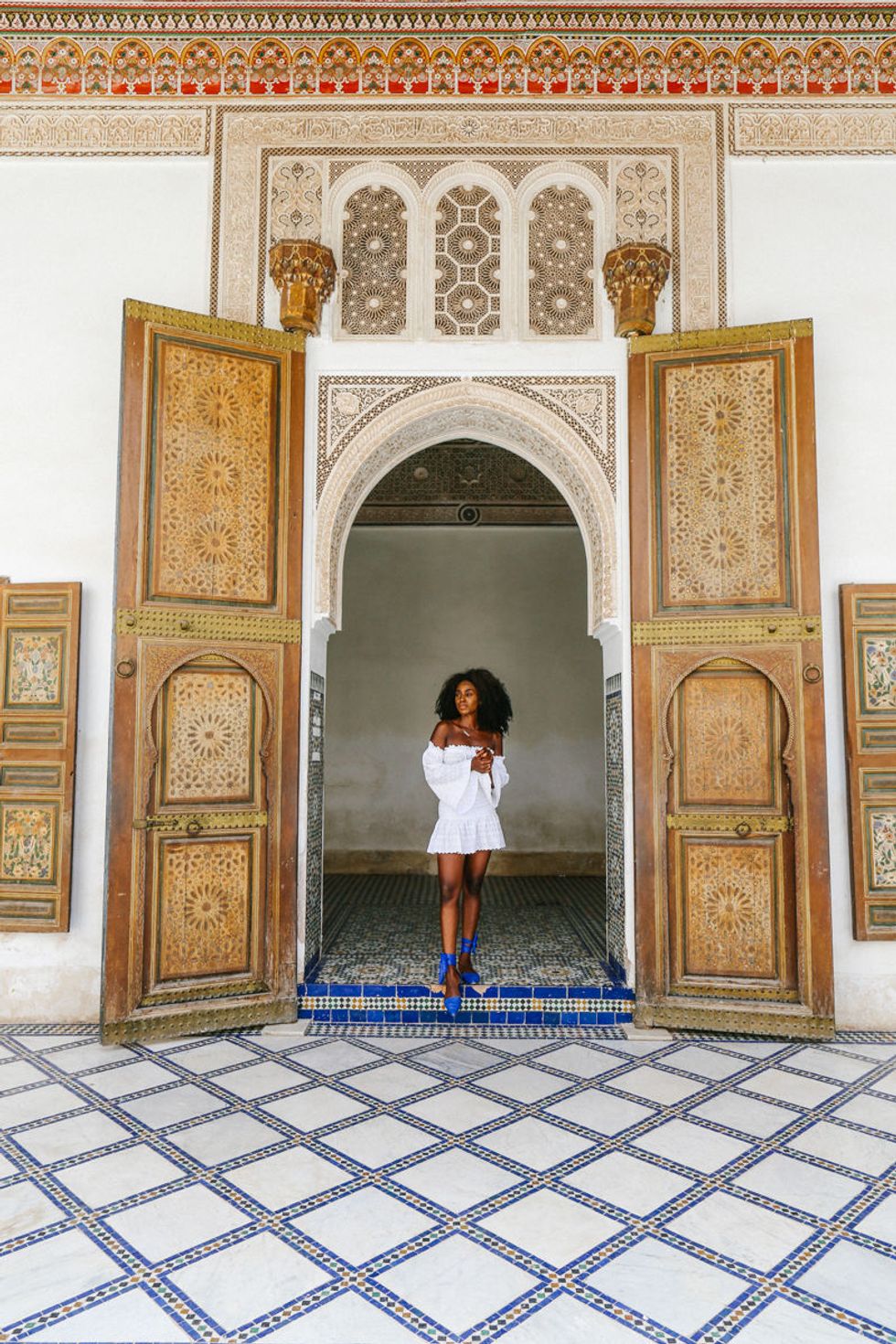 Photo courtesy of Lee Litumbe
"Enjoying a casual walk through Bahia Palace in Marrakech."