June is "No Borders" month at OkayAfrica. That can mean a lot of things and we'll get to that, but one thing we wouldn't want to miss out on is the sheer joy of travel. So, to honor the carefree black traveler we'll be posting new photo diaries from a wide range of African and diaspora super-travelers of their favorite places and why.
---
Asiyami Gold was born and raised in Port Harcourt, Nigeria. She tells OkayAfrica:
"Most of my Christmas holidays were spent in the village with my extended family in Abua, Rivers State. I would stay awake during road trips because I wanted to take in every aspect of the journey. I looked forward to going to the farm with my grandmother and fetching water from the well in the morning to bathe with. These weren't things I got to do in the city so I was eager to experience this side of my family and life.
I was able to see beauty in the indigenous way of living at a young age. My upbringing to embrace both aspects of my life has made me who I am today. Always looking beyond what the eyes can see and reaching for what the heart can feel. My goal as a photographer/visual storyteller is to uncover perfection in what we often overlook."
Her website is asiyamigold.com and you can follow her on Instagram here. Below she shows us three of her favorite places.
Bali, Indonesia
Courtesy of Asiyami Gold
"I have been obsessed with Bali ever since watching Julia Roberts riding through the rice fields of Ubud in Eat, Pray, Love the movie. I wanted to come experience what the fuss was about. Bali ended up bringing everything and more. I ate, I prayed and gave myself a lot of self love."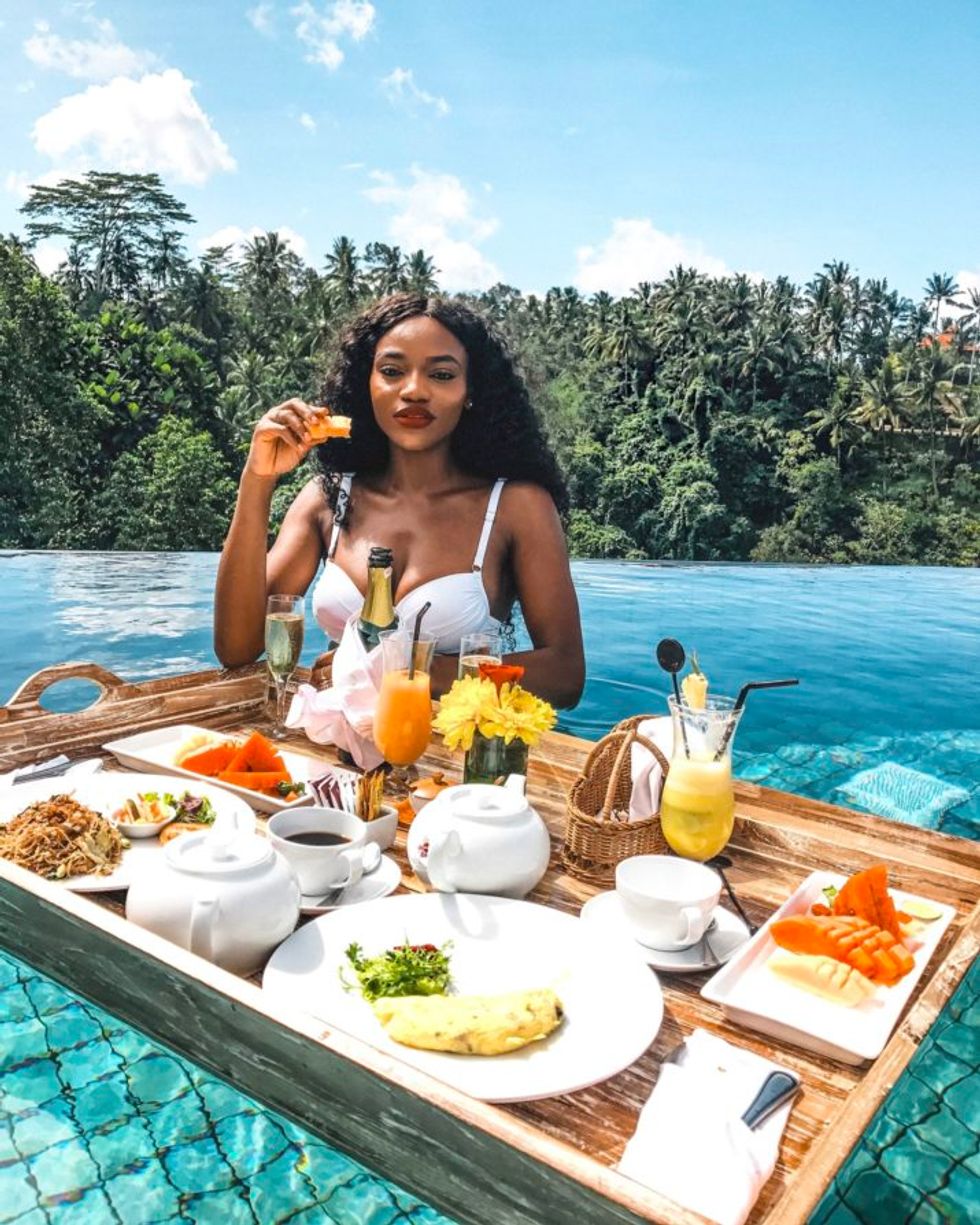 Courtesy of Asiyami Gold
Courtesy of Asiyami Gold
Nairobi, Kenya
Courtesy of Asiyami Gold
"The giraffe manor was a must see!!! I couldn't come to Kenya and not indulge in the wildlife. Growing up these were things I saw on Discovery Channel so experiencing a giraffe in person what quite surreal for me."
Courtesy of Asiyami Gold
Lamu, Kenya
Courtesy of Asiyami Gold
"I travelled here after seeing pictures online. I had never heard of Lamu until I stumbled upon an image someone took at the Majlis Resort. I went on my Pinterest board to find out more about this place and I fell in love with the images I saw online. Lamu is Kenya's oldest inhabited town."
Courtesy of Asiyami Gold
"With majority of Lamu's population being Muslim I was a bit hesitant to visit initially as I wasn't sure if I had to assimilate to their way of life. I didn't know what was acceptable or not acceptable, but the people of Lamu welcomed me with so much love that made me forget that I wasn't one of them."
They called me sana 'a friend' and taught me how to take life slowly "pole pole" with the help of the people I was able to accomplish shooting my collection. I needed an aged environment where my clothes could thrive and the textures and tones of Lamu town was the perfect backdrop to execute my vision immaculately."
Courtesy of Asiyami Gold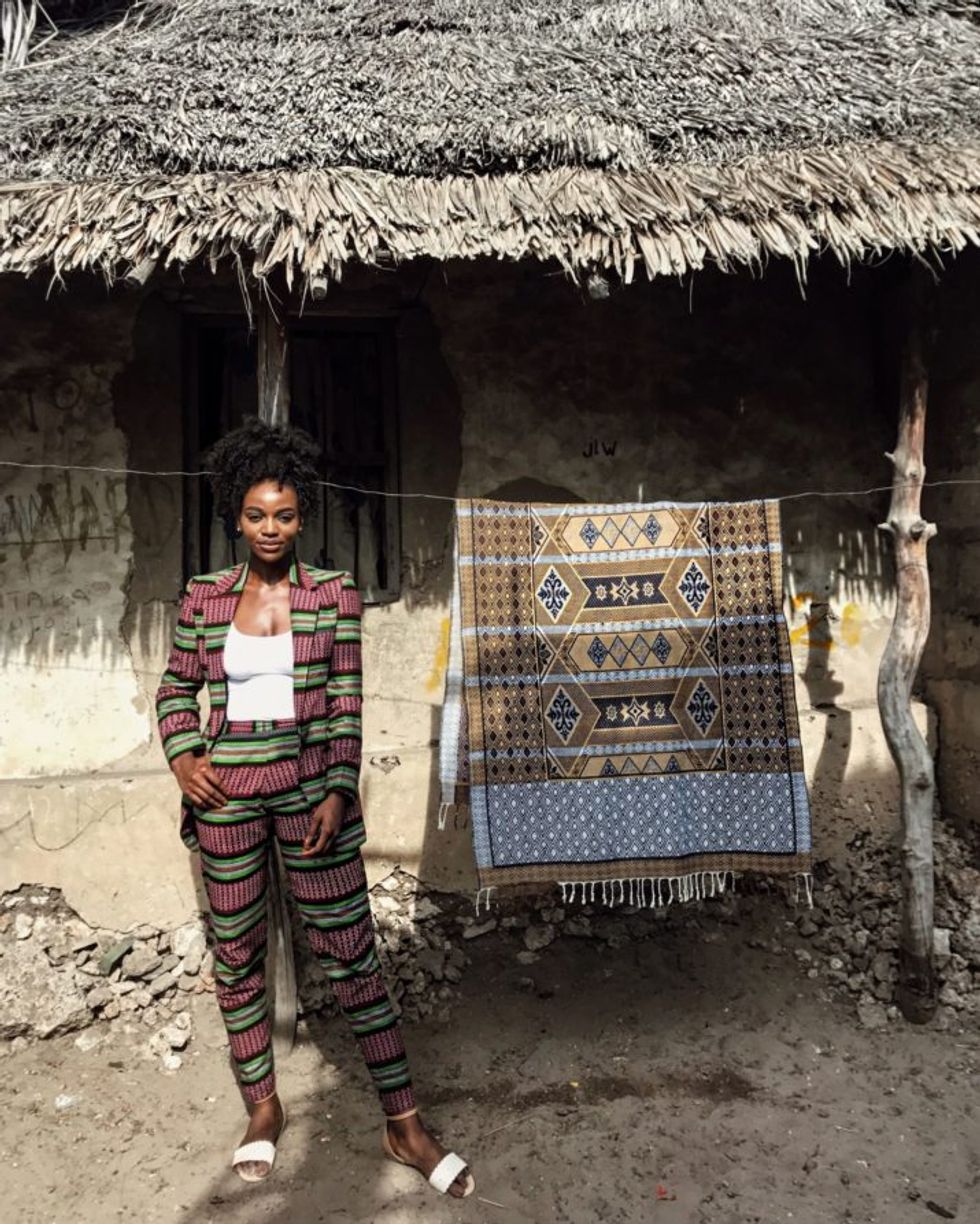 Courtesy of Asiyami Gold