No other South African-based pop artist has been as dominant as Tresor in recent years. When I last spoke with him two years ago, the three-time winner for Best Pop Album at the South African Music Awards (SAMA's) was on the verge of putting out the Amapiano-influenced album Rumble In The Jungle, a 13-track collaboration with Scorpion Kings, the duo of DJ Maphorisa and Kabza De Small.

Since the release of Rumble in The Jungle in April 2021, Amapiano has congealed itself into the fibers of global acceptance; becoming the fire-starter at parties and a get-away riddim on vacations. Alongside the upsurge in love for the South African-originated genre, Tresor has become a sought-after vocalist and songwriter globally, working with names such as Drake, Metallica, and Tems. "I feel like I am more rooted in my purpose as an artist. I understand my place as an artist, which is always going to be pushing boundaries and the envelope for music globally and not just from the continent," Tresor says while decked in a cozy red sweater and fiddling with a guitar.
---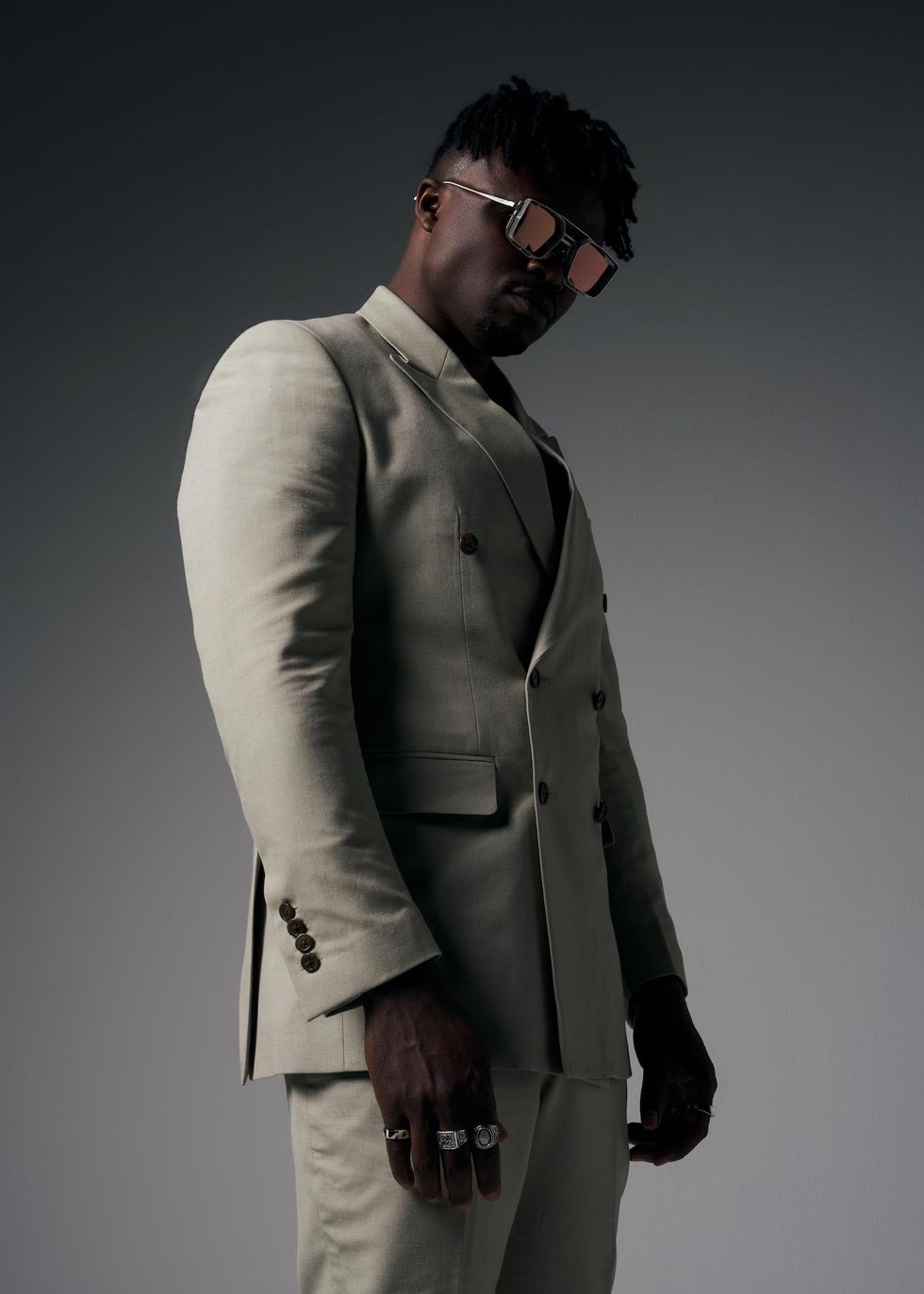 Image courtesy of Tresor.
Tresor was born in the Democratic Republic of Congo to a family of ten and was orphaned in his early teenage years due to illness. Motivated by an unpredictable civil war, he immigrated to South Africa and took odd jobs as a gardener, valet, and security guard before breaking through as a songwriter for South African singer Zahara and eventually signing a recording contract with Sony Music in 2015.
His debut album later that year, VIII, earned the most nominations and a win for Best Pop Album at the 2016 SAMAs, alongside a nomination for Best Pop Artist at the MTV Africa Music Awards that year. "Awards are cool and I think it is great validation at the start of your career, but I am focused on making culture-shifting impactful music," he remarks.
The week after his 2016 SAMA win, Tresor joined the British Grammy award-winning singer SEAL on his South African tour and the following year, Tresor notched another SAMA win in the category of Best Pop Album for The Beautiful Madness, his sophomore album. Later that year, he penned a seven-figure partnership deal between Universal Africa and his record label, Jacquel Entertainment Group but Tresor chalks it up to curating for the future "I feel like there is a really great responsibility at the moment to be able to define how people are being able to look at the continent as creatives."
In 2019, Tresor released his third and most commercially successful album yet, Nostalgia. The album melded '80s pop, deep house, and disco offering fans a refreshing sonic versatility. Nostalgia also won Best Pop Album at the SAMAs. 2021 ushered in the culturally-defining Amapiano album, Rumble In Jungle with tastemakers, Scorpion Kings. In September of the same year, Tresor featured as a producer and songwriter on Drake and Tems' first collaboration, "Fountains," off Drake's eagerly awaited sixth studio album, Certified Lover Boy. "They know my work, they have heard it for so long, and they felt that I deserved a central place in helping create and shape the sound. " He eventually revealed that Drake's veteran associate, Oliver El-Khatib proved instrumental in connecting both artists.
Earlier this year, Tresor appeared on Drake's culture-pivoting surprise dance album, Honestly, Nevermind, but he shied away from revealing details about the process over our call "Because of the magnitude of this kind of project, I can't really reveal many details of the process. What I can say is that they are really incredible people."
Tresor earned credits as a songwriter and producer on six songs off the fourteen-track album that featured only 21 Savage and debuted at the top of the Billboard 200 "There are millions of songwriters in the US and the fact that we really got to play that big part on the project speaks very loudly to the place that African music occupies on the table. All I can say is that they have been kind enough to give me enough space to create."
"I think I am looking at songwriting differently because I feel like I have finally started to get the flowers that I have always thought I'll get maybe in a much longer time and that is exciting." Tresor explained the weighty significance of Drake's co-sign before letting me know "Downhill" is his favorite song off the album. "I am writing with a really global ear, global vision and just being able to help shape what the sound of tomorrow is with an African eye or ear has just really been a blessing."
The Cape Town-based artist harbors dreams of being as recognized as Max Martin, the record producer and songwriter that has worked with Taylor Swift, Celine Dion, Paul McCartney, and more, but at the moment, he is spending a lot of time traveling, listening to music from Sade Adu, Beyonce, Daft Punk, and Asake and focusing on his publishing company & label. "When it comes to labels, it is a very different industry, so I am always taking it very easy when it comes to committing to talent". Bonj, an artist under Tresor's Jacquel House imprint was nominated alongside him for Best Pop Album at this year's SAMAs.
We laugh over the disparity between life in Nigeria and South Africa, trading stories and exchanging music. Tresor lets me know he earnestly looks forward to collaborating with Nigerian artists Burna Boy and Wizkid and I ask what keeps him going especially after such a great haul of achievements. "The most important thing for me is my dream and my purpose. As much as my work comes with everything else, the limelight, what really matters to me is my purpose. That's what really motivates me to work and push myself."