Loukman Ali was 5 years old when his father bought a black and white TV for the family. Growing up in Kampala, he'd spend Saturday nights watching movies on one of the only three channels available at the time. "I was lucky that both my parents were huge fans of cinema and we used to watch a lot of films together," he tells OkayAfrica.
It became his favorite thing to do. So much so that Ali began drawing comic strips about the films as a way of reliving them and entertaining himself with their storylines over and over again. At 8 years old, after watching The Thin Red Line, he decided his career path: He would become a filmmaker.
---
But Ali would face a number of challenges on the road to filmmaking, not least of all, first growing up and becoming an adult who could get the education he needed to make the films he yearned to make. He also had dyslexia, which made it challenging for him to write long scripts. So Ali decided to start small, by studying graphic design and working in commercials. "The commercials helped me gain the confidence I needed," he says. "Graphic design taught me how to tell stories using a single frame, which has helped a lot in my cinematography. Also, I design my own posters which is from my graphic design days."
Ali didn't end up studying films and dropped out of university in the first month. "Everything I know is from trial and error or YouTube 'how to' videos," he says. He progressed onto short films and made two, Monday and The Bad Mexican. With the insight he got from making those films, he tried his hand at a feature film, The Girl in the Yellow Jumper. "After that, I felt I needed more practice so I went back and made The Blind Date and then my latest Sixteen Rounds, all of which are on YouTube, with the exception of The Girl in the Yellow Jumper.
As Ali made his way through his career, collecting the skills he needed to pursue his dream, so the Ugandan film industry started to grow too. In 2013, the Uganda Communications Commission (UCC) organized the first Uganda Film Festival. At the same time, Ugandan films began making their way into international festivals, like The Durban International Film Festival in South Africa, Zanzibar International Film Festival and the Berlinale in Germany. Big-name films started featuring Ugandan actors too, from The Last King of Scotland to Queen of Katwe. And Uganda's own version of Nollywood, Wakaliwood, filled with its own brand of action-packed titles, came to life.
Ali continued finding his own space within the industry, gaining a reputation for being meticulous in his work, taking care of all avenues of filmmaking – from writing the scripts to building the sets, directing, editing, and color grading. "The Ugandan film industry is very young so it's not yet structured," he says. "If you own a camera, you can just come and go anytime." He believes films from Uganda have an appeal beyond the country: "We have a unique take on the human experience, something that most of the world hasn't seen. We have a lot more than war, poverty and disease."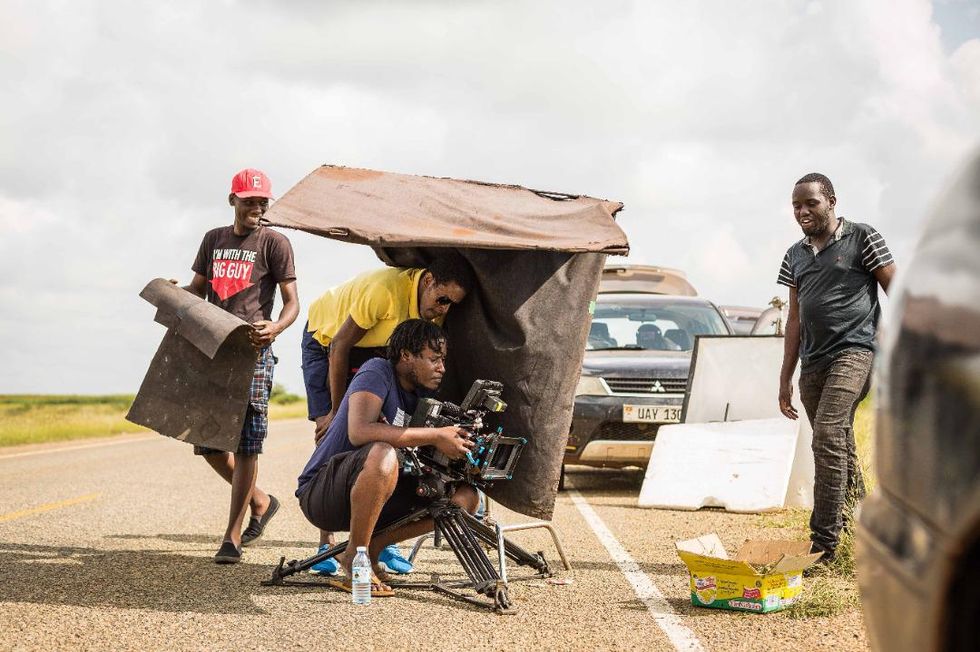 Director Loukman Ali on set of The Girl in the Yellow Jumper, which will soon be seen on Netflix.Photo: Loukman Ali
In his efforts to show different facets of Ugandan entertainment, Ali poured himself into The Girl in the Yellow Jumper. It was meant to have a cinema release and premiere in April last year, just after 007's No Time To Die was due to hit movie theaters, too. But the COVID-19 pandemic left filmmakers from Bond to Bollywood shuffling their plans. Ali considered releasing his film to YouTube, but couldn't come to an agreement with one of the producers on doing so.
The film, starring Michael Wawuyo Jnr, Michael Wawuyo, Gladys Oyenbot, Maurice Kirya and Rehema Nanfuka, tells the story of a man who escapes a hostage situation and returns home with a story to tell. "I love revenge films, that could be a horror, action comedy or a thriller," says Ali. But his enthusiasm for the film - and filmmaking in general - took a hit as a result of the pandemic. "Back in 2020, I was tired from the long painful process of making the film when COVID hit, about 2 weeks before our premiere," he says. "After that, I almost gave up on the film but right before I did, a friend shared the trailer with someone in charge of acquisition at Netflix, who in turn put me with some wonderful distributors."
Ali left the film's future up to the fates, and went back to making short YouTube films. One night, he was looking through Netflix for something to watch and saw a poster that looked like the one for The Girl in the Yellow Jumper. "I did a double take, and I was over the moon, I couldn't even sleep that night," he recalls. The film will finally be available to watch from December 26th - one of the first Ugandan titles to hit the streaming service. Over the last few years, Netflix has made a deliberate effort to invest in African countries, from the first South Africa original title for the streamer, the 2019 series Shadow, to this year's recent offering of four films from Cameroon.
"I sometimes just go over and look at the poster and think about all the hardships we went through to make the film," says Ali. "And that alone makes me feel like a success 'cause I'm doing the thing my eight-year-old self dreamt of doing."