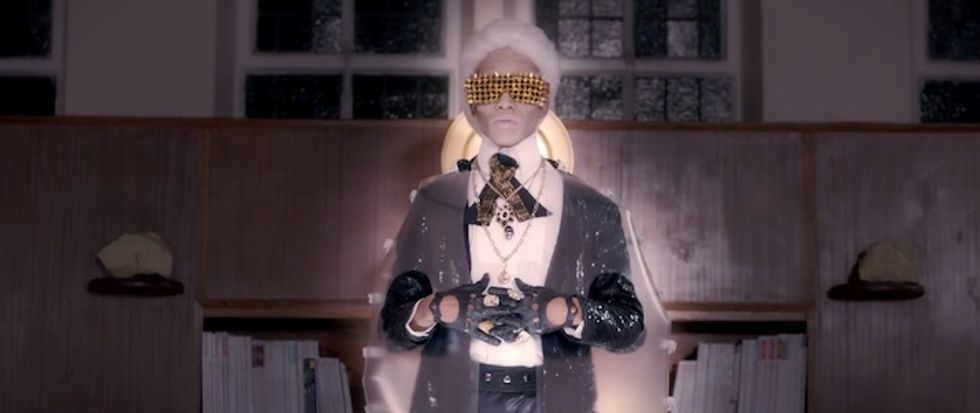 ---
Cape Town's future kwaai diva Umlilo (formerly Siya the Anarchist) is gearing up to release his next EP, Aluta, on Naas Music. After delivering back in July on a darkly glittering video for the first single off the project, "Magic Man," Umlilo now shares the similarly posh visuals for "Chain Gang." Helmed by rising South African filmmaker Katey Lee Carson, who was previously behind the short graffiti documentary Painting Cape Town, the piece features Rita, a troubled 27-year-old who died under murky circumstances, visiting her own funeral where her friends dourly pay their respects and a gold-bespectacled preacher (played by Umlilo) searingly eulogizes the young woman. "No pain, no gain/No mama's left in vain/Another breadwinner dead/Lost forever to the game," Umlilo raps over stuttering drums and electronic squeals, Rita's tragic life and death enigmatically sliding into focus. Explains Umlilo:
"We live in a world where people keep getting gunned down everyday for all sorts of reasons they cannot control from skin colour, religion, poverty or sexuality. At the other end of the spectrum is this vacuous pursuit of money and bling. It all has a chain effect making us all part of a chain gang whether we like it or not. The song explores this perpetual cycle to survive, to live and die with dignity in this modern jungle."
As a portrait of a surrogate family with a pained soul at its center, "Chain Gang" (which you can download here) is a luminous, deeply moving work. Check it out below, and keep posted for more from Umlilo and news of the forthcoming Aluta EP.