June marked Uzo Aduba appreciation month, so we shared five reasons why you should show the Nigerian-American actress much love.
---
Here's reason six—she's fearless when it comes to stretching her incredible acting prowess.
The Emmy-award winning actress, who burst onto the scene as "Crazy Eyes" on Orange is the New Black, is giving voice-acting a try, Entertainment Weekly reports.
Aduba will provide the voice of new character Bismuth on Cartoon Network's coming-of-age show Steven Universe: Summer Adventures, about a young boy who has crystal gems (or humanoid aliens) for friends. Apparently it's popular among the blerd set.
Considering "Crazy Eyes" is by far the most animated presence on the Netflix hit show, this new role sounds right up Aduba's alley.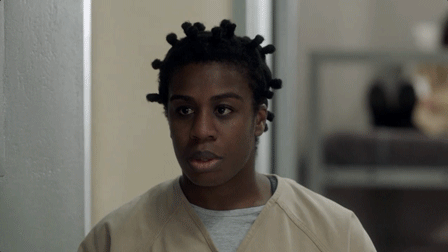 If Aduba and animated shows are your fave, tune in August when her character Bismuth, a purple, rainbow-haired gem, debuts in Steven Universe's first full musical episode. In the meantime, here's a video to wrap your head around the concept of the colorful animated series.