VanJess is here to bring back that soulful RnB that remains timeless for generations to come.
Comprised of sisters Ivana and Jessica, the Nigerian-American duo lets their music speak for itself. For me, it was their single "Addicted" that I couldn't help but fall in love with, listening on repeat for days on end.

A week later, I met the girls and watched them completely annihilate a performance at Soho House in the most intimate setting. It's one thing to be able to sing live, but it's another thing to entertain. These girls ended their 3-song set with a full-blown dance party, converting every single attendee into a fan.
Their musical journey started back home in Nigeria, where they would subconsciously sing without even noticing. For Ivana, she sang herself happy birthday at the age of five. For Jess, she wrote her first song at the age of seven. Having moved to the United States before their teenage years, the girls eventually established an online presence doing covers on YouTube.
Fast forward to June of 2018, and the girls greet me with another warm welcome at Sonos Studio in Hollywood, CA. Tonight was their Silk Canvas album listening where select friends and family arrived to the gorgeous sunset views of the Penthouse. In addition, there was a wide array of mouthwatering Nigerian food: chicken, pepper beef skewers, plantains, and, of course, jollof.
The girls were decked in all-white, as we sat down for a conversation before the album playback. Both Jess and Ivana were thrilled at the mention of OkayAfrica, as a little part of home surfaced.
---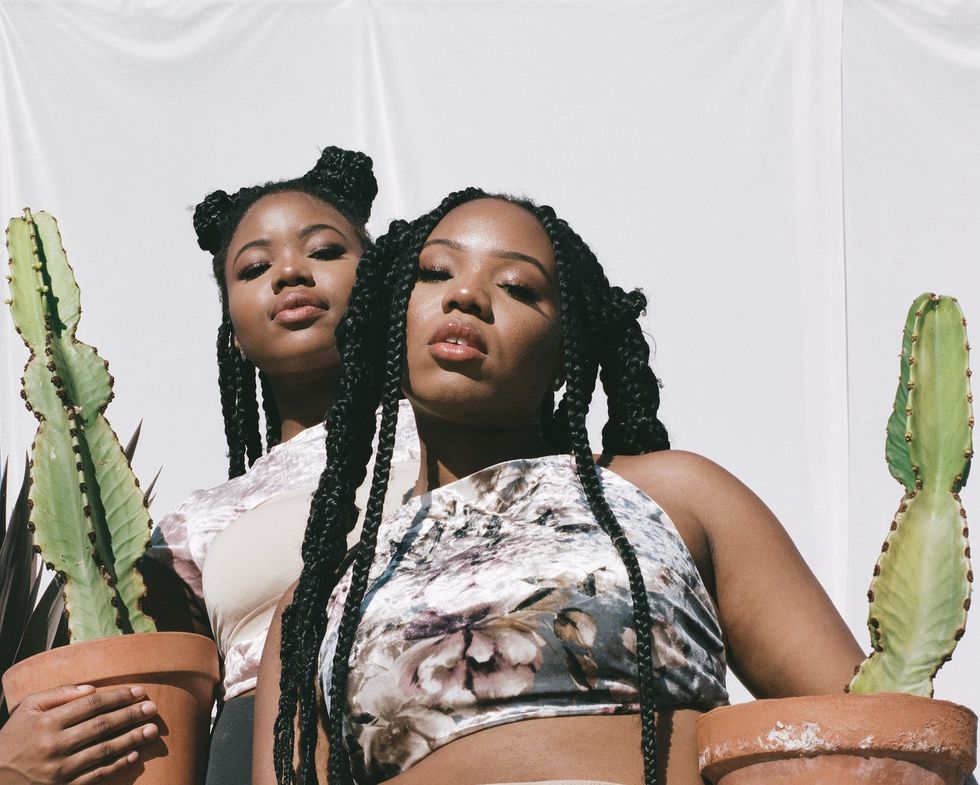 VanJess. Photo: Madeleine Dalla
For those who don't know, who is VanJess?

Jess: VanJess is me, my name is Jessica, and my older sister Ivana. We're really out here to just bring a new energy to the RnB space. We have a new album coming out called Silk Canvas that we feel really represents who we are, which is just a lot of soul, a lot of musicality, a lot of energy, and a lot of vulnerability and smoothness. That's really who VanJess is, and if you want to know more just listen to the project.
Where do you fit in the realm of RnB and hip-hop?
Jess: Honestly, we see ourselves just taking the baton in a sense. I think there's a lot of artists in RnB right now that are super exciting and doing things that are reminiscent of that golden renaissance, from Daniel Caesar to H.E.R. to Jorja Smith. They're just bringing that soul back which is so important, especially for black artists. It's interesting because I feel like GoldLink kind of brought it in the sense of his production, just combining it with hip-hop. He's someone that has a really similar production style to the records we do, but we're kind of bringing back that soul to soul vibe. It's just really not limiting RnB, I think is the best way to put it. Our RnB is kind of limitless. We can do a record on a hip-hop beat, we can do a record on a dance beat, but the core of VanJess is still there. Because of the melodies, soul, and just our individual flows.
At what point did you decide to take on the name VanJess?
Ivana: Honestly, we were at church. [laughs]
Jess: We sang in church.
Ivana: We were sitting in the back of the podium. We were supposed to be paying attention, but we were just trying to come up with our actual YouTube name. I actually remember the note from the original iPod that we made. There were a few names that didn't really stick out much, but then there was VanJess. That one just made sense to us. It's comprised of my name, and her name—not Vanessa, 'cause a lot of people think that. [laughs] It's Ivana and Jess together.
Talk about your Nigerian roots and how that plays into your life and career.

Ivana: I love being Nigerian. We're first generation. Our mom and dad are both Igbo. My dad is from Amawbia, my mom is from Nkwelle, both little sectors of Anambra State. Growing up in Nigeria, we'll never forget that. Because that really set the tone for who Jess and I are, our foundation and our core. There are a lot of things we experienced and and a lot of things that we saw.
How old were you guys when you came to the U.S.?
Jess: Ivana was 10 and I was eight years old. We came and my most vivid memory was going to this British-American school, they bumped me up because my reading level was too high. I was supposed to be in second grade, but they bumped me up to third. I just remember feeling so isolated because kids would be so mean and they would make fun of us for our last name. They would say things like, "Oh do you live in huts?" At the time also, we had a lot of mosquito bites. They would be like, "What is that?!" They didn't understand that Nigeria had a lot of mosquitos. It's a lot of things like that where you don't think about it, but it's like, "Oh my gosh."
What city did you move to first?
Jess: We moved to this city called La Palma. The crazy thing was we didn't even have our own place at the time. We were a lot more well off in Nigeria. Our dad stayed back for two years to make more money. In the meantime, we lived with our aunts while we were figuring stuff out. It was interesting to go from being the majority, to going to La Palma that is predominantly Asian and a little bit of white. That's part of why we love Asian food so much. [laughs]
Ivana: We moved from La Palma to Cerritos, and then our neighbors were Korean. And we would always go over to eat.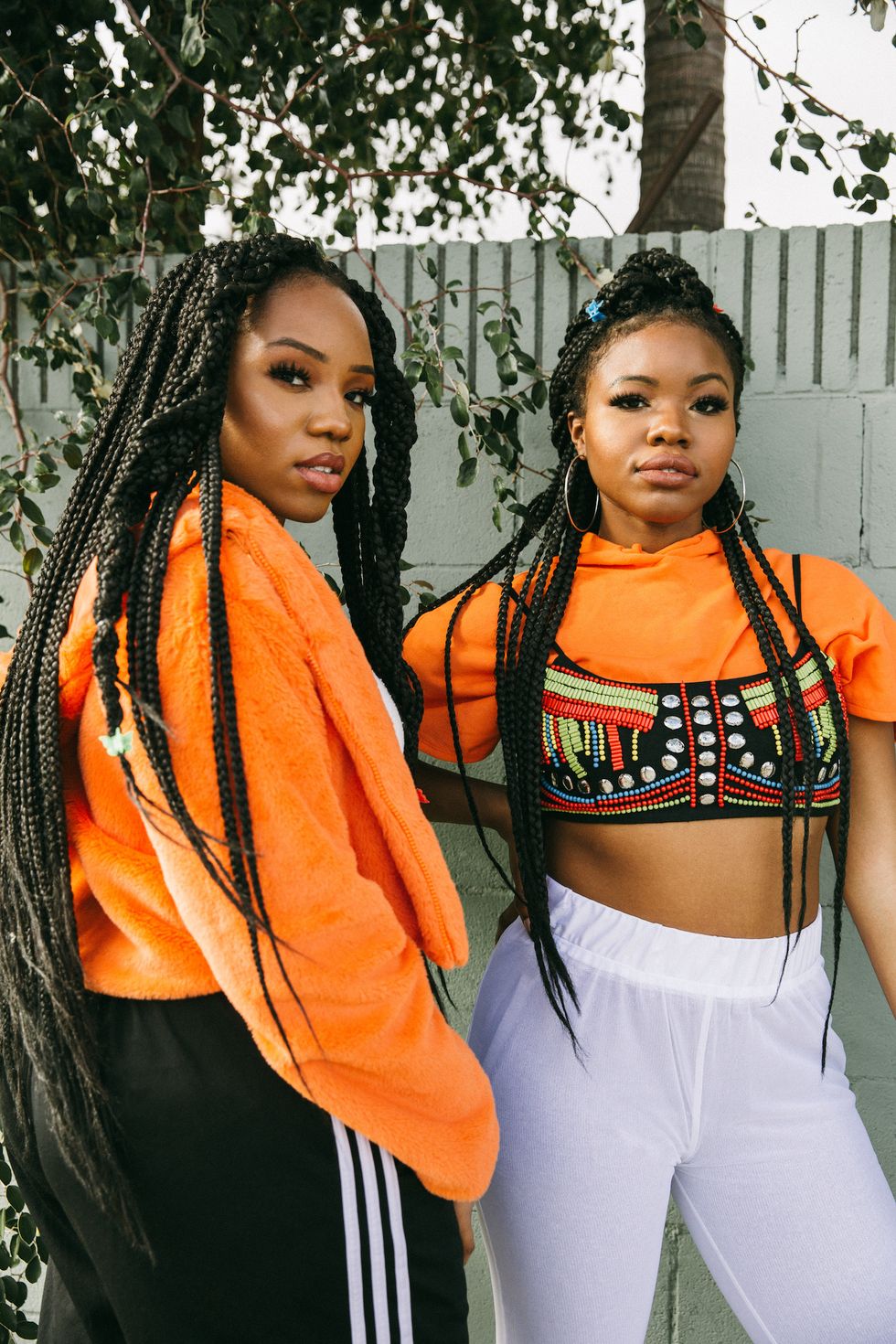 VanJess. Photo: Gari Askew.
Do you live in Los Angeles now?

Jess: We don't, but we're actually are going to be moving to LA soon. A few years after we actually moved to the IE, the Fontana/Rancho area. Hit-Boy is probably the only one who's really reppin' Fontana. [laughs] That's where we grew up, the 909. We kind of do want to rep it a bit, because we feel it just doesn't get enough love. We feel like it's good to stay away from the chaos sometimes, but we've definitely gotten to the point where it's like, "Okay, we should probably move out here."
Who are your biggest influences?
Ivana: Oh man, there's a lot. It ranges from past and the present. For us, it's definitely Janet Jackson, Michael Jackson, TLC, Xscape, SWV, the list goes on.
Did you guys see Michael Jackson is on Drake's album!
Ivana: I saw that!
Jess: That's crazy. I recently saw Michael Jackson ONE in Vegas and I honestly started crying. His music just inspires us so much. Even Stevie Wonder, just all the greats. And then those powerful female vocalist, Toni, Brandy, Monica, Anita Baker, all those women inspired us so much. Even going to the 2000s, like Amy Winehouse. We've always been inspired by women and soul.
Ivana and Jess, what's the dynamic between you ladies in the studio?
Jess: It's an interesting dynamic. Sometimes, we'll be in the zone and just going. Other times, we reach a stalemate where we're both like, "It's got to be this!" It's hilarious 'cause usually it's whoever is there with us that's always the tie breaker and are left like, "What do I do?!"
Ivana: I've noticed that during those stalemates is usually the moment we're about to write something really good.
Your journey began YouTube covers to reality TV to now singing and songwriting. What's been the biggest challenge?

Ivana: I think the biggest challenge so far has been pushing past a ceiling. I feel like we finally have, but I remember there was a point where we first started putting out original music, and wanted to move past the covers. We would notice there were other YouTubers who were trying to make the transition from covers to artist, and how hard it was to reach people because people were so much more interested in the covers.
We always just put emphasis on making the music the best it could be. And it took a long time because we were developing ourselves. Two years ago, we started really figuring out who we were individually, and who we were together. That sound came from the song that Jess wrote called "Adore." I remember when she sent it to me when I was in New York, I thought it embodied everything I felt we really represented. That's what I would call.... the moment, where we knew what to do. From that song on, every other song just kept growing and blossoming. Silk Canvas came from that.
Talk about your new album Silk Canvas. What do you want fans to get from your story?

Jess: I want fans to get that we are trying to make real music. We put a lot of work into it. We want to bring something different, something relatable. We want fans to really get to know us on this album and really see who we are as music artists. I think people have started to see us that way, but I think it's really going to solidify it. It's going to show them we're out here and this is who we are. Take it or leave it.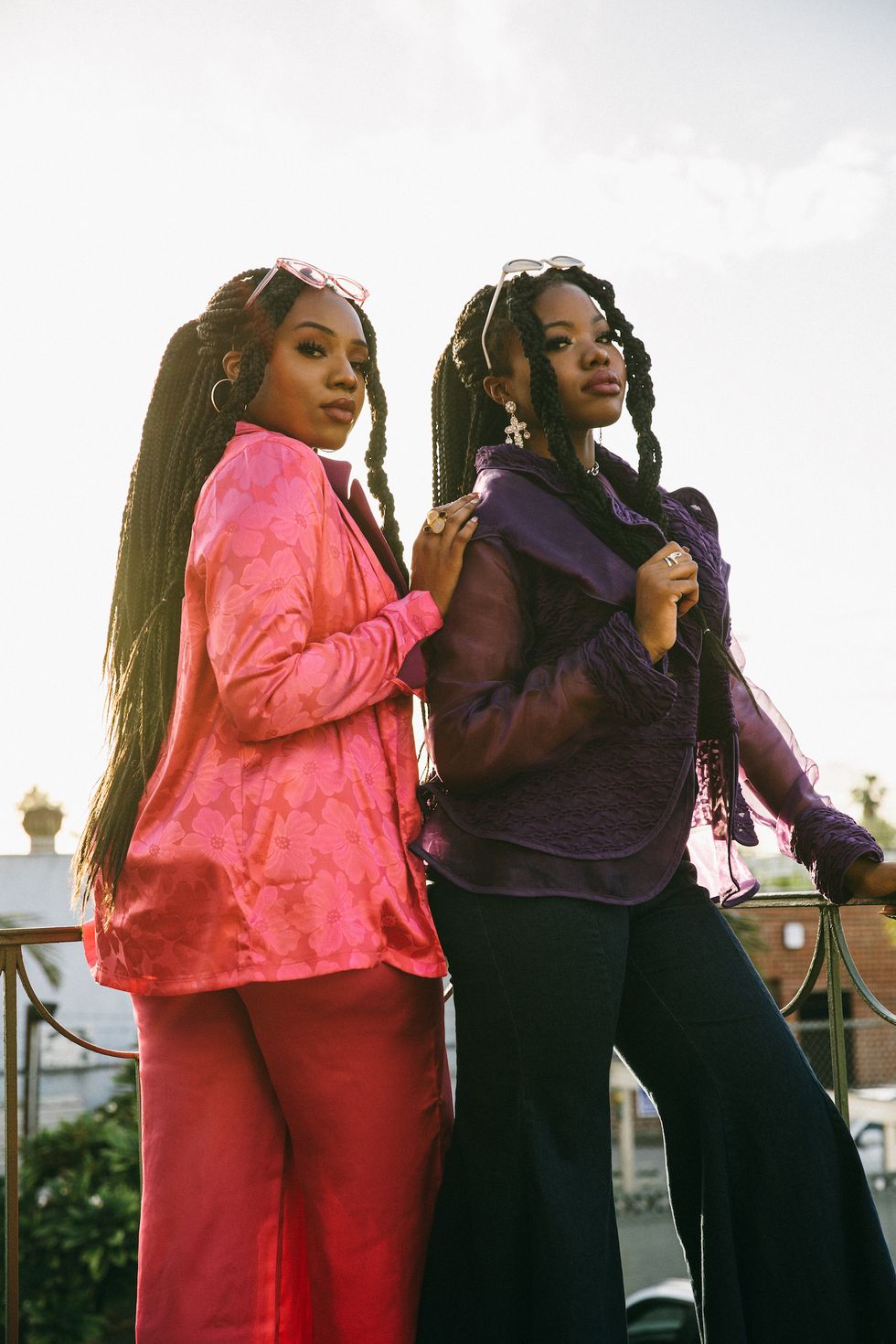 VanJess. Photo: Gari Askew.
What would you be doing if you weren't doing music?

Jess: Ivana always says she would be a music teacher.
Ivana: I'd just be a professor.
Jess: Honestly, same. I was majoring in English, so I'd probably start teaching.
Ivana: Ultimately, I feel like there's nothing else in my head. This is all I know.
Who's the most played artist on your phone?
Ivana: I'd say Moonchild.
Jess: I really don't know! 'Cause the thing is I'm a fan of artists for sure, but I play so many different songs. [laughs]
Dream collab?
Ivana: Drake. That'd be amazing.
Jess: Honestly, a legend like Michael, or Janet Jackson
What advice do you have for an aspiring VanJess?
Jess: Don't be afraid to be yourself, even when it seems being yourself is not what will get you attention.
Ivana: Definitely be consistent. Keep going no matter what test or obstacles come your way. Stay true to yourself.
'Silk Canvas' is out in July. Catch VanJess live at OkayAfrica & CRWN's 'Vibes Galore' party in NYC on July 21.