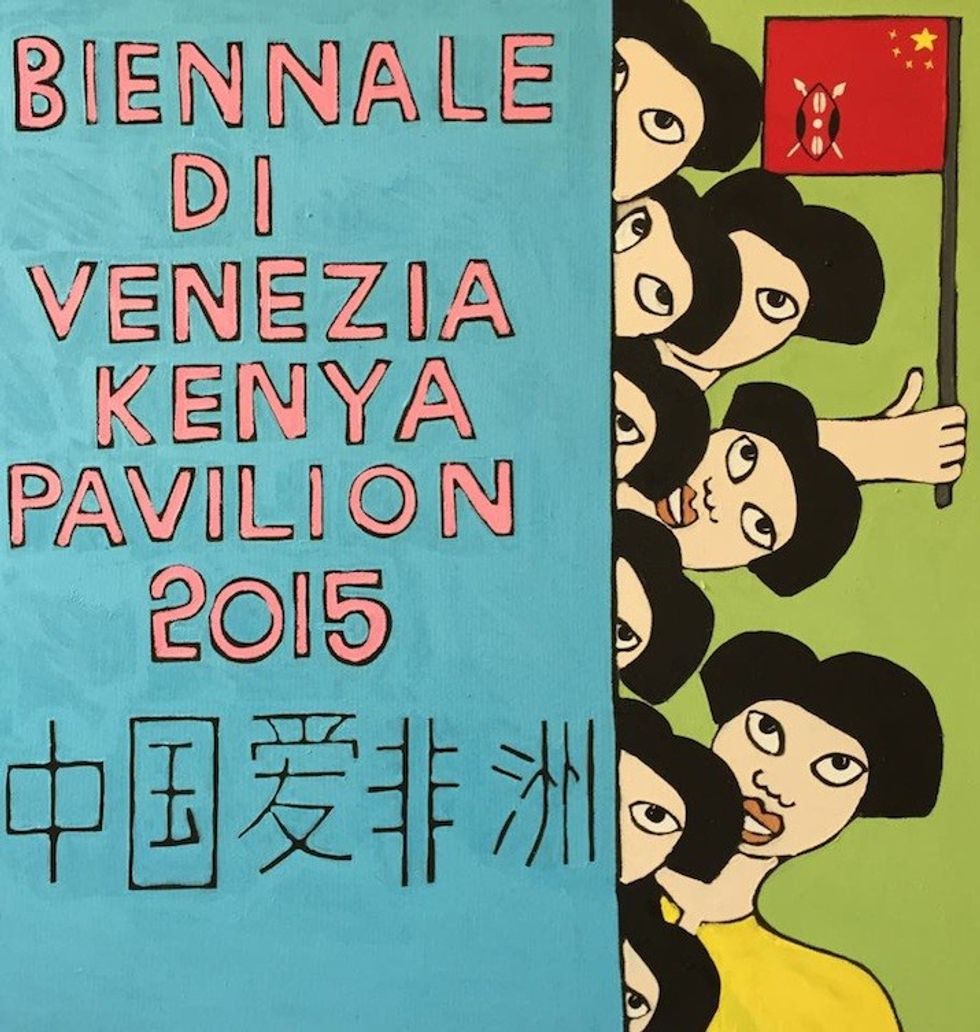 ---
Michael Soi, 'Shame in Venice 2,' 19th March 2015, via Facebook
In May, the Venice Biennale (La Biennale di Venezia) will return for the 56th time. This year the exhibition is headed up by the Biennale's first African director, Nigerian curator Okwui Enwezor, and will see the participation of over 21 African artists in the main exhibit at the Central Pavilion (out of a total of 136). What might have been a cause for celebration on the continent, though, has been marred for some by controversy at Kenya's national pavilion. For the second Biennale in a row, the Kenyan Pavilion has been commissioned and curated by a pair of Italians named Paola Poponi and Sandro Orlandi Stagl. As in 2013, the roster of the artists selected to participate in the Kenyan pavilion is largely Chinese. Back in 2013 two out of twelve participating artists were Kenyan-born; and this year Yvonne Apiyo Braendle-Amolo is the only Kenyan on the list of seven artists, which includes six Chinese artists, as well as the controversial Italian hotelier Armando Tanzini.
In response, a petition is going around entitled Renounce Kenya's fraudulent Representation at 56 Venice Biennial 2015 & commit to support the realisation of a national pavilion in 2017. "A group of well connected persons, who lack neither the intellectual nor creative capacity to represent Kenya's contemporary art to the international arena, are posturing to the world as the Kenyan Pavilion at the 56th Venice Biennial in Italy," the letter addressed to the Government of Kenya's Ministry of Sports, Culture and the Arts reads.
A number of Kenyan artists are also using their craft to voice their frustration. One such commentator is Nairobi-based artist Michael Soi, who throughout 2012 and 2013 created a series of satirical China Loves Africa paintings. With his latest work, a pair of paintings he shared on Facebook last week, Soi offers his take on China's involvement in the Kenyan Pavilion. Okayafrica caught up with Soi over email to hear more of his stance on The Shame In Venice.
Michael Soi, 'Shame in Venice 1,' 18th March 2015, via Facebook
Okayafrica: How would you describe China's presence in Africa, and Kenya in particular?
Michael Soi: Well China's presence in Africa has always been suspect from the word go. I really don't see the benefit as it is put because a lot of the funding coming from China to fund projects in Africa is coming from commercial banks in China and the interest rates are commercial as well. My six year old daughter will also be paying for these loans when she hits 18. All I see is a lot of debt, exploitation and harvesting of natural resources from Africa with little or no benefit to the populations in Africa.
OKA: What did you intend to say with your China Loves Africa paintings?
Soi: My China loves Africa line of work is an interrogation of China's intention in Africa and more so in Kenya.
OKA: Has anything changed with regard to China's presence in Africa since you originally did the China Loves Africa paintings?
Soi: Yes! We are eye ball deep in debt.
OKA: What exactly is The Shame In Venice?
Soi:The Shame In Venice is all about misrepresentation and fraud flying the red green and black of the Kenyan flag in a pavilion full of Chinese artists. For those who don't know, Kenya has a lot of great contemporary artists who can represent Kenya at whatever level. Artists living in the diaspora and the local gang operating from Nairobi and other towns in Kenya. The likes of Wangechi Mutu, Naomi Wanjiku Gakunga and the local brigade with the likes of Peterson Kamwathi, Paul Onditi, Richard Kimathi, Jimmy Ogonga, Jim Chuchu, Emily, Beatrice, Miriam, Jackie....... We can go on and on.....that Kenyan pavilion is as phony as a 3 dollar bill.
OKA: What could explain the disaster that is this year's Kenyan Pavilion?
Soi: Misinformation, corruption and lack of information regarding the participation into the Biennale itself and crafty individuals who seem to have opted to have Chinese artist paying their way into the pavilion and of course, lack of government support towards having a proper Kenyan pavilion.
OKA: Were you surprised that this happened again?
Soi: I was because the Kenya government through the ministry of culture promised to act after the Fuckery happened in 2013.
OKA: What is being done within the Kenyan art community in response?
Soi: At the moment the local art community is is seeking information about the process involved in having a genuine pavilion in 2017. Seems there is very little we can do here for 2015 and we were to have a meeting the the cabinet secretary on this issue but he chose to go do more important things. He had promised in 2013 to totally address this issue but it seems just more Chinese found their way into our pavilion.
OKA: Who are some artists you would have picked to represent Kenya at the Biennale?
Soi: The list is as long as the Great Wall of china. The fantastic Brooklyn based Kenyan artist Wangechi Mutu is featuring in the main exhibition at the Biennale. There is a very vibrant Kenyan art scene. Any of the artists I listed in point number 3 would do Kenya proud any day.