The Kansanga neighborhood of Uganda's capital Kampala is colored with tiny Eritrean and Ethiopian coffee shops; Somali-owned restaurants are lined with plastic chairs almost up to the road. Amidst this town, which mirrors the state of Eastern African immigration, Acaye Kerunen's art studio has found a home. Kerunen is one half of the Ugandan team exhibiting work at the 59th Venice Biennale Art Festival for the very first time.
---
Her studio is a shared working station on the fourth floor of a building with no elevator, just many stairs. "No need for the gym!", she joked with OkayAfrica. Inside the studio is relatively cooler than the scorching sun outside. There are art pieces on the floor, while some hang on the walls. Kerunen immediately gets busy, picking up needles and sewing some art pieces into each other.
The weight of this historic moment on Kerunen is evident as she paces up and down, describing feelings of nervous excitement. Fellow artist Collin Sekajugo bursts into the room, panting from the stairs, asking if there is cold water in the room as he tries to catch his breath. The works of these two Ugandan artists will be on display at the Palazzo Palumbo Fossati in Venice, in an exhibition titled, 'Radiance – They Dream in Time.'
Both Sekajugo and Acaye are seasoned artists whose work transcends different media and mediums, employing reusable materials such swamp grown fibers and polyethene bags. Environmental conservation is a cause they both share and deeply care about.
At the heart of Sekajugo's work is a deep engagement with the pop culture aesthetic, which he employs to critique Ugandan masculinities. Acaye, on the other hand, pays tribute to the Kampala women artists in local crafts, commissioning over 20 women to contribute to her exhibition work.
When Sekajugo finally catches his breath, he launches into a full praise for Acaye's work: "I don't know why I am even exhibiting. Her work makes me feel a little inferior, it speaks to the heart of Ugandan-ness and Ugandan art".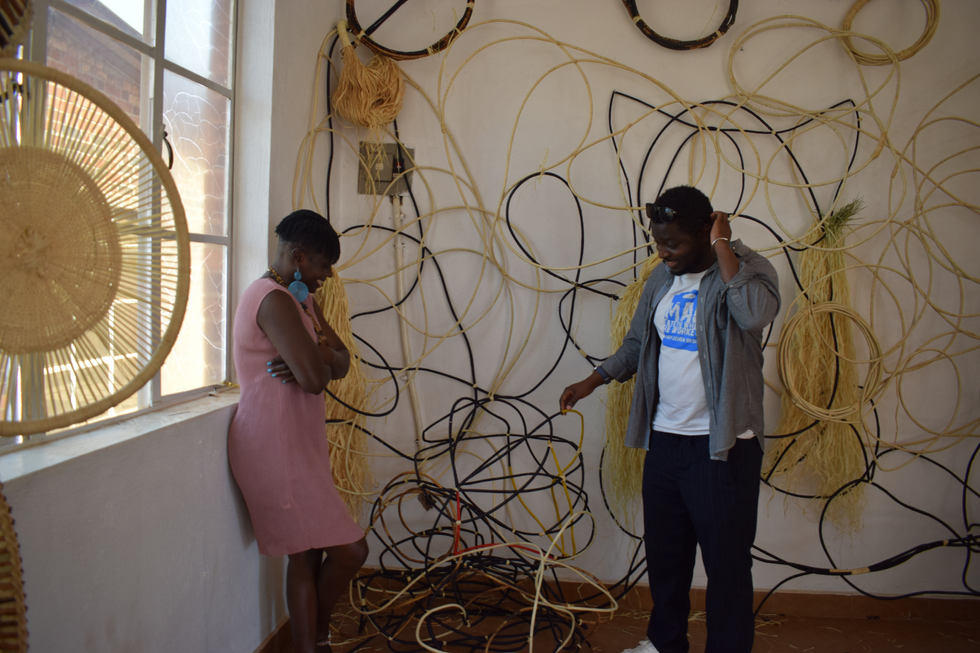 Acaye Kerunen and Collin Sekajugo will be taking part in Uganda's first-ever exhibition at the Venice Biennale, under the theme title, 'Radiance – They Dream in Time.'
Photo: Jackline Kemigisa
One of Kerunen's pieces is titled 'Rain of Prayer.' She shares that it signifies a prayer for the rains to return to Uganda and Africa with the abundance that it used to fall. "I just keep thinking about sacred rain, but also the rain of orgasms for women who are caught up in this oppressive relation to other and to self," Kerunen adds, bursting into laughter.
"Craft making is part of my heritage, my culture," she says. "Yet when we talk about climate change activism for example, you never hear about the contribution of craft makers. For me, this is a way of positing that back in; that this is how you sustain the environment. I have been thinking about this art piece for some time, and it only took me thirty minutes to put together. I commissioned four mats in about a month. I have been working with internally displaced women whose primary raw material is recycled paper."
Sekajugo chimes in, sharing his excitement at the art pieces and the work process of putting them together. "I find it very intricate; it involves a lot of thinking, emotional attachment, talking about it always puts me in a complex situation. I find myself delving into things that are too personal. My creative process is indescribable," he says.
Still deflecting from himself, Sekajugo continues: "Looking at what Acaye is doing gives me goosebumps. I have been experimenting with backcloth and other materials. As a painter primarily, I often find myself colonized in the Western influence," he says. "What my sister [Acaye] is doing is very Ugandan, and I find her to be the most fit for the exhibition. I haven't seen work quite like that before".
Sekajugo struggles with challenging the narrative that Africans don't create art, and the othering of African art. "Over the last 15 years, I have been challenging myself to change the narrative that Africans don't create art, as shared across different Western art festivals. It was demoralizing and untrue because there are many African artists that I have always looked up to."
Nodding in agreement, Kerunen chimes in: "When I was signed by my company, they asked who I was, asked for a reference. I told them I learnt art because my mother was doing art, and that it was enough that they had noticed my work. I asked why they needed to value me in the white [person's] eyes."
Sekajugo reflects on the brilliance of their curator, Shaheen Merali, a Tanzania-born, London-based writer for coming up with the title, 'Radiance – They Dream in Time.' He says it reflects not only both their work, but also the current state of Uganda as a country. He highlights the radiance in him and Kerunen making art on a global stage, despite the many ways in which both the Ugandan structures and Western biases would ordinarily disfavor their artistry.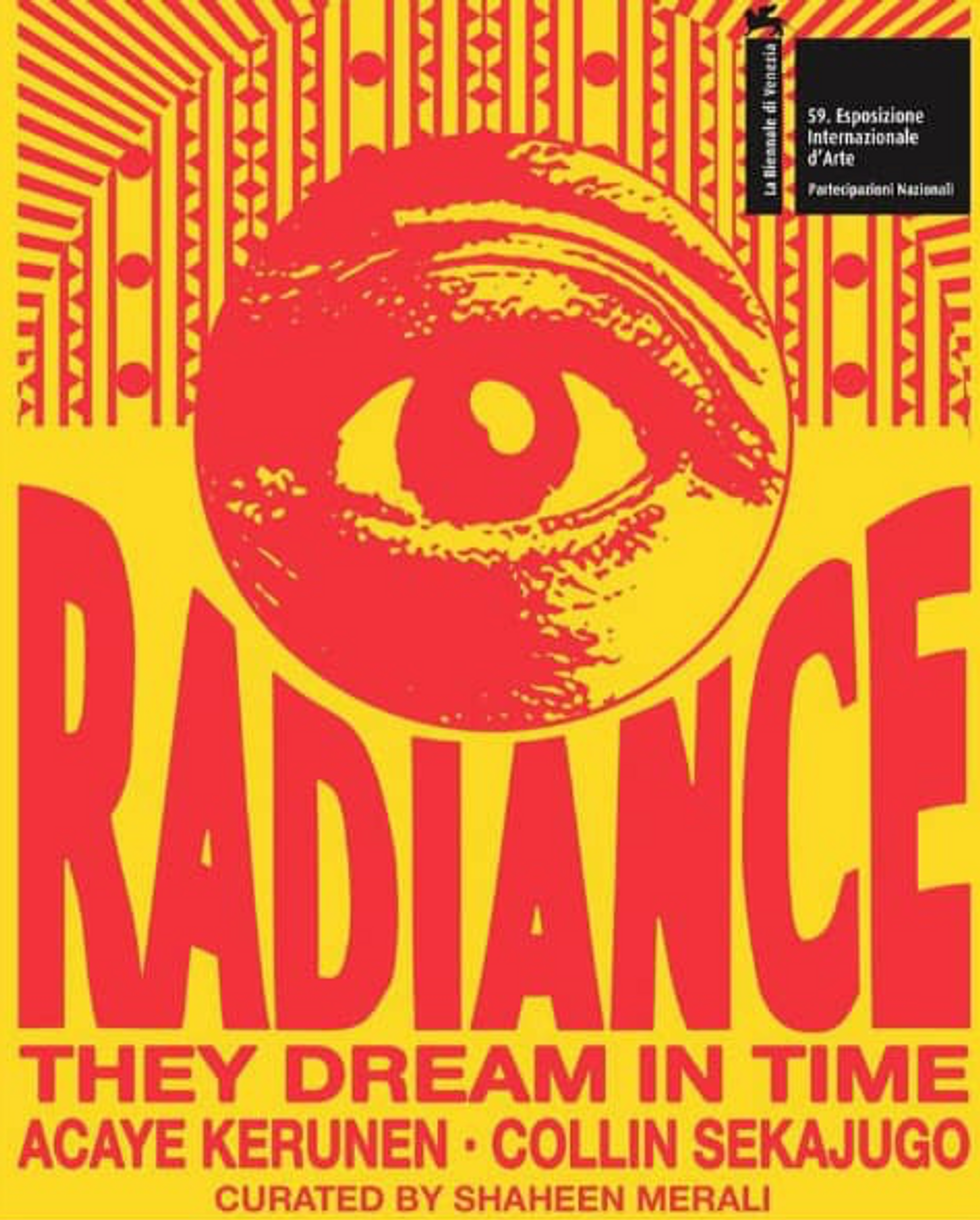 The poster for Uganda's theme at this year's Venice Biennale, curated by Shaheen Merali.
Photo: Twitter
Merali shared his vision in selecting the title for the exhibition with OkayAfrica, saying, "'Radiance – They Dream in Time' is intended for the audience to arrive at a transitory understanding of [James] Baldwin's concept of the insignificance of talent without 'all the usual words: discipline, love, luck, but most of all, endurance.' He says it assists the heightened awareness towards an "accuracy and completeness of our knowledge of the world."
"Both Acaye Kerunen and Collin Sekajugo, are based in Kampala, from where their interest in the deconstruction of Western tropes and perspectives emerges to provide a common ground in which they present their ideas in a form of art." Their work, he says, speaks to the life of people in cities like Kampala, as well as Jinja, where both artists have organized outreach programs and community development work. "The intertwined themes of metropolitan life of people, as they tackle lived experiences of post-independence metropolitan spaces and labor, occupy a central role in their compositions," he adds.
Kerunen's interactions with a group of women artisans, natural fiber weavers, who follow in the tradition of making utilitarian and decorative objects, has allowed her to evolve a skill-based practice to reflect modern sensibilities. "In so doing, she has redefined the innate beauty of natural materials and fibers to speak of new formations, including mapping lands, boundaries, and agricultural folds under duress from over production," says Merali. "The wall-based and installation works have evolved for an audience to creatively review their own boundaries about tradition and the contemporary divide found in Kerunen's multidisciplinary vision."
On Sekajugo's work, Merali says the artist's paintings and collages reconvene around off-the-record conversations, mainly through portraiture. The paintings assemble material collected from marketplaces, including gunny and sisal sacks, as well as more elegant fabrics including bark cloth and handwoven fabrics. "As part of his presentation, one room will be dedicated to Sekajugo's recent return to an earlier context from 2012 to present a second series of work in Venice. This work is based on compositions which alter the identities present in stock images of predominantly white models that had proliferated like a festering infestation over every mode of human communication in Uganda," says Merali.
The Uganda Government has often been criticized by artists for its lack of support for the Arts Industry, climaxing with the proposal to sell off the Uganda National Cultural Centre (UNCC) and replace it with a shopping mall. However, Gender and Culture Commissioner Juliana Naumo tells OkayAfrica that the dissatisfaction of the artists is a thing of the past. "We are excited, as the Ministry responsible for culture, to ensure that the artists are presenting Ugandan products. We will provide technical support, although I cannot give you the figures," she says. "We are now organizing together to promote Ugandan culture with the artists."
Naumo is hopeful that the Venice Biennale will locate Ugandan art on the world map and increase tourism potential for the country. Both Kerunen and Sekajugo share the commissioner's hope that the Venice Biennale Art Festival will uplift and showcase Ugandan art on a global stage, as well as increase the value of the art, for the benefit of the entire Ugandan art community.