When Knitting Factory Records announced Erykah Badu as the curator of the new Fela Kuti box set, we knew we were in for a treat, but who could have foreseen such a sweet live melody from the Dallas native inspired by the King of Afrobeat?
To mark the now sold out release of the Badu curated release, Badu returned to The Tonight Show Starring Jimmy Fallon for a Fela-inspired performance. Taking the stage donning traditional threaded tresses (a skill you can learn how to replicate here) Badu was backed by The Legendary Roots Crew and accompanied by dancer Storyboard P as she performed a medley of her hit "On & On" and a cover of Fela Kuti's "Sorrow Tears and Blood" for the Tonight Show audience.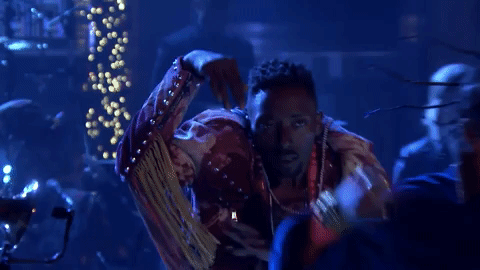 There were only 3,000 copies of the limited edition Badu-curated box set, which comes with a 16"x24" poster designed by Nigerian artist Lemi Ghariokwu, the creative force behind 26 of Fela Kuti's album covers, and a 20-page full-color booklet.
The booklet features seven personal essays written by Badu, seven in-depth commentaries by veteran music journalist and Afrobeat historian, Chris May; song lyrics; and never before published photos of Fela Kuti. The audio has been restored and remastered from Fela's original Nigerian recordings. The artwork for each album has been meticulously recreated from original album artwork, alongside vintage vinyl label artwork.
A true work of art paying homage to "Fucking Genius." Badu's words, not ours, but we tend to emphatically agree.
Be sure to head to the OkayAfrica Shop to shop our official Fela Kuti collection before it's gone too.