"Cinema Africa" is your guide to African film. Writer Ciku Kimeria is highlighting new movies and documentaries that tell fascinating stories or questioning prevailing narratives and occasionally returning to the classics that paved the way for a new generation of filmmakers.
In her early 30s, Ethiopian-Canadian writer and director, Tamara Dawit, stumbled upon a picture of an aunt that she never knew existed while looking at portraits in her grandmother's home in Addis. Surprised by the discovery, what perplexed her even more was her family's reluctance to talk about her. It was as if her aunt's memory brought back so much pain that her family had tried to bury.
"Little by little, I managed to convince my grandmother and then my aunts to share Sally's story," Dawit tells me. "I chose to interview all my aunts individually, as I didn't want any of their memories affecting what the others thought they remembered."
It turned out that each relative's memories of Aunt Sally were quite different as they had all found their own ways to cope with this painful past. Finding the photograph set Dawit on a new path to solve the mystery of this unknown relative.
---
From my home in Dakar, I reached out to Dawit in Addis and asked more about her personal quest into the mysterious life of her Aunt Sally, an Ethiopian aristocrat-turned-communist-rebel who disappeared during the Ethiopian Revolution.
How is it that in the summer of 1973, Sally, a 23-year-old woman from an upper-class Ethiopian family, home on holiday from school in Canada, got caught up in her country's revolutionary fervor, ended up becoming a communist rebel with the Ethiopian People's Revolutionary Party (EPRP), landed on the military government's most wanted list, and after going underground was never seen again? And how was it that her family buried this secret? These are the questions Dawit seeks answers for in her documentary, Finding Sally.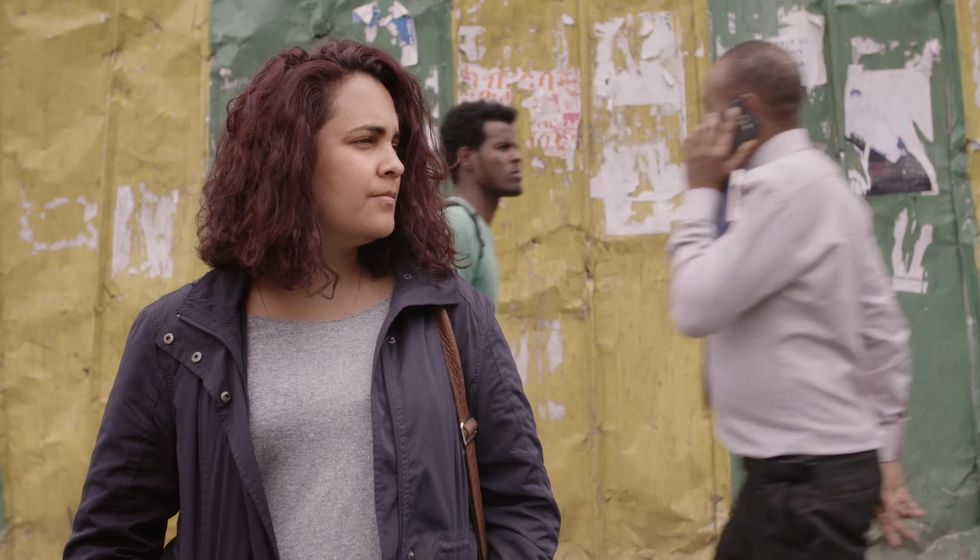 Tamara Dawit. Still from 'Finding Sally'
Dawit is reflective on how in solving this mystery, she found herself on a historical trail of not only her own family secrets, but those of an entire country. The documentary spans a time when increased discontent would lead to the mid 1970s overthrow of Emperor Haile Selassie who had been Lord and Ruler from 1930 before being deposed by a military junta, The Derg.

Stock footage from September 12th 1974 in Finding Sally, shows the day of his deposition, with the Derg reading to the 82 year old Emperor a statement on their concern for his health and security and their need to transfer him to somewhere where he would be safer. Shortly after he would be escorted out of the palace, put in an old Volkswagen Beetle and spend the next year under house arrest eventually being strangled in his sleep in mid-1975 by military officers.
The new authoritarian military leadership of the Derg led by chief commander Mengistu Haile Mariam, would ignore the communist ideals and youth movement that powered the revolution against the Emperor, favoring instead the establishment of a violent repressive regime that turned against the people.
"It is part history, part memoir, part investigative reporting, part family mystery and always gripping."
1977 marked the beginning of the Red Terror, when anyone seen to be in disagreement with Derg policies would be tortured, imprisoned and/or killed. From 1977 to 1991, it is estimated that 500,000 people were killed.
"Perhaps most excruciating of all, mourning someone killed by the Derg was illegal, and families were forced to repay for the bullets that had killed their loved ones," adds Dawit.
The film poses the question that arises when someone you love disappears without a trace: how do you cope? It explores not only how Dawit's family has managed this loss, but also how the entire country has managed the loss, pain, and trauma of the Red Terror. Finding Sally features intimate testimonials from Tamara's grandmother and aunts, a moving collection of recovered family photos, a wealth of fascinating stock footage from the 60s and 70s, and evocatively crafted visuals that invoke the presence of Sally throughout the story. Who was Sally? How and why did she become a revolutionary? Whatever the answers may be, one thing is certain—Sally's fate is deeply entwined with the fate of the countless individuals who died during the Red Terror.
Still from 'Finding Sally'
Dawit chooses to tell the story of Sally through interviews with women. "History in Ethiopia has focused mostly on men telling other men's stories," she says. "By default, these stories belittle the role of women in liberation movements. When a woman's name comes up, they will say, 'Oh her! Yes, she was this rebel leader's girlfriend or wife.' Or 'she helped us type and cook thus making women peripheral figures in liberation struggles. It was important for me to show that Sally and other women in the EPRP [a movement that challenged the Derg's rule and pushed for a broad-based civilian-run democracy while also engaging in campaigns against the military government] went through similar experiences as the men."

In Finding Sally, Sally's close friend and fellow activist, Fekerte, might at first sight look like any other grandmother with her beautiful grey hair and her calm demeanor, but when she speaks of their time in hiding, trekking through remote mountains, you see a clear spark of their revolutionary past. She was also on the Derg's hit-list. It is clear that the women underwent rigorous military training, were armed and were equal partners in such struggles, though their stories are oft-ignored.
One cannot help but also be wowed by the stories of all the women who tell us about Sally. Tsehai, Sally's mother and the matriarch of the family is the daughter of an Eritrean advisor to the Emperor who during the Italian invasion of Ethiopia led clandestine missions from Sudan with the British. She gets married at the age of 16 to Sally's father who would then go on to have a successful diplomatic career that saw the family live round the world. Abrehet, Sally's mother in law, would single-handedly raise her three children after losing her husband when they were young, then lose all three of them during the Red Terror. Her and her own mother would be imprisoned for months.
Brutawit, Sally's oldest sister has a colorful history that would see her putting herself through university in the US by the age of 23, divorced and with three children. She would then go on to become Dionne Warwick's business manager, take on senior roles in the financial sector in the US and the Middle East before moving back to Ethiopia to become the country's first female bank CEO.

Kibre, Sally's other sister would hitchhike across Europe in her youth, spend time in an ashram before settling in Ethiopia in 1972. She would become the first certified teacher of Transcendental Meditation in Africa having been taught by Maharishi Mahesh Yogi, the spiritual guide to The Beatles. She would be jailed in 1977 during the Derg Regime and leave Ethiopia for Canada and then the US, becoming romantically involved in the 1980s with the activist Stokely Carmichael best known for his time as the Honorary Prime Minister of the Black Panthers. She currently lives in Ethiopia running universities and a microfinance bank.
Finding Sally premiered last week on "hotdocs" on CBC for Canadian audiences to an overwhelmingly positive response especially from the Ethiopian community. Dawit concludes, "With COVID-19 we can only ever plan two weeks in advance in terms of marketing. We had submitted the documentary to a number of festivals, but now most of those are being postponed or in the process of moving online. In this unprecedented situation, our sales agent is exploring TV sales given the situation with festivals is unpredictable for now."
'Finding Sally' poster.
Finding Sally is a must-watch for its human depiction of a tough time in Ethiopia's history, its bold telling of the story of Sally's short, but captivating life and the rich, complicated lives of the other women who are the mirror through which we try and find Sally. It is part history, part memoir, part investigative reporting, part family mystery and always gripping.

To find out when Finding Sally will be available for viewing in your city, you can look at the website and Facebook and Twitter pages. If watching from within Canada, stream Finding Sally on CBC Gem.
Ciku Kimeria is a Kenyan author "Of goats and poisoned oranges", development & communication consultant, adventurer and freelance journalist. She writes both fiction and non-fiction focusing on African stories that need telling. She has traveled to 55 countries, 22 of them in Africa, all on her Kenyan passport. Follow her on Instagram, Facebook and Twitter.