At the BET awards last year, Netflix aired their "A Great Day in Hollywood" photo which captured Black talent such as Spike Lee, Ava DuVernay, Lena Waithe and a few others all in the parking lot of Universal Studios. That moment had been inspired by the 1958 photo "A Great Day in Harlem".
Additionally, there was a video which featured the 47 Black talent whose films and series are currently being streamed on. This initiative became known as the Strong Black Lead Content which Netflix's Director of Brand and Editorial, Maya Watson Banks, described as being "relatable and real, always unapologetically Black, and assumes context and knowledge so that content doesn't need to be watered down."
Netflix spoke to three South African illustrators, Karabo Moletsane, Delmaine Donson and Sinomonde Ngwane, about their favorite Strong Black Lead Content and got them to each produce an artwork.
---
Karabo Moletsane is an illustrator, street artist and graphic designer who says that "art has given her the necessary tools to give an accurate representation of her narrative". Speaking about the personal importance of Ava DuVernay's powerful four-part series When They See Us, Moletsane says that, "What resonated for me was that this is not a First World or Third World problem—this is a global Black problem.
This is the artwork she produces: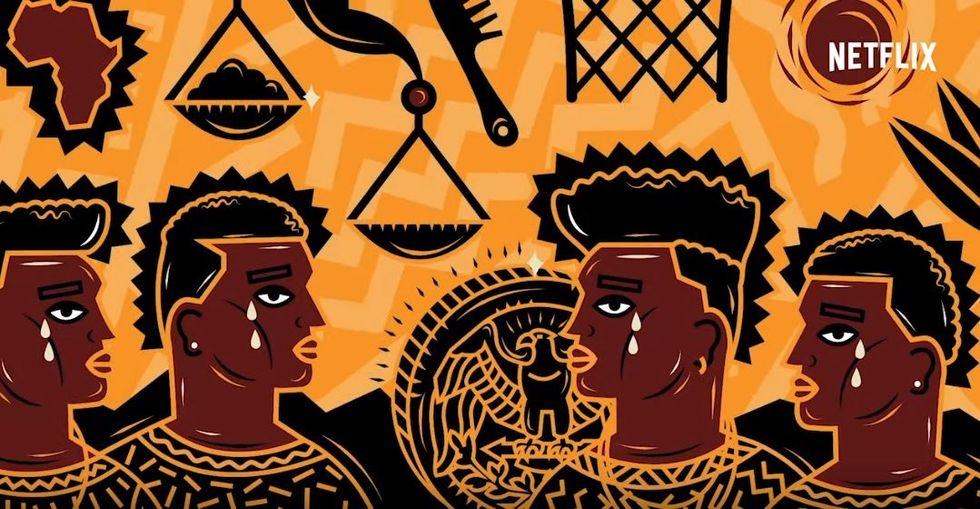 Still taken from video.
Sinomonde Ngwane is a graphic designer and illustrator who decided to illustrate Ruby, a character in the comedy series Good Girls. Ngwane says that, "I love how she's entered a male-dominated world and excelled at it. I think Ruby is a metaphor for someone who is redefining, someone who is challenging, someone who is taking control of their life and dominating where they are."
This is the artwork that she produces:
Still taken from video.
Delmaine Donson, a photographer, digital artist and oil painter, describes a Strong Black Lead as someone who can "inspire change and is strong enough to take the first step to creating change. A person that is able to influence the minds of others and give them a different perspective". She says that she relates quite well to Nola Darling, the main character in Spike Lee's She's Gotta Have It. Donson describes Nola Darlingas a woman who is "bold, makes her own rules and doesn't live under the laws of patriarchy."

This is the artwork that she produces:
Still taken from video.
Watch the full video below:

Why I Drew This | Strong Black Lead | Netflix South Africawww.youtube.com