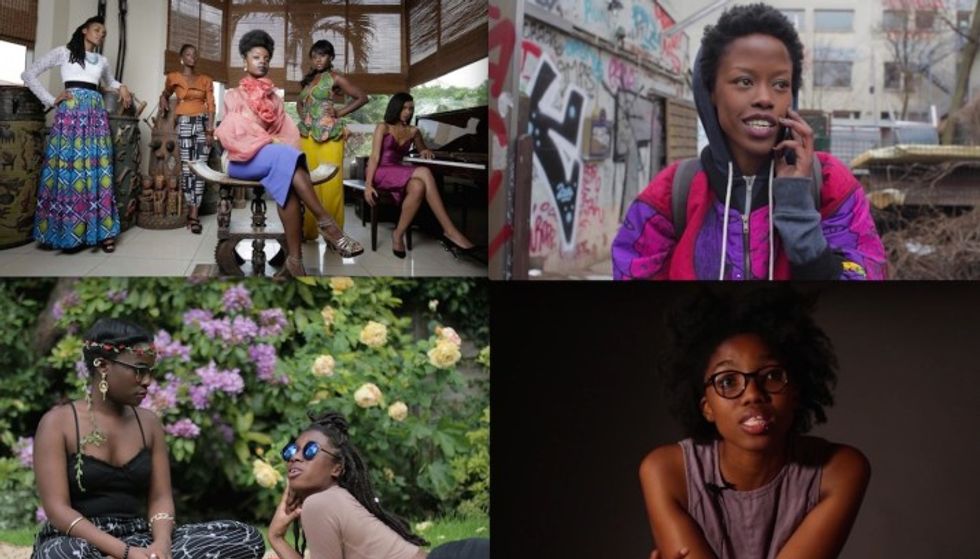 ---
The web series is giving cable television a run for its money as the genre has begun to garner much respect as it churns out sophisticated scripts, stunning cinematography, and larger­ than ­life stories that make viewers forget they're watching them on a very small screen. In fact, some web series are even getting the attention of television executives. Web series regular Issa Rae of the ever-­popular Awkward Black Girl​ w​as tapped by HBO to create her own show, called ​Insecure, ​and it's set to air sometime in the not so ­distant future. Meanwhile, season two of the acclaimed web series, A​n African City, ​h​as begun airing to the excitement of its loyal fanbase.
In recent years, African creatives have taken this medium by storm, presenting quality content for the diaspora at the click of a mouse. The following is a list of some of the most thought-­provoking, hilarious and genuinely entertaining web series developed by multi­hyphenate African artists.
Polyglot 

Amanda Mukasonga in Polyglot
Rwandan-German visual artist and self-taught filmmaker Amelia Umuhire shares the experiences of young creatives of color in Berlin in the scripted web series, Polyglot. The first episode of the series premiered last April and it features Amelia's sister, Amanda Mukasonga, playing a rapper, poet, and actress who goes by Babiche Papaya. While Polyglot is fictional, it isn't too far off from the lives of the Umuhire sisters who are polyglots themselves--fluent in German, English, French, and Kinyarwanda.
The third and latest episode brings us to London, where we are introduced to 21 year-old Roger, who receives a phone call reminding him of a minor offense from the past that has now cost him the job he'd just interviewed for. This episode showcases experimental camera angles and a moody tone that unpack that feeling of isolation that comes with living in a new place that doesn't always feel like home.
With big-screen worthy cinematography and a soundtrack that lingers long after the viewing of an episode, Polyglot makes for a beautiful love-letter to refugees who find solace in creativity.
Follow the series on Facebook and Instagram.
Women On Sex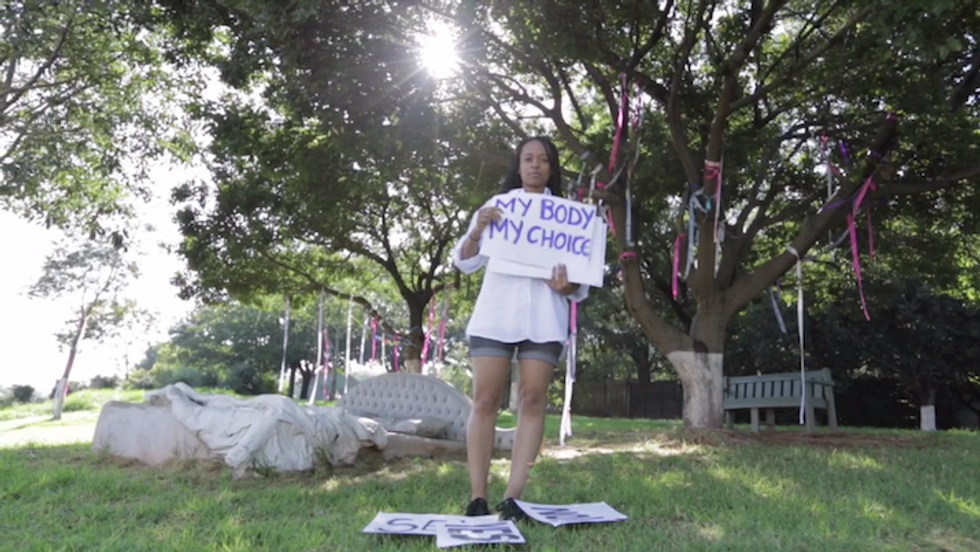 Mmabatho Montsho, an actress and director based in Johannesburg, has developed a 10-part web series that revolves around sex and the South African woman. Women On Sex features incredibly candid interviews from doctors, pastors, television and radio personalities, and of course, your everyday woman.
Six episodes in, the series has already tackled topics like virginity, emancipating the vagina and the notorious fake orgasm. In one interview, Clinical Psychologist Khosi Jiyane says, "For me, the thing that really gets me on this is, we have zoned in on a tiny space of biology in the body of a female and use that to define who she is in totality." Well, Women On Sex delves right into the topics surrounding this tiny space of biology and offers a safe space for South African women to talk about what it means to them.
Subscribe to the series' YouTube channel and follow the Women On Sex Twitter and Facebook accounts so you'll be the first to know when a new episode drops.
Pretty

Screengrab: Pretty
From the mind of Nigerian-American writer, blogger, and filmmaker Antonia Opiah, Pretty is a web series that goes from city to city asking the provocative question "What is pretty?" to black women around the world.
Pretty has interviewed women in Paris, Milan, London, and most recently, Tel-Aviv. It is self-described as a "digital postcard from women around the world to women around the world as told through a weekly documentary series. It explores just how nuanced beauty can be by not only taking a look at how beauty standards vary from country to country but also how they might vary within a city."
This web series interviews women who share what makes them feel beautiful and reflect on finding self-love when home is a place where they don't necessarily fit the traditional Eurocentric ideals of beauty. Pretty challenges these ideals by showcasing and celebrating women who break the mold.
Follow the series here. And for more on beauty, check out Antonia's site Un-ruly, a place for Black hair and women.
An African City
Created by Ghanaian-born entrepreneur, writer, executive producer and director Nicole Amarteifio, An African City is a web series that follows five African women who have returned back to their home continent after living in the States. We get to know Nana Yaa, Sade, Ngozi, Makena, and Zainab as they experience the joys along with the trials and tribulations of moving to Accra.
This series may take place in a city on a different continent, but it is immediately reminiscent of New York's Sex and the City and L.A.'s Girlfriends in that it chronicles the lives of modern women looking for love, success, and happiness. And in the same way the aforementioned shows offer ladies with distinctly varying personalities, An African City does the same. Some might argue that Sade would be the Samantha of the group and perhaps, Nana Yaa as Carrie, narrating the experiences of all the girls.
But comparisons aside, An African City has a story of its own to tell and it offers a look into an Africa many have never seen. And for the African women in the audience, it's simply something relatable to revel in.
Subscribe here for access to the show's second season, which just premiered last month.
Woman Undressed

From South African creator Sithasolwazi Kentane, Woman Undressed is a forthcoming web series which will explore and acknowledge the social issues that affect young women and more specifically, black African women. There is discussion about the complex identity of the young black girl as well as conversations on how to dismantle the patriarchy and the racism that stifles her.
In a memorable line from the series' ten minute pilot, "Episode One: Black African Woman," interview guest Londiwe Nompilo Mntambo says, "Be cognizant of the fact that when we talk about your African identity and the African ideal, it really goes beyond the traditions and the cultures that oppress you. And it's about having that conversation--not just with yourself but with other people." Woman Undressed provides the perfect platform for having said conversation.
Be sure to stay tuned for the next episode of this empowering web series. Follow Sithasolwazi Kentane on twitter for updates.
Ackee & Saltfish

Still from the Ackee & Saltfish short film
British-Jamaican writer and director Cecile Emeke is responsible for Ackee & Saltfish--the short film, turned web series that now makes us think of beautiful black female friendship instead of the beloved Caribbean dish it's named after. Although, there is a hilarious episode that revolves around the latter.
The series follows the lives of Olivia (Michelle Tiwo) and Rachel (Vanessa Babirye), two 20-something best friends who spend their days playing tennis, attempting to secure Lauryn Hill tickets, running wild in carpet shops, and arguing over the pros and cons of back bread. The two truly embody the carefree black girl--a character we don't usually get to see on screen--and their witty banter allows Olivia and Rachel to effortlessly dart from topic to topic, covering the mundane, the hilarious, and the serious.
You can view the series in its entirety (along with the film) here. Cecile's other projects like the documentary film series Strolling, which works to connect the "scattered and untold stories of the Black/African diaspora," are also definitely worth a watch.
Neyat Yohannes is an Eritrean-American freelancer who's from LA, but just moved to the Bay. You can follow her on Twitter at @rhymeswithcat or check out her portfolio here.