The rise of WeTalkSoundhas not gone unnoticed. For years the collective has garnered the sort of attention given to accomplished thinkers. What began in 2016 as a community to share and talk about music has now morphed into one of Nigeria's most promising creative platforms. Their current phase came just before the pandemic, as WeTalkSound continues to dominate online discourses about music, inspiring days-long trends with fan-like curiosity.

"At the start there wasn't too much of a plan behind it," reveals WeTalkSound founder Dolapo Amusat,to OkayAfrica. "I enjoy bringing people together and had done that in different capacities before WeTalkSound. Basically experimenting with different kinds of communities—in the art scene in my university I had done a bunch of projects, trying to revive the scene. WeTalkSound was a natural progression of that in music."
Dolapo wasn't alone in that mission. A cluster of students around the University of Ibadan in southwestern Nigeria shared a similar love for music. WhatsApp became a medium to explore discussions about the Nigerian music scene and their immediate creative environment. They soon reached their limit on the social platform and moved to Telegram where its members exceeded a thousand, then making WeTalkSound the biggest community of its kind in the country. They had their first in-person meeting not long after.
"It was a place in Ibadan called The Love Garden," recounts Dolapo. "It was just maybe fifteen people, we just sat down and met each other, and were just discussing music. Some people started rapping and freestyling at some point. We actually had that quite early into WTS, just a few months after the group started."
That level of organization only blossomed over time, as the community held more meetings around the University of Ibadan. One particular event was called Afro Vibrations. It was kept by a steady flow of palmwine, welcomed a number of performances, and recorded over hundred guests who came through the botanical garden where it was hosted. "It was such a big deal to us," admits Dolapo. "It was around then it started to become clearer that there was actually something more that we were building, and we could become much more."
---
Do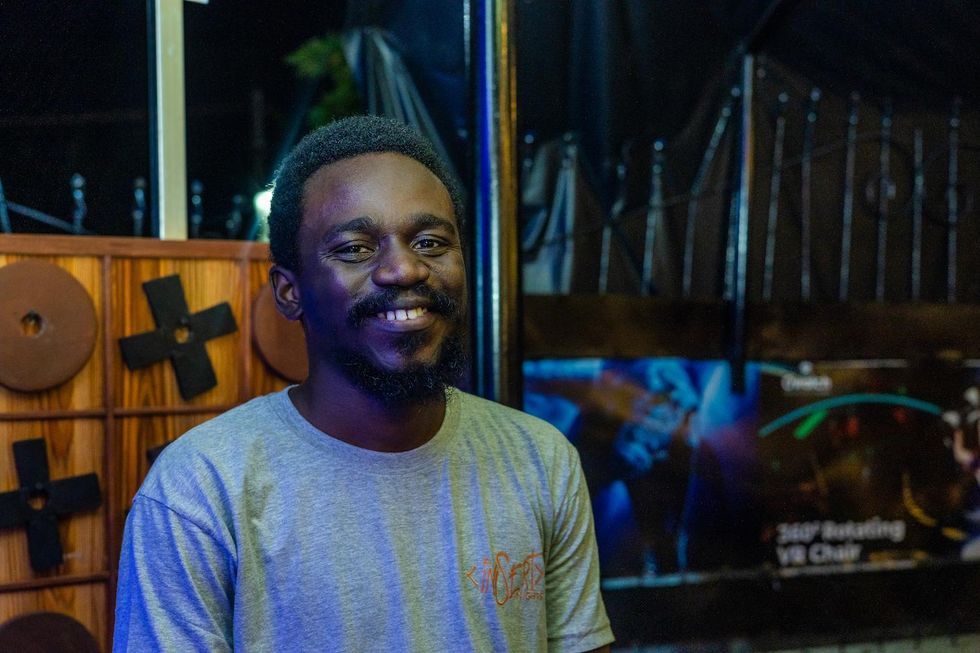 Dolapo Amusat.Photo courtesy of WeTalkSound.
Promoting in-house creatives was the next step for WeTalkSound. The rapper VaderTheWildcard is perhaps the quintessential example of the community's promotional efforts—his first record "Fimile" was uploaded on streaming platforms by his friend Dolapo and while they didn't know much about promotion, "making noise" on social media helped win some ears. Showcasing great musical ability, the early careers of WTS-affiliated acts like Soulblacksheep, Bio and Eri Ife also benefited from the community's spirited rallying.
"I was introduced to WeTalkSound by a friend, Enitan," Vader told me. "He just told me there was this WhatsApp group filled mostly with people that attended the same university as me and they all converged everyday to talk about music. It got me interested so I joined. I'm really glad I did because the community helped me harness my creativity as a recording artist and content creator. The community has also helped me understand all the components of the ecosystem that is the creative industry. This is invaluable for a creative, especially in the early stages of one's career."
One January day in 2018, Dolapo shared a request among WTS members: anyone with recorded material could submit for a Valentine-themed EP. "We received a number of good songs and we're like yeah, this could be longer," he says. "We made it a nine-track project. Just on SoundCloud, because most of the beats weren't legally owned by the artists, they were like YouTube beats. I remember Seyitan came up with the name, LOFN, which in Norse mythology is the goddess of forbidden love. The goal of the project was really just to promote emerging artists, 'cause we knew so many artists that were good but had no audience. And we're like yeah, if these emerging artists can't create decent attention for themselves or a roll-out plan, if they came together and nine of them were trying to promote one thing with the community of WeTalkSound, it would make sense."
That project is now four albums deep, pulling indie artists from around the continent and in the diaspora. Spurring positive reviews, it's accrued a standard name as one of the better compilation projects to expect every year.
WeTalkSound has gone through many phases, and during our conversation Dolapo brings the community's gradual evolution into focus: its WhatsApp days, the existence of other WeTalk groups, cold pitching music professionals online, visiting Lagos to network with established players, and "the era where we started to delve into providing services and learn how to become a business," he says. "There was also the era where we started to do campaigns for artists. I guess that's when we really got popular."
Clients had been coming to WTS to provide digital services and Dolapo thought it best to create an agency. In 2019 WTXtra was born, handling a pro-bono project for riding app Bolt (where Dolapo worked at the time), before going on to build stunning packages for artists Show Dem Camp, Timaya, Reminisce, and even for label structures Aristokrat Records and EMPIRE, which has distribution deals with Fireboy DML, Asake, D Smoke and Black Sherif among others. "The phase we're in is essentially tying everything we put our hands into together and structuring properly as a business company," he affirms.
These are very exciting times for WeTalkSound. Long have they played the underdog's game, bringing creatives and clients into their corner by sheer productivity and remarkable understanding of media. "It's time to scale," says Dolapo, affirming the vision to collect their diverse interests into one brand. That requires more staff, more purposeful storytelling, and newer responsibilities. "WeTalkSound is going to be a combination of a number of things. We're morphing out of being niched into just music. WeTalkSound is essentially going to be a creative company."

Along with his team, the pillars of WeTalkSound's big house are already being set in place. Hosting more events like Camp Nova, engaging wider pockets of popular culture (including fashion, film and sports) and starting out a record label will feature in this great new phase. Understandably, Dolapo does not reveal much else about their plans. "We're currently experimenting with a number of things, and they're looking really good and promising," he says.
Connecting artists in the diaspora to their home audience will also be explored by WeTalkSound. A precedent of this mission came during the pandemic when WTS created the most thriving afrobeats community on then-budding platform Clubhouse, setting up engaging conversations which bridged the knowledge gap between the creative and business aspects of music.
In 2020, Moyo Onipede joined WeTalkSound. She had little experience in the entertainment scene but was determined to learn. "My first solid opinions, outings and decisions regarding Nigerian music were formed through experiences with WeTalkSound," Ms. Onipede, who's popularly known as Moyobaby, tells me. Through conversations with talents and executives, she was adequately ushered into the nuanced landscape of the industry, provided with guidelines and role models who'd be happy to assist her in any way they could. "WeTalkSound does community and family like no other. All genres and ideologies belong. It has always been one of the paths I'm super lucky to have found myself."
Moyo has since explored parts of the industry, applying her earned skills with professional grace. Her talent for management has been obvious as she goes effortlessly between productions, talent relations and managing the stage. She recently curated Bella Shmurda's intimate live concert in Ibadan.
Besides the internal development of its staff, WeTalkSound also embodies an exemplary usage of data. They have been ahead of the curve in terms of how they track and present their progress to prospective clients down to exploring new markets. "I'm very numbers driven," says Dolapo, who's also an Associate Product Marketing Manager at Google. "I would say just my being data and tech savvy definitely gives WeTalkSound a unique angle to how we approach everything versus everyone else that is in the space. The relationship with tech and data and software engineering and product development and all of that has helped us add more value to our clients."
"We've learnt so much," says Dolapo near the end of our conversation. "I've really immersed myself into media content and entertainment in these years so there's so much more that I know, and I feel I'm now in the position to take WeTalkSound where it needs to be. I'm now empowered enough from different perspectives—from the perspective of knowledge, of experience, from my network and relationships that I have, my access and exposure from my job at Google. The time is now perfect to fire on all cylinders and dive in completely and do what needs to be done to take WeTalkSound to significantly greater heights. Next year is gonna be a game changer. For us, and for the industry as a whole based on the impact that we'll create."
From Your Site Articles
Related Articles Around the Web