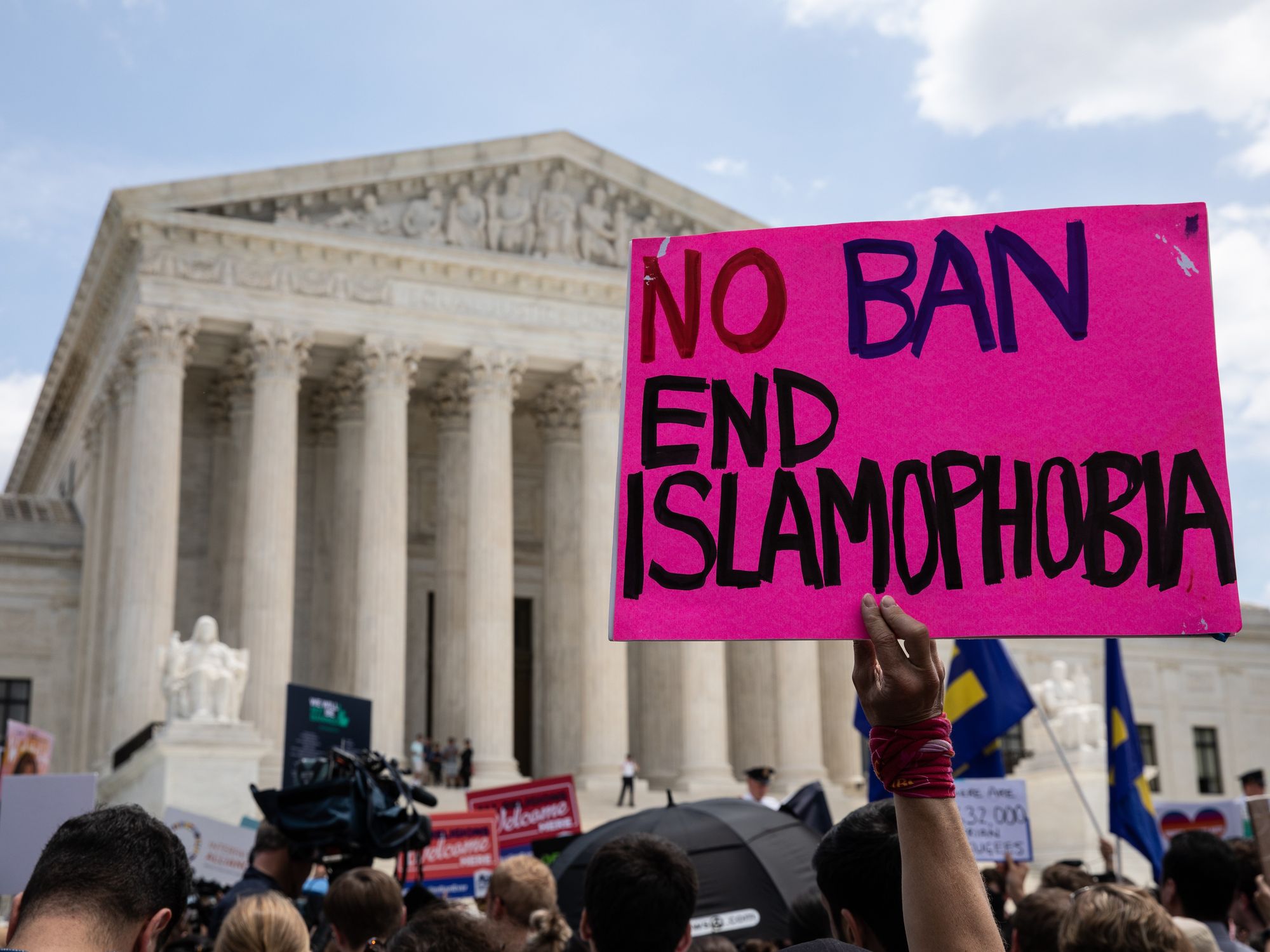 People protest the Muslim travel ban outside of the US Supreme Court in Washington, USA on June 26, 2018. (Photo by Yasin Ozturk/Anadolu Agency/Getty Images)
Trump has officially extended his travel ban to include six new countries, and it's just as bad as expected.
Over the weekend, President Donald Trump moved forward with plans to add several new countries to the travel ban list.
The new extension of the ban—which comes three years after the initial ban, which blocked entry into the US for people from several majority Muslim populations—places heavy restrictions on citizens from several African nations, including Nigeria, Tanzania, Sudan, and Eritrea. Other countries added include Myanmar and the Eastern European country of Kyrgyzstan.
According to The New York Times, the move will "virtually block" immigration from Myanmar—a country currently facing a genocide against its Muslim population—Nigeria, Africa's most populous nation and a strategic trading partner, as well as Eritrea and Kyrgyzstan. While Tanzania and Sudan will be subject to limitations around participation in the the diversity visa lottery, which grants green cards.
Most countries on the list have substantial Muslim populations, reflecting Trump's well-documented Islamophobic views. His ban on several African countries are also in-line with derogatory comments he's made about African nations in the past. In 2018, he infamously referred to African nations as "shitholes." With the inclusion of six new countries, the travel ban now consists of a total of 13 countries.
---
According to Secretary of Homeland Security Chad Wolf, the decision to place the ban on these countries comes as a result of their failure to meet US security and anti-terrorism standards. "These countries, for the most part, want to be helpful," said Wolf. "But for a variety of different reasons simply failed to meet those minimum requirements that we laid out."
The ban will impact a quarter of the people on the African continent, according to a report from The New York Times. The news has been met with both anger and disappointment by many immigrant groups and advocates.
The Nigerian travel ban makes sense once you understand that: 1) Donald Trump is president 2) Nigeria is full of black people.

— Ian Millhiser (@Ian Millhiser) 1580508236.0
Really annoyed that people keep countering the travel ban with "Nigeria being the most educated immigrant groups".… https://t.co/U0izT6UIUA

— Nnenna (@Nnenna) 1580526360.0
Several Democrats have also denounced the move. Somali-born Democratic representative Ilhan Omar has said that she will introduce legislation to counter xenophobic laws supported by the Trump administration, including a 1798 law that allows the president to target foreign nationals, according to Al Jazeera.
The restrictions are set to go into effect on February 21.