News
Wildebeats Breaks Down His New EP, 'Race Constructions'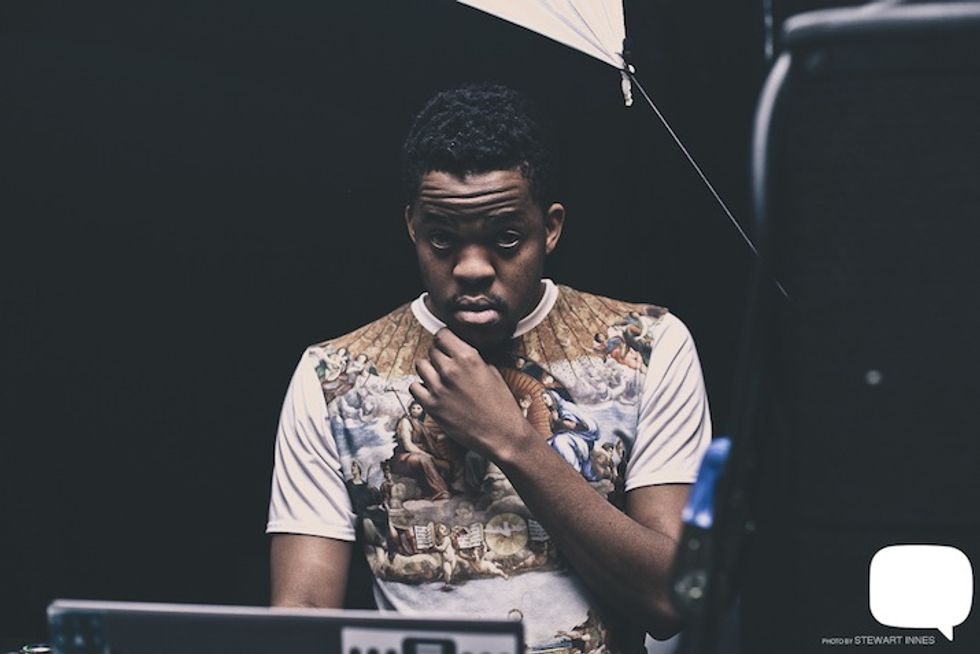 Cape Town hip-hop/bass producer Wildebeats breaks down his new EP, 'Race Constructions,' recorded at Red Bull Studios Cape Town.
---
Photo by Stewart Innes
Since we caught up with Wildebeats (aka Mohato Lekena) earlier this year to talk his stint spreading SA beats in London (where he was selected to perform at the esteemed Roundhouse), the Cape Town hip-hop/bass producer has been busy readying the release of his new EP recorded at Red Bull Studios Cape Town. Five tracks deep and featuring guest spots from Beatenberg's Robin Brink and newcomer Gnarly Parker, Race Constructions is out today, and to celebrate, we tapped Wildebeats for his official track-by-track breakdown. "These are my interpretations and notes of some music that I recently produced and released via the Red Bull Studios in Cape Town," he says. "What I must also stress though is that, as Ryoji Ikeda once said '[sometimes] If I say something that is a kind of answer, the audience will be stuck in what I am saying. And there are infinitely many answers' – so listen to the music, and feel for yourself."
On the title, Race Constructions:
"On one end it definitely is a play on this series of releases from a UK label called Club Constructions, which perfectly encapsulates their music. I added the word race because of some of the themes I touched on in the music, and also because Mitchel Messina had started working on the artwork and the only brief he had was to listen to the music and see what he feels is appropriate. More than anything else though it kinda sorta sounds cool."
1) "Saxy Gel (Fever)"
"The Wildebeats experience is all about having fun, and that's all I wanted to do here, to make a fun, sun kissed slow burner. But once I started putting the lyrical content together (I didn't really write anything, just put myself in front of a mic and recorded until I was satisfied) it became more a song about fetishisation than just being sexy. 'You come from the continent, the dark dark continent. Suddenly they're loving it…..' I didn't quite know it at the time, but this exactly how I felt about some recent events in pop culture, and the discourse over whether or not its okay to use people from certain ethnical backgrounds as props in your art or your videos, or why there would be a demand for that type of thing anyway. It seems patronising in so many cases, where it's cool to look like a certain group of people because they're 'sexy' now, but not really to engage with their culture or issues."
2) "E.T Cartman"
"Eric T. Cartman lives in what seems like mundane town, but where all types of wild stuff inexplicably happens, regularly. This track is essentially just arrogant brag raps going over what sounds like alien space lasers shooting during a cosmic conflict in a club on mars. Probably the most straightforward track on the EP."
3) "Cape Ether"
"This track is a study in restraint, in delaying the satisfaction of a 'drop.' This was the first track I recorded at the studio, and the one with the most intuitive arrangement, funnily enough. It was mostly designed for live situations, with all the swells and releases of energy before the big 'reveal,' which is super inspired by the Glasgow Purple scene.
4) "Dikeledi Drums (2697)"
"My grandmother lived on Dikeledi Street, in Bekkersdal. I always remember it being fun and bright there, but only recently realised how turbulent it was. The song is all improvisation, from the playing to the synth sounds to the automation and panning - all just trying to capture a feeling. The feeling probably is different for others, but that's cool."
5) "Race Constructions"
"I started this track trying to make a UK style bass track, but then I realised how much of an influence local electronica had on both the track and my sound. That made me somehow feel like an outsider appropriating a local style as opposed to the opposite, and when I found the vocal parts in the track, of Robin Brink talking about wanting to fit into the local house scene it felt perfect in how he described the feeling. That's what the Race Constructions is about. In the end I just went with intuition, relying on what I know to be true sounds."
Follow Wildebeats on facebook, twitter, and soundcloud. For more, listen and download Wildebeats' Future Sound of Mzansi Tape for Spoek Mathambo's mix series.