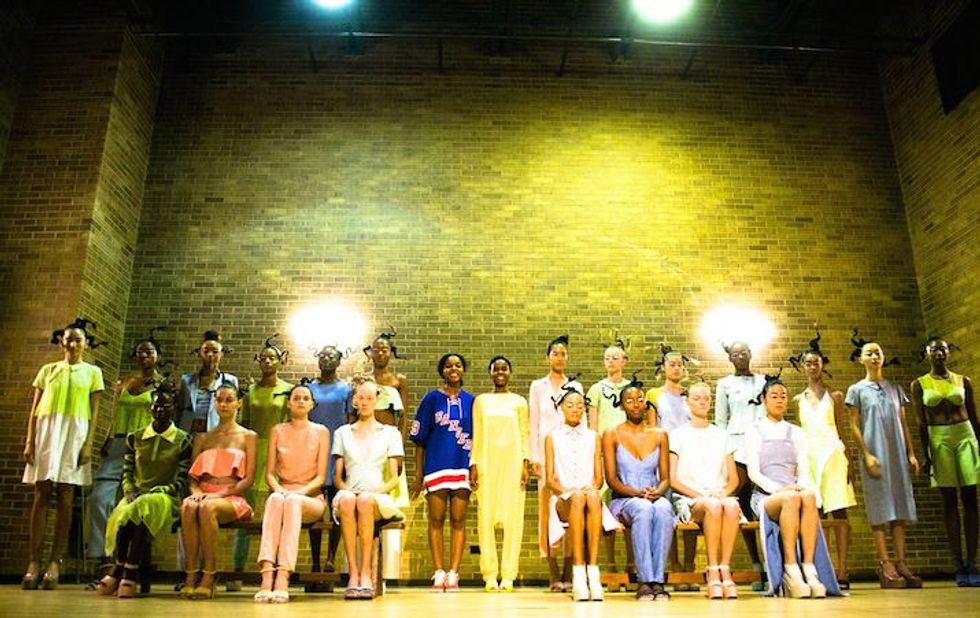 Darlene and Lizzy Okpo's William Okpo presented Okpo Academy Picture Day Class of SS15 during New York Fashion Week Spring/Summer 2015.
Photos by Rashaad Denzel for Okayafrica
---
Set at the Old School Gym in the West Village, designer duo Darlene and Lizzy Okpo showcased their Spring/Summer 2015 collection last Friday at New York Fashion Week by taking us back to our school days with their Okpo Academy Picture Day. Staged with benches and lunch boxes, the gymnasium was a nostalgic representation of elementary school, complete with class photos. Launched in 2010, Darlene and Lizzy's William Okpo label (named after their father) is influenced by the sister's Nigerian heritage and American culture. "We were born and raised in NYC, with a Nigerian background," Darlene told Okayafrica in an interview during NYFW Fall/Winter 2014. "I hate seeing native New Yorkers just wearing black, period. Sometimes I think that we're just afraid of color. When Lizzie and I approached the collection, we wanted prints, old prints," she explained. With their S/S 2015 collection, the Okpos specifically channeled a time of youth with pleats, panels, ruffles, pastels and floating pigtails.
In partnership with the 14+ Foundation, a charitable organization which builds and develops schools and orphanages for children in rural African communities, last year William Okpo created a capsule collection inspired by their S/S 2014 collection. This year, the capsule collection features a Randy Antonia collaboration of handcrafted T-shirts and notebooks. See our gallery above for pictures from their S/S 2015 presentation at NYFW as well as William Okpo's official S/S 2015 lookbook.