Zamrock legend Emanyeo "Jagari" Chanda hits you, half-sung and half-spoken on the opener of Zango, WITCH's first album in forty years:"It hurts you know, it hurts so bad," comes the emotion on the song "By The Time You Realize."
The 71-year-old Jagari could not be happier to be brokenhearted and back on track, emotional pain creating fascinating alchemy across a record that has given him purpose when many of his friends and bandmates have already passed on to another realm. Jagari explores the spangled psychedelia that seems to intertwine between one world and another, not only singing in the vivid atomic moment but with a searing realization that this recording is a testament to the notion of 'forever.'
When AM radio was beaming across Zambia in the '70s to the sounds of Jimi Hendrix, The Beatles, The Rolling Stones, James Brown and Deep Purple, it created more of a movement than a musical scene. Having just cast off the shackles of British colonial rule in 1964 and now independently rich from its enormous copper mines, Zamrock, played by young men picking up electric guitars, became the far-out soundtrack to a country's hopeful future. WITCH, an anacronym for 'We Intend To Cause Havoc,' were at its forefront.
Theirs is the classic rock 'n roll tale of wayward teenage boys forming a band and making it big: stadium-sized big; household names, while never getting rich big.
---
WITCH - Waile (Official Video)
"Destiny will always be achieved," Jagari tells me when I ask him if he ever thought he would record another album to follow the scrambled classics of their 70s recordings. "Things will always happen along the way. You know, sharing energy in a room feels like a resurrection. I believe in God and have been given a life now to go to Europe and America".
There is a steely certainty to the man that knows no bounds. Every question is answered in raptures, with one long vivid monologue after another. As he drifts back to the days of his early shows, he describes how they "started wearing flowered shirts, big bell bottoms and grew out our hair" when playing concert around Zambia's copper belt. Enormous outdoor shows filled with mine workers, soldiers and "everyone sharing our lifestyle to party hard".
While businessmen became wealthy from them, the band was happy enough at first to collect more than an average monthly wage while living out their dreams.
By the time the First President of post-liberation, Kenneth Kaunda, declared that the majority of music aired on national radio had to be of Zambian origin, it took the band to stratospheric levels: "We became so famous it became impossible to contain. One trick we had was to employ deaf and dumb security guards to man the gate so there could be no negotiations with anyone trying to get in for free."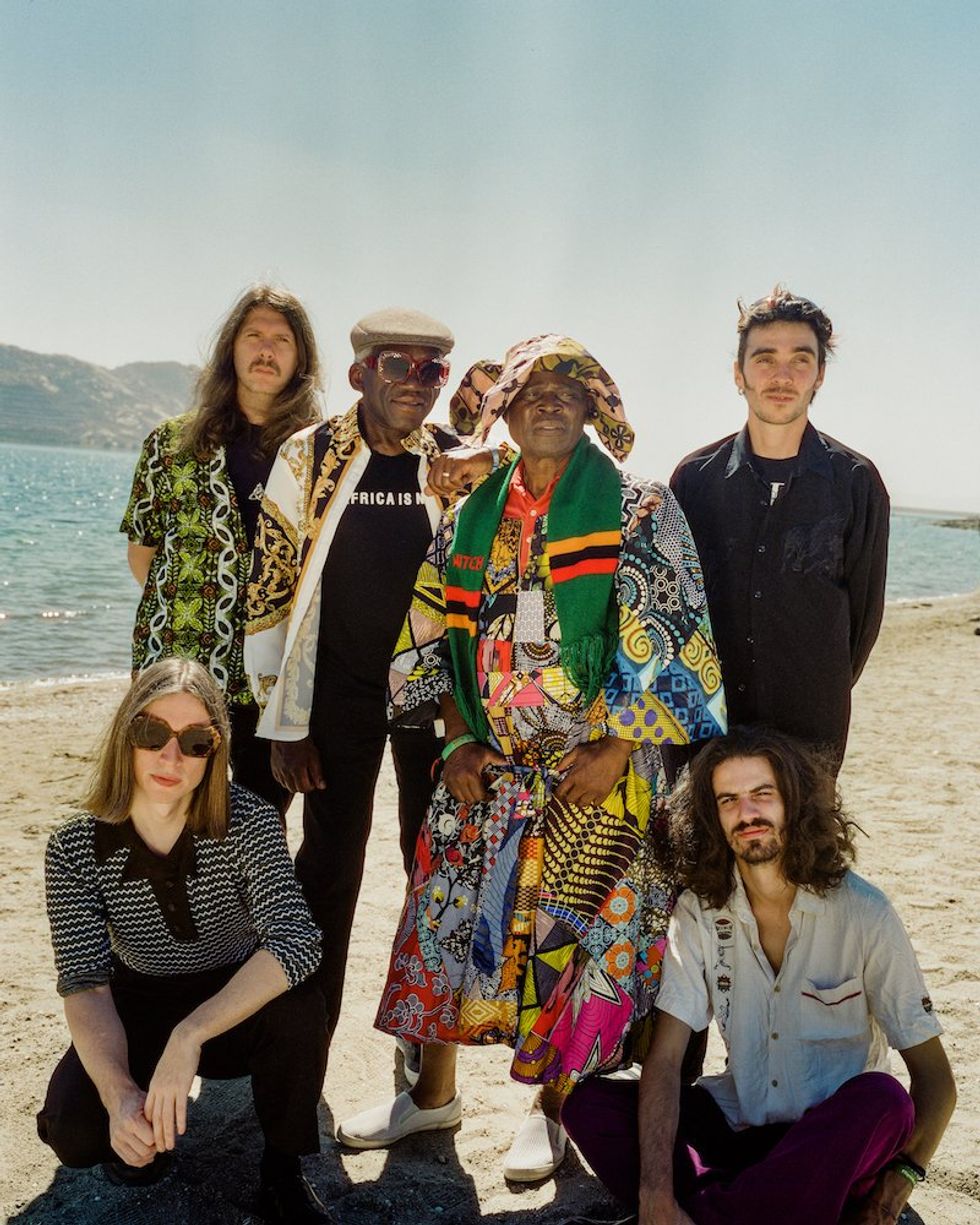 The full live band for WITCH. Photo: Pooneh Ghana.
Violence from unstable neighbouring regimes began to cross Zambia's border leading to blackouts and curfews, but "HIV and AIDS contributed to the end of these times, and disco. That was a terrible pandemic," says Jagari.
The only other survivor from the original lineup Patrick Mwondela, really shines on the new album, especially on "These Eyes of Mine," which swoons with the heat of memories. "Don't ever come back," Jagari begs as the keyboard solo steals the show, playing as if on a beach on the moon, whales breaking through the waters to sing backing vocals.
The overriding message of this album is love, and Jagari prays for us all to receive a deep spiritual hit, but there are warnings for us, too: "Humans create computers, but they are boxing ideas and rob us of our liberty," he mentions. "Computers can't tell you what they feel because they don't feel. To see a band performing live communicates emotions a computer never will be able to." The long debate on A.I. can wait for now.
There is a rehearsal room sound to this release. Crunching 1970s prog-rock riffs, fuzzy guitars, plenty of cowbell, fidgety drums, and bass bumping playfully—all contained in a world that allows for a few guests too. The most striking is on "Nshingilile," with lead vocals from Keith Kabwe, former bandleader of Amanaz.
In the same year that WITCH issued their seminal Lazy Bones record in 1975, Amanaz produced a Zamrock classic for themselves in Africa. In this collaboration, the music stops for him to call out, and something magical happens. Now a pastor, Kabwe sings of protection, the blood of Christ, and freedom from troubles. It is sure to tear crowds apart.
As Jagari says when he addresses all of us on "Message from WITCH": "Zamrock has resurrected from its decadent slumber." And when he does so, there is no difference from whether it is the first or last time he may say it.