Wednesday in Harare, anti-riot police used batons, tear gas and water cannon to break up a combined peaceful protest by hundreds of demonstrators who marched the streets in continued and growing opposition to the President Robert Mugabe government.
---
Police dispersed hoards of people coming towards Zimbabwe's parliament building, where they were to deliver a petition outlining among other issues the state of the economy. In pursuit of fleeing demonstrators, police used stick batons before firing tear gas as the mass retaliated by pelting stones.
Denied police permission to demonstrate, the several dozens of unemployed graduates, clad in gowns and waving a banner inscribed "Dear Mugabe, Our Jobs?", joined another group of protesters who were demanding the abolishment of government plans to introduce bond notes – a local token money with equivalency of the greenback.
One woman held a placard written "Zimbabwe will never go back to 2008," resounding a fear that the bond notes could revive the hyperinflation that brought untold suffering to ordinary citizens in 2008 before the introduction of the multi-currency system during the inclusive government in late 2009.
A protester holds a placard. Photo: Zinyange Auntony
Protesters brought traffic to a standstill as they attracted cheering onlookers. Some carried holy crosses; many were wrapped in the national flag; while others wore "Mugabe must go" t-shirts.
One of the protesters could be heard shouting "Just close this fucken' country" as he tore the worthless bearers' cheques into pieces while another carried a placard written "Dog."
Zimbabwe's government has gone broke, evidenced by the inability to pay civil servants their salaries on regular dates.
A protester holds a placard. Photo: Zinyange Auntony
Running battles ensued with riot police after dispersion of protesters as they sought to deliver a petition at the parliament after handing in another at the finance ministry in protest against the bond notes.
Police intervention led to damage of vehicles, the injuring of a police officer and hospital admission of a six-month old baby after inhaling tear gas which was fired into a regalia shop where they had sought refuge.
"Rampant use of tear gas in residential and workplaces by police is a gross violation of human rights" said MDC executive Thabitha Khumalo, speaking from her bed in the intensive care unit at Avenues Clinic. She was admitted there after she inhaled tear gas fired into the opposition party Movement for Democratic Change (MDC) regalia shop where a party meeting was being conducted.
"We are seeing more bogus police officers and there is need to further interrogate who they are, what is it they have been asked to come and do, because there is so much human rights violations that has never happened in this country before" she further told Okayafrica.
Tabitha Khumalo in a hospital bed after inhaling tear gas. Photo: Zinyange Auntony
In recent weeks, during a charity in Makokoba, Bulawayo ZANU PF parliamentarian and War Veterans minister, Tshinga Dube, highlighted that some police officers have become overzealous to prove allegiance to the warring factions in the ruling party, and that they tend to lose focus on their real duties of protecting the communities they serve.
"We know how to deal with our enemies who have been trying to bring about regime change," he said in a speech last week. Several war veterans' leaders have been arrested on charges of undermining Mugabe's authority.
During the #ShutDown in July, four youths were arrested at Joshua Mqabuko Nkomo's statue on charges of criminal nuisance for chanting "Mugabe Must Go." They were discharged Tuesday in Bulawayo.
The country has seen a series of High Court-granted protests in recent months as the 92-year-old Mugabe doesn't seem to be favored by the new constitution.
Protesters singing outside the Finance Minister's office. Photo: Zinyange Auntony
A protester tears a bearers cheque. Photo: Zinyange Auntony
Protesters shout slogans wearing "Mugabe Must Go" t-shirts. Photo: Zinyange Auntony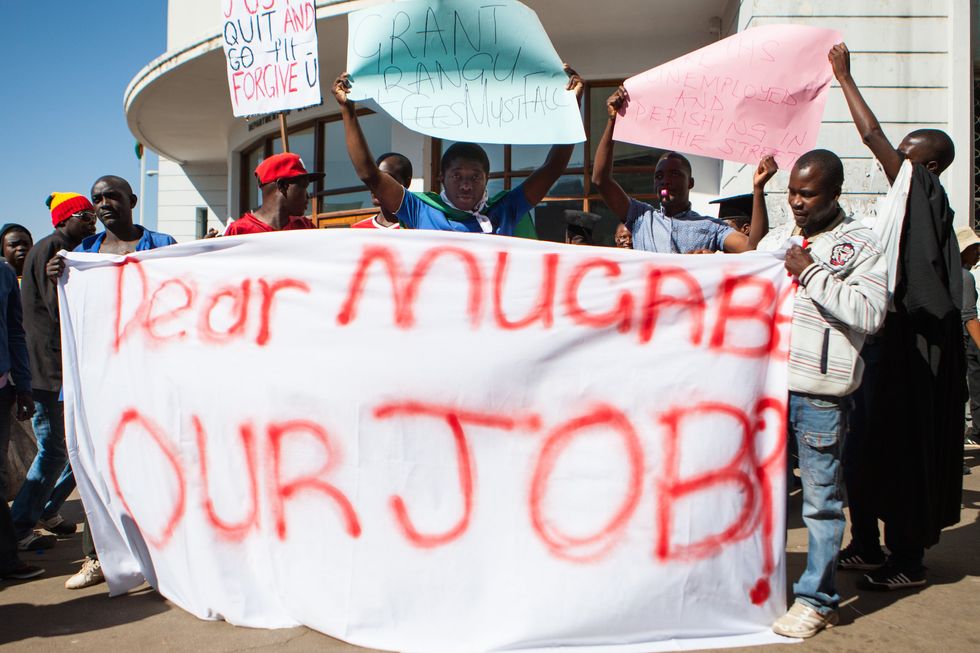 #ThisGown protesters wield a banner asking "Dear MUGABE, OUR JOB." Photo: Zinyange Auntony
Protester Dale Adore holds a placard during a combined demonstration by the disgruntled graduates and citizens on 3 August 2016 in Harare. Protesters were later dispersed by police using water canyons and button sticks on approach to the Zimbabwe Parliament. Photo: Zinyange Auntony
A young man carrying groceries speeds off as police advance. Photo: Zinyange Auntony
Protesters inside the Minister of Finance's office. Photo: Zinyange Auntony
A protester gestures while she holds a cross. Photo: Zinyange Auntony
A #ThisGown protester chants anti-Mugabe slogan. Photo: Zinyange Auntony
A protester holds placard written "Dog." Photo: Zinyange Auntony
Protesters wash their faces after police fired tear gas on them. Photo: Zinyange Auntony
Zinyange Auntony is a freelance Zimbabwean photojournalist with growing interest in less reported stories. He's currently studying Peace and Conflict Resolution studies. You can keep up with him on Instagram at @zinyange.