Since breaking out in the lower half of 2018 with a cache of singles that brought his sound and Zanku style into the Nigerian music mainstream, Zlatan Ibile has been near-unmissable. Year after year, the 28-year-old, born Omoniyi Temidayo Raphael, has continued to prove himself with hip-hop-adjacent songs that capture–and promote–the swag and energy of mainland Lagos across genres. It's a task that Zlatan has taken to heart since his breakthrough.

"I always have to represent Ikorodu in everything I do because I'm from the streets," he tells me during a phone call on the release day of his new EP, Omo Ologo. That new project is a summation of Zlatan's thoughts on destiny, his path, and where he might be headed as he celebrates upward mobility. "I'm really glad to be here and I want to be here for a long time," he says.
---
It's been a little over five years since you exploded onto mainstream attention, how has life been and what lessons have you taken?
It's been a crazy run for me. 2019 was the moment when things really started to happen after "Able God" in 2018. I was supposed to go on tour after 2019 but then COVID-19 hit and that was a tough time for me, because it was supposed to be a period to bring more blessings. That period made me concentrate on my digital platforms and pay attention to what my numbers were. Also, because of the type of music I make, I've had to deal with a lot of talk about the language being a barrier. There's been criticism about many other things and there've been moments where I've had mental breakdowns, but I spoke to a therapist and got back to making my music. Basically, it's been a journey for me these past six years. I've grown, I've learned a lot, and I'm still here thanks to all the hard work and consistency I put into the game.
Speaking of criticism, there's been a lot of chatter about you falling off due to the type of music you make, how have you dealt with those?
I won't lie, in the beginning, it got to me a lot. I used to block and delete such comments on my page but I got to a certain level where I realised that it was just a part of my job. There are people who say the same things about Drake, Burna Boy, or Davido. We all have critics and naysayers. For me, it got to a stage where I understood all of that and stopped blocking or deleting those types of comments. These days, I just block those comments out and concentrate on the people that appreciate my work.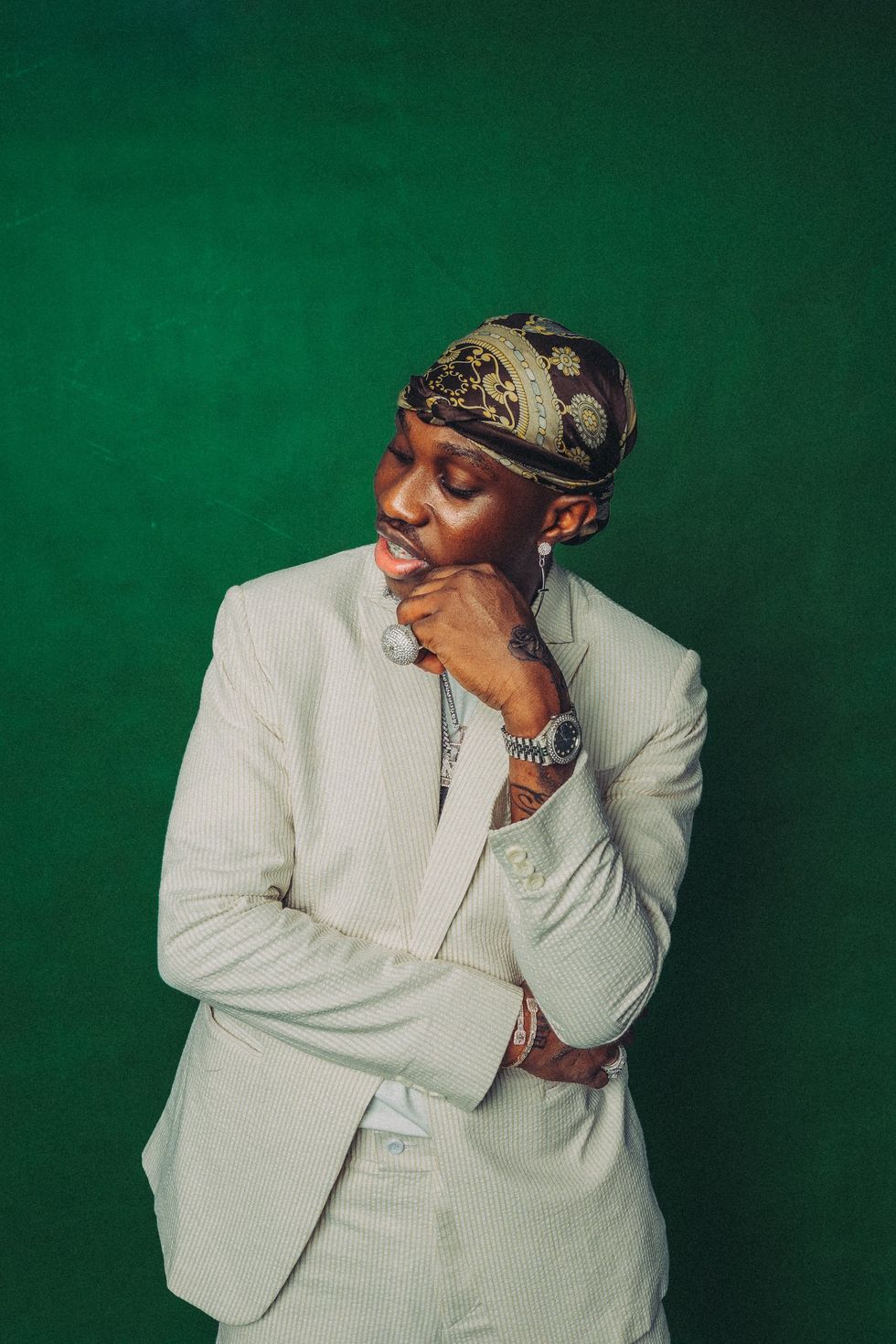 Zlatan. Photo: 22.jumpstr
In terms of people appreciating you, you've switched your brand a little and people are interested in how you approach fatherhood, your style choices, and your positioning. What changed for you from the Zlatan of old?
I would say that the pressure that's there when you're trying to make a name for yourself was what people were seeing before. Now, that pressure has reduced. I used to be under a lot of pressure to not fall off but then I realised that God always came through for me. It's not always easy but everything I want to achieve always comes through and the rebrand has just come naturally from that. Everything that people see me do now with regards to the rebrand has always been inside me but the way I came up–the ibile–was a crazy route. I had green hair, the way I dressed and all made people look at me like a razz person but I just wanted the attention so I could eventually show a different part of me. As I've grown older and I've become a father, I'm more concerned about what my son might find on YouTube about me. I want him to be able to listen to me when I correct him and it was time for me to change perceptions about myself.
It's been two years since Resan, how do you think your music evolved?
When I started blowing up, I was known for danceable songs, so I think people forget that I'm a rapper or don't associate me with hip-hop. With Resan, I was able to drop some rap songs like "That Guy" and a drill song with Ms Banks. So, I was able to touch different parts of hip-hop and remind people that I'm a rapper as well. After Resan, I've just kept growing and experimenting with my sound. I've learned about timing, sequencing, and production, these are things I wasn't able to do on my first album and I'm glad I've been able to bring it to life on my new project.
When did you start thinking of making Omo Ologo and what was the motivation for making it?
I wanted to put out more songs and put them out early. Over the last two or three years, I've not released music early in the year. Most of the songs I've released have come towards the end of the year, around September and further down the year. Something always happens that makes me drop late but this time I was determined to put a collection of songs out early enough. I wanted to return to my 2019 routine and since I'm signed to myself, I don't need anyone to tell me when to put out music. Obviously, the music space in Nigeria is also very saturated so all these things made me decide to start very early this year. I kicked it off with a bunch of singles from last year and the releases kept making sense. At a point, I knew I'd sum them up together and add a couple of new singles to them so people can enjoy them all together.
You're popular for collaborating with up-and-coming acts and you've worked with ODUMODUBLVCK and Seyi Vibez in the past, what informs that approach?
I feel like if I wasn't given that kind of opportunity, I wouldn't be where I am today. At some point in my life, I won a car as part of a rap battle but it took two more years before I was able to make a name for myself. It happened for me because Olamide called me one day and made a song with me. Then Davido also made a song with me and paid for the video shoot. I never forget these things and I'm always keen to pay it forward. I know how Olamide has impacted so many people's lives and, when you do good like that, it finds its way back to you. So when I see someone trying to make something for themselves and I know that the collaboration will elevate them, I want to be able to help them as well.
For example, Odumodu called me and told me he needed an advance but he needed a big collaboration to bring it in. We discussed it all and we recorded "Picanto" and that night we recorded another song. I told him that when he blew up, I'd release my own song with him. It didn't take up to two months after "Picanto" dropped and his story has changed. It's the same thing with Seyi Vibez, I did "Professor Peller" with him a while ago, so it was easy for him to come through when I needed him on a song for my project.
There's a song on Omo Ologo called "Oganigwe," and it's an instant standout. What was the inspiration behind that song?
When I heard Odumodu's music, it reminded me of Nigga Raw and I just felt he had a flow that was different. So, when he was coming over to see me about "Picanto," I started working on the beat for "Oganigwe." We worked on "Picanto" and I told him to let us work on "Oganigwe." After that, Jeriq came and added his own vibe to it. Since the song came out, it's been crazy and we've only heard good things.
You also recently made your movie debut on Gangs of Lagos, what was that experience like for you?
I've always wanted to act but I was waiting for the right script and role. I didn't want to do anything basic and, fortunately, the opportunity for Gangs of Lagos came. I went through the script and loved it. From there, I went for rehearsals and took months to go for combat training. I was shuffling between the studio and the set but I just knew that this was something I wanted to be involved with because I always love to surprise people. We shot the movie in 2021 and it only came out in 2023 but it's been fantastic because I was at the airport the other day and people kept calling me Kash, the name of my character from the movie. I've gotten so many messages from my fans, it's been fantastic.
What comes next for you?
It'll always be making good music and making use of every opportunity that comes my way.