There's something very powerful about the way Ghanaian photographer Zohra Opoku has reclaimed her family's narrative in her latest collection of screen prints, "Unraveled Threads," debuting in a solo show at the Armory in NYC this week.
---
In the screen sprints, the artist layers images of her late Ghanaian father over fabric patterned after kente cloth found in his wardrobe. "Identity is always, for me, based in textile," Opoku reveals.
Though the German-born artist didn't connect with her father, or know much about her Ghanaian heritage, until she was an adult, in "Unraveled Threads," she takes a very traditional cloth—kente—and uses it to enhance her family's history, presenting her father as an Asante leader.
Her work explores what it means to grow up in the West, and later, confront a set of ideas about blackness, Africa, and belonging—as both an artist and a woman.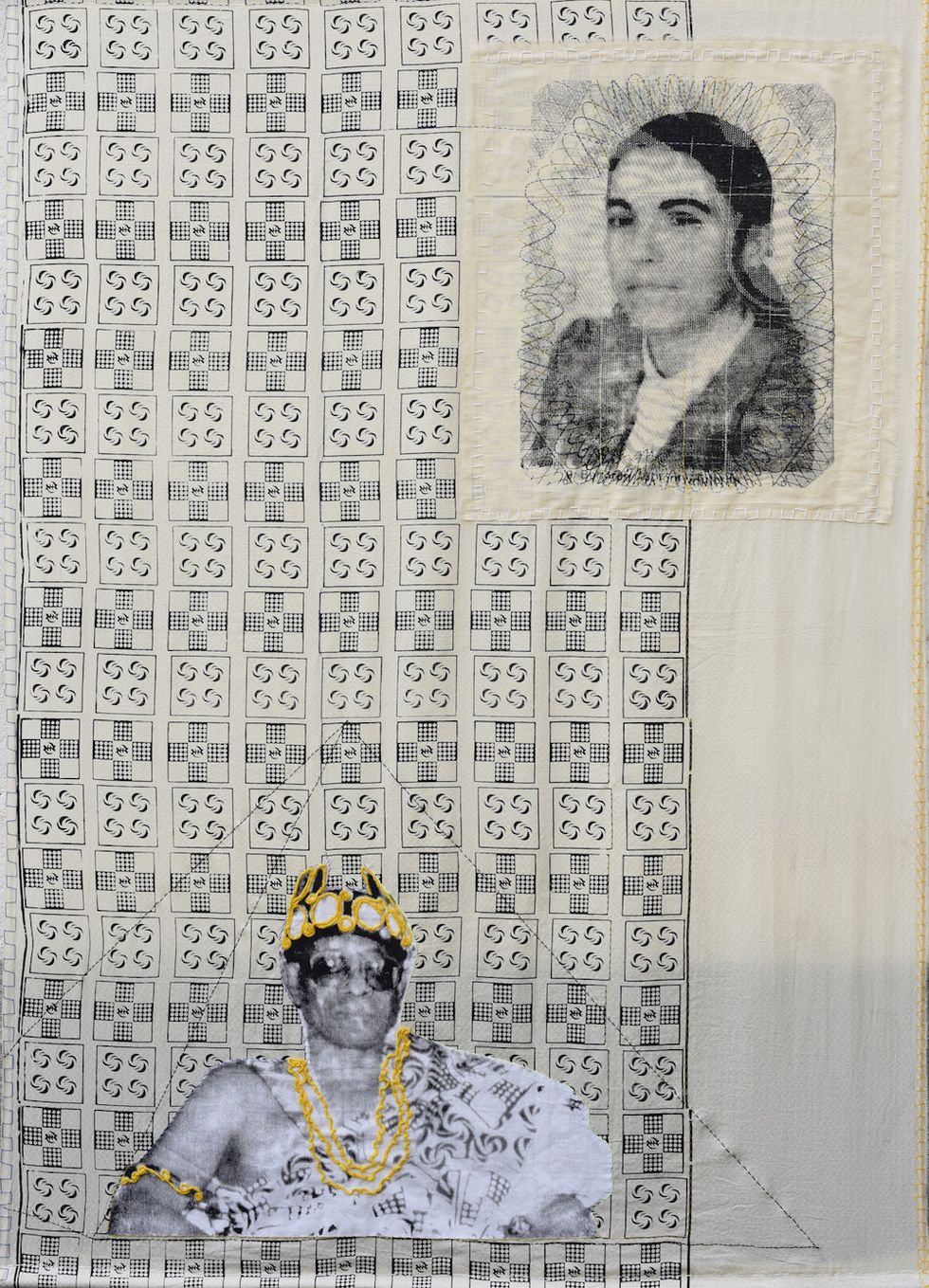 Malisa & Bob.
"Coming from the West, and using this traditional setup, it's a very sensitive subject to explore," Opoku mentions. "Kente has over a thousand different designs, and every one of them has meaning. There are certain ones in particular just for royal families. There's kente from Nigeria, kente from Togo; but the Ghanaian one is very popular."
The collection consists of blurred images of her father screen printed onto Ghanaian kente, as well as original images of Opoku and her siblings in the recreated kente pattern. The cloth serves as a literal thread between child and father—a spiritual connection to a man Opoku only knew for a short while before he passed away.
"It has this blurry effect of images and memories, to show how we are connected to our own imagination and memories. It's a collage of information and storytelling—of my father, but also my brothers and sisters."
Bob's Clan.
Opoku's previous work also places fashion within a deeper social and historical context of identity. In 2010, textile installations on billboards across Accra, titled "Who Is Wearing My T-Shirt," explored the impact of second-hand clothes from the West on the self-perception of West African people.
Her most recent collection of self-portraits depicts the artist in various stylish dresses, partially obscured by nature. "Nature gives me a sense of home. My mom was always gardening. My father was a gardener himself, and very interested in farming. That influence made nature a safe place for me."
Growing up in Germany, Opoku admits that "my connection to Africa was zero." Her mother was hesitant to luxuriate in stories about her father because of the paranoia induced by life behind the Berlin Wall. "She was behind the wall of Eastern Germany, so up until [1989] it was a kind of controlled system. She was kind of a watched person," Opoku says, partly because of her romance with Opoku's Ghanaian father.
The artist finally moved to Accra in 2011, a place she now calls home. "There were so many things I couldn't explain as a young woman in Germany," she says. "Why don't I feel connected? Why don't I always feel comfortable in white society? Until I was 13 I hadn't seen black people at all. So I was very much an outsider in a way."
Opoku portrays this disconnection from her heritage via the unfocused nature of the screen prints. "Those blurry moments are when you can't really see where certain behaviors, feelings are coming from. The imperfection creates the narrative of not knowing everything about the family and past."
"Unraveled Threads" is the first collection Opoku printed and created entirely in Ghana. "On one hand, I'm very emotionally attached to the project," she says. "But on the other, working professionally [with this subject] gives me a detachment in creating my own story and seeing it with a kind of distance."
Zohra Opoku "Sassa"
Opoku remarks that we all have the opportunity to reflect on our own evolving identities, to decide how interested we each are in engaging with the past and digging into our cultural background. She hopes her work will help inspire other female artists in Africa to be more forthright in telling their own stories.
"In Ghana, as a female artist, it is very important to connect with other women artists, because we are still very underrepresented," she says. The industry is evolving where "it's not just the male artist being aggressive, with the woman in the background. Now is the time when Ghana has a chance to bring attention to its arts industry."
"Unraveled Threads" is presented by gallerist
Mariane Ibrahim
and will debut at the Armory in a solo exhibition from March 2 to March 5, 2017. The
gallery just won
The Armory Presents Booth Prize at this year's fair for presenting Opoku's exhibit.
Detail: Bob.
Detail: Malisa