South African hip-hop artist and producer Zoocci Coke Dope got next.
---
He's the go-to guy for hooks right now, having lent his services to artists such as Big Star Johnson, J Smash, Ex Global and DJ Speedsta, among others.
The 23-year-old's recently-released EP, Morning Star, features respected names in South African hip-hop like Stogie T, Kid X,A-Reece and Ginger Trill. Zoocci got introduced to most heads when he produced the Pretoria-based rapper Blaklez's 2015 hit single "Freedom Or Fame."
I ask him how he got to work with Blaklez, as he is getting ready to get a tattoo on his left arm at his Pretoria apartment, which also doubles as his studio where he records most of his music. "I was at a party with a friend of mine," he says. "I saw Blaklez and asked him to give me his email address. I told him I'm probably going to make his next hit. He didn't know me at the time, so he was treating me like, 'arg, listen to this lil nigga.' But he gave me his email address, and I sent him two beats, and 'Freedom Or Fame' was one of them."
At the time, Zoocci was still producing for local artists in his hood, having started making beats in primary school. Out of the friends he started out with, he is still working with Die Mondez, who is featured on Morning Star.
Zoocci admits "Freedom Or Fame" didn't necessarily create a major buzz for him as a producer, but just "a little vibration." It did, however, show him he was on the right path. "After that song, I focused on making my sound better," he says. "Because even with that song, there are things I'm not super proud of. I didn't leave this place, I was making beats and songs everyday." Around the same time, the artist started singing hooks for the local artists he was working with. "Then I stopped for a while around grade 11, which was around 2011. I stopped the vocal side of it, and just focused on beats," he says.
"It wasn't until mid last year that I got a strategy as to how to approach the game. I started recording hooks and sending them out." Which is basically how he got where he is now.
The hook he sang on Big Star Johnson's single "Just to Flex," a song which was the theme song for the second season of the popular rap reality show The Hustle, spread his name further. "Stogie T reached out because ofthe Hustle theme song, I think," says Zoocci. "He invited me and Big Star to his studio. I did some for him there, and then after that, I just needed something to put him on. So I sent the song to him."
On "I Knew," the song which Stogie T is featured on, Zoocci sings, "Had a session with Stogie, I knew I made it." It's not everyday that a young rapper gets to work with a veteran of Stogie T's caliber and relevance. But as we chat, Zoocci tells me he doesn't feel he has arrived yet. He tells me he doesn't even care much about fame and all that comes with being in the spotlight.
"I'm a very arrogant person when it comes to how good I think I am at making music," he says. "So the decision to make the EP was to show people that it's really easy for me to make music. It's not a big deal for me to put out an EP. And if I had to start putting out singles, there would be questions like: 'is there really more? Is he really as good as the hooks?' Because with a hook, people hear that and move on, but with a full body of work, you can realize that there's something special here."
And special he is. Zoocci is part of the new generation of hip-hop artists who have mastered the craft of using the fewest words possible to tell a story effectively. Like many greats of his generation, he passes his sing-songy raps and vocals through autotune, and his production mostly consists of synths, 808s and bass—his music leans towards trap more than anything.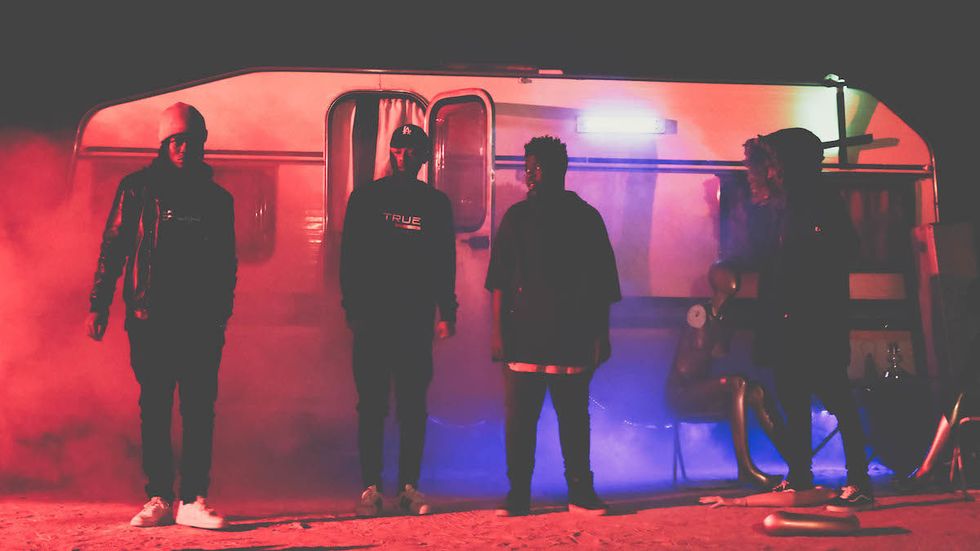 On set for a video shoot for a song Zoocci Coke Dope's featured on. From left: Zoocci Coke Dope, A-Reece, J Smash and Flame. Photo by Sabelo Mkhabela.
From the artists he listens to, it's possible to map which route Zoocci is taking with his music. He listens to mostly new age soul artists like Eli Sostre, Rexx Life Raj, Tory Lanez, alongside rappers like A-Reece, Emtee, and Nipsey Hussle.
But one artist he cites as his biggest influence is Lil Wayne. Which explains the copy of The Carter III CD next to his TV right now. "When it comes to hip-hop, pushing its boundaries and the sounds you can make, there will never be an artist like Lil Wayne," says Zoocci. "Because I think even 80% of what we hear today—the delivery, the autotune, even the mumble rap, the hard raps with the autotune—I feel like it was influenced by him."
Zoocci's first full experience of Weezy beyond his features in the early 2010s, was the mixtape Da Drought 3. "I remember his raps were so crazy," he says, his face brightening with nostalgia. "I'd play my favorite song, pause it every 15 seconds, or four bars, and write down his lyrics, until I was finished with the song. I would then play it back and try to rap along. Because the process of learning the song overtime would take long, but I wanted to rap along and rap like him. If I didn't have that mixtape I probably would just be making beats."
Zoocci's passion for production led him to studying sound engineering, but he dropped out after a year. While studying, he found himself doing more school work than actually making music, which he felt held him back. "I was super hungry. I wanted to show people how good I am. Because that's what it's all about for me–showing people that I'm really good at making music," he says. Also, his sister was in university at the same time, so he felt he could ease the burden off his mother's shoulders, who was paying for both of them. "I spoke to her about it and told her I got a plan," says Zoocci. "She said she would give me about a year. And I took it."
That was the beginning of a tumultuous time in the young artist's life. He pauses a bit before telling me about that epoch: "When I dropped out of school, I had to go prove what I was saying – I had told her I was going to try my best. And I told myself to never go back home and ask for money for anything. And I can't call home until I have a million or so in my bank account. And she understands it because she knows I'm a driven person and when I say I'm going to do something, I do it."
Zoocci Coke Dope getting tattooed at his apartment. Photo by Sabelo Mkhabela.
But for sometime, the artist didn't have a place to stay, squatting with different friends from time to time. He spent a lot of his time at the party spot Hatfield Square in Pretoria where he would wait to hear who in the venue had an after party so he could go with them, and end up sleeping at their place. "My mother knew I didn't have a place to stay. She texted me this other day and asked if she could come pick me up," he recalls. "I was at a party in Hatfield Square. I just looked at the message for like 20 minutes, tempted, before responding 'no.' That was the crossroads. Had I gone home I wouldn't have been here because I would have gotten comfortable. "
On the EP's title track, Zoocci, who role plays as his two opposite personalities, talks about being concerned for not having seen his mother in three years. He also mentions he regrets not fixing things with his father, who he says he wasn't speaking to when he died. Zoocci was around 16, doing grade 9 at the time. "I remember he'd call and I'd ignore his calls, and he would call my mom and ask her to give me the phone and I would refuse to speak to him, only because of a misunderstanding we had," he recalls.
The dual personality portrayed on the intro is what led to the EP's title. "Maybe people see the 'star' thing and think, 'he thinks he blew up,' but it's deeper than that," he says. "Morning Star is Lucifer's name, and Jesus was referred to as the same thing. For the longest time I've always been an over-thinker. For instance, a person would say the smallest thing to me and in my mind it's like really big. There's a good side telling me to calm down and relax, everything is fine. And then there's another that's putting me under pressure, pointing out to things that aren't going right. So the confusion via that name is the confusion I experience and battle with."
Well, his battles are changing. He tells me he is okay with being an independent artist, but he has had a few deal offers, and is currently pondering taking one. But is in no rush at all.
Zoocci's next step is to shoot visuals for some songs on Morning Star, and he has plenty features and production in the pipeline.
Stream and download Morning Star by Zoocci Coke Dope below and grab it on iTunes.