News
South Africa's Zozi Tunzi Takes Her Final Bow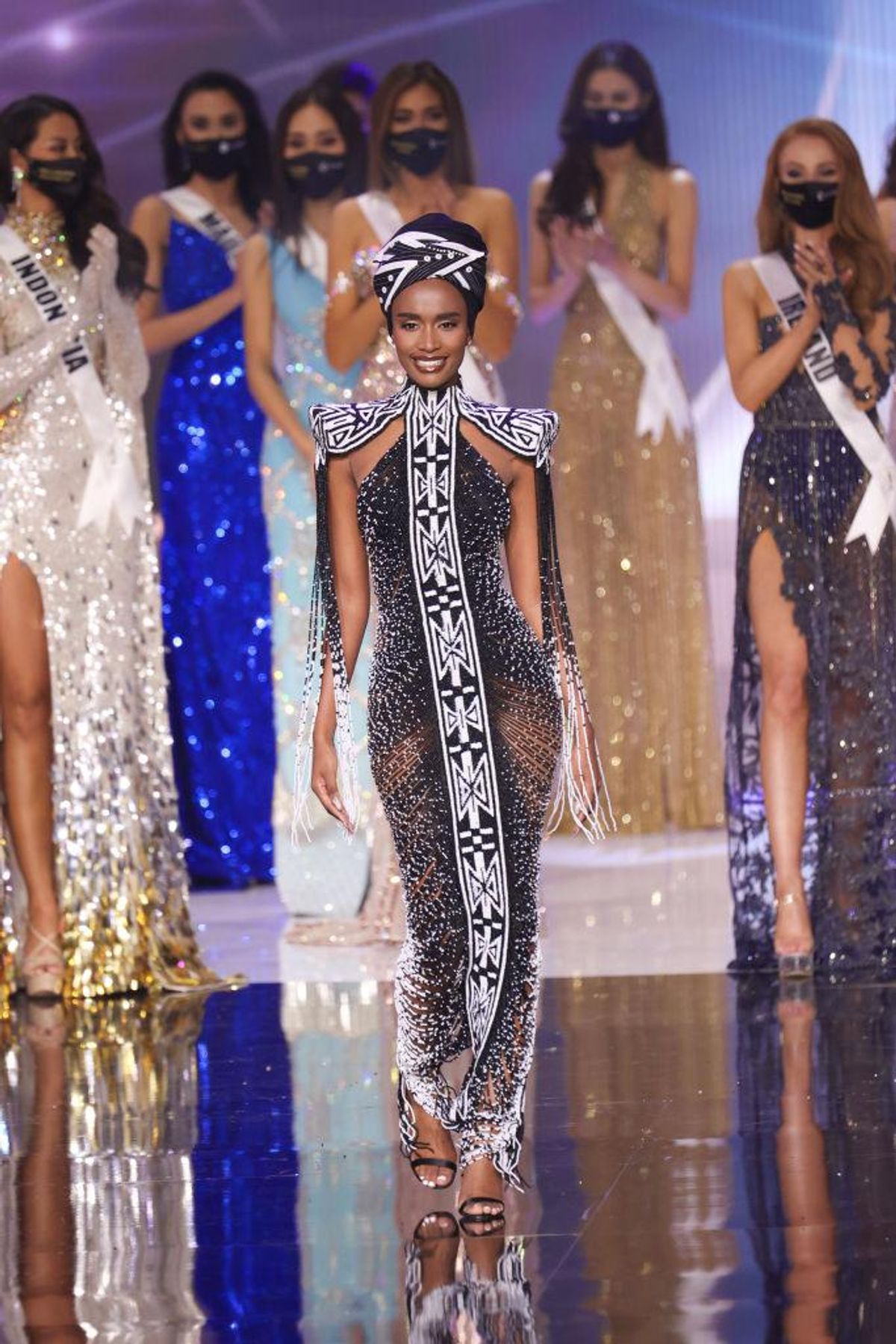 Photo by Rodrigo Varela/Getty Images.
Clad in an exquisite Xhosa gown and headwrap, Zozibini Tunzi handed over her Miss Universe crown as her unforgettable reign comes to an end.
South Africa's Zozibini Tunzi, the former Miss Universe, handed over her crown to Miss Mexico, Andrea Meza, last night at the 69th annual Miss Universe pageant. Having won the title back in 2019, Tunzi became the longest reigning queen in the pageant's history. And while the night was certainly Meza's, Tunzi undeniably stole the show in an exquisite Xhosa gown, choosing to wear a headwrap instead of her crown, as she made her final and graceful walk, bidding her fans farewell.
---
READ: Zozibini Tunzi, Elsa Majimbo, Bonang Matheba and More Nominated for Nickelodeon Kids Choice Awards

Designed by Biji La Maison, the beloved couture fashion house that is popular with celebrities including Bonang Matheba and Ayanda Thabete, Tunzi's exquisite Xhosa gown was a black-and-white beaded extravaganza with the headwrap to match. admittedly, she looked as breathtaking as she did when she first won the crown.
In an emotional speech that spoke to her fervent desire to see change as a result of her reign, Tunzi said:
"From the moment I won, I knew my reign would be different, but I never imagined it would be during a global pandemic. My Miss Universe win is my ancestors' wildest dream. We are now in a world where a Black African girl from a country that is only 27 years into democracy can represent them on the global stage. I want to honour them for fighting for my freedoms so I could be where I am today. I'm proud to know I did my best to make a difference, cementing a footprint for others to follow in the future."
While Tunzi was the first Miss Universe to have to navigate her reign during the COVID-19 pandemic, she used social media and the power of the virtual world to reach even more people. She advocated for increased mental health awareness and under the online banner of #UniverseUnited, Tunzi spoke about many the issues she felt passionate about and wanted to spotlight.
There's an ongoing conversation about whether beauty pageants in general should even exist. However, Tunzi, who flew the flag high when it came to dispelling Eurocentric standards of beauty, unashamedly displayed her cultural pride and spoke about the power of educating young women and placing them in positions of leadership, changed the perception of beauty queens for the better. She has undoubtedly set a high standard for those who will come after and her own reign will forever remain unforgettable.
Here are some reactions from social media about Tunzi's final bow.