"You can take your white saviour complex and your privilege elsewhere," says the Rwandan TikToker
Zuba Mutesi
in her now infamous clapback to the American TikTok star
Charly Jordan
. Mutesi's response questions Jordan's entire premise. Is she really stuck in a Rwandan quarantine center? Is this all some sick stunt for clout?
---
Internet users from all over the African continent yesterday were dragging Jordan, a social media influencer known for her..., for claiming that she tested positive for COVID-19 while on a visit in Rwanda.
"The f***ing government showed up at my place, and came and dragged me away from everybody I was with", Jordan says in the video. "I don't speak the language, and they locked me in this fucking room. And I can't leave."
With over three million followers, the news of Jordan's coronavirus debacle reached international shores and landed back in Rwanda. Mutesi, a Rwandan national who is fluent in English and sarcasm, carefully dissected each claim Jordan made about Rwandan coronavirus testing procedure.
In the video, Mutesi claps back at each claim Jordan made about coronavirus testing and her treatment by Rwandan officials. Firstly, Mutesi corrects the outdated claim that Rwandans don't speak English by substantiating with her own coronavirus test experience which was conducted and communicated in English.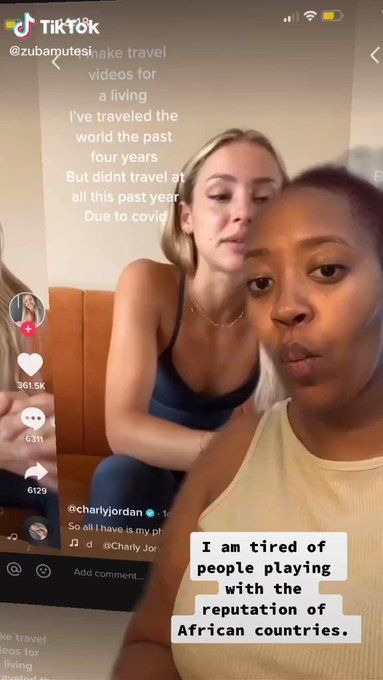 Twittertwitter.com
Jordan later on apologised to millions of her followers for travelling in the midst of a pandemic while positive. Realising that her story had plot holes, Jordan further went on to explain that she had received a false-positive test result before travelling to Rwanda and that was what she was trying to explain to Rwandan officials. In an effort to strengthen her argument, Jordan stated that she was working in collaboration with a Rwandan conservation for mountain gorillas and that was her reason for travel. Mutesi was unmoved by the "white saviour" trope and said she should have just stayed at home.

Jordan's false claims are another treble in the waves of unsolicited incorrect perspectives about Africa. BBCrecently released an article claiming that poverty was the main reason for low coronavirus deaths in South Africa. The article received major backlash and calls for it to be retracted soon ensued.
Mutesi is one of many Africans who are tired of the skewed perceptions of Africa and should be applauded for her fiery and fact-based clapbacks to ignorant Americans.