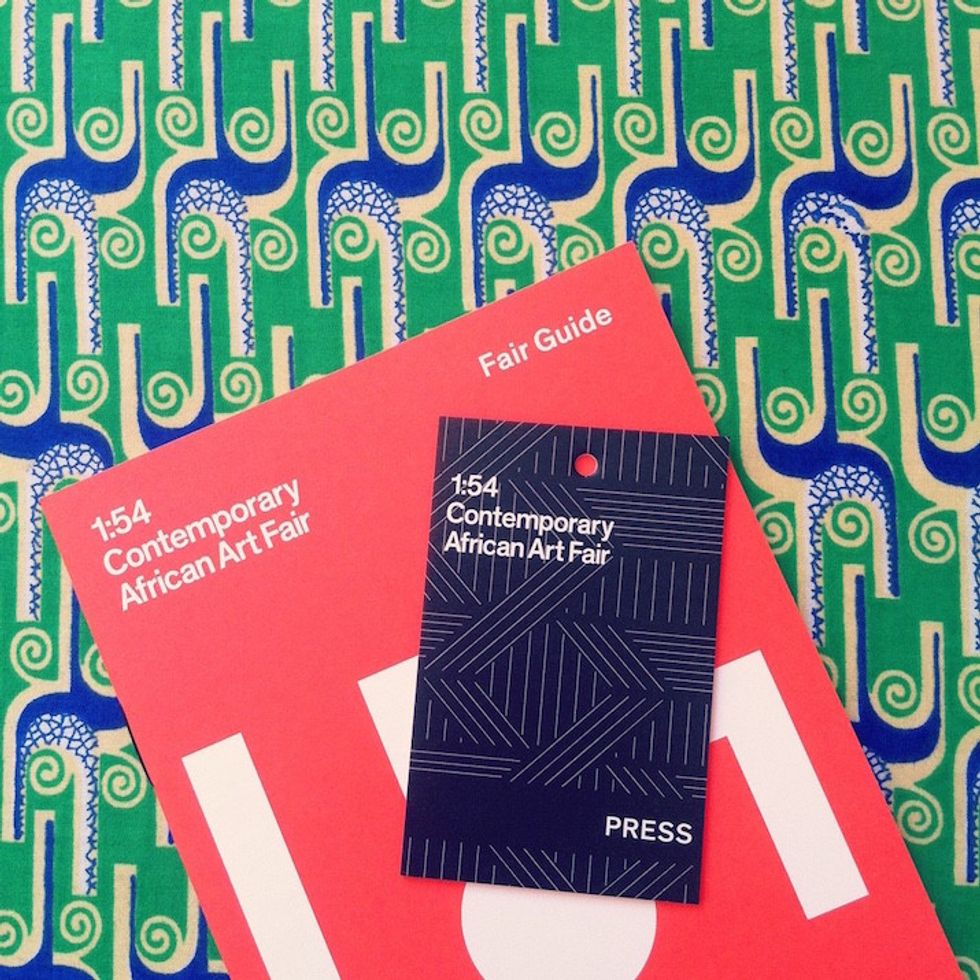 ---
Photo: Alice McCool
Last week, Europe's leading contemporary African art fair returned to Somerset House in London for a third year. Featuring 36 exhibitors representing more than 150 contemporary artists from Africa and the African diaspora, there was a real feeling in the air that this is the time to be experiencing African art.
Based on some of the works which inspired me most at 1:54, I decided to focus on artists who make use of traditional aspects of African cultures within their contemporary art. Although admittedly African art is all too often placed against the backdrop of its 'cultural values,' many artists at 1:54 took this topic on in new and exciting ways.
From combining ancient artifacts with contemporary materials, to blurred lines of what it means to be 'traditional' or 'contemporary', how do artists at 1:54 interpret African traditions and their role on the continent in 2015?
Ndidi Emefiele

Ndidi Emefiele (Courtesy of Omenka Gallery)
Ndidi Emefiele's Rainbow paintings are of Nigerian women with traditional Yoruba style bodies wearing ornate sunglasses.
Emefiele challenges how Nigerians consume and recycle by using discarded materials; fabric offcuts for pieces of clothing, compact discs for sunglasses.
Though CDs are a past technology now, paired with the women's alien-sized heads, the use of the discs gave the paintings a spacey, futuristic feel.
Speaking with Okayafrica, Emefiele explains that historically, Yoruba exaggerate the size of the head in their works to imply it is "the most important part of a person's body." The head is said to carry a person's destiny.
As a call for female empowerment, Emefiele plays with classical notions of beauty and looks to portray women "contrary to what she grew up to perceive a woman as" in northern Nigeria. My own notions of beauty were called into question when I looked at the paintings, which initially seemed asexual and childlike rather than representative of the emancipated woman.
But Emefiele's woman is powerful. She defies conventions. She has strengths and accomplishments far beyond domestic or traditional obligations, but does not leave her culture behind within this. Emefiele says that her use of West African fabrics—which maintain strong emotional and cultural narratives through the printed patterns—are an ode to previous generations of Nigerian women, particularly mothers.
Hervé Youmbi

Hervé Youmbi (Courtesy of AXIS Gallery)
Hervé Youmbi's Faces of Masks takes on the relationship between traditional and contemporary perhaps the most literally in this clever work. Youmbi questions the Western idea of 'one tribe one style' for African art by merging different African identities to create a new cultural object.
The Central African Republic-born, Douala-based installation artist commissioned the Bamileke craftspeople of western Cameroon to create a Ku'ngang mask incorporating the face of a Dogon mask from Mali.
Bamileke leaders authorised another artist, Hervé Yamguen, to activate the mask through ritual as part of his inauguration into the Ku'ngang Society, which Youmbi filmed. What is traditional or authentic isn't clear. This is deliberate and is a comment on the Western tendency to distinguish between 'traditional' and 'contemporary' African art.
Youmbi's sense of humour in this work makes its way into the accompanying text, where the viewer can read descriptions of the work both as an exhibit in a history museum and in a contemporary art gallery. I wonder what he would label my description.
Namsa Leuba

Namsa Leuba (Courtesy of Art Twenty One)
At first glance Namsa Leuba's photographs look like straight up, sexy high fashion. While there are elements of this, their examination of the "representation of African identity through a fabricated lens of Western imagination" adds a fascinating layer to her work.
For Leuba, this Western imagination is her own. Brought up in Switzerland to a Guinean mother, a personal narrative runs through Leuba's The African Queens series as the artist reconciles her European upbringing and African cultural heritage.
Leuba's anthropological experiments depict rituals, statuettes, and masquerades she's experienced while visiting witch doctors in her mother's ancestral homeland. The artist explained to Okayafrica that these pieces are a "reflection" of traditional statuettes, "which you see first as objects, and then you see the human being." This contrasts with her photographs, where the viewer sees the human being first, and then the statuette. By placing artifacts in constructed studio settings, Leuba plays with the idea of Western perceptions of African culture. Clever.
Masimba Hwati

Masimba Hwati (Courtesy of KooVha Gallery)
Zimbabwean multidisciplinary artist Masimba Hwati's works at 1:54 are part of the KooVha Gallery's Energy of Objects collection which explores "local narratives of material culture; reflecting on the political, historical and social flows in a changing urban landscape."
Hwati takes on this anthropological stance through his use of historic cultural objects and exploration of their symbolism within traditional knowledge.
Placing these objects in urban contexts and fusing them with contemporary objects such as skateboards, Hwati considers the role of indigenous beliefs in today's Zimbabwe.
The near-afrofuturistic aesthetic of the items Hwati melds together perhaps suggests the importance of maintaining traditional cultures as urbanisation takes hold, and the benefits this holds for the future.
Eddy Kamuanga Ilunga

Eddy Kamuanga Ilunga (Courtesy of October Gallery)
With an interest in history and cultural formation, Eddy Kamuanga Ilunga's Mangbetu series pays tribute to the traditional culture of the Mangbetu people.
An ethnic group known for their distinctive practice of elongating heads from birth, the Mangbetu resisted colonisation and culture diminished during the post colonial period.
Having visited the last of the group's survivors, the Kinshasa-born artist depicts Mangbetu people in solitary, mournful positions, surrounded both by traditional and contemporary symbolism.
Alongside bodies painted with "clean signs of contemporary technology" as a representation of urbanisation in Congo, the figures are draped in traditional fabrics, symbols and tools created by the Mangbetu.
Bright and beautiful colours aside, Kamuanga Ilunga uses the Mangbetu as a symbol for the marginalisation of traditional cultures. Calling into question the place of such communities in contemporary Congolese society, the works left me contemplating the human cost of modernization on the continent and beyond.
Alice McCool is a freelance journalist, anti-corruption campaigner and masters student at the University of London's School of Oriental and African Studies. You can tweet her at @McCoolingtons.