This profile is part of OkayAfrica's ongoing series, THE WAV 2019, following the young artists shaping the future of the South Africa's music scene. You can read more profiles and interviews here.
AKA was so moved by up-and-coming Pretoria rapper and producer 25K's single "Culture Vulture," he gave him a slot on his monumental Orchestra on the Square concert in March.

"The whole process when Kiernan (AKA's real name) reached out," recalls 25K, who will later admit AKA is one of his favorite artists, "that was like a dream come true for me. We were doing a gig, when I got home, I got a text, and it said, 'Yo, this is Kiernan, hit me back.' So, I saved the number, I was like, 'Yo,' then he FaceTimed me. He was like, '25K, I just had to reach you, dawg. Your song is great,' So, I was out of words. Just listening to him talk to me. He was like, 'Bro, we need to cook up something.' But eventually, time will tell. So the people will get to hear."
Thabiso Khathi, the respected hip-hop head & record label executive popularly known as Hip-Hop Scholar, as well as the newly appointed Head of Urban at Universal Music Group South Africa, lets the cat out of the bag. "I don't know if the world knows that AKA officially jumped on the remix for 'Culture Vulture,' which we will be bringing out in the next few weeks," says Scholar. Today, him and the label have gathered journalists at the Universal Music Group headquarters in Rosebank to witness the young artist's signing.
---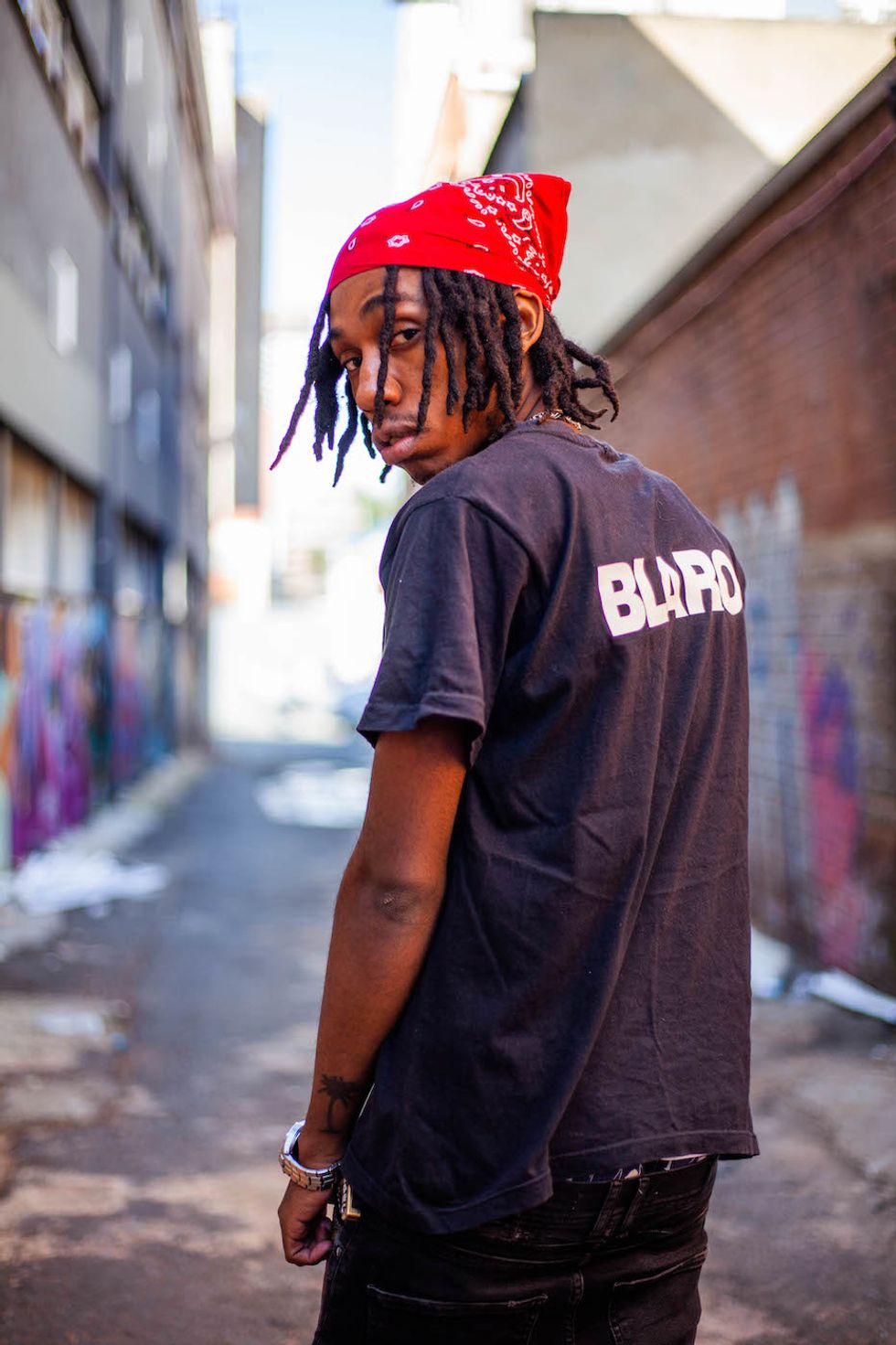 Photo by Sabelo Mkhabela.
"About two months ago," says Scholar, "a friend of mine, DJ Vigilante, sent me a YouTube link of a song by a kid out of Pretoria. This kid out of Pretoria had just put out a video at the time, he had less than 100 views on it. I listened to this song, and I sent the link to a couple of people, just to make sure if I was hearing right." Scholar then dived into 25K's DMs on Instagram to set up a phone call. Fast forward a few weeks and both parties were satisfied with an official contract. 25K is given a pen and signs the deal with Universal right in front of us.

25K - Culture Vulture (Official Music Video)www.youtube.com
"Culture Vulture" may be buzzing right now and landing on thousands of new ears, but it was released three years ago, in 2017. The music video was shot a year and a half later. "All the coins we put into this song, they paid off now," reflects the 24-year-old artist. "But I've got a lot of songs actually, so I could have gone the other route, dropped them as a batch, but I just focused on pushing this specific song for three years. This is the feedback that I got working with other artists and Universal finally reaching out, so I'm saying from here, what comes after is actually gonna be some of the best stuff I've put out."

The artist realized he had something special in his hands through live shows. "When I perform," he says, "sometimes I perform unreleased songs, then I perform the songs that people know, but specifically when I perform that song, it gets lit."
"Culture Vulture" is the type of song you hear once and want to hear over and over again. It's the unconventional hook that takes control of your soul, aided by verses rapped with a sense of urgency over a distorted bass line by frequent 25K producer Mega Beats. "Culture Vulture," like most of his music, is for the streets—from the stories being told to its aesthetic.
"I felt like that sound," says 25K, "I was the first person to come up with it, so for anybody to come with something similar to that, they would be a culture vulture to me."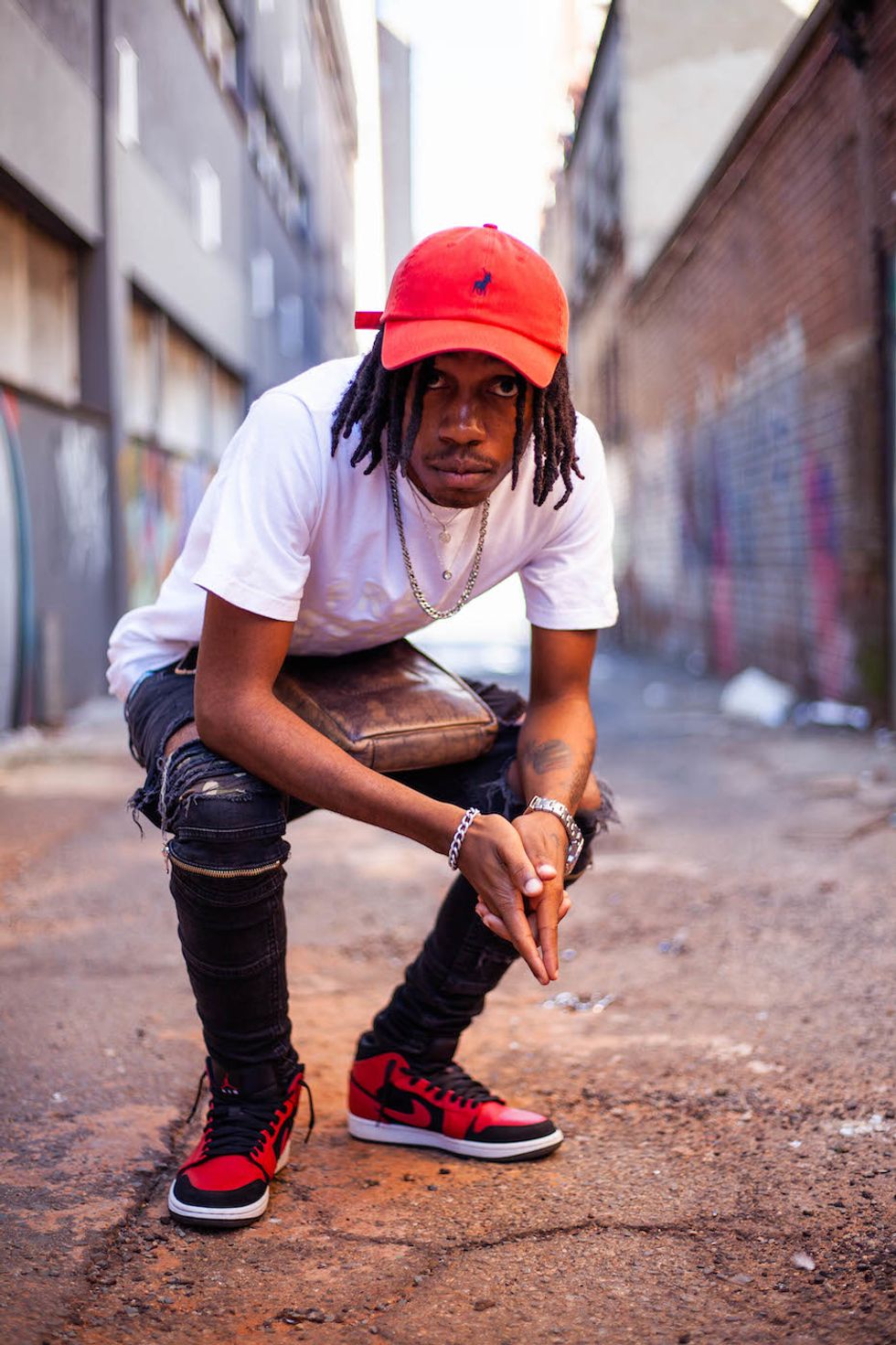 25K's music reps Atteridgeville, Pitori to the fullest. Just like many artists all over the continent, the artist is highly influenced by current US trends, but he ensures to stamp it with his identity and personality it becomes his. "But there's that influence, you can hear this kid listens to so-and-so, so it's weird that my sound is actually overseas-influenced, but when I give it to the people, it's original South African," he says. Beyond trap, which is his sound of choice, 25K has rapped over amapiano beats, the latest popular house music sub-genre that is believed to originate in Pretoria.

25K's SoundCloud has plenty other gems—"Netflix," No Sleep," "Tshwara Nyana," Makaveli," "Free Mashobane" and many others. The artist started his music career in 2013 after finishing school, where he was already selling mixtapes to his mates. At a point in time, he realized that releasing music aimlessly, no matter how great it is, just won't cut it. "I was making beats," he says. "You know with my name not carrying weight, it was hard for me to convince artists to get my beats for placement. As I was making beats, rapping along to my beats, I was like, let me just make a mini EP." The project resonated with fans in the hood. "I used to kick freestyles over other artists' beats. So people were like, 'people will actually appreciate you when you have your own sound.' So, I dropped this other one called 'Free Mashobane.'"
William "Mashobane" Mbatha aka King of Bling is a Pretoria tycoon who was imprisoned to an effective 35 years in prison in 2012 for several crimes. "Being in the hood," says 25K, "those are the types of role models that we have. Those are the people that you look up to, like an OG. So growing up, looking at a young black man coming up in the hood, driving nice cars, living lavish, kind of gives you that motivation."

25K's music contains that same hustler spirit. From his epithet, "The Plug," to the metaphorical references of pushing weight on the skreets. It's similar to the rap game, especially for an indie artist in the hood. "The Indie hustle is hard," he says, "It's hard to convince someone to invest in you, so when you believe in what you're doing, you don't mind putting in the effort and the coins. So, [I was] saving money from gigs and side hustles." He used that money to ensure a certain quality in his music, and to shoot the music video.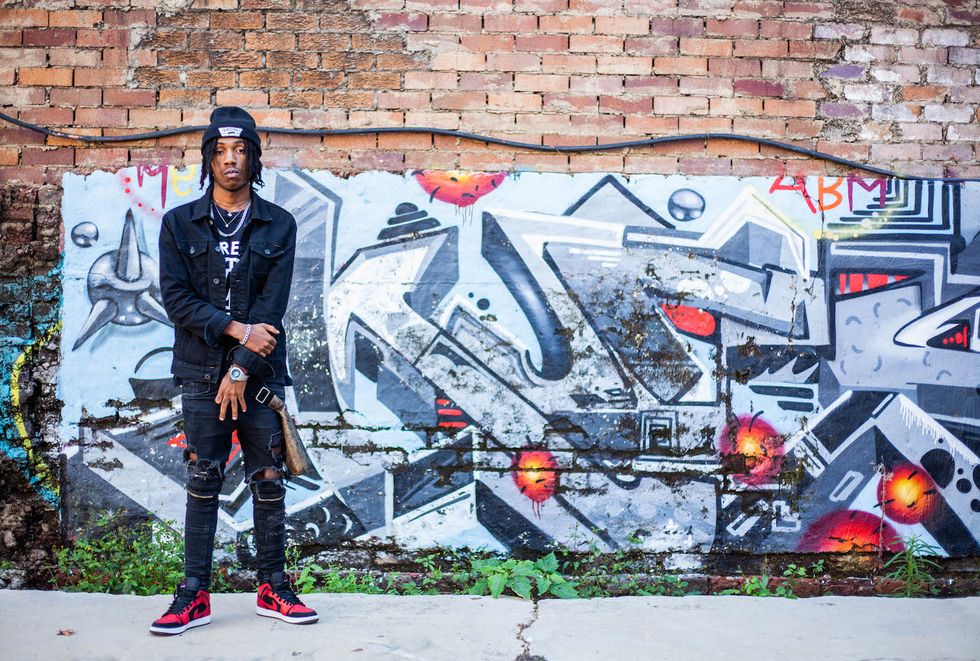 Photo by Sabelo Mkhabela.
For an indie artist, 25K has done well. He has found himself on stage at huge festival such as Homecoming, and has worked with super producers Tweezy, Zoocci Coke Dope and DJ Maphorisa. He would like to add Gemini Major, Master A Flat and "maybe a couple of international producers" to the list.
So why the name 25K? "When I was making beats," he says, "I kinda had that thing that if I made it big and I were to sell a beat, how much would it cost? So I came up with 25K. So I think I should be worth 25K in weeks."
25K is working on new music that currently has no release date yet. When the "Culture Vulture" remix drops, you'll be the first to hear. In the meantime, get familiar with his music, listen to his 2017 EP, I Came From The Bottom below.
Follow 25K on Twitter, Instagram, Facebook and SoundCloud.