The air was thick with anticipation as I made my way through the crowded facade of the Front/Back restaurant, a private club nestled in Osu, one of the busiest suburbs of Accra. The sound of bass reverberated through the hallway, growing louder with every step. The source of the sound was iMullar Sound System (IMSS), the most prominent player in the city's growing sound system culture. As I approached the main venue, I could feel the energy of the party pulsing through the air, drawing me in.
Ghana is a country of music, and nowhere is this more evident than in its capital city, Accra. Here, music transcends just something you listen to; it's a way of life. And this culture is very palpable in the city's burgeoning sound system space.
Stepping inside, I was immediately struck by the sheer number of revelers already dancing. Towering stacks of speakers stood on either side of the space, their cones throbbing with the beat of the music. Combined with the crowd's cheerful glee, that I could already feel in my chest, I knew this was going to be a party like no other.
The culture of sound system parties emerged in Jamaica during the 1950s and '60s as a means of enjoying music outside of formal venues. With labor shortages in the U.K. following World War II encouraging mass migration, this vibrant culture arrived in British cities and proliferated — as established pubs and clubs proved to be unwelcoming, and mainstream radio stations weren't playing Jamaican music. Today, the sound system culture is still vibrant, seeping into different regions, influencing and shaping music across diverse audiences, with collectives stacking up speakers and transporting their sounds to street parties worldwide.
Here in Ghana, the rise of sound system parties is closely linked to iMullar Sound System. It's a creative agency started by Maxwell Adjavon, a music curator, culture architect, and founder of the iMullar network, the Ghanaian-based music platform for spotlighting new music talents from across the African continent.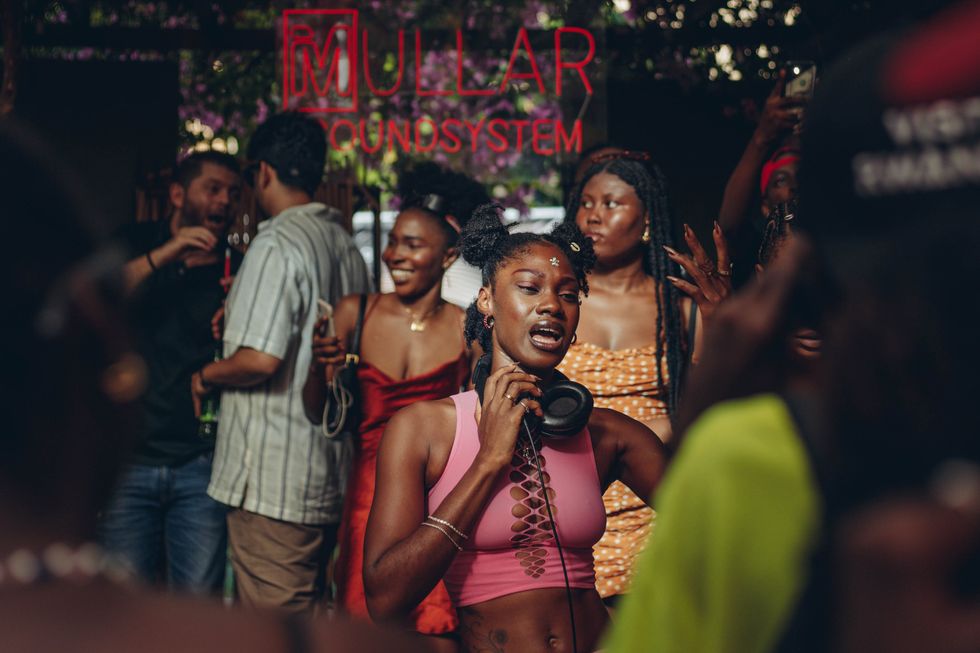 Photo by Gus Sarkodee for iMullar.Party revelers at IMSS Energy 06 in Accra, Ghana.
As someone passionate about quality music and a desire to bring people together, Adjavon birthed the iMullar Sound System idea back in 2018. But it only came to fruition when he came across a creative grant in 2021. "The whole iMullar Sound System idea started as a document baby since like 2018, and it was in my iCloud for a while," Adjavon said in an interview with OkayAfrica. "I pitched it to Havanna Club in 2021 when a friend of mine, Ekow Barnes, sent me a link to a creative grant organized by Havana Club for party-makers. Fast forward, we were chosen out of 600 submissions worldwide and we were part of the final nine that got a grant of 5,000 euros."
With the support of a grant, Adjavon was able to invest in his passion, acquiring top-of-the-line equipment including a DJ controller, GoPros, cameras, and other essential gear. It was the start of a cultural renaissance, a new era of sound and style that would come to redefine the vibrant party culture of Ghana's capital.
Today, iMullar Sound System reigns supreme as the premier party-makers of Accra, leading the rise of sound system parties in the city. With a dedication to pushing the boundaries of music and entertainment, their parties often stretch well into the early hours of the day, leaving attendees with unforgettable memories and a yearning for more.
A typical iMullar Sound System event is usually themed, consists of different DJs playing several mixes, and features an ever-ready crowd of revelers. "With the selection of DJs, there's no rigid criteria, it's more of the feeling we want to evoke at the party," Adjavon explains. "Our very first event was all female DJs, and the atmosphere was charged differently and the guy's edition too was different. We don't even tell DJs what to play."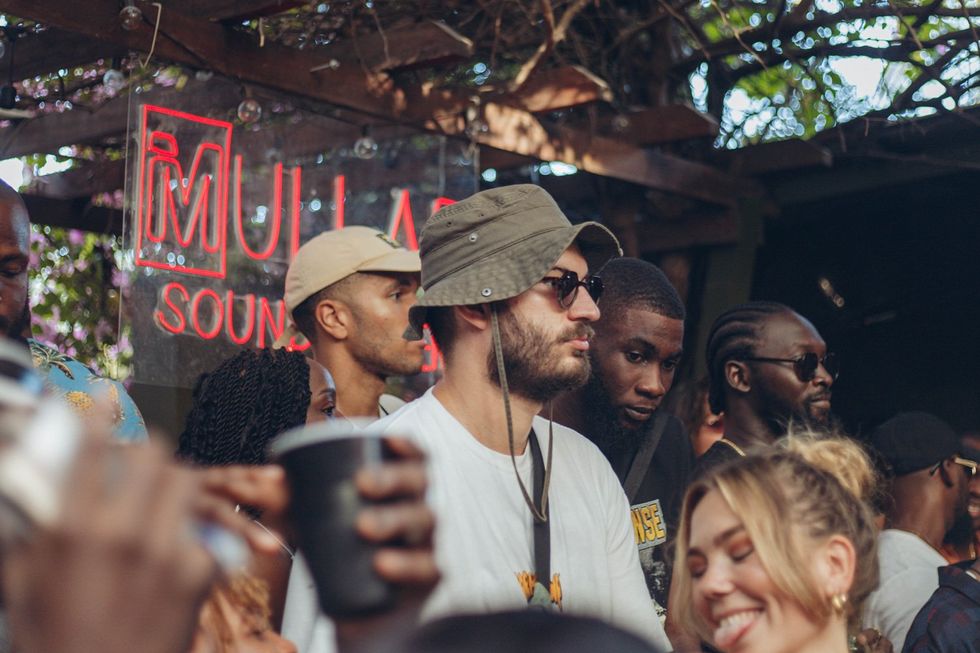 Party revelers at IMSS Energy 06 in Accra, Ghana.Photo by Gus Sarkodee for iMullar.
With the creative freedom iMullar Sound System gives DJs, the sound of music and the nature of partying is changing here in Accra. Through their eclectic parties, iMullar Sound System is breaking the mold of traditional partying and inspiring other party makers to explore beyond the boundaries of conventional styles.
"Since we started, we have gingered a lot of other communities to start doing their thing and being vocal about it, which is a very good thing. With the rise of our own sound system and other sound system events, it looks like events will no longer be one way, music will be diversified. And we will be that bridge bringing mainstream to alternative."
At iMullar Sound System events, diversity is celebrated, and the crowds are loving it. "People are listening wide, exploring different genres," says Adjavon. Their parties are a breath of fresh air, deviating from typical Afrobeats-only experiences to incorporate AfroTech, Gqom, Amapaiano, and Afrobeats fused with other genres.
But, it is more than just a music event; it's a community, a gathering place for individuals from all backgrounds who share the same love for music and having a good time. "At the end of the day, [iMullar Sound System] was an idea created to give the youth, freedom to express themselves. If you come to our events, there are no outfit or footwear restrictions, There are no no-smoking sections," explains Adjavon. "It is a safe space where everyone can have fun, catch a vibe, and enjoy quality music."
With iMullar Sound System revolutionizing the party scene, DJs are being placed in the spotlight and given newfound recognition. Afrolektra, a Ghanaian DJ and music producer, credits the rise of sound systems for enhancing his career. He explains, "Unlike the nightlife scene where DJs are unsung heroes, we have sound systems putting DJs in the spotlight."
For him, iMullar Sound System offers a refreshing space for DJs who play alternative music classified as house, gqom, and electronic to thrive in Ghana. Baaba Baadu, another DJ, attests to the confidence boost she has experienced since regularly playing at iMullar Sound System events. As a female DJ, Babaa feels emboldened to share her sound, saying, "I've become more and more confident in my sound, iMullar Sound System has created a community for DJs to showcase their talents and provide a platform for quality music."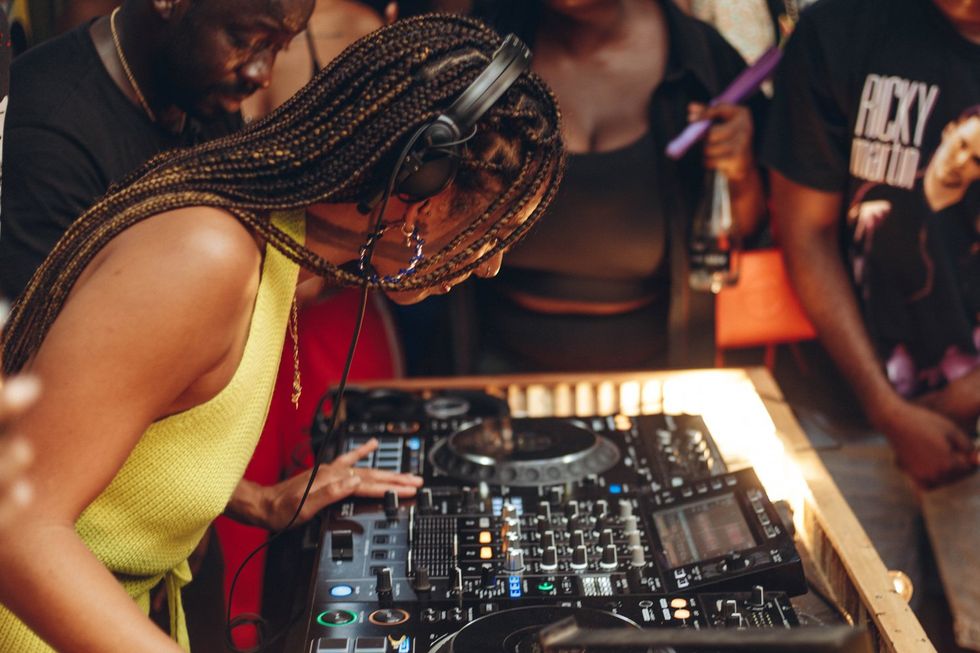 Party revelers at IMSS Energy 06 in Accra, Ghana.Photo by Gus Sarkodee for iMullar.
As I stood in the middle of the dance floor, surrounded by a sea of smiling faces, I felt a deep sense of gratitude. Gratitude for the music, for the community, and for the people who had made it all possible. iMullar Sound System may have started out as a seemingly niched event, but today, they are a symbol of hope and unity for the people of Accra. A beacon of the rising sound system culture in Ghana.

As the day drew to a close for me, I knew that I had witnessed something special. Something that could not be fully captured in words or pictures, but had to be experienced firsthand. The rise of sound system culture in Accra is a story that is still being written, but one thing is certain: iMullar Sound System will always be at the heart of it.
Their goal is not limited to impact just in Accra. In the words of Adjavon, the aim is to "take it global" and the plans are already in motion. "We have a few things lined up that I can't speak about right now. We have plans of taking it global and touching every space with our culture," he says with a smile. "We envision our community not only being in Ghana but all over the world because already we have our DJs all over the world."