---
There can be no doubt that African Fashion Week Los Angeles was a success as a first step in the development of African fashion in LA. The event achieved its goal of gathering fashion designers from the continent and raising their profile stateside. Amongst the designers showing their pieces, creativity and exploration was the compulsory base. We spoke to a representative from AFWLA below. 
Artwork by Michelle Robinson showcased at AFWLA. "IDENTIFLY" photographed by Aiza Lyn Redubla.
What is AFWLA? How would you describe it?
Africa Fashion Week Los Angeles (AFWLA) is a unique and innovative event focused on bringing investors into Africa, encouraging trade and export, and promoting African cultures. Our objective is to enhance the African textile and clothing industries by providing a platform for established and emerging African designers to showcase their talents to a broad audience. AFWLA allows designers to take advantage of global opportunities and gain international exposure while growing their businesses and boosting the African economy. Africa Fashion Week Los Angeles was founded in response to the growing need in the Greater Los Angeles area to have a cultural showcase that features dynamic African talent.
Who's behind it?
AFWLA was founded by Nnenna Obioha and Onyinyechi Egeonuigwe. They were drawn into the world of fashion show production when they realized that the fashion industry plays an integral role in supporting and developing small businesses and promoting entrepreneurship. Ms. Obioha and Ms. Egeonuigwe's vision is to bring African fashion to the international stage.
*Designer Tina Summer with a model wearing one of her creations photographed by Aiza Lyn Redubla
How long have you been in the fashion industry?
Onyinyechi, the Creative Director of AFWLA, has been involved in the fashion industry for several years. She has been involved in many aspects of the industry including working as a hairstylist for editorial spreads, runway shows, and commercial campaigns, and working in fashion show production.
Why did you decide to organize an African fashion week in Los Angeles?
The company chose Los Angeles because it's a powerful diverse market that plays an major role in fashion trends, and we're both based in LA.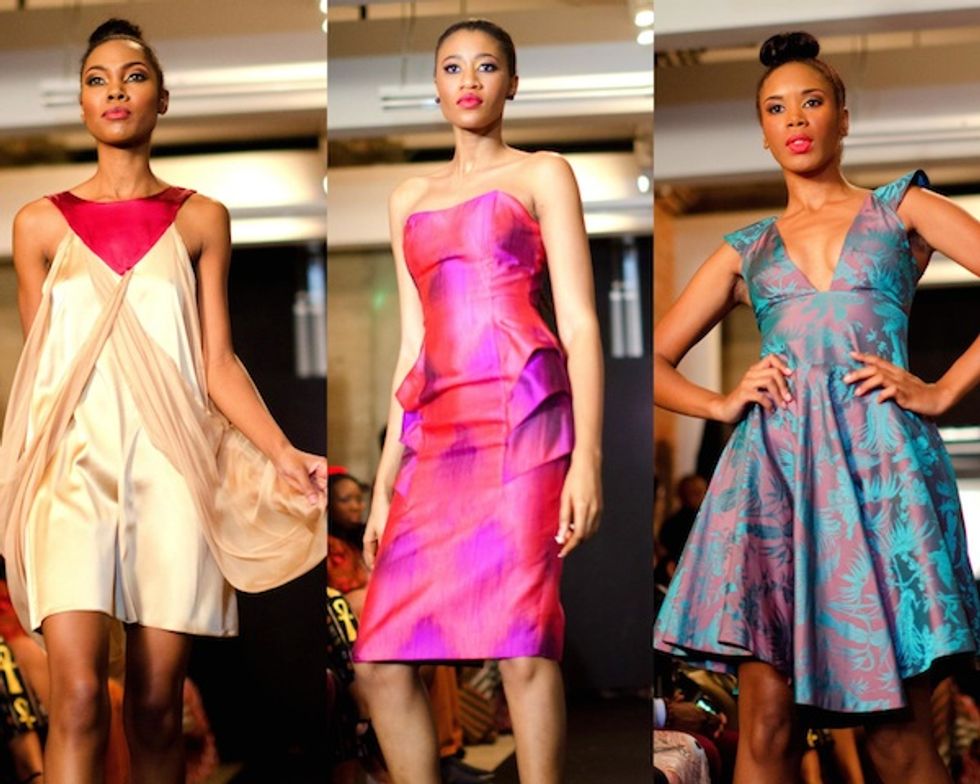 Today, we have the emergence of many "African fashion weeks" in many cities. Should "African fashion" also be present in "regular" fashion weeks? What do you think about it? Is there any discrimination?
The non-representation of black designers in "regular" fashion weeks has allowed for us to create this niche. However, the ideal situation would be for these designers to have just as much press and representation as their Caucasian counterparts. We would just like to see more color in "regular" fashion weeks. This is also the case for black models. It's important to us to promote the beauty that is the black woman. It should also be important to mainstream designers and "regular" fashion weeks as well.
What are you thinking of the African fashion industry today?
The African fashion industry has the potential to be one of the largest in the world. We have a great deal of diverse talent on the continent and in other parts of the world.
*Rue 114 photographed by Marcus Tremble
What are your hopes for the African fashion?
We hope that African fashion continues to grow and evolve. African fashion shouldn't be just about "trendy prints," which is why we continue to focus on promoting talented African designers.
What is your relation with the designers? What are the repercussions for them? Are you working with them after the exposition during the festival? If yes, how is it?
We have a professional relationship with our designers. We like to see them succeed as this is the main reason for AFWLA. The AFWLA team worked really hard to bring together a great network of people (press/media, vip guests, buyers and other fashion professionals) to enjoy each designers collections. We hope that they are able to use this network to continue their work and enjoy continued success.
*Rue 114 photographed by Marcus Tremble
How was this first edition? Are you happy with how it went down? Who were the emerging designers we should keep an eye on?
The first edition of AFWLA was fantastic. It definitely surpassed our expectations and confirmed to us the need for such an event. We are very happy with the outcome and we only want continued growth and success for the AFWLA brand. As for emerging designers you should keep an eye on, I would have to say all of them :). They are all insanely creative. With continued hard-work and persistence, they should all find success.