Emtee , Sjava , Saudi and their producer Ruff were able to give trap music a South African flavor . The artists, who are currently signed to Ambitiouz Entertainment , call the sub-genre they created African Trap Music and their label African Trap Movement .
Emtee, who's credited as the originator of the genre, is a top tier South African musician with multiple awards and a platinum selling album on his 2016 debut Avery . He has since followed it with a more refined sophomore, 2017's Manando and 2019's DIY 2 EP.
Saudi dropped his debut album D.R.U.G.S Inc in 2017, and, together with Sjava, appeared on the Black Panther soundtrack curated by Kendrick Lamar and TDE .
Sjava's debut album Isina Muva (2016) sold gold, and he has been one of the country's most loved artists since then. Last year, he won the People's Choice Award International at the B.E.T Awards last year. He released his sophomore album Umqhele in 2018, and it showed maturity and revealed an artist who's growing towards himself.
ATM is not just popular among hip-hop fans, but has managed to crossover. Their uplifting and relatable vernacular lyrics and fondness for blending trap with South African genres like Afropop, maskandi, mbhaqanga and even kwaito, have ensured they resonate with the average South African.
---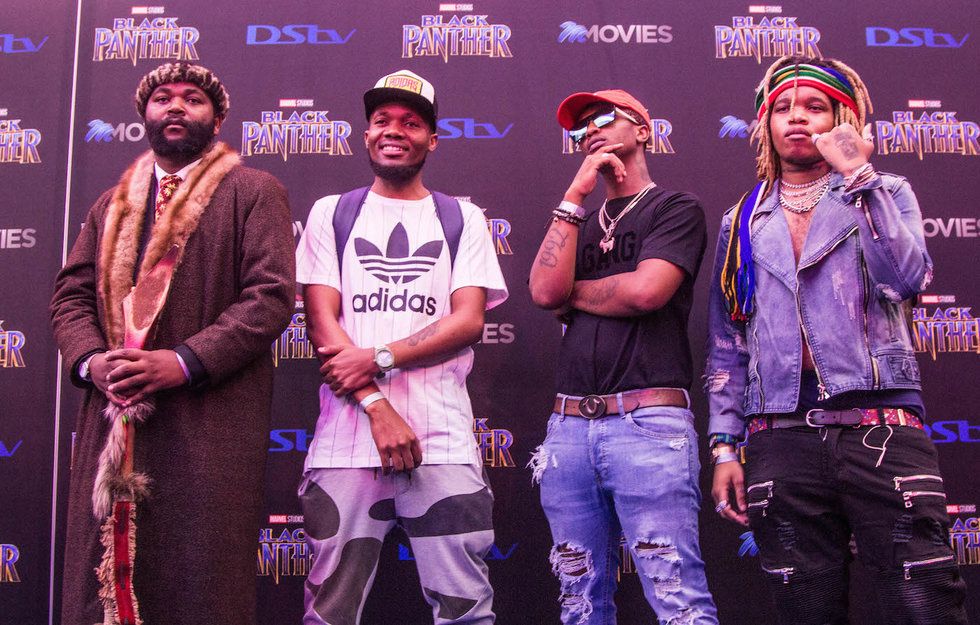 Sjava, Ruff, Emtee and Saudi. Photo by Sabelo Mkhabela.
ATM, however, extends further than Emtee, Saudi and Sjava.

Ranks, Sims and Just G are the newer members of the label. They are demanding to be heard, dropping singles consistently, hopefully building up to bigger projects.
ATM may seem new to many of us, but the homies go years back, since the 2000s. Lebo ATM is the label's manager who went to the same high school as Emtee. Together, they shopped their music to Ruff . Through him, they met MarazA , who worked closely with Emtee and Ruff.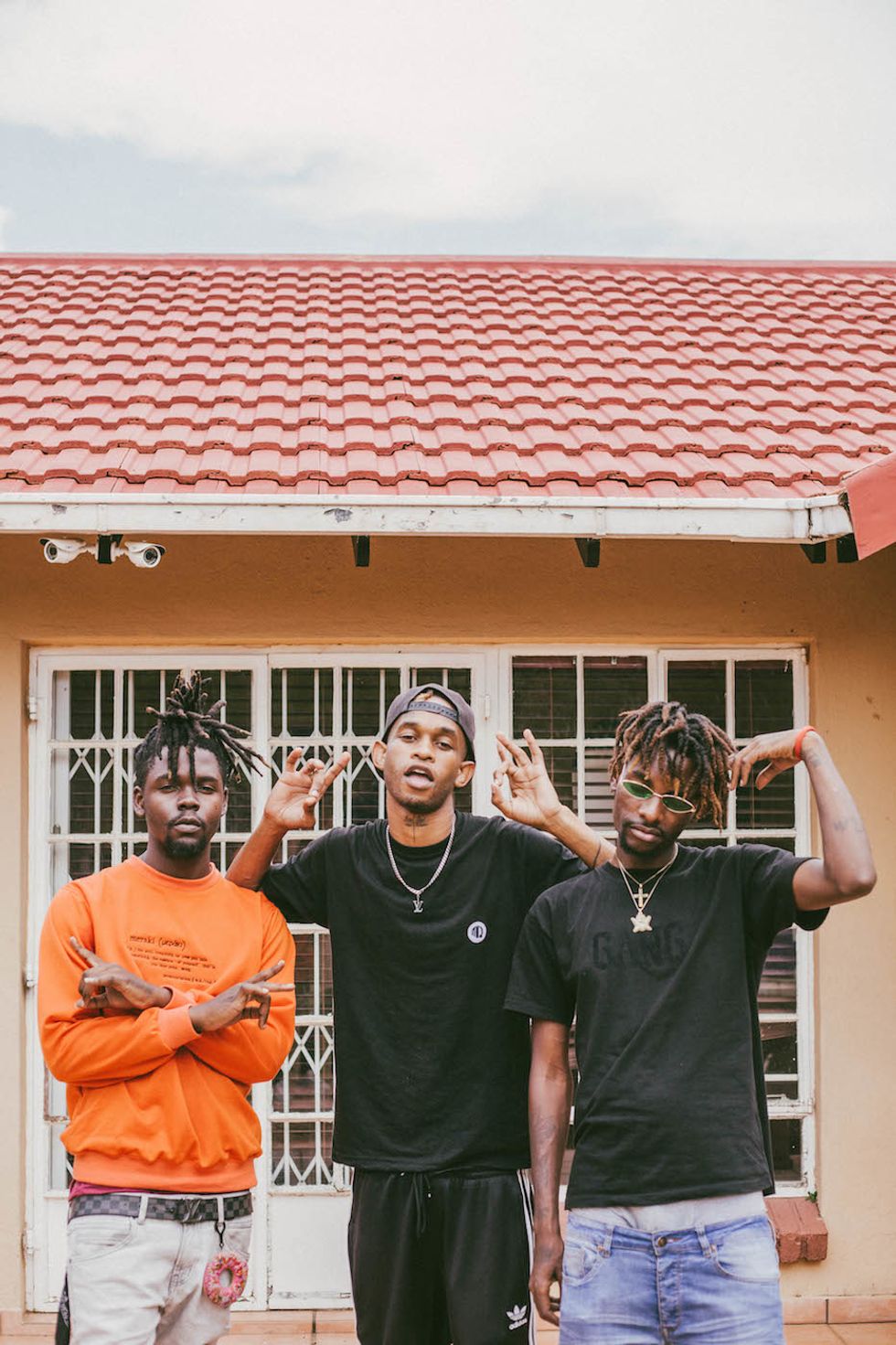 Sims, Just G and Ranks. Photo by Sabelo Mkhabela.
The come-up story of ATM is made up of the members looking out and bailing each other out when necessary. And, to this day brotherhood and the upliftment of each other and their fans is a huge part of ATM.

Asked how the journey has been, Lebo says:
"It's been both life changing, inspiring, and also there's been a lot of heartbreaks. It's been a great, great life journey for us. Most times, it's difficult. No lie. Because now it's a movement that was started by people who are signed. So, we are basically not signed. I don't know how I can put it, but I would say we are basically people behind the big stars, people behind Emtee Saudi and Sjava. It's difficult when you are behind someone because what you do is not really noticed until [someone like] Sjava references that this person did that. Also, if they are signed to a label, that means us as the movement, we don't dictate a whole lot of things that revolve around it."
Beyond the artists, the ATM family includes graphic and fashion designers and a videographer and photographer.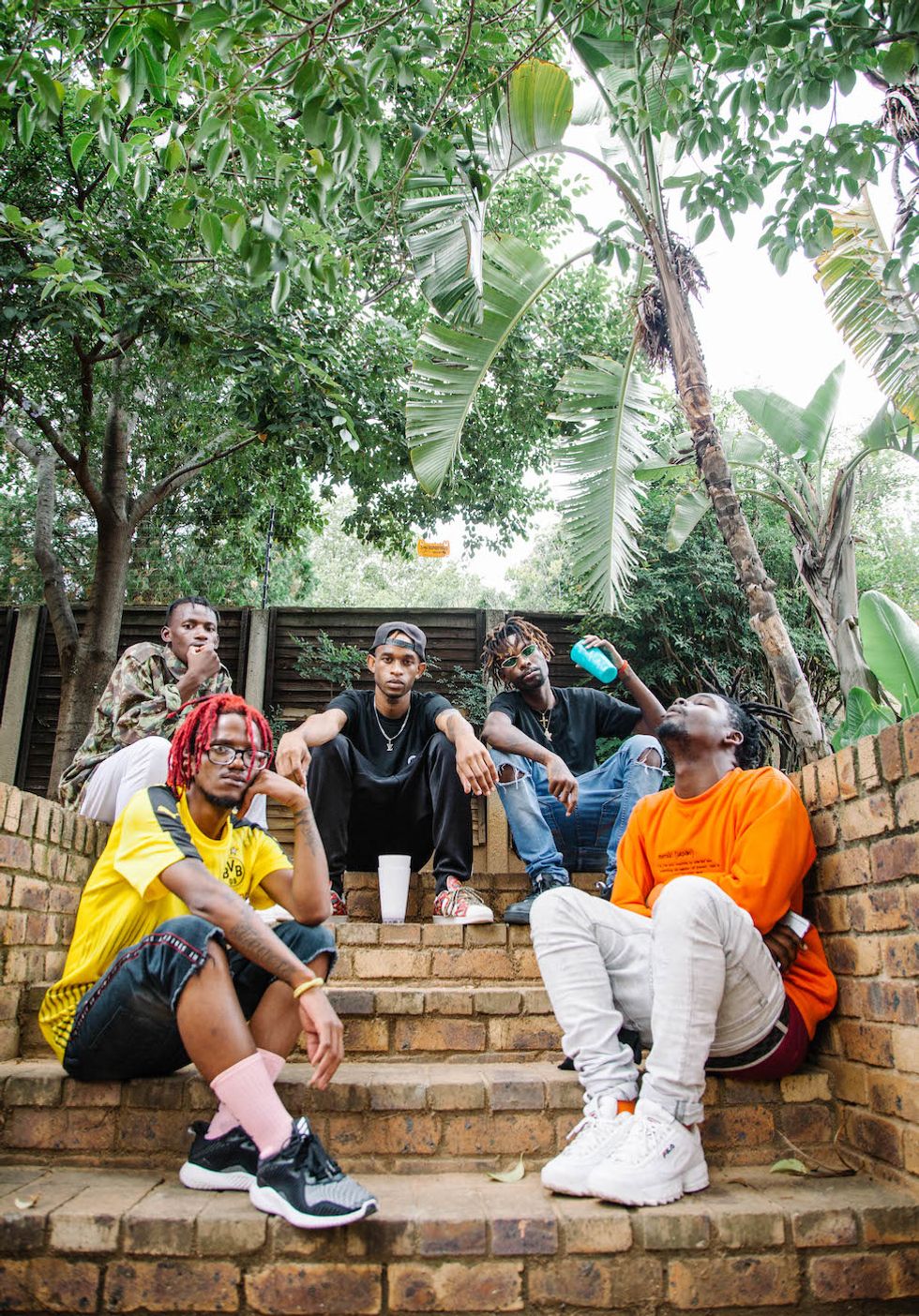 Photo by Sabelo Mkhabela.
This year, the crew's new members plan to release more music, and they are off to a great start. Ranks recently dropped the EP For The Skreets , while Just G just released "One Night," a followup to last year's "Uyasebenza."

In the following pages, we get to know the three new artist members of the crew; Ranks, Sims and Just G.
Listen to a playlist of key songs in the ATM catalog, hand-picked by us, on Apple Music here and Spotify here .
***********
Ranks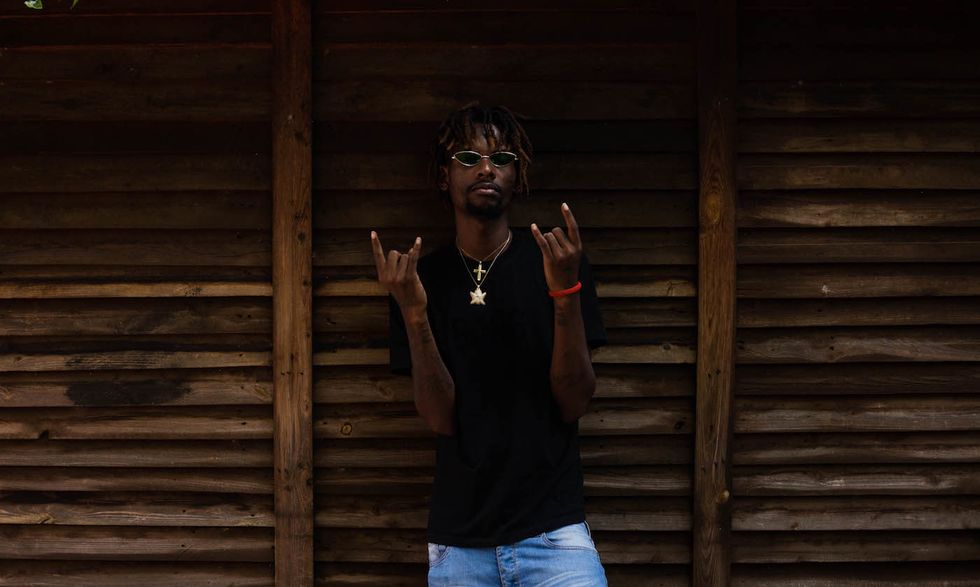 Ranks. Photo by Sabelo Mkhabela.
Ranks dropped "Asbheme," a catchy trap street anthem that officially announced his arrival last year. Just about a month ago, he followed the single up with a 7-track EP, fittingly titled For The Skreets . The EP is a joint project with super producer Tweezy , and also features production by The Gobbla , and appearances by DJ Maphorisa, Just G and Sims.

Ranks is originally from Nelspruit in the Mpumalanga province, and below, he lets us know how he joined ATM, how a non-existent hip-hop scene in his hometown saw him relocating to Joburg in search for opportunities, and what trap and ATM mean to him.
*This interview has been edited down for clarity
How did you become part of ATM?
Okay, so I came from Mpumalanga. I wanted be a rapper, but you know, things don't go exactly how you plan them to, and I'm not from a rich background, so I ain't never had money like that. I had R300 ($10) on me, right. I done heard about this studio in town called Dogmo. So, okay cool, I'm gonna look for this place until I find it.
I get to that studio, I find Ruff, SK and some nigga called Jolondy . Then I get in there, and to make a song, it's R1000 ($70). I only have 300, and had nowhere else to get the rest. It's over.
So, for me it was like, okay cool I really wanna do this thing and also I've never really recorded professionally, So I went to Ruff, and I went down on my knees, nigga, like, "Yo Ruff, look here, I wanna do this thing, please bro. Can you please just give me a chance? Let me do this thing." Ruff was like, "Okay cool, give me that small money you have, let's see what you gon' do."
So, now it's time for me to record, like yo, eish, I've never recorded professionally so ngenze njani? I'm like, "Yo Ruff, I don't wanna waste your time, bruh. I really love this, I wanna do this, but I've never done it professionally, I don't know where to start and how to go about it." So, Ruff asks SK to do the chorus. SK was like, "Hell yeah, we can do that." SK went into the booth, put down the chorus. Jolondy, he also a singer, he is like, "Yo I can get in this song too." I put the verse, the first song was made.
So, from there, I didn't have money anymore, but I come to the studio every day. Ruff always used to chase me out, and everyone else who came there without a reason, like, "Ey, nigcwalis' istudio." But 'cause we wanted to do this thing, we came every day. But you had to take it if you knew what you wanted, and that's what we did, so we started staying together. It was me, Ruff, Sjava and Jolondy. So, we stayed together, and the routine became: every day you wake up, you go to the studio, to the house, to the studio, to the house. That was the routine. We didn't party, we didn't do anything. That's the only thing we did. This was probably 2008-2009, somewhere there.
Ranks_ATM - Asbheme (Official Music Video) www.youtube.com
That is a long time.

Yeah, it's been a very long time, like it's been a very long time, and Ruff has been producing for a whole lot of artists. Your Cashtime s, K.O s, Maggz … and everyone, way before. But people don't really know, they sleeping on Ruff, Ruff is the best producer on this planet.
How is the hip-hop scene in Mpumalanga?
It doesn't exist. Whoever is doing something, is doing it in Jo'burg not there. K.O is from Mpumalanga, but he ain't never popped in Mpumalanga, but in Jozi, because that side, it doesn't exist. I was a rapper, and it was a very negative environment. Standard six, high school, all the boys that side they start carrying knives, they stab each other, that's their life. So, when I was wearing skinny jeans, being into this hip-hop shit, they didn't understand. But I was like, aight cool, I'm gonna do this, man, this is me, so lemme do this forever and ever, don't judge me. So 'cause there was nothing for me, I packed and I came to Jozi.
Please take us through the whole concept of your EP For The Skreets .
The whole concept of that tape, we didn't plan it. It's not like we sat down with Tweezy and said, "Okay cool, look now, we are working on this tape." I was mostly in studio with Tweezy, and almost every time, we were making songs. So we had a lot of songs, and we decided along the way we might as well make a joint project.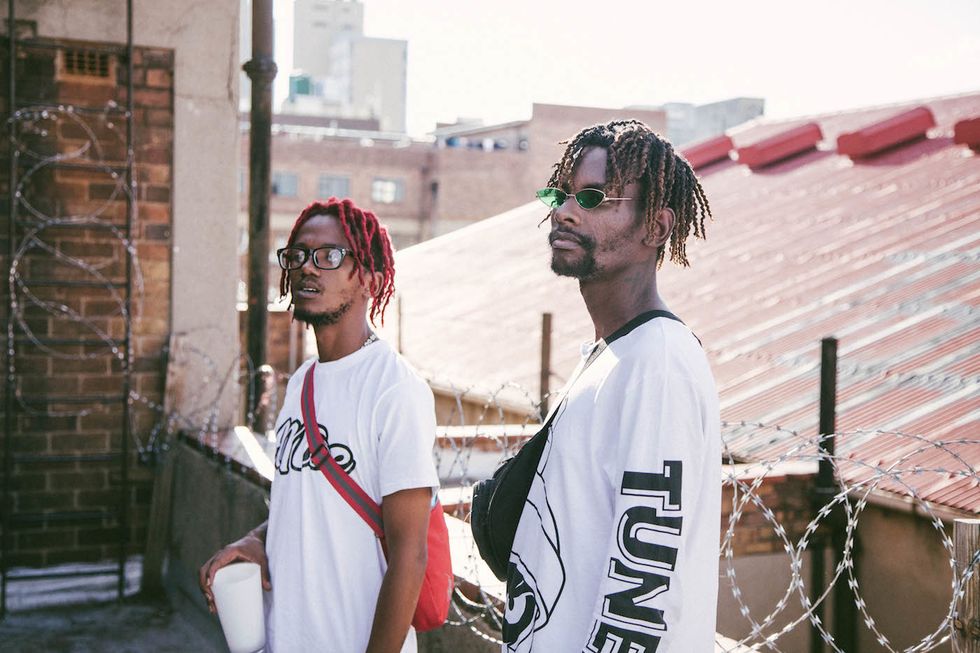 Lebo and Ranks. Photo by Sabelo Mkhabela.
So it was my idea that it's called For The Skreets 'cause how we make music is very different from other people. We don't take it away from the people, s'cula ngezinto that we go through, Tweezy is from Soweto, eJangalala, most of his content is based on those people, they can relate to that. Yes, in the north, you won't relate. But in the trap, definitely you will. We didn't try go all modern and English and Western on it, we just did what we had to do, we just made music. We didn't plan it and try to make it perfect and what not. Nah, we just made the music for the people. The reason we called it For The Skreets is because all the songs are about what happens in normal people's lives in the streets.

You rap and sing in Swati, which is a language that you hardly ever hear in hip-hop in South Africa. Why do you think that is the case when there are so many Swati people in this country?
Well, opportunities, man. I feel like there's not a whole lot of Swati people in Joburg, but they are there, they just hiding. A whole lot of Swati people come to Joburg and customize themselves under other people; you are Swati, but now you say you are Xhosa or Zulu. They don't get here and stand out
When I listen to your stuff, for me it's like you're not really concerned about the mainstream and all that, is that the case?
It's not that I'm not concerned about mainstream, but mainstream goes for what's hot. If I focus my energy and everything on mainstream, I feel like I'll forget why I'm doing the music and what I do the music for.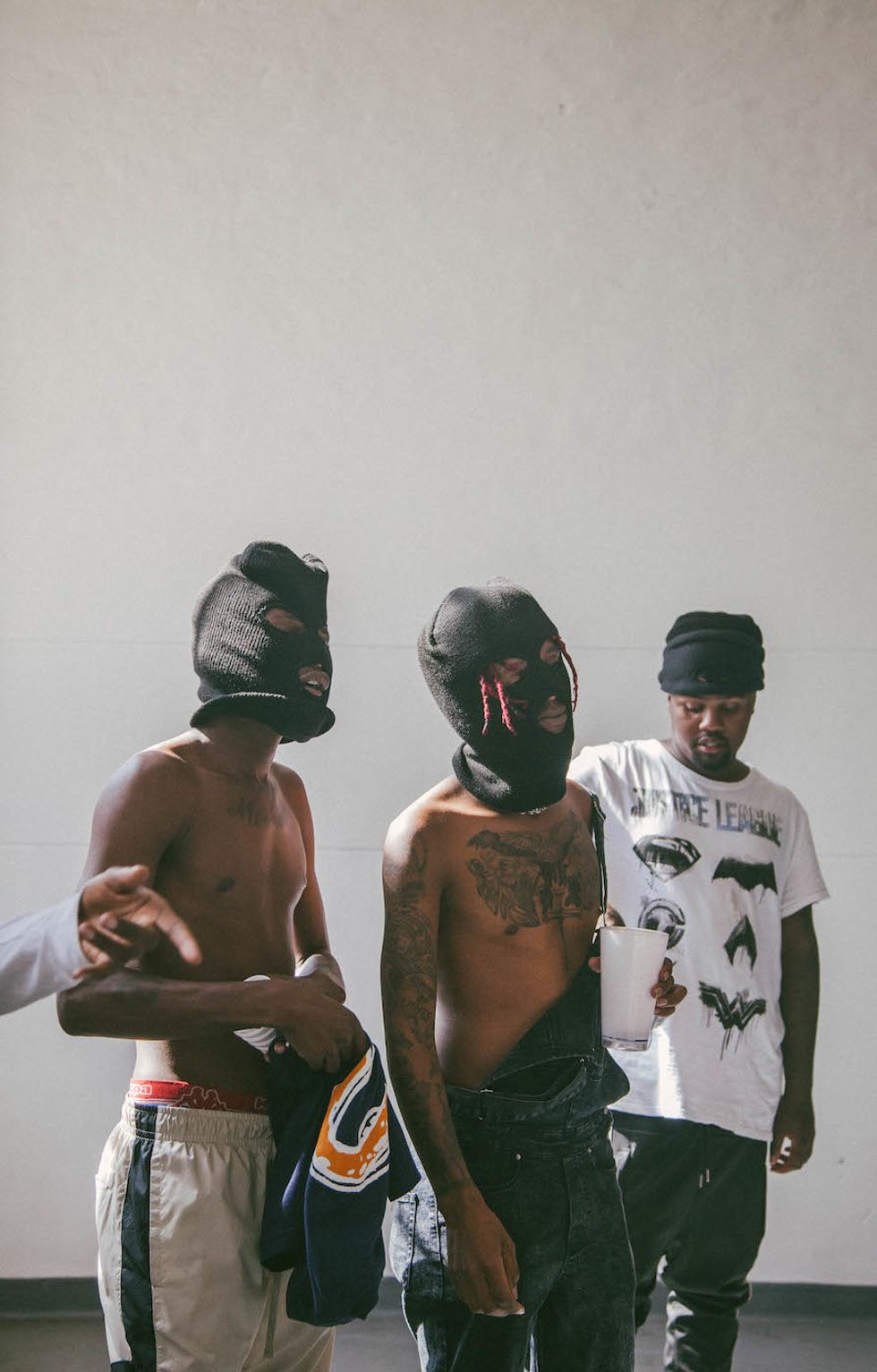 Some ATM members on set for a music video. Photo by Sabelo Mkhabela.
How would you describe being part of ATM?
ATM, apart from a whole lot of things, is a brotherhood. The music is the music yes, but we do the music because we brothers. We are a movement but most of all, we're brothers. All of us come from different places. We came together, most of us met in Jozi. None of us came from a rich background. All of us, we ain't never had money, we were broke and hustling, so we were helping each other out. So, since we are always together, we always in studio, we make music together. That's the link of the whole relationship but most above it all, it's a brotherhood.
What is trap to you?
We all see trap as trap, but not all of us understand trap for what it is, and my trap is different to your kinda trap. There's people who do trap here because they hear trap in a song that's from America, and they don't know what's happening. For me, trap is the lifestyle, what we get up to is what we get up to, it's not in the system, it's not a program, it's what we do, we trap on the daily.
What does that exactly mean?
That means it's an everyday thing. You have to wake up, you have a routine, you have a nine to five, you have to go to work, and that's what you do on a daily basis, we trap, that's what we do on a daily basis. At any time, you'll find me in a studio, I have an idea, I gotta lace something. We out here with my friends, no one controlling anything, we decide to move however we wanna move, that's trapping. And we not from the burbs, where we'd be like some cheese boys and what not, we involved in the bandos, we in the slums, we everywhere. Nobody chooses to go parlay in the city 'cause it's creepy, it's dangerous and what not, but that's where we from. We have to be in tune, with the movement, that's trap for me, the lifestyle. Without the lifestyle, you can't really trap. You can't trap part-time.
Download For The Skreets here , and stream it below:
Follow Ranks on Twitter and Facebook .
***************
Sims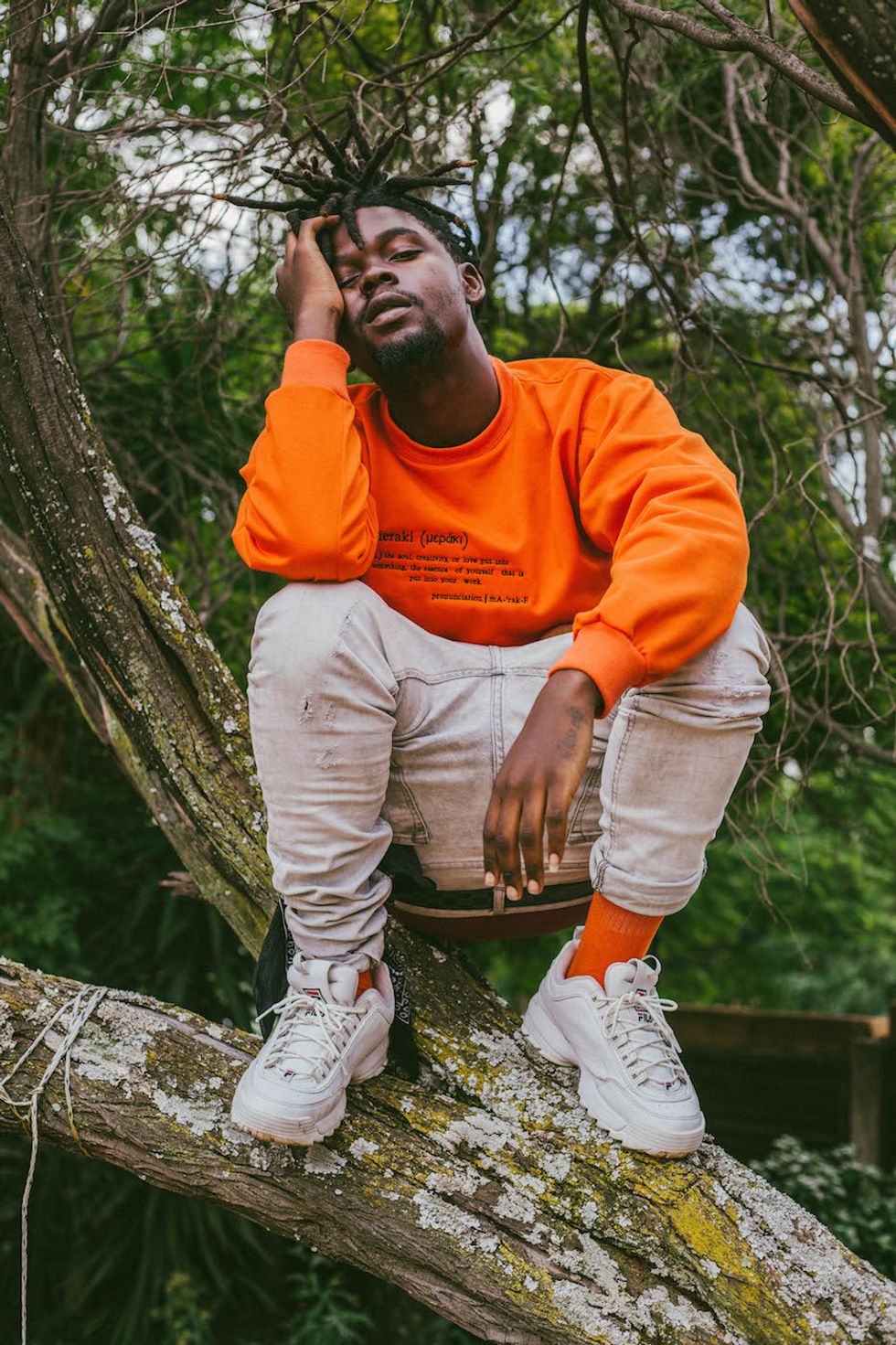 Sims. Photo by Sabelo Mkhabela.
Sims , born and raised in Lusaka, Zambia, came to South Africa in 2010 to further his studies. "I came through with my mom," he says. "I was doing Cambridge back home so I had to do the Matric syllabus. It was crazy adapting to a different lifestyle."

Circa 2014, Sims found camaraderie. "It was hard for me to make friends like that," he says, "and ATM were the people that made me feel like you have a brotherhood, you have people that look out for you."
Sims met the homies as they were living in the same building as him and his mother. "I just fucked with the movement and lifestyle," he says. "And I was also trying this rapping thing out, so I was like can you guys bring me in? Maybe guide me or something. So, from there, we got to grow, and we developed a friendship. The rest is history."
Emtee - My Way Ft Sims www.youtube.com
Sims is the first of the new members to join ATM. At the launch of Emtee's sophomore album Manando in 2017, Emtee introduced Sims to an auditorium full of industry peers and journalists. "He's got this tiny voice… he's very interesting," said Emtee.

On the same day, Emtee had released a loosie just before his sophomore album Manando . Titled "My Way," the song featured Sims on the hook, with his high pitch vocal projection grabbing your attention, as he sang somberly about being a misfit in the world. It's still a mystery why the song didn't make Manando .
Before "My Way," however, Sims had released the single "Bob Marley," a pristine minimalist stoner anthem that's coincidentally addictive.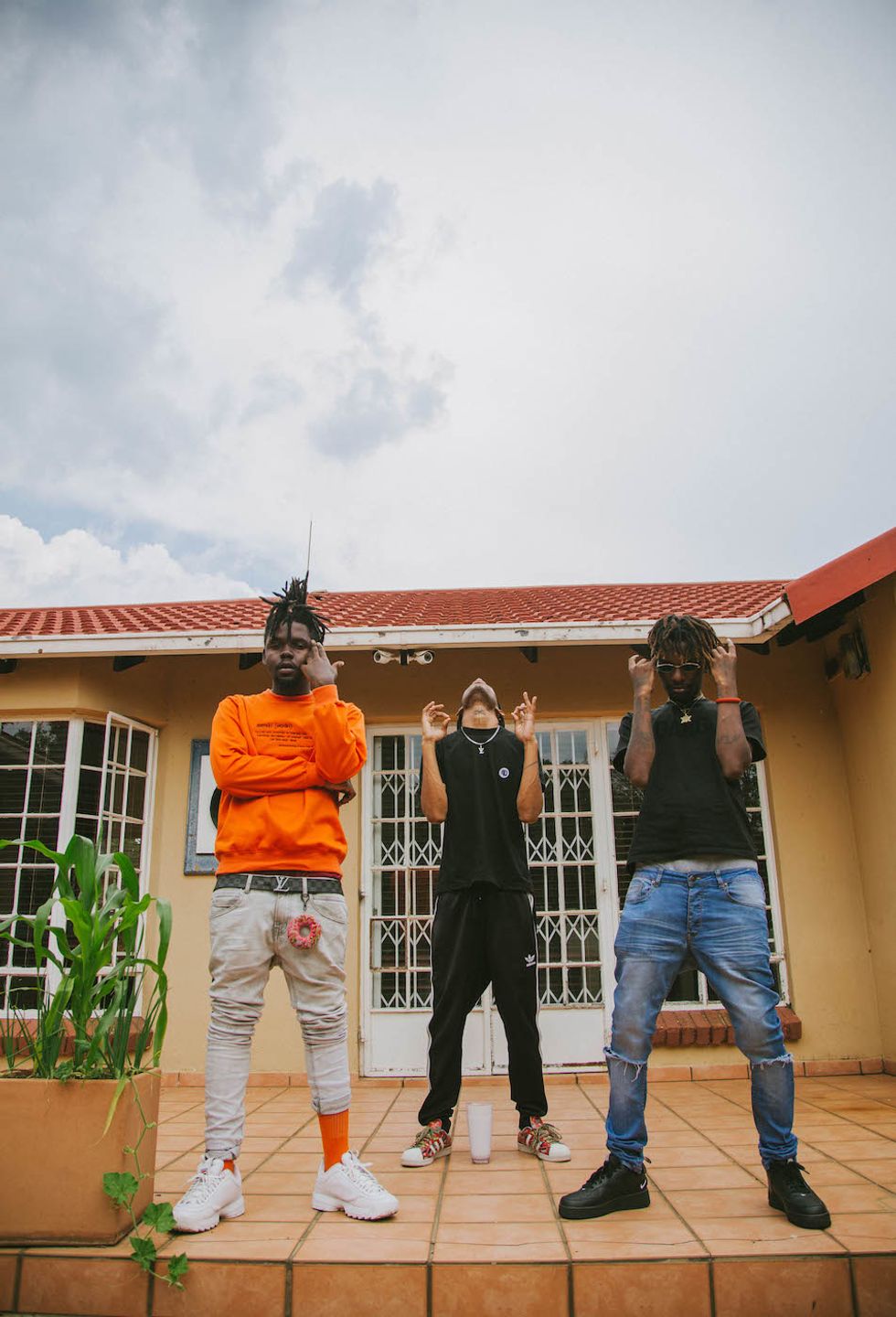 Sims, Just G and Ranks. Photo by Sabelo Mkhabela.
Sims is a silent killer. In his brief career, he has already co-written a mega hit in the form of LaSauce and Amanda Black 's " I Do ."

"We were in the studio," he says on how he ended up co-writing the song, "and the beat was playing. The hook was there, and they needed more. When you don't take others' input, it can stop the song from being great. I was lucky to be in the room, and I came up with something that was great."
Asked what ATM means to him, Sims says:
"Brotherhood, life, the movement, the wave… don't ever get it twisted, we the wave. And you can see it, it's so evident. It's like each and every person in ATM has their own achievements, and they all dope in their own way. But you can never compare them to another."
Sims - Bob Marley (Official Music Video) www.youtube.com
Follow Sims on Twitte r and Facebook .
***************
Just G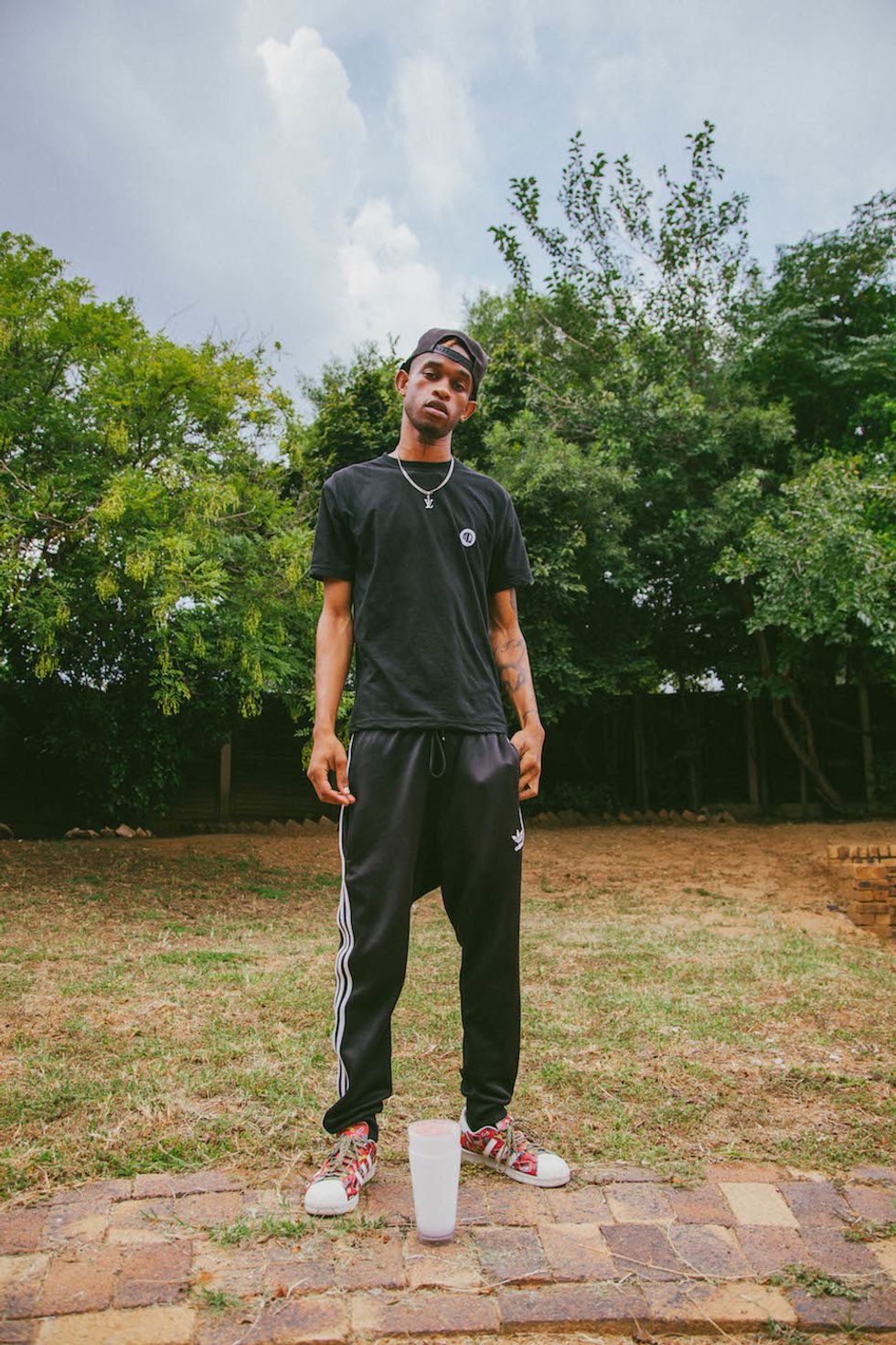 Just G. Photo by Sabelo Mkhabela.
Just G has two official singles under his belt ("Uyasebenza" and "One Night Stand"), and he appears on Ranks and Tweezy's For The Skreets EP. The artist was born in the Eastern Cape, but moved to Joburg for high school. Below, he tells us about how he got introduced to hip-hop, what ATM means to him, and the inspiration that comes with being mentored by Emtee, Sjava and Saudi, among other things.

*This interview has been edited down for clarity
How did you become part of ATM?
It was at a studio in down called Dogmo Records . And it was owned by Swati King Kong (R.I.P) and Ruff. They were the best producers, both of them are from Mpumalanga. I heard about this studio from a homie of mine called Nemo. He was a guy I used to rap with in school. I fell in love with hip-hop while I was still in the Eastern Cape. My uncles introduced me to hip-hop, and that was where I had this dream from: I've got to do this . It's what I love, and there is nothing else I know.
Eastern Cape hip-hop used to be really socially-conscious back in the days. Is that what you grew up on?
The person who introduced me to hip-hop was a real fan of NWA… that real hardcore street rapping. And so, he believes that the Lil Waynes and the Futures and the trap lords of right now are whack. He can't stand that music. But that's just what they grew up on.
When did you move to Joburg from the Eastern Cape?
I was about to get into high school. The change was weird. I grew up in Eastern Cape all my life, and had never been out of the Eastern Cape. So now when I first move, it's like, this new place, where it at manje? I went to a better school than I was in Eastern Cape. I'm not even into school; when I'm in school I'm out there writing lyrics. I'm in class, but I'm writing lyrics. I don't give a fuck about what the teacher's saying. Get kicked out, I don't care. I'ma go to the studio. There was a guy called Terry, who had a studio in his room. That was the first time I actually recorded a song. I was in grade nine. My first time stepping on the mic. Before that, I was writing, I'd been writing songs since I was like eight, nine. So, that was the first time recording a song. After that, I was like, yo, I can't stop now . Like, I've finally been called to do this thing. Even though it's in a bedroom studio and it's not the best setting, but I'm finally getting to record. So, in 2011, or 2012 when I met Ruff and got to Dogmo, and saw a real studio, I was like, okay yeah, I'm finally doing it. Now I can say I'm an artist, I'm a rapper now. Ended up dropping out of college. I never saw results 'cause my fees were never paid. So, I decided, you know what? Let me be a man about it. Let me just be a man. I'ma stop making my mama broke. With something I don't even want to do. Let me go hustle for myself.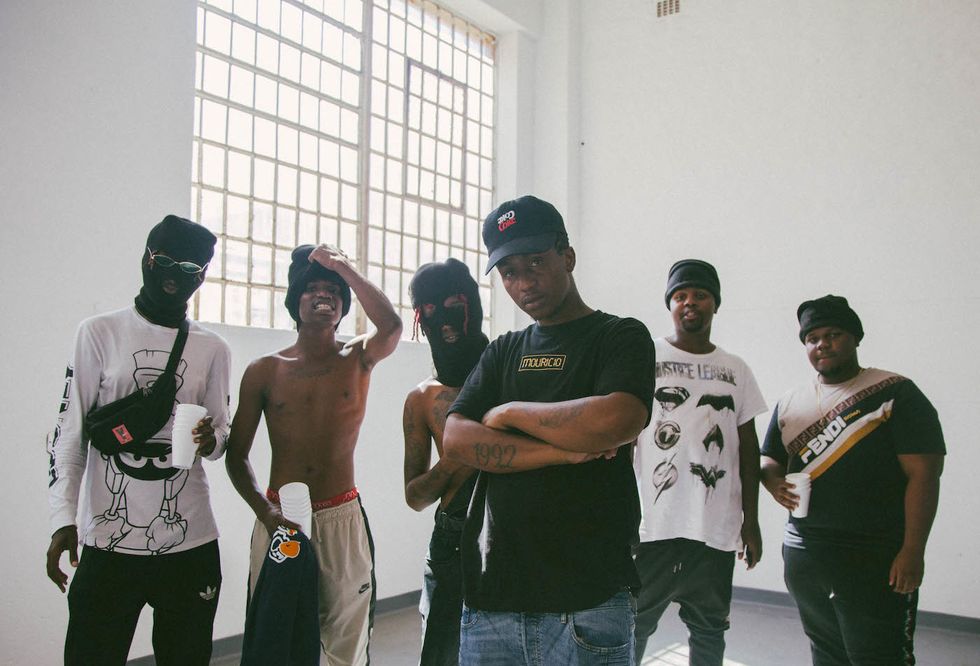 Emtee and the ATM gang on set for a music video. Photo by Sabelo Mkhabela.
What does ATM mean to you?

You see ATM to us, it's a lifestyle of ukuphilisana. We all from different places, but we came together, and we all have one goal, one vision. And we all just trying to see each other do better. We tryna spread the message that let's help one another as people.
Do you feel that South Africans get what you guys are about?
I'd say they are starting to. They are starting to understand. Maybe it's because there's a level of international acceptance now. But a lot of people… let me take it back to the beginning when Emtee dropped "Roll Out." A lot of people didn't understand it. For real, it was criticized; "What's this?," "What's this American-sounding?" They didn't understand the sound, that it's an authentic African sound.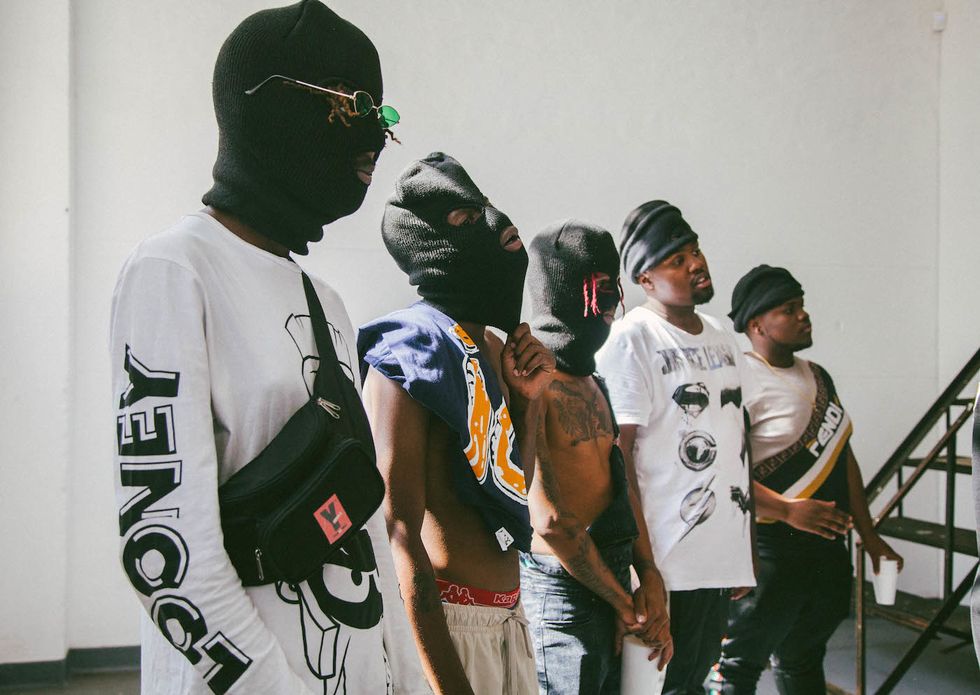 Photo by Sabelo Mkhabela.
What types of lessons are you learning from being around Emtee, Sjava and Saudi?
In terms of music-making, how to create a song, you can't really teach those things. But we see it. I see how Sjava makes a song on a daily basis. I see how he writes, how he thinks about it. He will come to me and say, "What do you think of this concept?" Maybe even before he records. He's that type of person; knowing that this is for the people. Every song you make, you're doing this for the people, not for you.
Follow Just G on Twitter a nd Facebook .