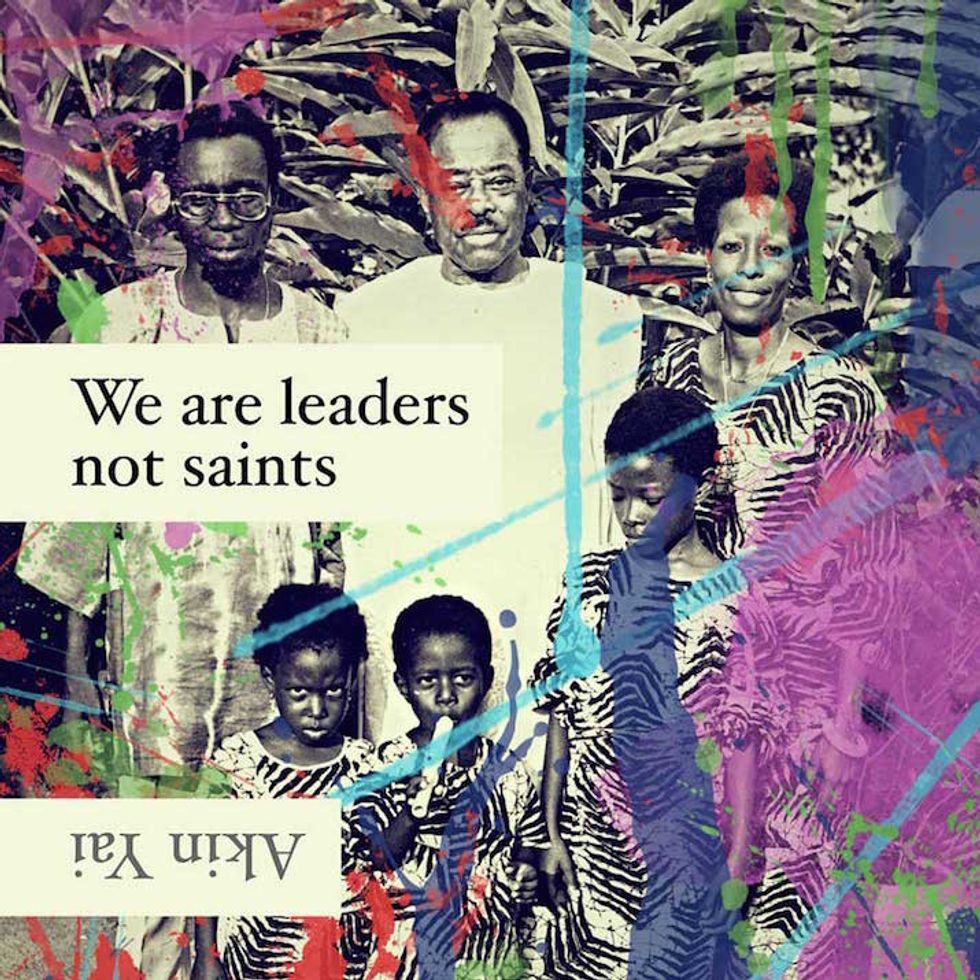 ---
There is a sense of completeness forged in an individual when they find strength and access to their culture, their roots and a place that feels like home. The recurring question of "what happens now?" develops when one is removed from this space and placed in a foreign land by means of migration or resettlement. For some, the need to be in contact with culture becomes a compulsion, which manifests by way of the individual seeking self through literary texts and music to seam the disconnect.
Akin Yai's experience is captured here, with his sound and identity still intricately tied to a culture which remains with him despite leaving Benin at the age 9. In addition to a cultural identity woven by the threads of Benin and Nigerian influence, he channels a black consciousness heightened in Paris, where he learned to close to his own personal truth in a place where his ideas on blackness were questioned and reframed.
Akin Yai loops his Beninese-American identity with writing inspired by literary influences like James Baldwin, Aimé Césaire and musical influences from the Congo, Benin and highlife roots to create his own sound which he categorizes as a "progressive, vulnerable, genre bending psychotherapy type of sound." In this interview, he explains it to have a "post punk, new wave, black diaspora" feel. We spoke with Yai about his first album We Are Leaders Not Saints below.
Sheba Anyanwu for Okayafrica: Let's start with your heritage, what your culture means and how it has influenced your music.
Akin Yai: My heritage and culture circle provide a never-ending source of material for me, because they have never been finite. I speak two different languages, my parents surrounded my sister and I with a lot of Benin and Yoruba culture, I went to Nigeria for boarding school and upon leaving I still had my culture with me, it's never left, and in fact it became even stronger just by way of being with parents who are academics. My father was a diplomat for the Republic of Benin and then he became a professor of linguistics, which my mum was as well. It's kind of an innate connection for me, and not something I try to conjure or dig deep into all the time. It's always there and feels very natural. During my time in Nigeria my parents really opened me up to a lot of traditional music, highlife, a lot of Fela, King Sunny Ade, Koffi Olomide, sokous, a lot of Latin influences... just by my parent's relationship to [Nigerian playwright and poet] Wole Soyinka I was also exposed to a lot of traditional African art, language and folklore. It's really been a blessing for me.
OKA: It's great that you mention Yoruba culture and your heritage. Your name Akin is very symbolic of that.
AY: I used to just go by Akin but I realized that I wanted my art to be more of a complete reflection of self, personal experiences and so forth. So adding my last name was the last step in affirming my own identity.
OKA: There are many influences you've mentioned, both literary and musical. What was the influence behind We Are Leaders Not Saints. Tell us how you delved into the creative process.
AY: I started working on my album We are Leaders, Not Saints on September 10. I had picked up James Baldwin's Fire Next Time again and the imagery, language and the force really struck me. That coupled with my time spent in Paris, and the hunger and maybe angst I felt in discovering black consciousness, recreating and throwing out old ideas was really the force behind this. I had dropped a mixtape, Nomadic, previously and it was just a way for me to start afresh and create something new. I would describe my sound on this new album as a very progressive, vulnerable, genre bending psychotherapy type of sound — it's post punk, new wave, [and] black diaspora. I wanted to get back to the roots of everything. My identity, my culture and how I interact with the world with the consciousness I have now. I penned it with the feeling of being a character dropped into a story where everything was already happening around me. A lot of what I felt in Paris while living and working on my music, and I wanted to find a way to express that.
Photo: Matt Sachs
OKA: Why James Baldwin and all the other influences you mentioned? Was there a time where you felt you needed to tap into black consciousness even though you still had a strong hold on your African identity?
AY: In Paris you meet black people from all over the world. Interacting and observing with them was very important to me because it gave me a better sense of the black diaspora and its plight and struggles. I was always socially aware as an artist but to see and observe multitudes of blackness in art, fashion, activism was very inspiring. I liked to hang out a lot in 'Black Paris' (Château Rouge), there is a big African market there. I would just go there to people watch. It made me feel closer to Africa. Hearing so many different mother tongues, dialects, and the beautiful faces... it was all so inspiring to just be in that atmosphere... it all finds its way into my music as a form of self-consciousness in many subtle ways.
OKA: What do you think the reception to this body of work will be and what are your plans in the future?
AY: I plan on promoting this album for a few months and then moving on to producing some conceptual art and an anime video to reconcile with the album. It's really exciting, but I'm also hoping people respond well to the music and take something away. from it.